Summary:
This Instant Pot Broccoli cheese soup is creamy comfort food made in a pressure cooker, ideal for anyone looking for keto/low carb soups.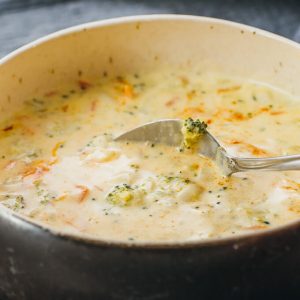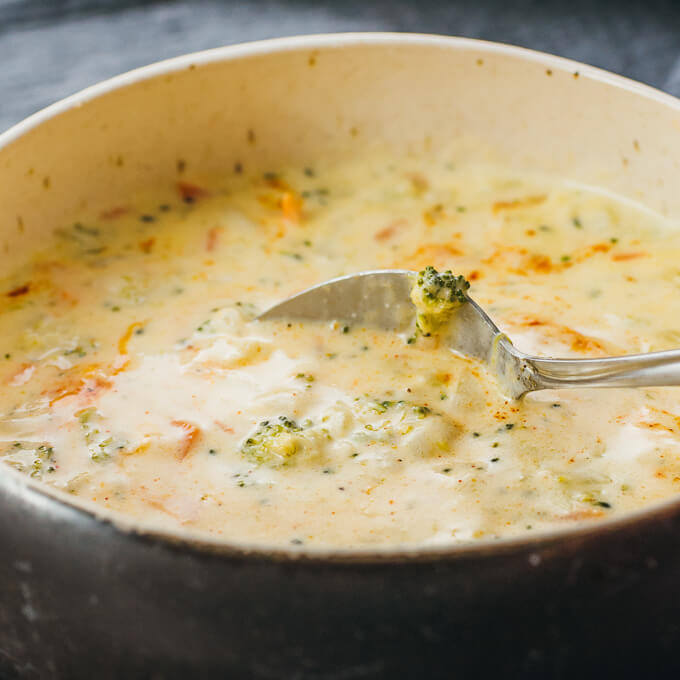 Instant Pot Broccoli Cheese Soup (Pressure Cooker)
INGREDIENTS
4

cups

chopped broccoli florets (7 ounces weight)

3

cups

shredded cheddar cheese (7 ounces weight)

2

cups

heavy whipping cream

1.5

cups

diced onions (about 1/2 onion)

1

cup

diced carrots (about 3 carrots)

1

cup

diced celery (about 3 stalks)

5

cloves

garlic

minced

2

tablespoons

salted butter

salt and pepper to taste
INSTRUCTIONS
Sauteing vegetables: Select the saute mode on the pressure cooker for medium heat. Add butter and stir until melted. Add diced onions, carrots, and celery, cooking for about 5 minutes until onions are soft, stirring frequently. Turn off the saute mode.

Pressure cooking: Add chopped broccoli and 2 cups of water, and stir. Secure the lid and seal the vent. Cook for 5 minutes at high pressure, immediately followed by a manual pressure release.

Stirring in dairy: Uncover and select the saute mode. Add heavy cream and garlic, and stir. Gradually add shredded cheddar cheese, stirring in until melted and well-mixed. Turn off the saute mode.

Serving: Add salt and pepper to taste (I usually add at least 1/2 teaspoon of salt). Serve in bowls and optionally sprinkle paprika and shredded cheddar on top.
NUTRITION
Makes 5 Servings
Amount Per Serving:
| | |
| --- | --- |
| Calories 560 (82% from fat) | |
| Total Fat 52g | 79% |
| Saturated Fat 32g | 159% |
| Cholesterol 162mg | 54% |
| Sodium 370mg | 15% |
| Net Carb 9.5g | |
| Total Carb 12g | 4% |
| Dietary Fiber 2.5g | 10% |
| Sugars 7g | |
| Protein 15g | |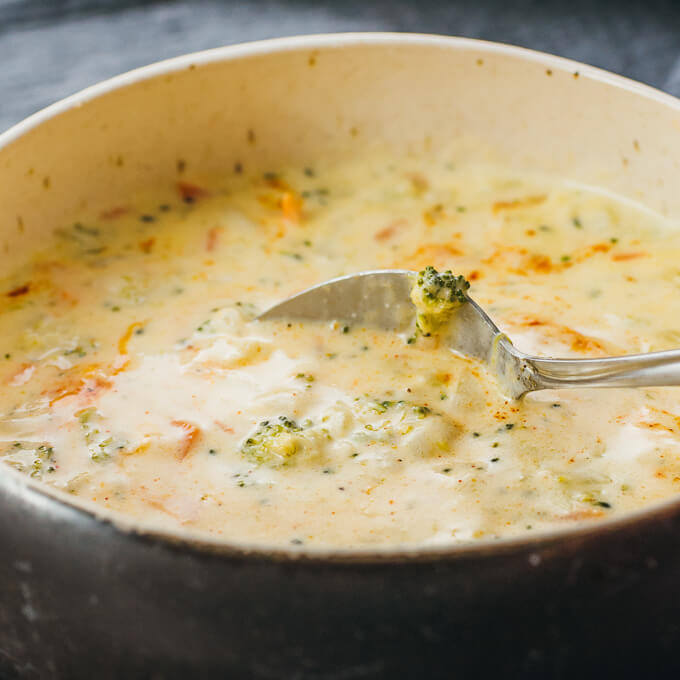 Before I started a low carb diet, I loved getting broccoli cheddar cheese soups at Panera Bread on rainy days. Even better if it was in a bread bowl. There's something very comforting about cradling up to a warm bowl of creamy and thick broccoli soup on a cold day.
Now that I follow a keto diet, I make a healthy and homemade version of Panera's soup from scratch. Unlike Panera, I skip thickeners like corn starch and flour. I don't use chicken broth or stock because they often contain fillers and additives that I don't think are necessary. I make up for all of this by adding in extra cheese and broccoli, and the end result is a very thick and hearty soup.
With the pressure cooker, it doesn't take long to cook all of the ingredients into a state of creamy tenderness. Just 15 minutes of prepping and 15 minutes of cooking. It's a fast recipe that yields five hearty servings, each filling enough for a meal.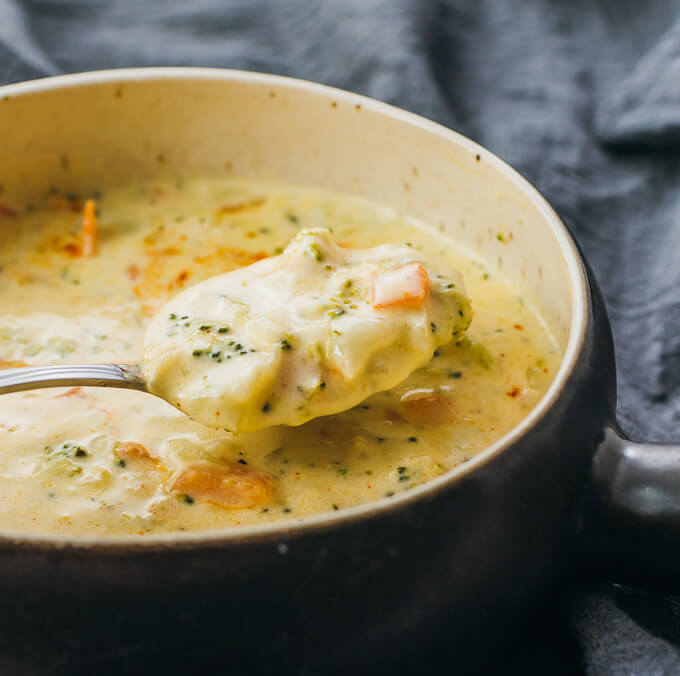 I developed this recipe for the Instant Pot pressure cooker by adapting from my stovetop broccoli cheddar soup recipe. The two recipes are nearly identical, except that I don't add bacon to the pressure cooker version for simplicity, and the pressure cooker version is a bit faster to make. Due to the differences in stovetop vs pressure cooking, this Instant Pot version is thicker and creamier because the ingredients are more broken down, resulting in more of a pureed taste.
Tips on making successful broccoli cheese soup in the instant pot:
Interested in making this a no-chop recipe? You can make your prep work almost nonexistent by buying a bag of pre-chopped broccoli florets and a 15 oz container of mirepoix at the grocery store. Mirepoix is packaged and pre-diced carrots, onions, and celery, typically used as a flavor base for soups and stews. I pick up both at Trader Joe's.
Measure out the broccoli and cheddar cheese by weight. Here's a great digital food scale.  It's a lot more accurate because depending on how they're cut and shredded, the same weight of broccoli florets and cheese can vary significantly in volume.
I use a pressure cooker made by Instant Pot and it has a 6 quart capacity. Either 6 or 8 quarts will work for this recipe, but I don't recommend using smaller sizes.
For an even thicker soup, you can use an immersion blender to puree. I prefer a chunkier soup so this isn't something I do, but it's a great option for those who prefer a smoother consistency.
To further reduce the number of carbs, only use half as many onions and carrots. It'll be thinner, but still delicious.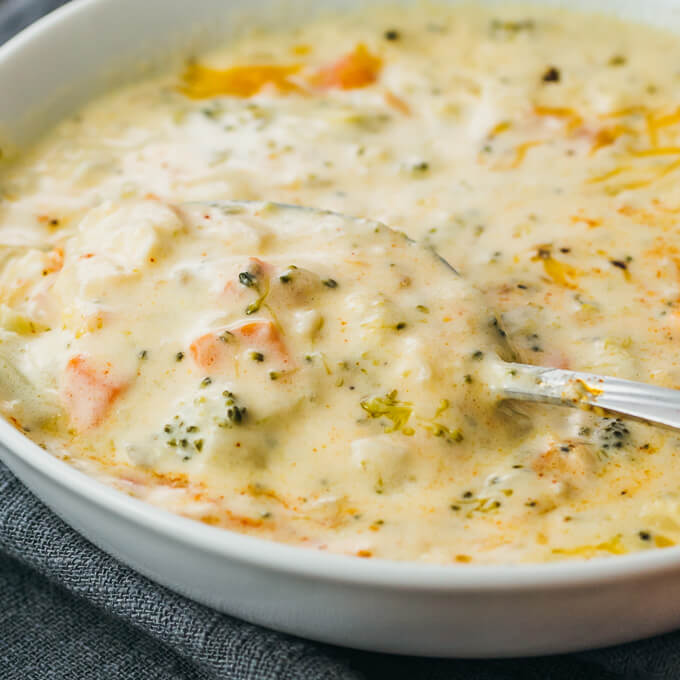 This recipe is ideal for preparing meals ahead of time because it cooks quickly, makes many servings, and freezes/reheats well. If your pressure cooker is large enough, you can double the ingredients (but keep the pressure cooking time the same) and make 10 servings. Each serving is about 1.5-2 cups in volume. You can store it in the refrigerator and reheat using the microwave, or you can freeze and reheat using the microwave at 50% power, pausing to stir every few minutes.
MORE COMFORTING INSTANT POT MEALS: