Summary:
Just six ingredients, but packed with flavor. These brussels sprouts are cooked with apple cider vinegar, giving a nice acidic zing to every bite. Soy sauce and bacon add an extra depth of flavor. By pressure cooking, tender brussels sprouts are ready in just minutes.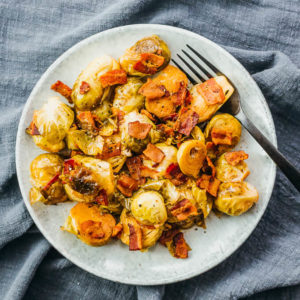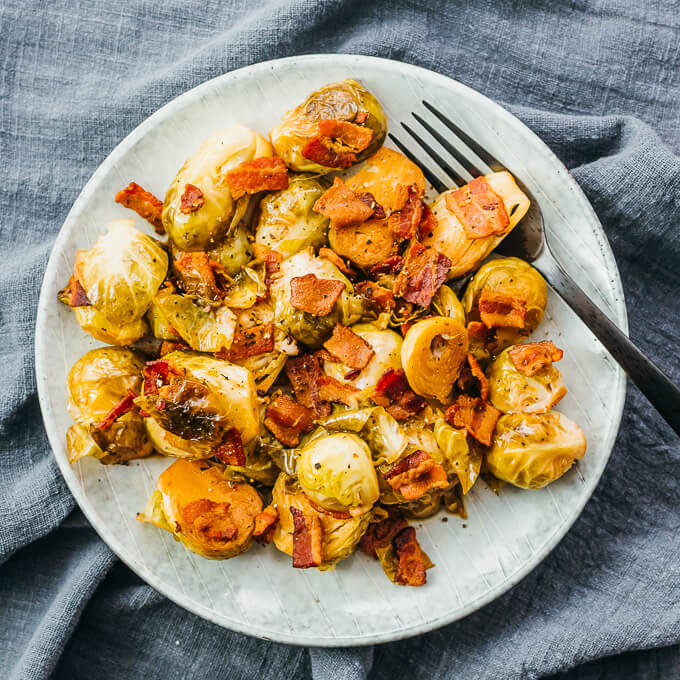 INSTRUCTIONS
Sauté Bacon: Select sauté mode on pressure cooker (Note 5) for medium heat. Once heated, add chopped bacon and cook until crispy, about 5 minutes, stirring frequently. Turn off sauté mode.

Add Other Ingredients: Keeping bacon in pressure cooker, add brussels sprouts, soy sauce, and vinegar. Season with salt and pepper. Stir to mix well, using sturdy wooden utensil to loosen any browned bits stuck to bottom of pot.
NUTRITION
Makes 4 Servings
Amount Per Serving:
| | |
| --- | --- |
| Calories 100 (19% from fat) |   |
| Total Fat 2g | 3% |
|    Saturated Fat 1g | 4% |
| Cholesterol 5mg | 2% |
| Sodium 750mg | 31% |
| Net Carb 6g |   |
| Total Carb 10g | 3% |
|    Dietary Fiber 4g | 16% |
|    Sugars 3.5g |   |
| Protein 5g |   |
PHOTOS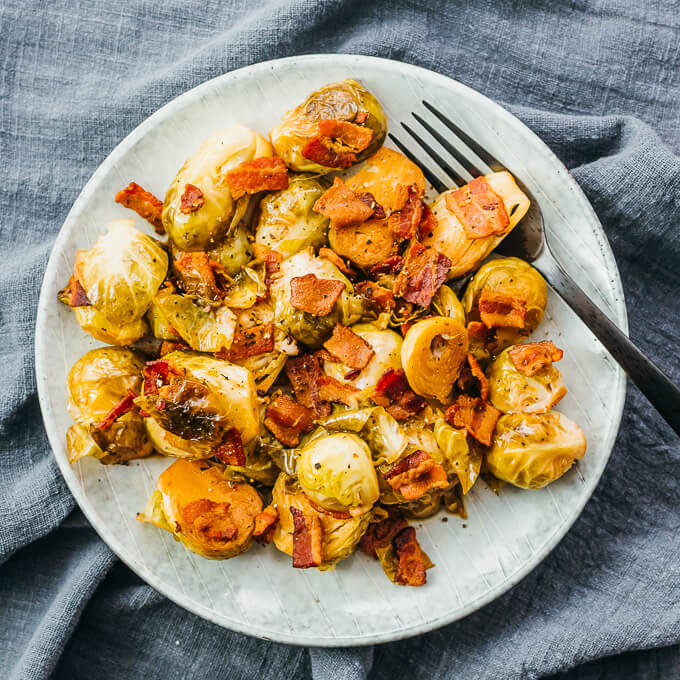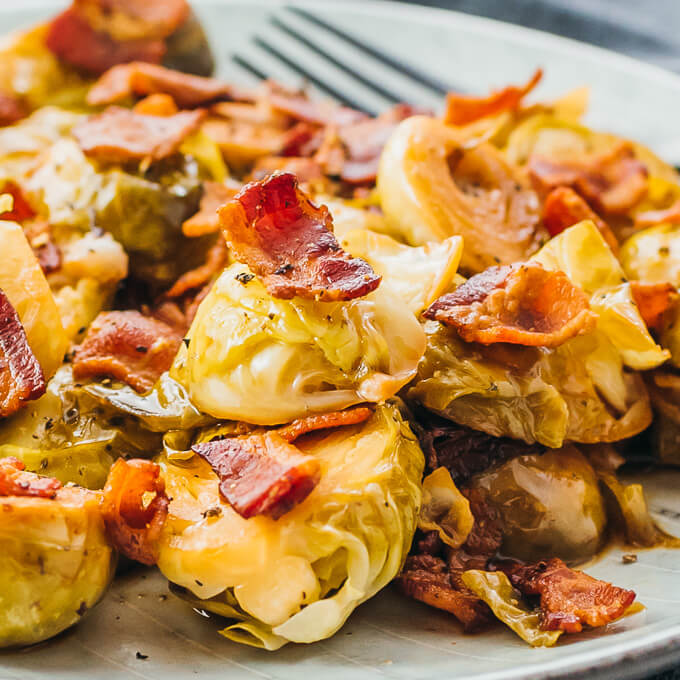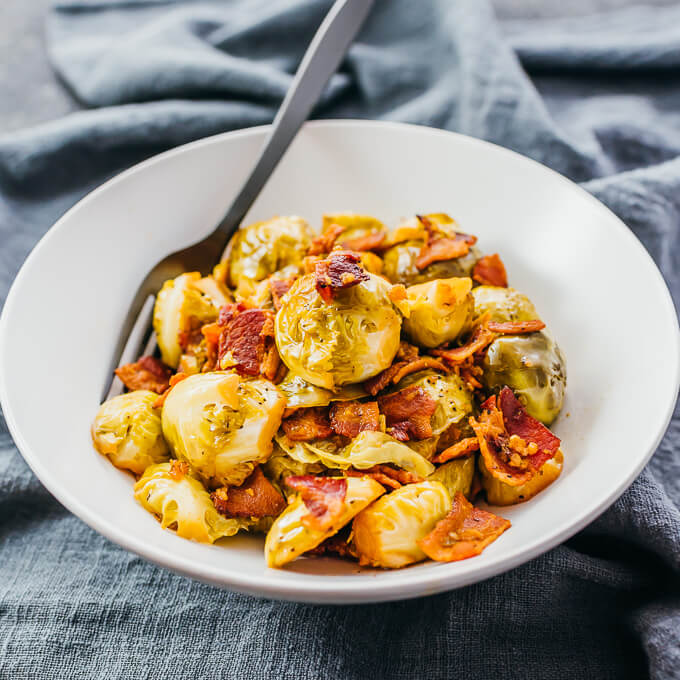 NOTES & TIPS
(1) Brussels Sprouts. I use fresh brussels sprouts, not frozen. To prepare them, wash and remove any bad leaves, trim each sprout by cutting off the bottom end of the core that protrudes out, and cut each sprout in half by slicing through the core.
(2) Bacon. Overlap the bacon slices on top of each other, and use a knife or kitchen shears to cut through all of them simultaneously. If you are vegan or vegetarian, omit the bacon and start with Step 2 in the recipe's instructions.
(3) Soy Sauce. I use low sodium soy sauce by brands like Kikkoman or Trader Joe's. Avoid regular soy sauce, which will be too salty. "Light soy sauce" refers to color, not sodium content. If you follow a paleo, whole30, or gluten-free diet, substitute with coconut aminos.
(4) Salt and Pepper. Season to taste. I use 1/2 teaspoon coarse sea salt (equivalent to 1/4 teaspoon fine sea salt) and 1/2 teaspoon coarse ground black pepper.
(5) Pressure Cooker. I use a 6-quart Instant Pot. The ingredients should easily fit into smaller pressure cookers, like 3 quarts. If you're using an 8 quart pressure cooker, consider doubling the ingredients.
(6) Cooking Time. Generally, brussels sprouts take 3-5 minutes to cook until tender in a pressure cooker, assuming the sprouts have been cut in half beforehand. It will only take 3 minutes if you have smaller sprouts (or if you like them to be on the firmer side) and 5 minutes if you have larger sprouts (or if you just like them to be very tender). If you're doubling the recipe's ingredients, the pressure cooking time remains the same.
(7) Serving. These brussels sprouts are a low carb side dish that can be paired with mains like turkey mushroom bake, pot roast, or lamb shanks.