Summary:
One of the simplest low carb side dishes, these brussels sprouts are cooked with bacon, apple cider vinegar, and soy sauce in the Instant Pot.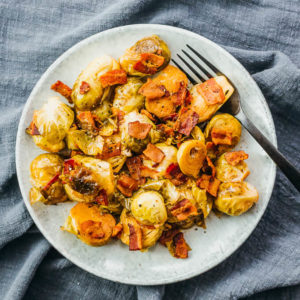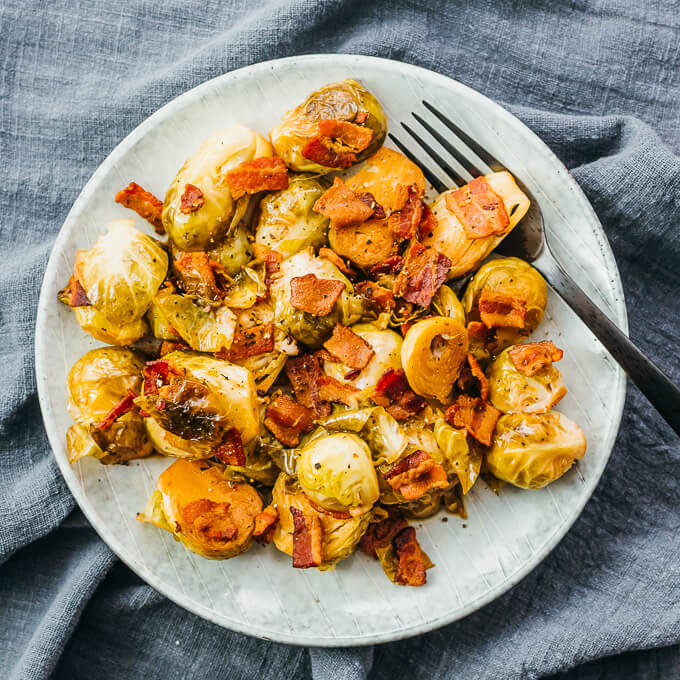 Instant Pot Brussels Sprouts
INSTRUCTIONS
Select the saute mode on the pressure cooker for medium heat. When the display reads HOT, add chopped bacon and cook for about 5 minutes until crispy, stirring frequently. Turn off the saute mode.

Add brussels sprouts, soy sauce, vinegar, salt, and pepper. Stir to mix well, using a wooden spoon to briefly scrape up any brown bits stuck to the bottom of the pot.

Secure and seal the lid. Cook at high pressure for 4 minutes, followed by a manual pressure release. Use a slotted spoon to scoop up the brussels sprouts and bacon onto a serving plate.
NUTRITION
Makes 4 Servings
Amount Per Serving:
| | |
| --- | --- |
| Calories 100 (19% from fat) | |
| Total Fat 2g | 3% |
| Saturated Fat 1g | 4% |
| Cholesterol 5mg | 2% |
| Sodium 750mg | 31% |
| Net Carb 6g | |
| Total Carb 10g | 3% |
| Dietary Fiber 4g | 16% |
| Sugars 3.5g | |
| Protein 5g | |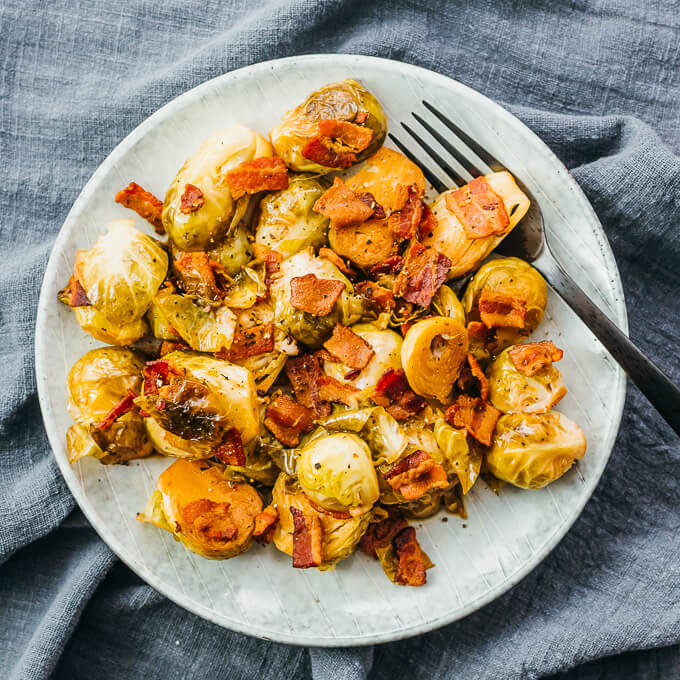 I'm all for salt and vinegar snacks. Salt and vinegar chips, salt and vinegar popcorn, and salt and vinegar almonds. So why not salt and vinegar brussels sprouts? These Instant Pot brussels sprouts are pressure cooked with sea salt and apple cider vinegar, giving them a nice acidic zing to every bite. I also add a bit of soy sauce to give them an extra depth of flavor.
It only takes a couple of minutes to pressure cook brussels sprouts until they come out nicely tender. I pair them with chopped bacon because I can never resist the brussels sprouts + bacon combination — see Exhibit A: Bacon Wrapped Brussels Sprouts or Exhibit B: Pan Fried Brussels Sprouts with Bacon. When Thanksgiving finally rolls around again, I'll definitely be making them in the Instant Pot as a quick and easy side dish.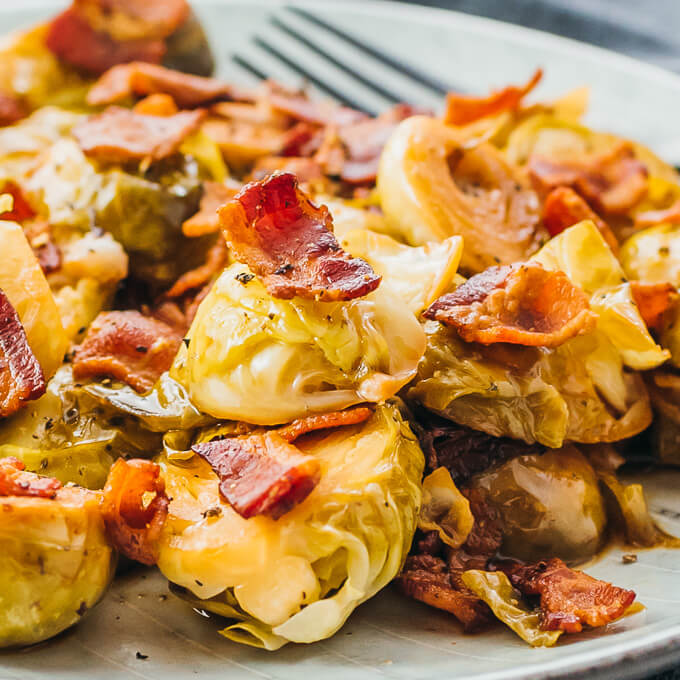 Generally, brussels sprouts take 3-5 minutes to cook until tender in a pressure cooker such as the Instant Pot. This assumes that the sprouts have been cut in half beforehand. It will only take 3 minutes if you have smaller sprouts (or if you like them to be on the firmer side) and 5 minutes if you have larger sprouts (or if you just like them really tender).
I recommend 4 minutes as a good rule of thumb for anyone making them in the pressure cooker for the first time. This time estimate is assuming that you're using a manual quick release and not natural release.
I think the short pressure cooking time makes this recipe easier than conventional methods, like baking brussels sprouts in the oven or pan frying them on the stovetop, which is what I find to be true for most Instant Pot recipes.
Some quick tips on making this recipe:
Don't chop the bacon with a knife. If you have kitchen shears, overlap the bacon slices on top of each other and snip through them all at once into small pieces. It's so much easier this way.
I make this in a 6 quart Instant Pot. The ingredients don't take much space and you should be able to fit everything into pressure cookers as small as 3 quarts. If you're using something as large as 8 quarts, you might want to double the ingredients but keep the pressure cooking time the same.
Vegan? No problem — skip the bacon and go directly to step 2 of the recipe.
Paleo? Just replace the soy sauce with coconut aminos to make it paleo friendly.