Summary:
Juicy pressure-cooked chicken and sautéed mushrooms are smothered with a rich and creamy gravy, flavored with parmesan, garlic, and a pinch of cayenne.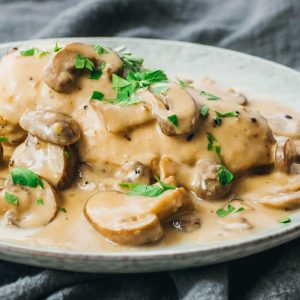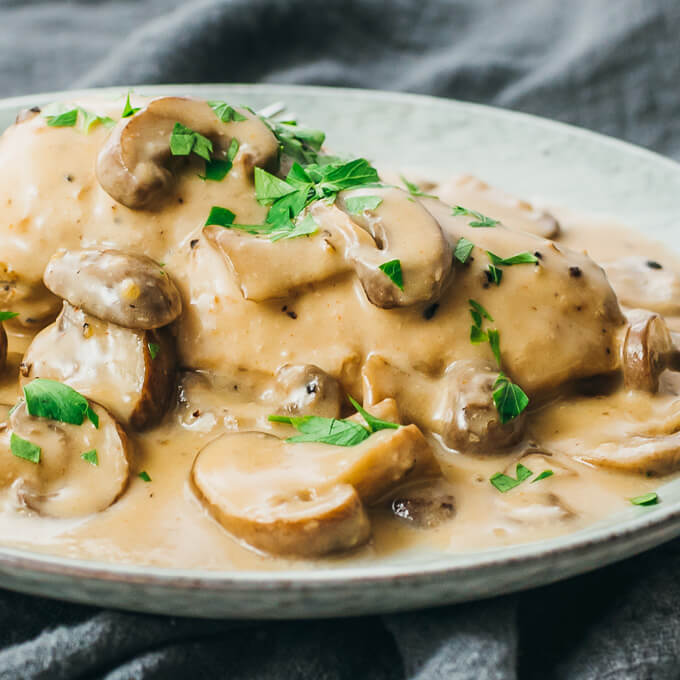 INGREDIENTS
2

boneless skinless chicken breasts (Note 1)

10

ounces

cremini mushrooms, sliced

1

tablespoon

olive oil

1

tablespoon

chopped fresh parsley
salt and pepper
INSTRUCTIONS
Season Chicken: Pat chicken breasts dry with paper towels. Generously season all over with salt and pepper. Set aside.

Sauté Mushrooms: Select sauté mode on pressure cooker (Note 4) for medium heat. Once heated, add olive oil and mushrooms. Stirring occasionally, cook until juices are released, a few minutes. Stir in cream, water, garlic, and cayenne until well-mixed. Turn off sauté mode.

Pressure Cook: Add chicken breasts to pot in single layer, nudging aside mushrooms so that chicken breasts sit along bottom of pot, submerged in liquid. Secure lid and seal vent. Cook for 6 minutes (Note 5) at high pressure, followed by 5-minute natural release. Manually release remaining pressure by turning knob to venting position. Uncover and transfer only chicken onto serving plates.

Thicken Gravy: Stir remaining liquid in pot, and scoop 1/4 cup into small bowl. Combine with corn starch and stir until completely dissolved. Add corn starch mixture to pot. Gradually stir in parmesan cheese. Simmer on sauté mode until thickened to form gravy, about 5 minutes, stirring frequently. Turn off sauté mode. Add salt and pepper to taste.

Serve: Spoon gravy on top of chicken. Garnish with fresh parsley, and serve (Note 6).
NUTRITION
Makes 2 Servings
Amount Per Serving:
| | |
| --- | --- |
| Calories 680 (50% from fat) |   |
| Total Fat 38g | 58% |
|    Saturated Fat 22g | 108% |
| Cholesterol 252mg | 84% |
| Sodium 910mg | 38% |
| Net Carb 10g |   |
| Total Carb 10.5g | 3% |
|    Dietary Fiber 0.5g | 2% |
|    Sugars 0g |   |
| Protein 60g |   |
PHOTOS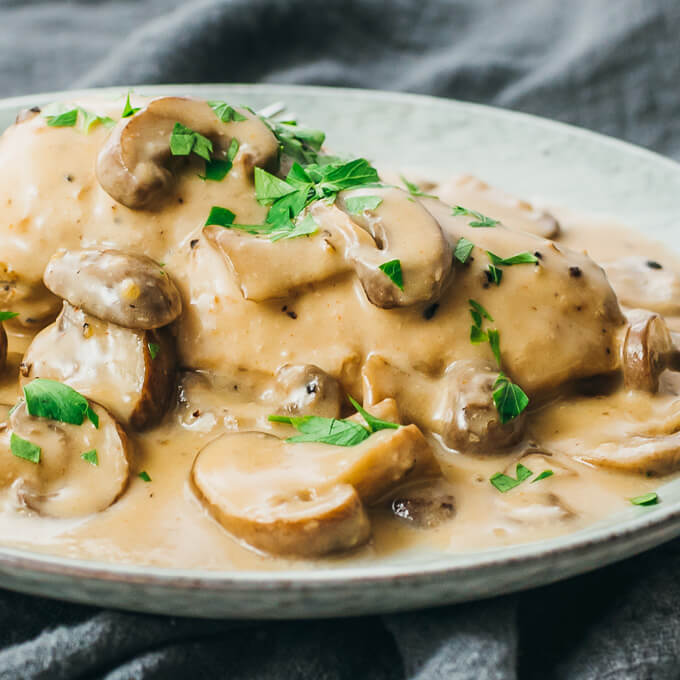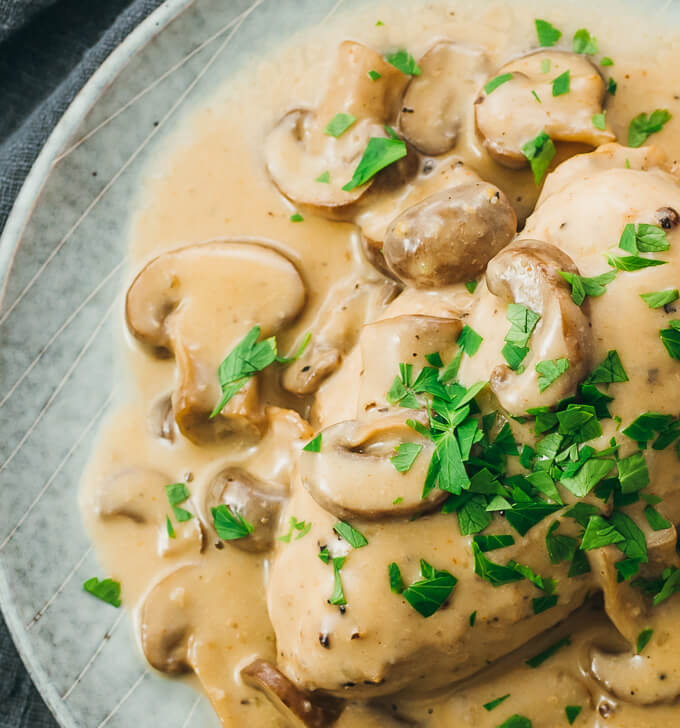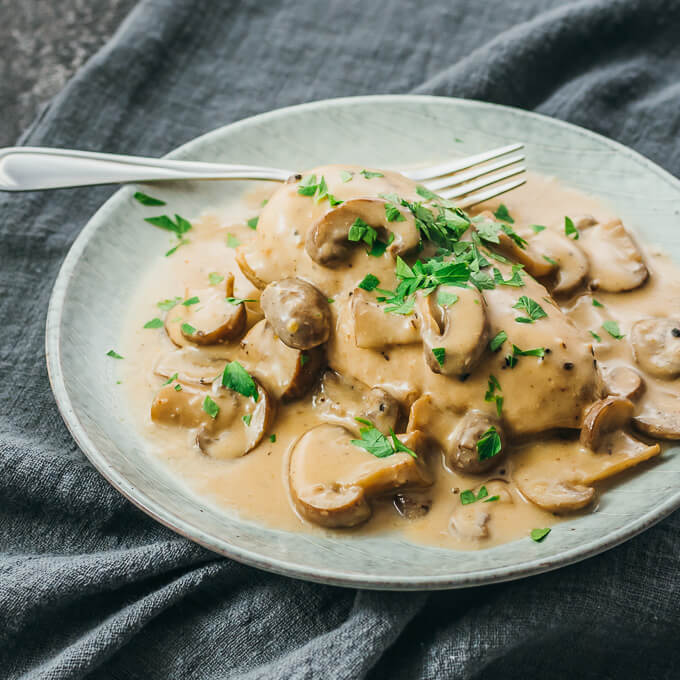 NOTES & TIPS
(1) Chicken. I use 2 chicken breasts that weigh 8 ounces each, a total of 1 pound. If your chicken breasts are larger, increase the pressure cooking time by 2 minutes. Use fresh chicken; if yours is frozen, defrost in the refrigerator overnight before using it in this recipe.
(2) Parmesan Cheese. This is finely grated parmesan that has a sandy or almost powdery texture, not shredded, often available in pre-grated bags in the refrigerated section of U.S. grocery stores. This can be substituted with similar cheeses like pecorino romano or asiago.
(3) Cayenne. Use 1/8 teaspoon or less. This modest amount of cayenne enhances the flavor of the gravy without making it spicy.
(4) Pressure Cooker. I use a 6-quart Instant Pot. You can use a different size of electric pressure cooker as long as all ingredients fit within the maximum capacity line.
(5) Pressure Cooking Time. Even if the ingredients are doubled, the pressure cooking time stays the same.
(6) Serving. This recipe yields 2 hearty servings with extra sauce. A side of asparagus, roasted broccoli, or pan-fried cauliflower rice would pair nicely.