Note: This is one of my older recipes and is not low carb. Visit my Recipes page for low carb and keto recipes.
These stuffed chicken breasts are filled with roasted jalapeños and mozzarella cheese, and pan-seared with a honey balsamic glaze. It's a delicious recipe and a great way to spice up your usual chicken.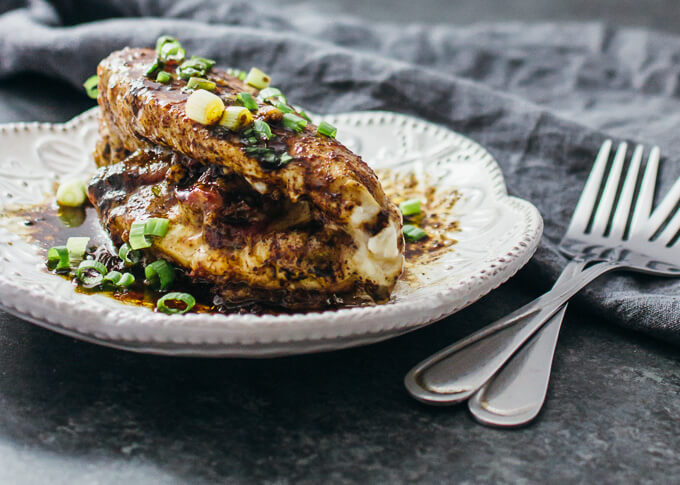 This past weekend I picked a bunch of jalapeño fruit from my outdoor garden. Jalapeño plants are annuals when grown outdoors in any location that experiences a real winter, and I can tell that my plants are starting to reach their end. Their leaves are falling more frequently and there are no new flower buds. Most of the fruit have ripened and turned from green to red. The plants were certainly overdue for a harvest. In total, I picked 15 ripe jalapeños.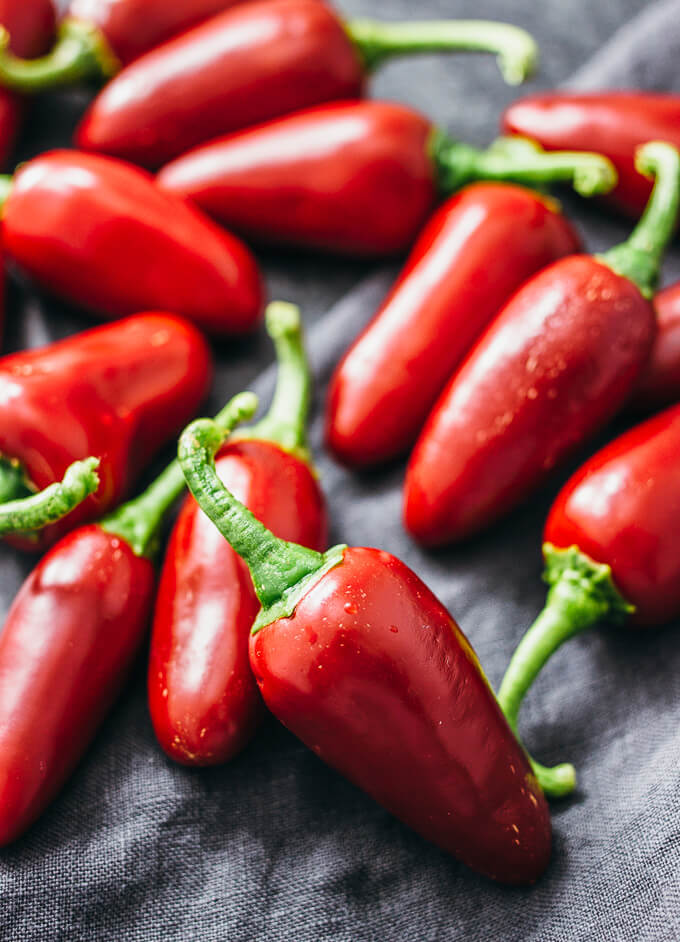 For each jalapeño, I cut off its ends and sliced it lengthwise. I scooped out the seeds, which I saved and left on a drying towel. Using a large flat baking tray lined with foil, I smeared the foil with olive oil and placed each jalapeño half on the tray. These jalapeños were roasted in the oven until charred.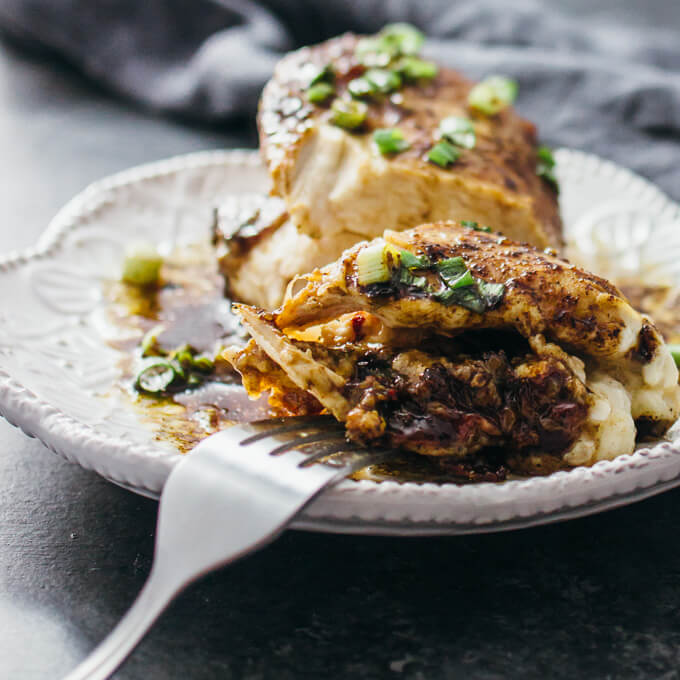 I decided to use these roasted jalapeños in this stuffed chicken recipe. They add a smoky and spicy flavor to the chicken, and this spiciness is well-complemented by the sweet honey balsamic glaze. In fact, I don't think that I even needed any milk while eating this dish because it didn't taste very spicy at all. That's weird for me.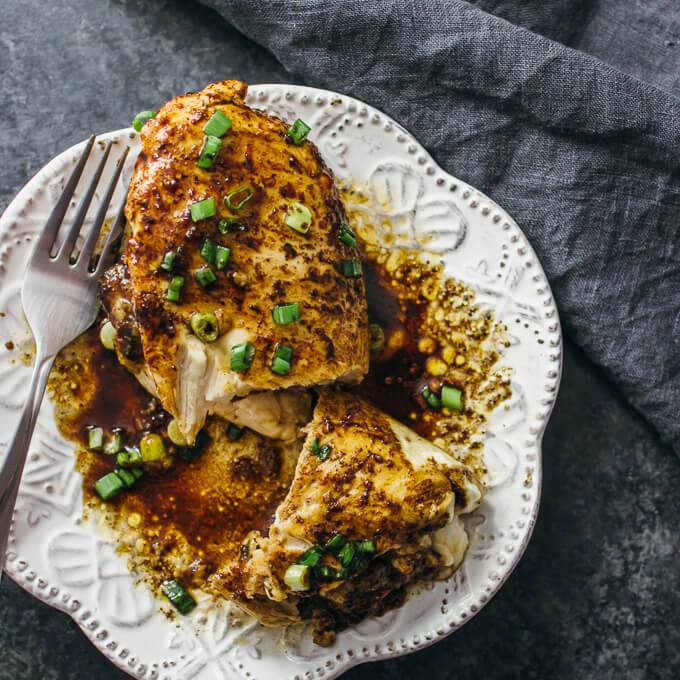 The chicken has a great texture — very moist and juicy. I recommend pan-searing on medium-low heat with a lid so that it results in tender chicken meat. I had this stuffed chicken for my weekend lunch and will be enjoying its leftovers for tomorrow. For more spicy jalapeño dishes, take a look at my smoked salmon quesadilla with jalapeños and my broccoli jalapeño pesto recipe.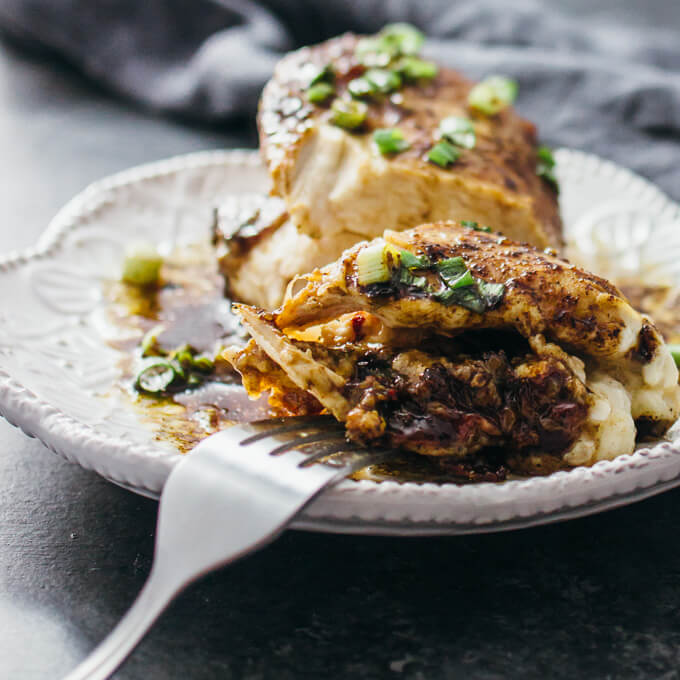 Jalapeño stuffed chicken with honey balsamic glaze
These stuffed chicken breasts are filled with roasted jalapeños and mozzarella cheese, and pan-seared with a honey balsamic glaze.
Total Time
1
hour
15
minutes
Ingredients
For the chicken:
3

chicken breasts

boneless and skinless

3

jalapeños

sliced lengthwise with seeds removed

1

cup

shredded mozzarella cheese

2

scallions

thinly sliced

1

tablespoon

olive oil
For the honey balsamic glaze:
Instructions
Roast jalapeño halves in the oven at 400 F until nicely charred, about 30 minutes. Remove from the oven and let cool.

Slice mostly through each chicken breast, but not all the way, to make a pocket. Stuff with roasted jalapeños, mozzarella cheese, and half of the scallions. If needed, secure the stuffed chicken breasts with toothpicks.

Heat a pan with olive oil over medium-low heat. Add the stuffed chicken breasts to the pan. Cover with a lid. Cook until the chicken is cooked through, about 10 minutes per side.

While the chicken is cooking, combine and mix the honey balsamic glaze ingredients in a saucepot. Bring to a boil and then reduce the heat to a simmer. Let it simmer until the glaze reduces to half its volume, stirring occasionally, about 20 minutes.

Pour the honey balsamic glaze over the chicken in the pan. Sprinkle with remaining scallions.