Summary:
This is an easy recipe for making a creamy raspberry smoothie, and with only 2g net carbs it's perfect for a keto diet. It satiates your fruit cravings without going overboard, and has the indulgent texture of a milkshake. This grab-and-go breakfast only takes 5 minutes to gather the ingredients together and blend.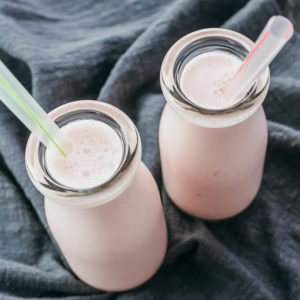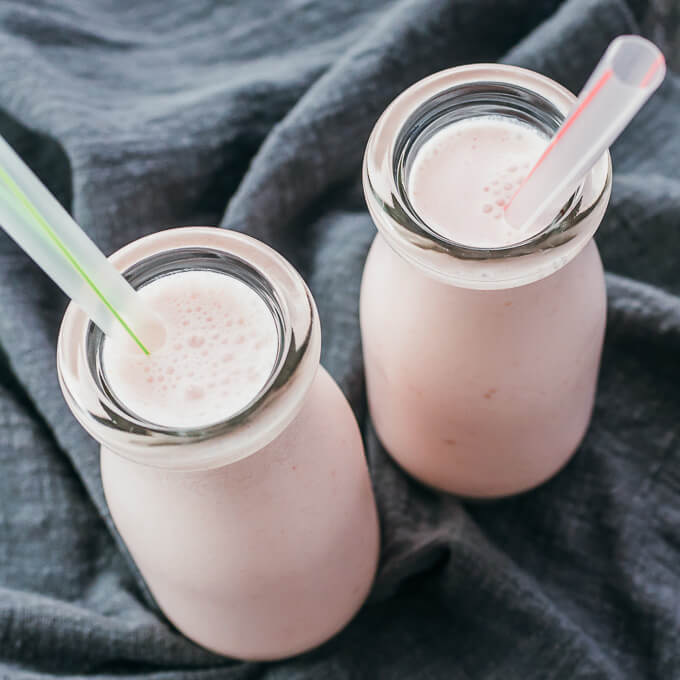 INGREDIENTS
1

cup

unsweetened plain almond milk (Note 1)

1

cup

crushed ice

1/4

cup

heavy whipping cream

1/4

cup

fresh raspberries (Note 2)

1

tablespoon

cream cheese

1/2

teaspoon

vanilla extract

pinch

of table salt (<1/8 teaspoon)
INSTRUCTIONS
Blend: Microwave cream cheese in small bowl for 5 seconds or until very soft, so that it blends easily. Add all ingredients to blender cup (Note 4); blend until very smooth.

Adjust & Serve: Taste and adjust accordingly by adding more Swerve for a sweeter taste, or another tablespoon of cream cheese for a creamier finish. Serve immediately (Note 5).
NUTRITION
Makes 2 Servings (Note 6)
Amount Per Serving (8-ounce drink):
| | |
| --- | --- |
| Calories 150 (87% from fat) |   |
| Total Fat 15g | 23% |
|    Saturated Fat 8g | 42% |
| Cholesterol 41mg | 14% |
| Sodium 250mg | 10% |
| Net Carb 2g |   |
| Total Carb 3.5g (Note 7) | 1% |
|    Dietary Fiber 1.5g | 6% |
|    Sugars 1.5g |   |
| Protein 2g |   |
PHOTOS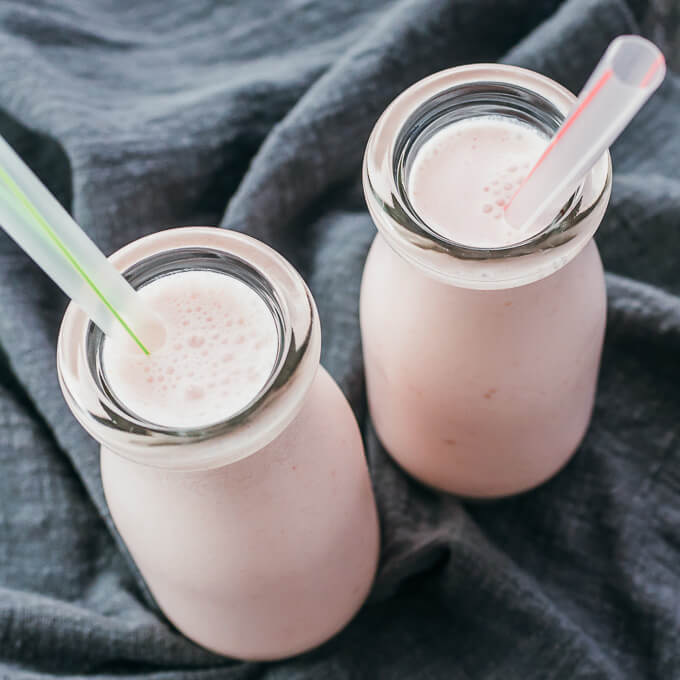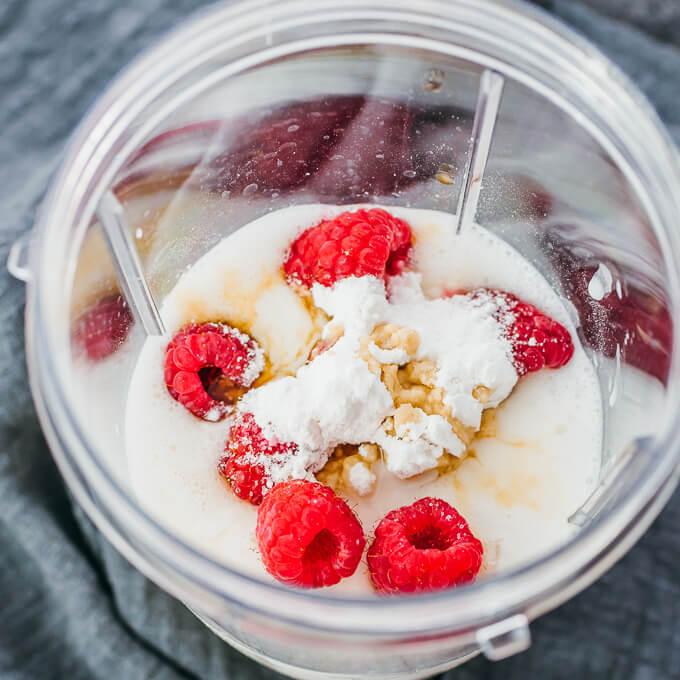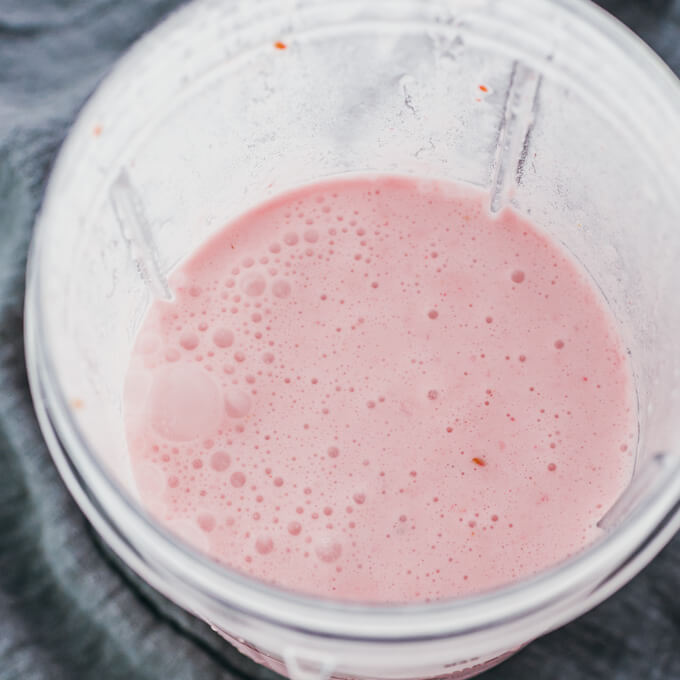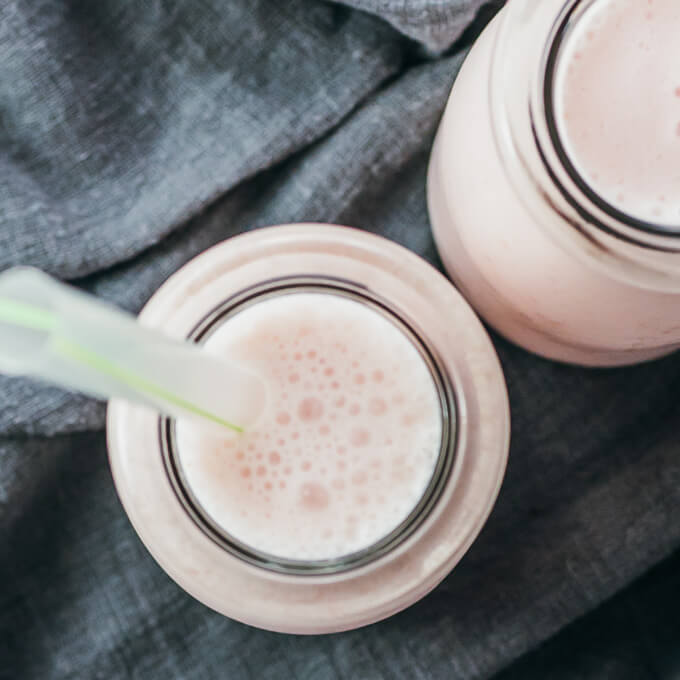 NOTES & TIPS
(1) Almond Milk. Almond milk is used for its lower carbs compared to dairy milk. You can substitute with other nut milks, ideally unsweetened and plain. Find them in the refrigerated fresh milk section of a grocery store. To determine if your nut milk is unsweetened, look at the carton's nutrition facts — it should only have 1 gram of total carbs per 1 cup serving. Anything more than that and it's likely sweetened with a lot of added sugars (meaning it's not low carb) and your drink will end up tasting too sweet.
(2) Raspberries. You can substitute with another kind of berry, like strawberries, blueberries, or blackberries. In general, berries tend to be lower in carbs compared to other fruits. I use fresh ones, but frozen ones should also work well. If you're looking for non-fruity flavors, check out other keto drink recipes like Chocolate Avocado Smoothie and Chocolate Peanut Butter Shake.
(3) Sweetener. Confectioners Swerve is a dry erythritol blend that measures the same as regular powdered sugar. Note that in terms of volume, confectioners (powdered) sweeteners measure differently than granulated sweeteners since they pack differently into a measuring cup. Either powdered or granulated will work for this recipe. Substitute your preferred dry or liquid sweetener by blending in small amounts at a time until your desired sweetness is achieved.
(4) Blending. I use a Nutribullet to blend the smoothie; it's a personal blender, not a full-sized one. The blender container is actually a cup that's inverted onto the blender base. It works great for small liquid amounts, and produces a very smooth drink.
(5) Serving. If not serving right away, keep the smoothie chilled in an ice bath. Separation is normal so give the smoothie a stir before drinking. In the photos on this page, the smoothies are served in 8 fluid ounce glass "milk bottles." They come with lids, which makes it easy to shake up the smoothies if they're made ahead of time.
(6) Adjusting Yield. You can halve or double the ingredients proportionally. If increasing the yield, check that your blender has enough capacity for the increased amount of ingredients.
(7) Carbs. The nutrition calculation assumes you are using Swerve or a similar erythritol-based sweetener that uses sugar alcohols, whose carbs are non-impact and therefore not included in the nutrition estimate. Apps that count sugar alcohols will show a higher number of carbs.