Summary:
This smoothie tastes like a creamy raspberry milkshake and is perfect for anyone looking for keto or low carb drinks.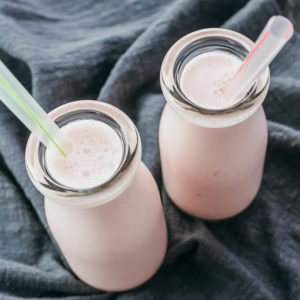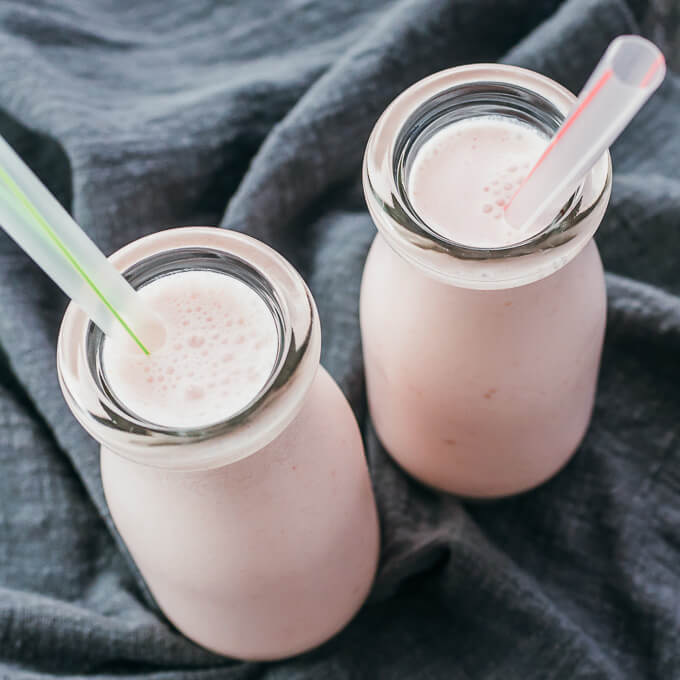 Keto Milkshake Smoothie With Raspberries (Low Carb)
INGREDIENTS
1

cup

unsweetened plain almond milk

1

cup

crushed ice

1/4

cup

heavy whipping cream

1/4

cup

fresh raspberries

2

tbsp

confectioners swerve or sweetener of choice

1

tbsp

cream cheese

1/2

tsp

vanilla extract

pinch

of salt (<1/8 teaspoon)
INSTRUCTIONS
Microwave cream cheese in a small bowl for about 5 seconds or until soft.

Add all ingredients to a blender (I use a Nutribullet). Blend until very smooth.

Taste and adjust accordingly by adding more Swerve for a sweeter taste, or another tablespoon of cream cheese for a creamier finish. If using a different sweetener, add it to taste.

Serve immediately. If not served right away, keep chilled in an ice bath. Separation is normal so give it a stir before drinking.
NUTRITION
Makes 2 Servings
Amount Per Serving (8-ounce drink):
| | |
| --- | --- |
| Calories 150 (87% from fat) | |
| Total Fat 15g | 23% |
| Saturated Fat 8g | 42% |
| Cholesterol 41mg | 14% |
| Sodium 250mg | 10% |
| Net Carb 2g | |
| Total Carb 3.5g | 1% |
| Dietary Fiber 1.5g | 6% |
| Sugars 1.5g | |
| Protein 2g | |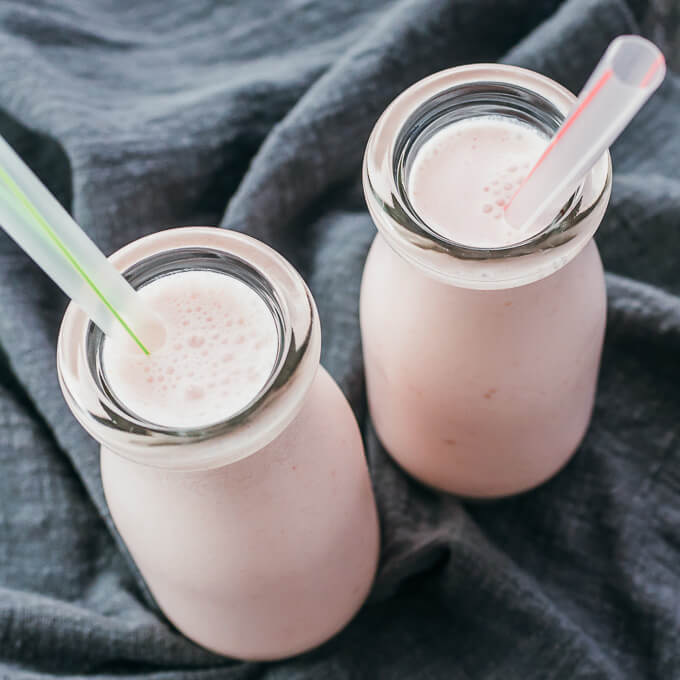 Highlights of this smoothie
Fruity & Creamy. This drink is a cross between a fruity smoothie and a creamy milkshake. It satiates your fruit cravings without going overboard, which is so easy to do when eating fresh fruit by itself, and it has the indulgent texture of a milkshake. Served cold, it's delightfully refreshing on hot summer days.
Very Low Carb. Whether you're looking for weight loss recipes, trying to find a low sugar smoothie, or wondering what to drink as a diabetic, this smoothie is for you. Each 1 cup serving has only 2g of net carbs, great for anyone on a keto diet.
Convenient Breakfast. A common complaint from anyone new to low carb is figuring out what to do for breakfast, other than eggs. I recommend skipping breakfast if you're not hungry because there are many benefits of fasting, but if you're usually ravenous in the mornings, then this milkshake smoothie will do the trick. This portable breakfast only takes 5 minutes to toss all of the ingredients together and blend. You can drink it on the go.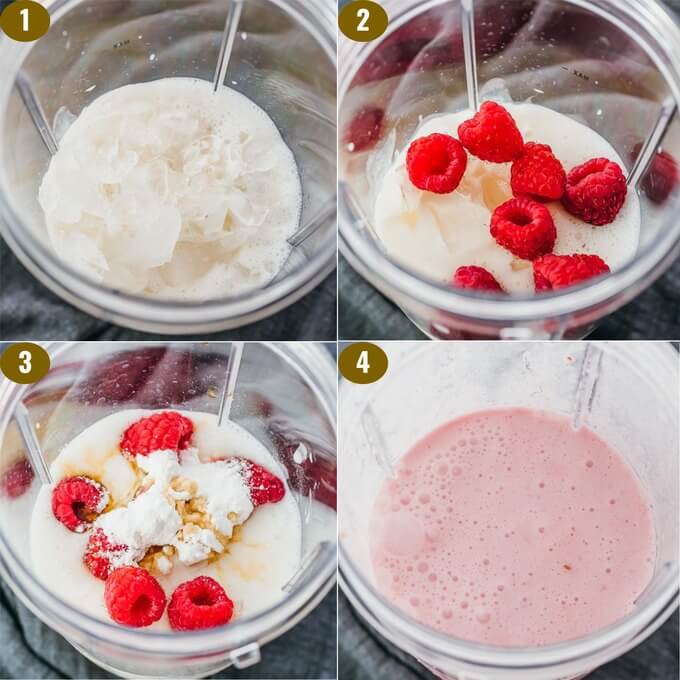 Choosing an almond milk and sweetener
The almond milk should be both plain (not vanilla) and unsweetened. You might see versions labeled "Original" and that usually means it's sweetened. To figure out if it's unsweetened, read the nutrition label — there should be 1g net carbs per 1 cup serving. I use almond milk sold under the Whole Foods 365 brand.
I use swerve to sweeten this drink. It's an erythritol blend that has a 1:1 substitution ratio for sugar. I use the confectioners version, but the granulated version should also work well. Measure it out by weight for best results.
You can also use pure erythritol, but it's only about 70% as sweet as sugar, so you'll need to use more than what the recipe specifies. Start with 1 ounce and go from there.
If you have a preferred sweetener, just add it to taste until your desired sweetness is achieved.
Alternate Flavors
Raspberries can be substituted with another type of berry. In general, berries tend to be lower in carbs compared to other fruits. Strawberries are a common and popular choice. I use fresh raspberries, but frozen ones should also work well.
You can also experiment with other flavors, like chocolate or peanut butter.
For other low carb flavored drinks, check out Hot Chocolate, London Fog, or 10 Keto Drinks Roundup.
Equipment
I use a Nutribullet to blend the smoothie; it's a personal blender, not a full-sized one. The blender container is actually a cup that's inverted onto the blender base. It works fabulously for small liquid amounts, and produces a very smooth drink.
The smoothies are served in 8 fluid ounce glass "milk bottles." They come with lids, which makes it easy to shake up the smoothies if you're making them ahead of time.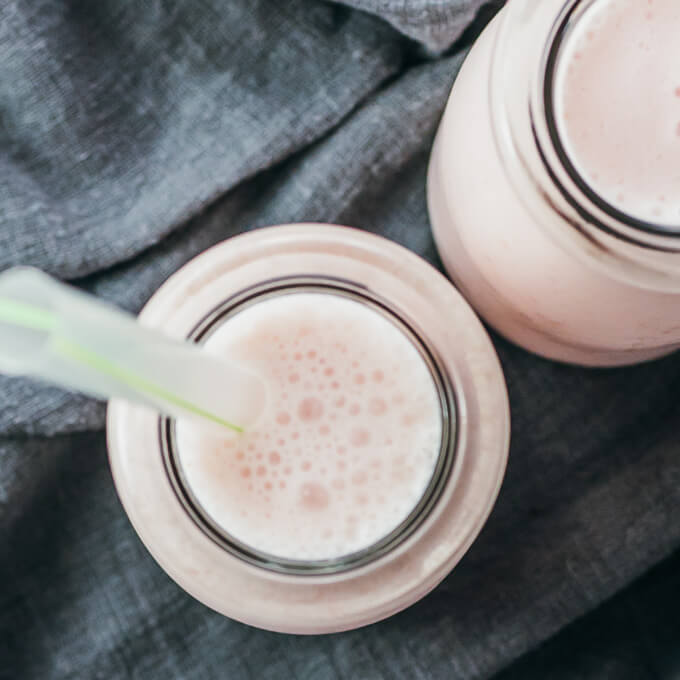 STILL THIRSTY? MORE LOW CARB & KETO DRINKS: