Summary:
These keto almond flour biscuits with bacon and cheddar cheese are easy-to-make savory treats, one of the most popular low carb imitations on the site. Enjoy them for breakfast, lunch, as an appetizer, or as a snack.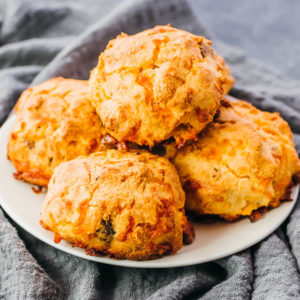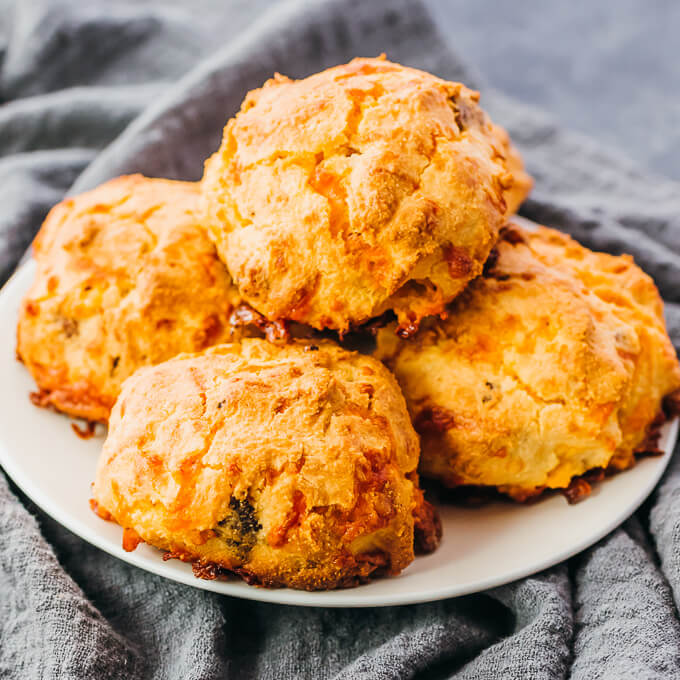 Almond Flour Biscuits Recipe
INGREDIENTS
2

cups

(8 oz wt.) blanched almond flour

1 1/2

cups

(5 oz wt.) shredded cheddar cheese

5

slices

bacon

2

large eggs

1/2

cup

heavy whipping cream

2

tablespoons

butter, diced into tiny 1/3-inch pieces

1

teaspoon

salt
INSTRUCTIONS
Cook bacon slices on a pan over medium heat until crispy, 5 to 10 minutes, turning them over occasionally. Drain bacon on a paper towel. When cool, crumble into small pieces.

Position an oven rack in the lower half of the oven, and preheat to 375 F.

In a large mixing bowl, add almond flour and salt, stirring until well-mixed.

Add all remaining ingredients except the bacon to the mixing bowl. Stir for a minute until the dough is well-mixed, with the almond flour being completely incorporated.

Add crumbled bacon to the mixing bowl, stirring it in.

Evenly divide the dough into 8 mounds on a baking sheet lined with parchment paper (or similar nonstick surface like a baking mat to help the biscuits slide right off after baking), spaced about 1-2 inches apart.

Bake at 375 F until the biscuits are browned and crispy on the outside, 25 to 30 minutes. Since ovens vary, start checking if they're done at the 20 minute mark. Let them cool for 10 minutes before serving.

For leftovers, store the biscuits in a covered container in the refrigerator for up to a few days. To reheat, place the biscuits on a nonstick pan over medium-low heat until warmed through, turning them occasionally to avoid over-browning. No oil necessary. Avoid the microwave for reheating because it makes the biscuits soggy.
NUTRITION
Makes 8 Servings
Amount Per Serving (1 biscuit):
| | |
| --- | --- |
| Calories 350 | |
| Total Fat 31g | 48% |
| Saturated Fat 10g | 51% |
| Cholesterol 93mg | 31% |
| Sodium 520mg | 22% |
| Net Carb 2.5g | |
| Total Carb 5.5g | 2% |
| Dietary Fiber 3g | 12% |
| Sugars 1.5g | |
| Protein 14g | |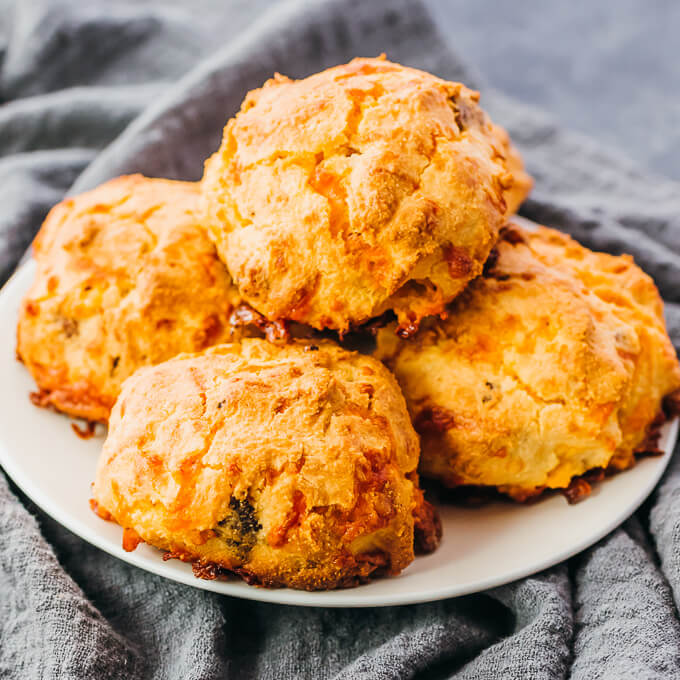 Recipe Overview
These low carb biscuits are made using almond flour, plenty of cheddar cheese, crispy bacon crumbles, eggs, cream, and butter. Just combine all of the ingredients together into a mixing bowl and divide into eight mounds on a baking tray. Bake for about 25 minutes, and you'll end up with delicious cheddar bacon biscuits. No special equipment or ingredients are needed for this easy bake job.
Each keto biscuit is 2.5g net carbs and 350 calories (but feels like a lot more!). They're very hearty and filling, keeping you satiated for a while. They taste and look like carby comfort food.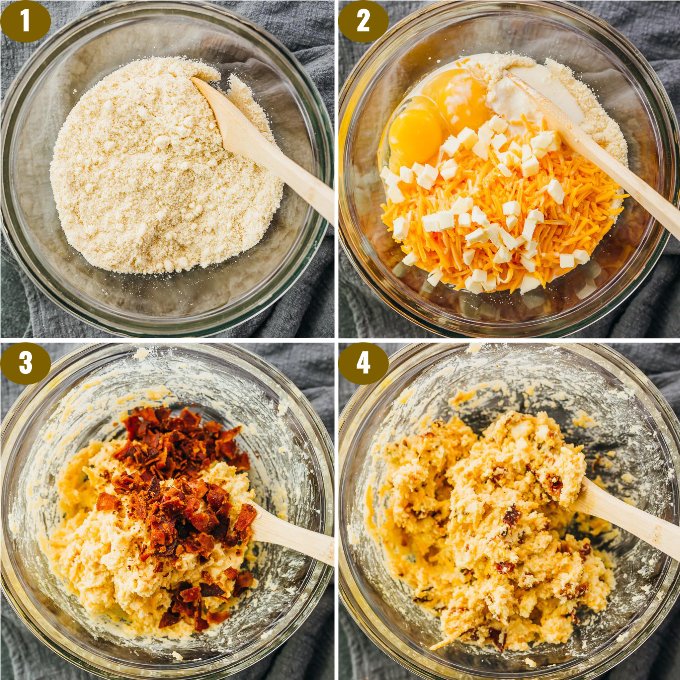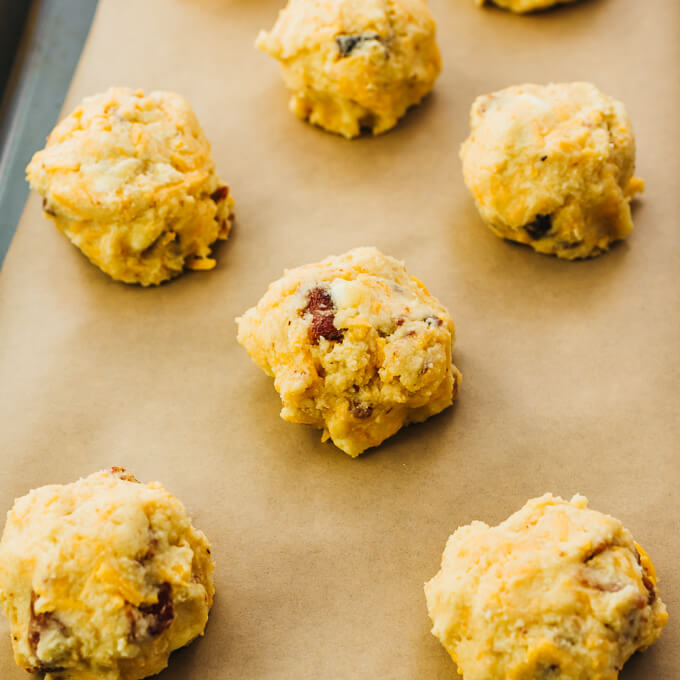 Note On Almond Flour
I'm often asked about almond flour brands. I usually use Trader Joe's and Costco's Kirkland brand for almond flour in this recipe, and both of them have worked equally well.
If you buy another brand, check that it's labeled as "blanched almond flour" (don't substitute with finely ground almonds); the "blanched" part comes from blanching almonds so that their skins peel off to reveal white insides, and the "flour" part comes from grinding almonds so fine that any more grinding would turn it into almond butter.
I also recommend checking the nutrition facts of your almond flour, which should be 2g net carbs per 1/4 cup (1 ounce) serving.
Please don't substitute almond flour with coconut flour, which is much more absorbent and isn't a 1:1 substitution.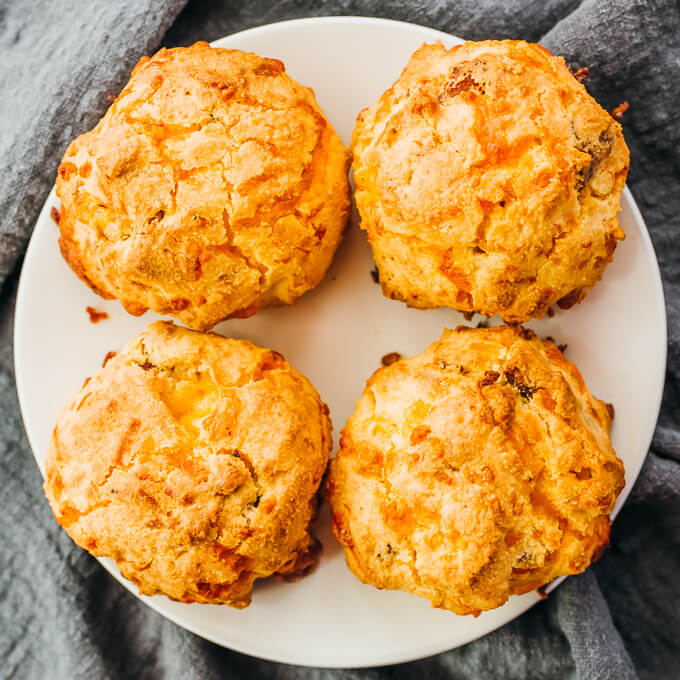 Alternate Flavors
If this is your first time making these almond flour biscuits, I suggest you follow the recipe as closely as possible to see how they're intended to turn out. Then if you decide to make them again, you can try some of these alternate flavors and other creative ideas shared by readers:
adding garlic powder and/or onion powder
skipping the bacon or adding in other types of meats like pepperoni
replacing some or all of the cheddar cheese with parmesan, swiss, or asiago cheese
adding jalapeño slices to make them spicy
converting this to a breakfast bread by making it slightly sweet instead of savory (add a sweetener, vanilla, and pecans)
This is a relatively forgiving recipe as far as baked goods go, so feel free to try different things and let me know how it went in the comments section below.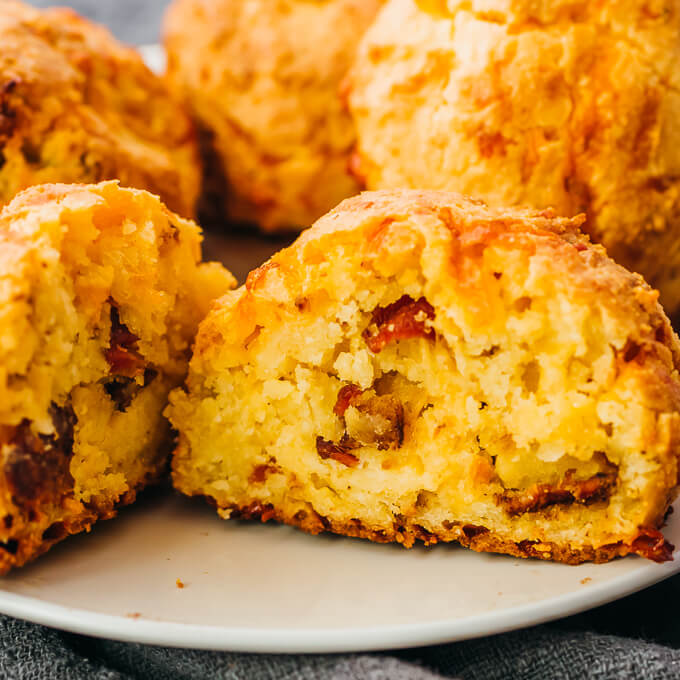 MORE DELICIOUS KETO "BREADS":