Breakfast biscuits can be both delicious and healthy — like these easy low carb biscuits made with almond flour, cheddar cheese, and bacon. They're great for anyone on the keto diet!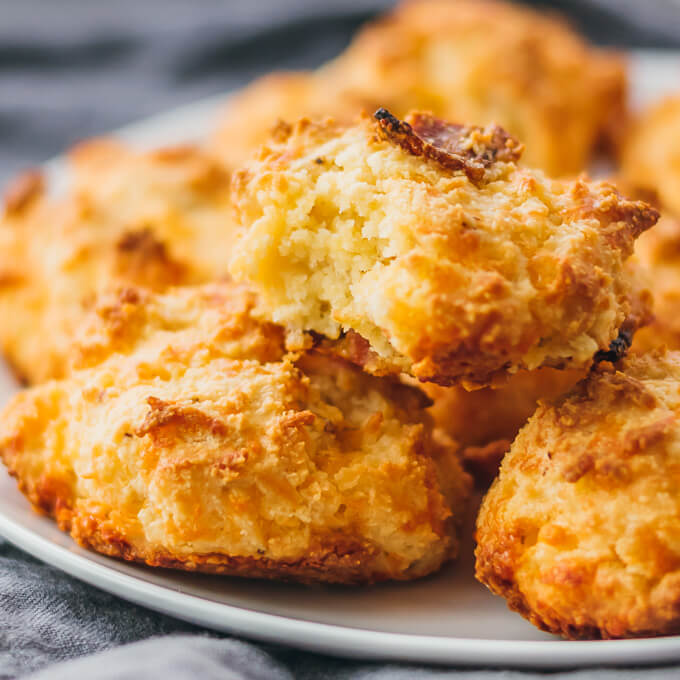 Can you really have biscuits while following a healthy diet? The answer is yes, and you can even have more than one. These low carb biscuits are made using almond flour, plenty of cheddar cheese, crispy bacon crumbles, eggs, cream, and butter. They are super savory, hearty, and filling, and you can eat them for breakfast (with a mug of low carb hot chocolate or low carb tea latte), as a snack, or for dinner.
Each keto biscuit is about 360 calories (but feels like a lot more) and only has 2 grams of net carbs. They taste and look like the comforting biscuits that we're all familiar with, but without any of the ill effects of high carb foods.

STEP-BY-STEP: HOW TO MAKE LOW CARB BISCUITS WITH ALMOND FLOUR & CHEESE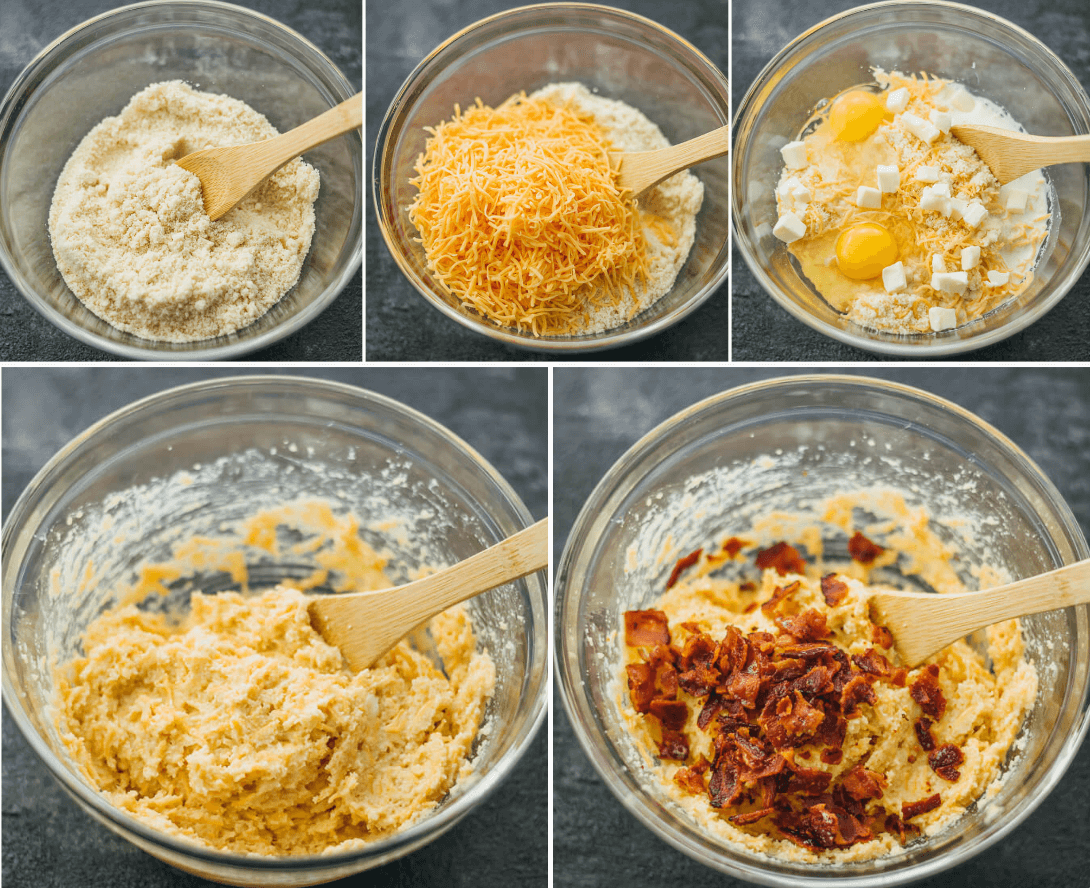 Also, who knew that low carb biscuits could be so easy to make? It only takes five to ten minutes of prep work, and by prep work I mean that you throw all of the ingredients into a mixing bowl and stir for a few minutes. Then you divide the mixture into eight equal mounds on a baking tray and bake for about 25 minutes. Anyone can do this, including you. No special equipment or ingredients are needed for this easy bake job.
You can shape these wonderful little biscuits any way that you like. I like to make rough mounds — I use a spoon to ladle the mixture into eight equal piles on a baking tray, and then use the spoon to slightly smooth the edges. I like the "rough" look of it. You could try other shapes by forming a ball using your hands, or flattening them into patty shapes. I recommend using a nonstick baking surface like a baking mat so that the biscuits can slide right off after baking, but it's not necessary.

This recipe originated because I was thinking of ways to get rid of all this extra cheese that I have. Mr. Savory Tooth has been experimenting with various cheese snacks, trying to figure out which ones he likes, so I've been buying various kinds for him to sample. Half of the time he doesn't like a particular kind, so it'll end up just sitting in our cheese drawer. Suffice to say, now we have quite the collection of various half-eaten cheese blocks.
We've been baking with almond flour lately, so I thought I'd try to mix almond flour with all of our leftover cheese to make these cheesy keto biscuits. When I mentioned that to Mr. Savory Tooth, he immediately requested that I also add bacon, which was a fantastic idea. That's how I ended up with these bacon cheddar biscuits, which will probably be a regular in our household now. I also can't wait to experiment with other flavor combos.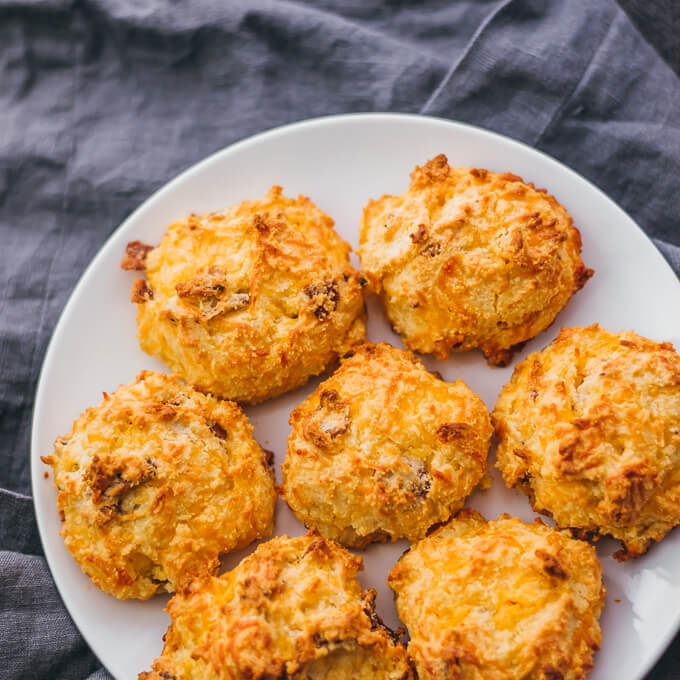 TIPS FOR MAKING THE BEST LOW CARB BISCUITS
Make sure you get the right kind of almond flour. It should be labeled as "blanched almond flour" (don't substitute with finely ground almonds); the "blanched" part comes from blanching almonds so that their skins peel off to reveal white insides, and the "flour" part comes from grinding almonds so fine that any more grinding and they would turn into almond butter.
Also check the nutrition facts of your almond flour, as the number of carbs per serving can vary substantially between brands. I use Trader Joe's almond flour, which has 2 grams of carbs per 1/4 cup serving. That's also what my nutrition facts in the recipe below is based off of.
You can use any kind of cheddar cheese that you prefer, but check its carb count. I use a pre-shredded bag of mild cheddar cheese that has 0 grams of carbs. I prefer the milder cheddar as it has a more "cheddar" taste, compared to sharp cheddar which has a more "aged cheese" kind of taste. I recommend measuring out the cheese by weight and not volume, as it'll be a much more accurate measurement. I did provide the approximate volume in the recipe, so if you go by volume, be warned that it could throw off the flour to cheese ratio.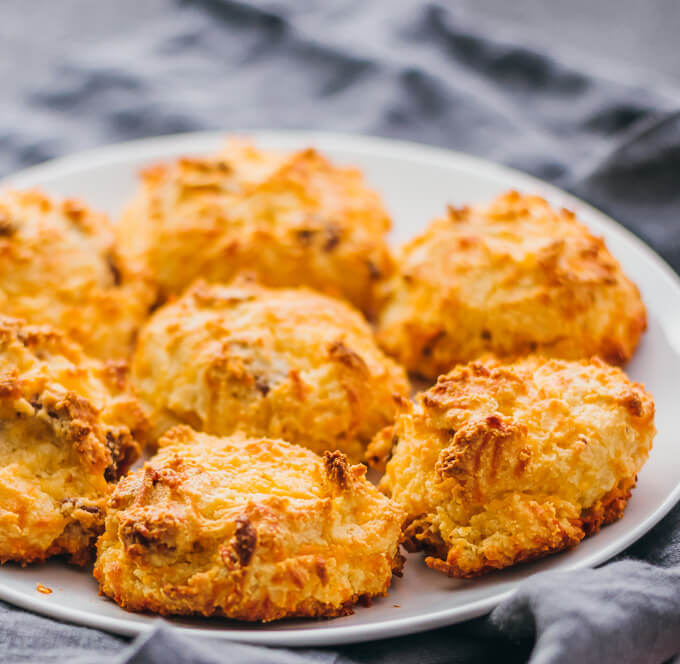 If you don't want to add bacon, you can skip it. Many readers have reported back that they skipped the bacon (or subbed with diced onion in butter) and followed the rest of the recipe exactly. Others have piped in with tips such as brushing the tops with melted garlic butter, or replacing the cheese mix with a variety of other cheeses. Either way, it'll turn out great!
Quick note about leftovers: to store these low carb biscuits, place them in a covered container and refrigerate up to a few days. To reheat, place the biscuits on a pan in a single layer over medium-low heat for 10-15 minutes until warmed through. I don't recommend microwaving because it makes the biscuits turn soggy. Here's a comprehensive article on reheating biscuits in general.
Watch this recipe video to see how these biscuits are made: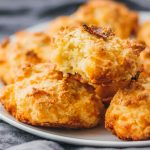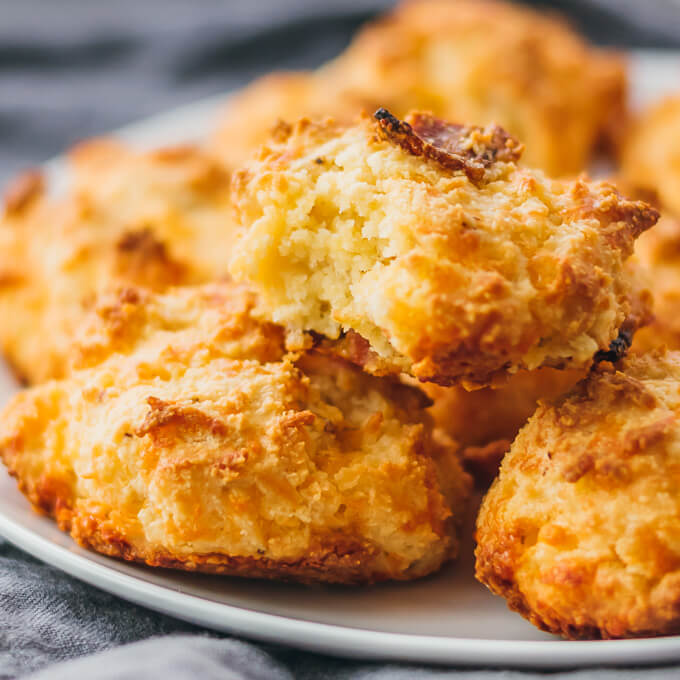 Low Carb Biscuits (Keto) With Almond Flour
Breakfast biscuits can be both delicious and healthy — like these easy low carb biscuits made with almond flour, cheddar cheese, and bacon. They're great for anyone on the keto diet!
Ingredients
2

cups

blanched almond flour

5

ounces

shredded mild cheddar cheese (about 1.5 cups)

5

slices

bacon

2

large eggs

1/2

cup

heavy whipping cream

2

tablespoons

salted butter

diced into about 30 tiny pieces

1

teaspoon

salt
Instructions
Cook bacon slices on a pan over medium heat until crispy, 5 to 10 minutes, turning them over occasionally. Drain bacon on a paper towel. When cool, crumble into small pieces.

Preheat the oven to 375 F.

Combine almond flour and salt in a large mixing bowl, stirring until well-mixed.

Add all remaining ingredients except the bacon to the mixing bowl. Stir for a minute until the mixture is smooth, with the almond flour being completely incorporated.

Add crumbled bacon to the mixing bowl, stirring it in.

Evenly distribute the mixture into 8 mounds on a nonstick baking mat, spaced about 1-2 inches apart.

Bake at 375 F until the biscuits are golden brown and crispy on the outside, 20 to 25 minutes. Let cool for 10 minutes before serving.
Nutrition Info
This recipe yields 2 g net carbs per serving (1 biscuit).
Nutrition Facts Per Serving
| | |
| --- | --- |
| Calories 360 |   |
| Total Fat 32g | 49% |
|    Saturated Fat 11g | 54% |
|    Trans Fat 0g |   |
| Cholesterol 101mg | 34% |
| Sodium 520mg | 22% |
| Potassium 180mg | 5% |
| Total Carb 5g | 2% |
|    Dietary Fiber 3g | 12% |
|    Sugars 1g |   |
| Protein 13g |   |
MORE DELICIOUS LOW CARB & KETO RECIPES: