Summary:
Calling all chocolate lovers! This recipe shows you how to make your own low carb milk chocolate, perfect snack for the keto diet.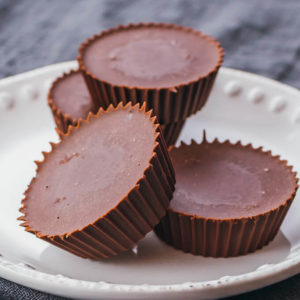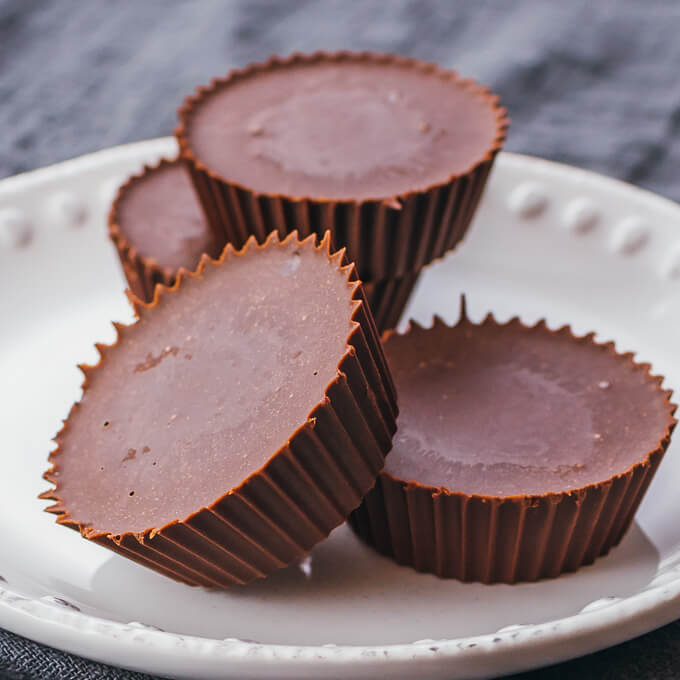 How To Make Low Carb Chocolate (Keto Recipe)
INSTRUCTIONS
Blend the erythritol and whey protein together into a superfine powder. This will result in smoother chocolate.

Prepare a double boiler setup (recommended), or a small saucepan over low heat. Add cocoa butter and heat, stirring occasionally until melted.

Add baking chocolate, stirring continuously until smooth.

Add erythritol, whey protein, and stevia, stirring continuously until well mixed.

Remove from heat and continue to stir until very smooth.

At this point, you can proceed to the Keto Peanut Butter Cups recipe if desired. Or pour into chocolate molds. Refrigerate to cool until hardened. Store and enjoy at room temperature.
NUTRITION
Makes 13 Servings
Amount Per Serving (1 ounce):
| | |
| --- | --- |
| Calories 170 (84% from fat) | |
| Total Fat 16g | 25% |
| Saturated Fat 10g | 50% |
| Cholesterol 0mg | 0% |
| Sodium 10mg | 0% |
| Net Carb 1g | |
| Total Carb* 3.5g | 1% |
| Dietary Fiber 2.5g | 9% |
| Sugars 0.5g | |
| Protein 3g | |
*Nutrition does not include sugar alcohols like erythritol, which cannot be digested by the body.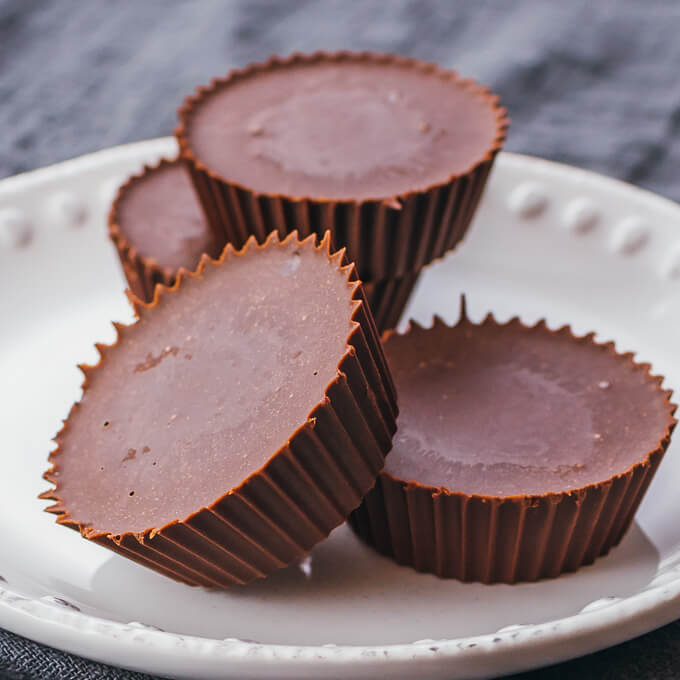 Low carb chocolate is a common request from anyone following a keto diet. Some people wonder if it's possible to have no carb chocolate; unfortunately, the answer is no because even unsweetened 100% cocoa has carbs. And given how bitter unsweetened chocolate is, you need to add some kind of sweetener. To keep it low in carbs, that usually means a sugar free sweetener such as a mixture of stevia and erythritol.
This recipe is simple: just five ingredients combined together on the stovetop. The result is a ketogenic friendly milk chocolate that's smooth, creamy, and solid at room temperature. It only has 1g of net carbs per 1 ounce serving.
You can use this recipe to make chocolate candy bars, keto peanut butter cups, or low carb chocolate chip cookies.
Making low carb chocolate: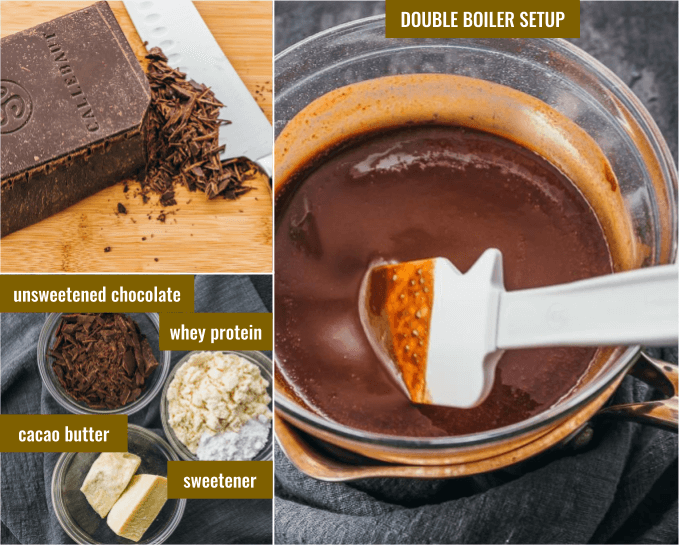 This is actually not my recipe. It's from Mr. Savory Tooth (or maybe it should be Mr. Sweet Tooth…) and it's been months in the making. He probably experimented with 5-10 different versions before getting it right. The texture and taste has to be similar to milk chocolate, it needs to stay solid at room temperature, and it also has to look like milk chocolate.
We use unsweetened baking chocolate so that we're starting off with pure 100% chocolate with as few carbs as possible. I like Bakers brand, but any other brand will work as long as the chocolate is unsweetened. The chocolate is melted with cocoa butter and whey protein powder, to give a milky appearance and taste.
Lastly, we use a combination of liquid stevia extract and powdered erythritol to sweeten the mixture. Why do we use both? Because if you use too much stevia, the taste will be overpowering, and if you use too much erythritol, you get a crystallization effect.
Setting up a double boiler:
If you've never melted chocolate using a double boiler before, watch the video below by Food52. All you need is a pot and a wide heat-proof bowl that can sit atop it. I've used both stainless steel and glass bowls.
After your chocolate mixture is combined and smooth, it's time to pour it into a mold tray. You can use any mold you like, such as chocolate bar molds or molds with various fun shapes.
I poured the chocolate mixture into foil cupcake wrappers (pictured here) since I was using them to make keto peanut butter cups.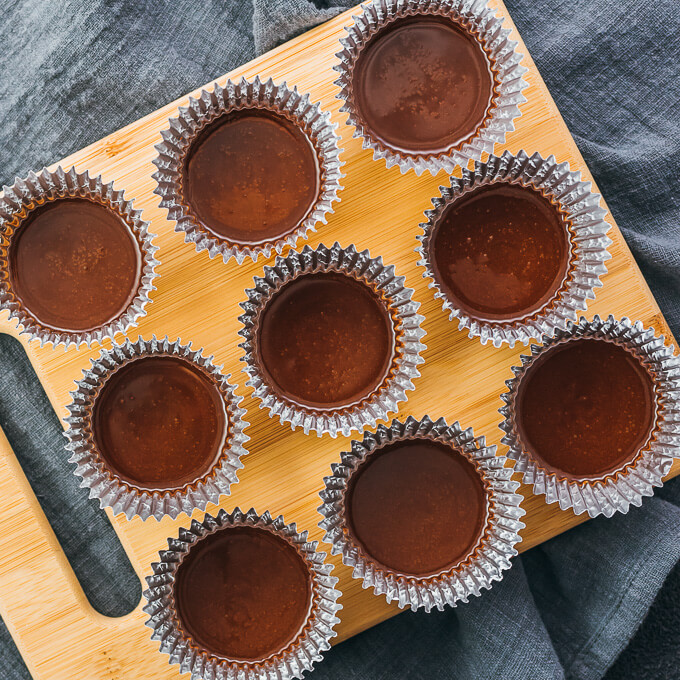 Equipment list for making chocolate:
pot with fitted heatproof bowl for the double boiler
digital food scale so that you can get proper weight measurements of ingredients
blender for mixing erythritol and whey protein into superfine powder (I like the Nutribullet for this job)
Tips for perfect low carb chocolate:
Use unsweetened 100% dark baking chocolate. If you're not sure of a particular product, check the nutrition label. It should be about 55% fat by weight and the ingredients list should not include sugar.

I don't recommend substituting with unsweetened cocoa powder. If you do, you will likely need to combine cocoa powder with an equal weight of cocoa butter to make baking chocolate.

Cocoa butter is best. You can use coconut oil instead, but the end result will not look as milky and will not be solid at room temperature.
The erythritol sweetener must be powdered. Granulated erythritol will give a pronounced crystallized texture.

You can substitute with another dry powdered sweetener. Note that erythritol is only 70% as sweet as table sugar. If you use Swerve or anything else with a 1:1 substitution ratio for sugar, you'll need to use less.

Get the chocolate, cocoa butter, erythritol, and protein powder measured out by weight before starting the recipe. Double-check your numbers.
Make sure you are combining ingredients using heat that's just hot enough to melt the ingredients. Don't overheat.
Chocolate will taste the smoothest the same day that you make it. For best results, enjoy once it has hardened.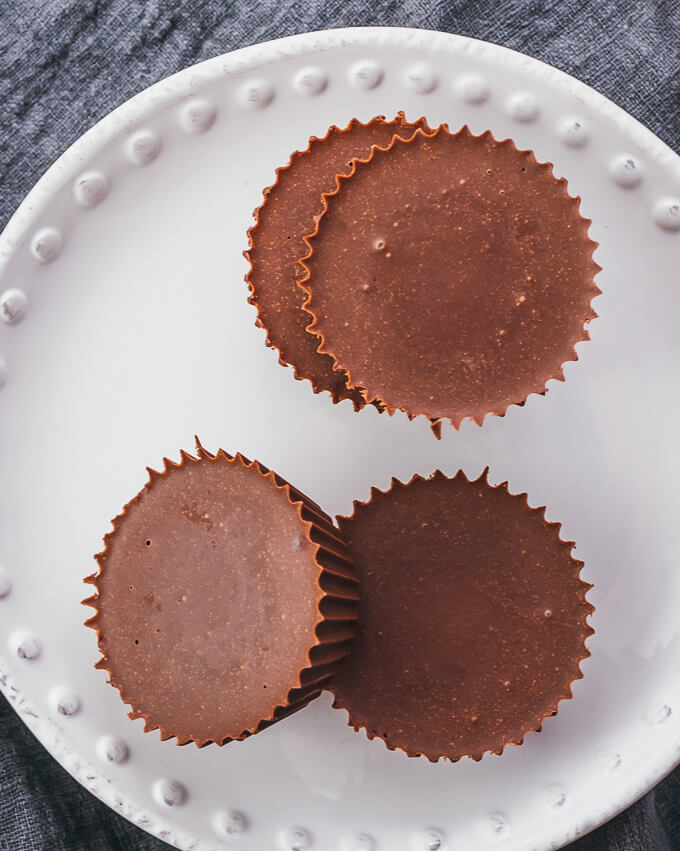 MORE DELICIOUS LOW CARB TREATS: