Summary:
This mashed cauliflower is a hit with everyone, whether they're on a low carb diet or not. It has the creaminess and fluffiness of mashed potatoes, but none of the carbs. This version uses cooked cauliflower to make a cheesy and buttery mash that can complement any meaty main dish, especially around the holidays.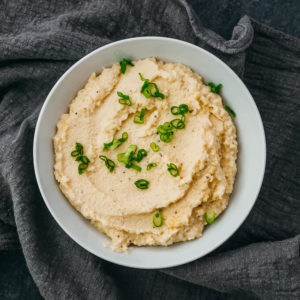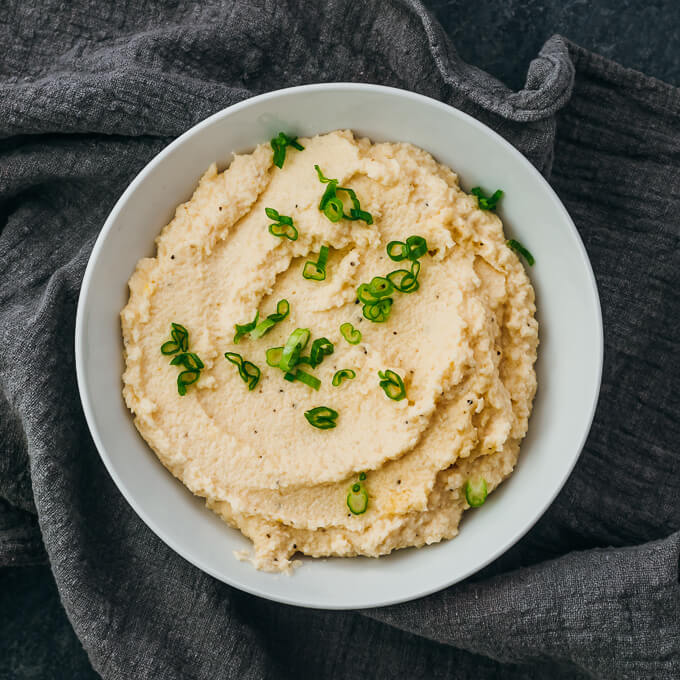 INGREDIENTS
1

head

cauliflower, cut into florets, or 1 pound cauliflower rice (Note 1)

2

ounces

cream cheese, softened to room temperature

4

tablespoons

salted butter, softened to room temperature

1/2

cup

shredded cheddar cheese

1/4

cup

heavy whipping cream

1

clove

garlic, minced

1/2

teaspoon

table salt

1/4

teaspoon

ground black pepper
INSTRUCTIONS
Combine Ingredients: Transfer cauliflower to food processor. Add softened cream cheese, softened butter, shredded cheddar, garlic, salt, and pepper. Process for 15 seconds to break down large ingredients, then pause to scrape down sides of bowl. Add heavy whipping cream, and process until mixture becomes smooth and creamy.

Store: If making ahead of time, transfer mashed cauliflower to airtight container. Store in refrigerator for up to 2 days.

Serve: Just before serving, transfer mashed cauliflower to saucepan over medium heat. Stir until heated through, 1 to 2 minutes. Check consistency — add more heavy cream to thin, or continue heating to thicken by evaporating excess moisture. Serve warm, as a side dish (Note 3) and adding toppings if desired (Note 4).
NUTRITION
Makes 4 Servings
Amount Per Serving (3/4 cup):
| | |
| --- | --- |
| Calories 290 (84% from fat) |   |
| Total Fat 27g | 41% |
|    Saturated Fat 16g | 82% |
| Cholesterol 75mg | 25% |
| Sodium 560mg | 23% |
| Net Carb 5g |   |
| Total Carb 7.5g | 3% |
|    Dietary Fiber 2.5g | 9% |
|    Sugars 3g |   |
| Protein 7g |   |
PHOTOS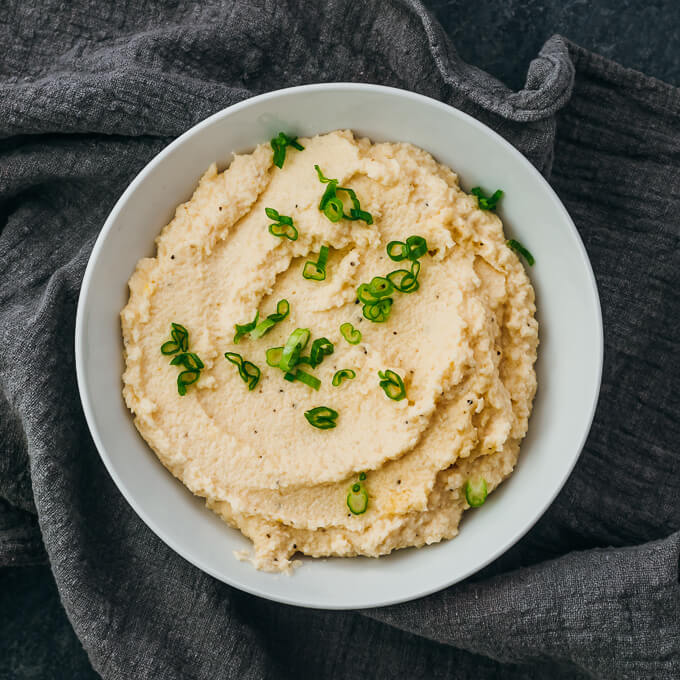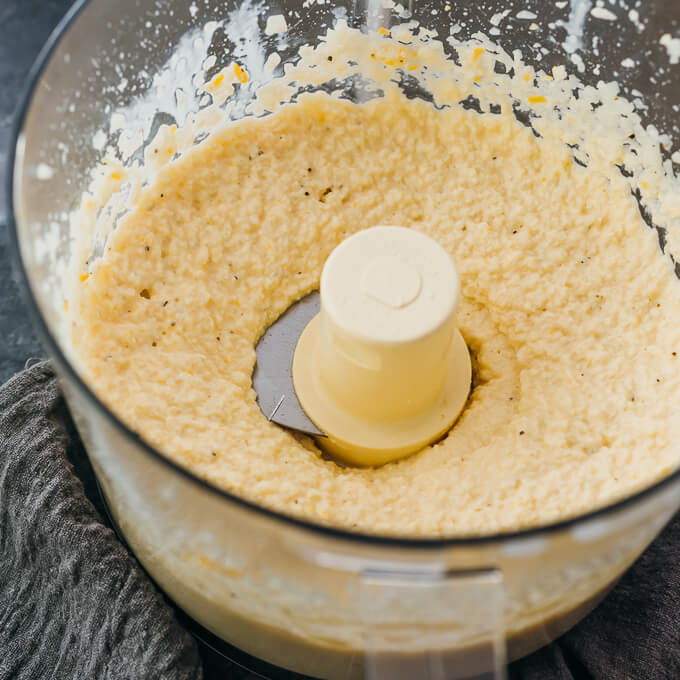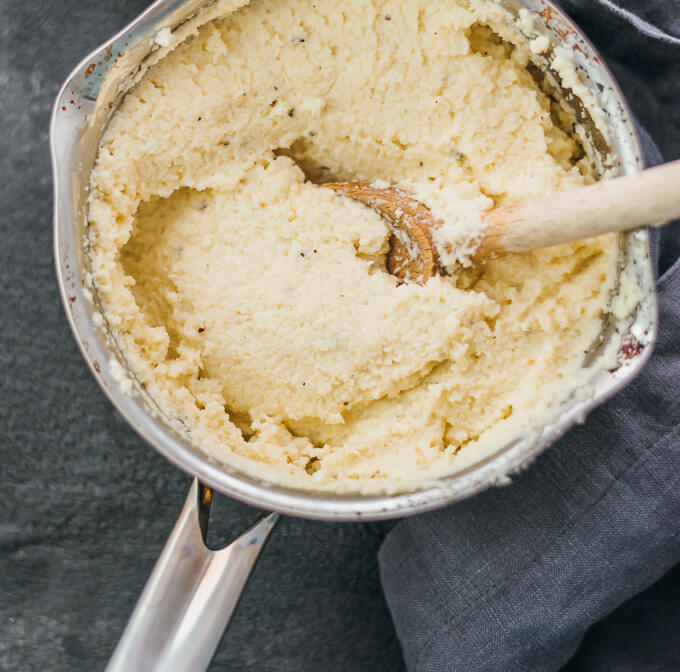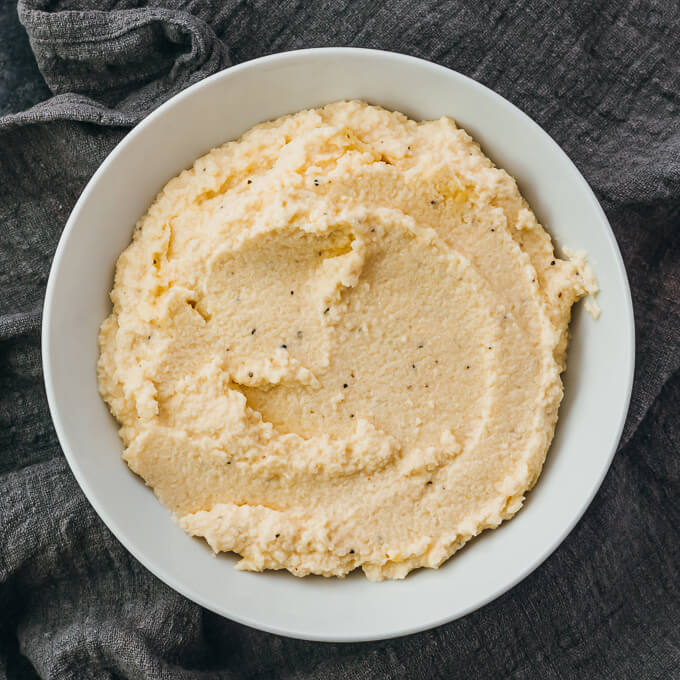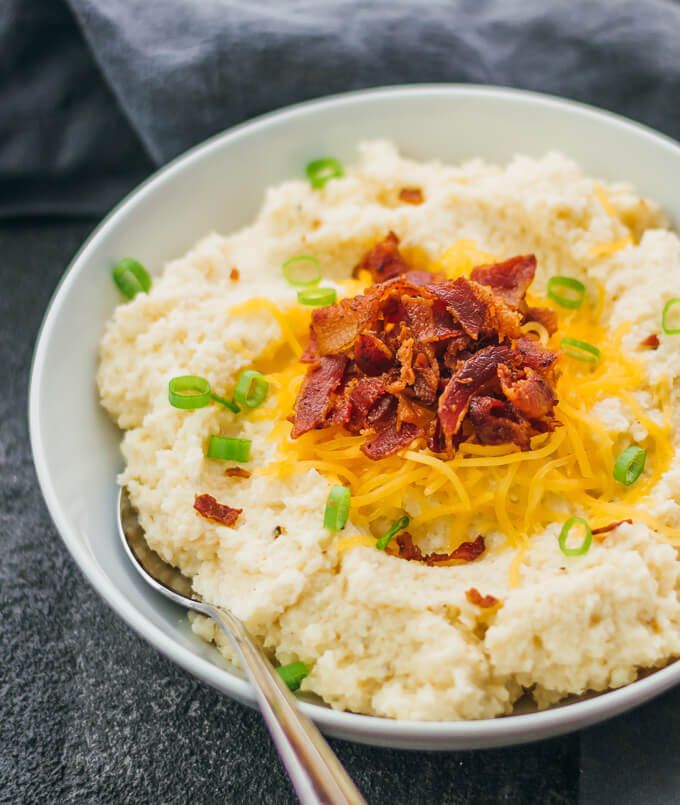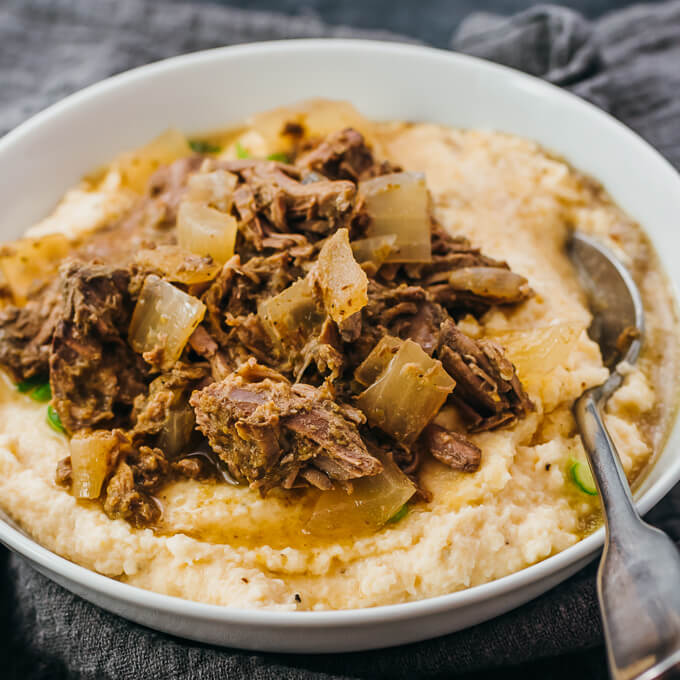 NOTES & TIPS
(1) Cauliflower. You can use 1 medium head of cauliflower (chopped into florets), or a 16-ounce bag of either pre-cut florets or riced cauliflower. It can be fresh or frozen; this only changes the microwave cooking time in Step 1.
(2) Microwaving. The cooking time varies depending on your microwave's power, whether your cauliflower is fresh or frozen, and if you're using florets or riced cauliflower. It's sufficiently cooked when the cauliflower is very tender and soft. I recommend covering the bowl so that the cauliflower can effectively steam; no need to add any water. The purpose of cooking the cauliflower is to soften it enough so that it can easily combine with the other ingredients to form a smooth consistency akin to mashed potatoes.
(3) Serving As Side Dish. Mashed cauliflower is a fantastic low carb side dish for meaty stews like beef pot roast, lamb stew, fish stew, and pork shoulder roast. I also love pairing mashed cauliflower with pesto shrimp, or using it to make shepherd's pie.
(4) Topping Ideas. This mashed cauliflower is quite good without toppings, but sometimes I'll top with thinly sliced scallions or chives, shredded cheddar cheese, or crispy crumbled bacon.