Summary:
These holiday brussels sprouts are pan-fried with crispy bacon and dried cranberries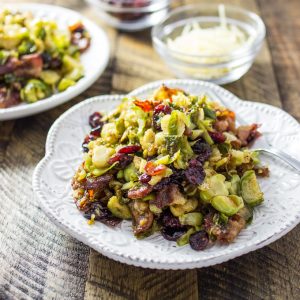 Holiday Brussels Sprouts with Bacon and Cranberries
INGREDIENTS
For the brussels sprouts:
14

ounces

brussels sprouts

thinly sliced

5

garlic cloves

minced

1

tablespoon

butter

sprinkle of salt and pepper

4

tablespoons

olive oil
Everything else:
7

bacon strips

chopped into 1-2 inch pieces

1/3

cup

dried cranberries

parmesan cheese

shredded
INSTRUCTIONS
Prep the brussels sprouts: Add brussels sprouts to a large mixing bowl and microwave until soft, about 3 minutes. Add garlic, butter, salt, and pepper. Mix until the butter melts. Add olive oil and mix well. Set aside this mixture while you perform the next step, so that the brussels sprouts marinate in the goodness you just mixed in. If you have the time, you can let the brussels sprouts marinate up to 1 hour but it's not necessary.

Cook the bacon: Place bacon in a large high-sided pan over medium heat. Cook until the bacon starts to crisp, about 10 minutes, stirring occasionally.

Cook everything together: Add brussels sprouts to the pan and let them cook for 5 minutes, stirring occasionally. Add cranberries and let them get acquainted with the delicious bacon grease for 2 minutes, stirring regularly. Turn off the heat and transfer everything to a colander to drain. Serve immediately with parmesan cheese.
NUTRITION
This recipe yields 15 g net carbs per serving.
Nutrition Facts Per Serving
| | |
| --- | --- |
| Calories 300 |   |
| Total Fat 20g | 31% |
|    Saturated Fat 5g | 25% |
|    Trans Fat 0g |   |
| Cholesterol 16mg | 5% |
| Sodium 230mg | 9% |
| Potassium 0mg | 0% |
| Total Carb 19.5g | 7% |
|    Dietary Fiber 4.5g | 18% |
|    Sugars 11.5g |   |
| Protein 6g |   |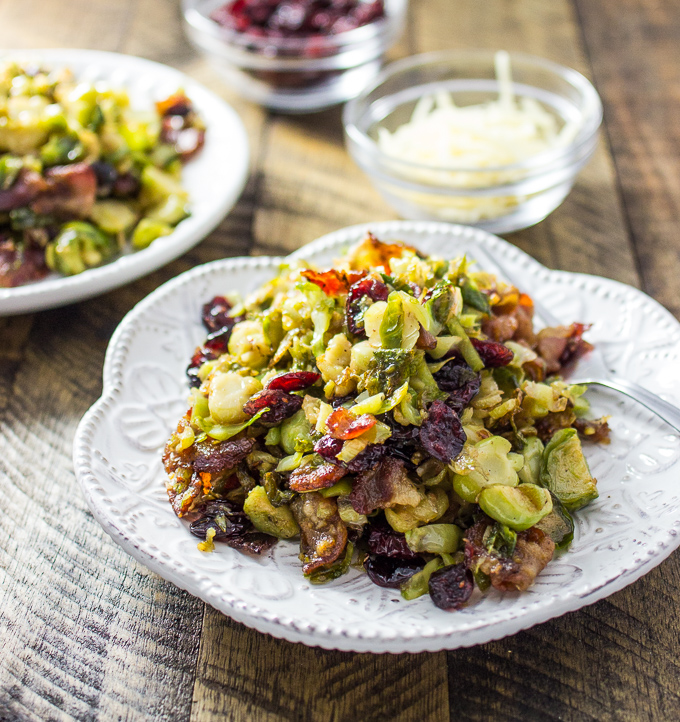 These holiday brussels sprouts are pan-fried with crispy bacon and dried cranberries to make a heavenly meal. This is a crowd-pleasing dish perfect for fall-themed holidays such as Thanksgiving as well as Christmas. If you have a brussels sprouts lover (or hater, if you want to convert them) in the family, you must make them try this! If you have a pressure cooker, you can try these
Instant Pot Brussels Sprouts
.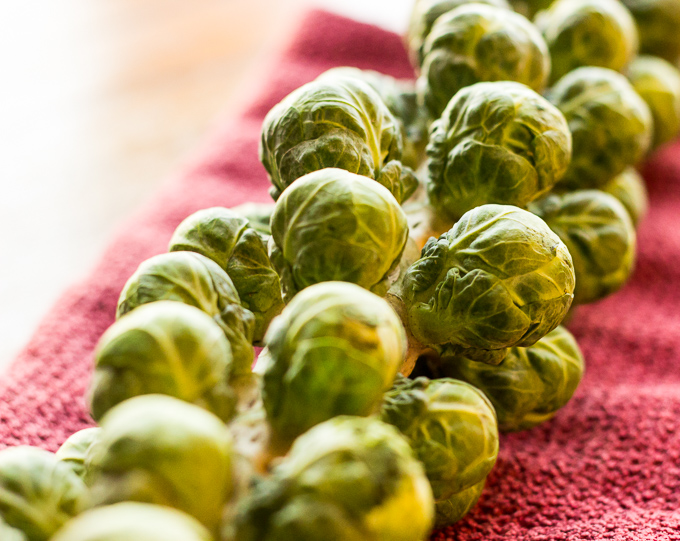 I mean, who knew that brussels sprouts could taste anything remotely savory?  Certainly not me. Two years ago, I made a brussels sprouts dish for the first time, and my mom was in town visiting me. It was brussels sprouts with pasta, and it tasted HORRIBLE. Absolutely terrible. It basically tasted like brussels sprouts, which is not what you want. My mom and I were horrified and threw out half the dish. As moms do, she still brings this up occasionally, to my chagrin.
Anyway, this recipe actually makes brussels sprouts taste yummy, by masking their innate flavor and replacing it with bacon flavor. Everything tastes better with bacon grease, right?  This dish works great as a side dish that nobody will be able to resist at a party or a potluck. For the serving information in the recipe, I list this as 4 servings if you serve it as a side dish.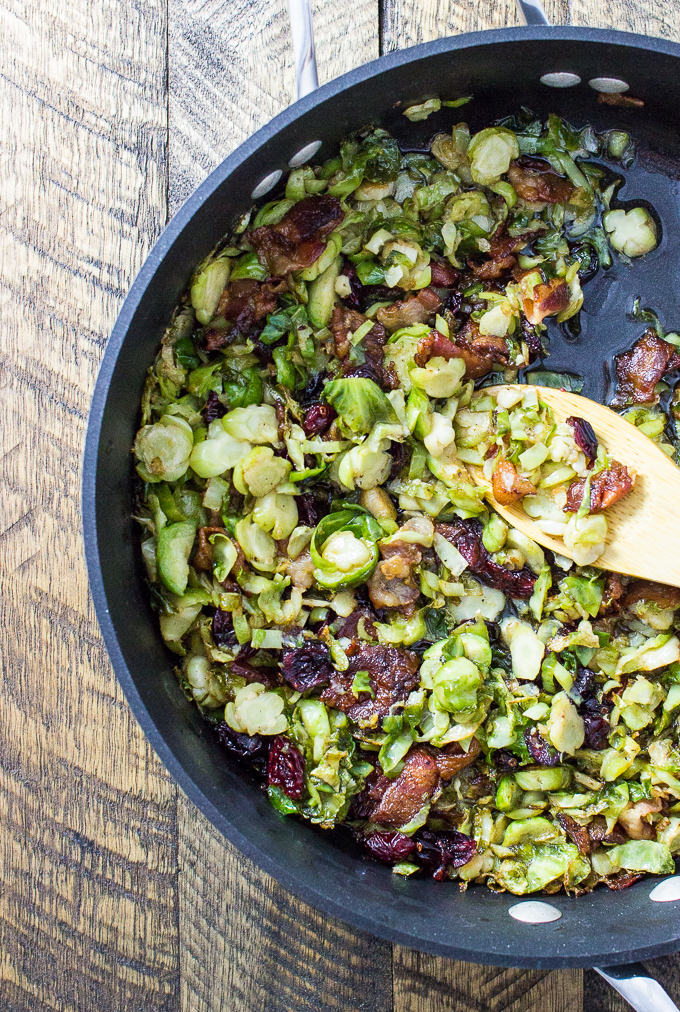 Not only is this dish so delicious and perfect for holidays, but it is also a super easy one-pan recipe. I love my one pan, one pot, one you-name-it dishes! Easy cleanup, too. I've perfected this dish over the past year, and it's my go-to dish during the holidays and takes less than 30 minutes to make. It's also only got THREE key ingredients (brussels sprouts, bacon, cranberries) and everything else is stuff you probably already have on hand. Enjoy!