Summary:
This basic pork and broccoli stir fry only takes 30 minutes from start to finish, with fewer than 10 ingredients total. The pork is tossed with corn starch before searing on a pan, yielding tender and moist meat, and the sauce is a simple mix of soy sauce, minced garlic, and sweetener.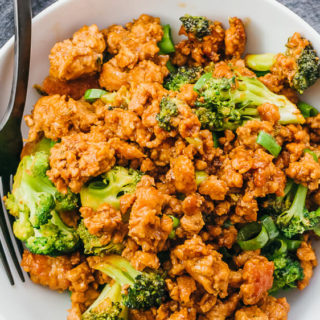 INGREDIENTS
1

pound

ground pork

4

cups

small broccoli florets (Note 1)

1/2

cup

beef broth

3

scallions, sliced

1

tablespoon

corn starch

1

tablespoon

cooking oil
INSTRUCTIONS
Prepare: Pat ground pork dry with paper towels. Place pork in large bowl and evenly sprinkle with corn starch. Use hands to work it in until well-mixed, then set aside. Before proceeding with recipe, verify all ingredients are measured, prepared, and ready to go.

Cook Pork & Broccoli: Heat oil in 10-inch sauté pan (Note 4) over medium-high heat for a few minutes or until hot. Add ground pork to pan and cook until no longer pink, about 5 minutes, crumbling meat with stiff utensil. Add broccoli to pan and stir with pork. Add beef broth. Cook until broccoli is nearly tender, about 5 minutes, stirring occasionally. If pan gets too dry, add more beef broth. Meanwhile, proceed to next step to make sauce.

Make Sauce: While waiting for broccoli to cook, stir together all sauce ingredients in small saucepan over medium-low heat until starting to simmer, about 5 minutes, then reduce to low heat to keep sauce warm.

Serve: Evenly pour sauce over pork and broccoli in pan, stirring until everything is well-coated with sauce. Cook for another few minutes or until broccoli is tender. Turn off heat, and stir in scallions. Taste, adjusting salt, pepper, and sweetener as needed. Serve hot (Note 5).
NUTRITION
Makes 3 Servings
Amount Per Serving:
| | |
| --- | --- |
| Calories 380 (33% from fat) |   |
| Total Fat 14g | 21% |
|    Saturated Fat 4g | 18% |
| Cholesterol 129mg | 43% |
| Sodium 960mg | 40% |
| Net Carb 7.5g |   |
| Total Carb 9.5g (Note 6) | 3% |
|    Dietary Fiber 2g | 8% |
|    Sugars 3.5g |   |
| Protein 51g |   |
PHOTOS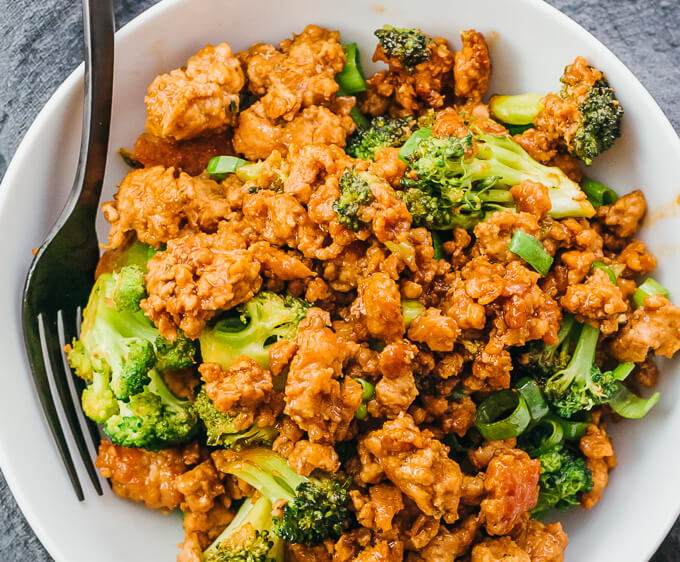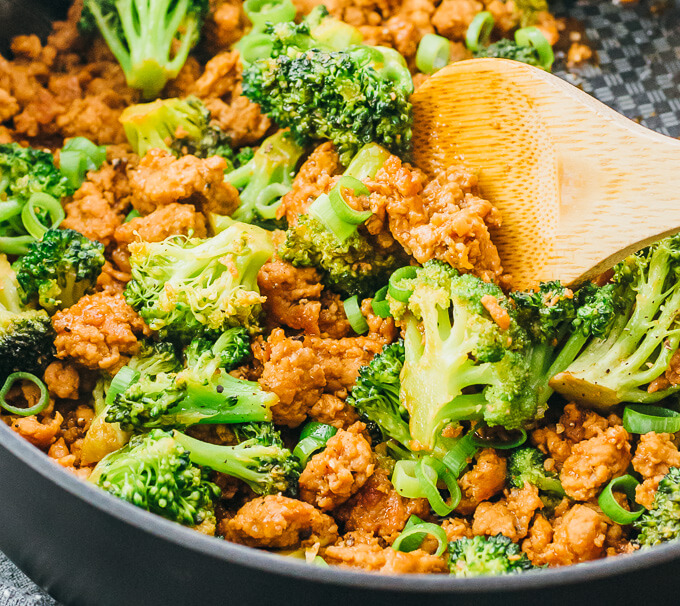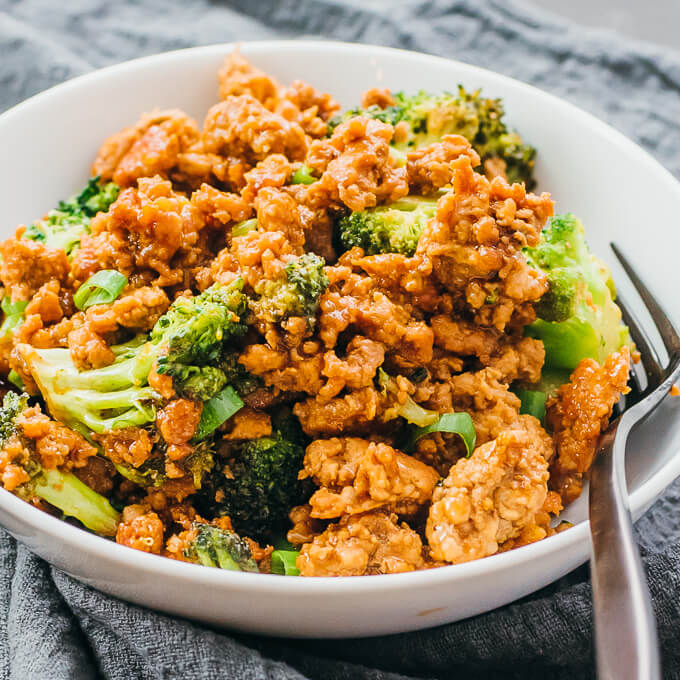 NOTES & TIPS
(1) Broccoli Florets. About 8 ounces raw weight. You can cut florets from a head of broccoli, or you can buy a bag of pre-cut raw florets located in the refrigerated produce section of many U.S. grocery stores. I recommend cutting the florets into smaller pieces (no larger than 1.5 inches) so that they cook quickly and are more likely to be evenly distributed in the stir fry.
(2) Soy Sauce. I use low sodium soy sauce by brands like Kikkoman or Trader Joe's. Avoid regular soy sauce, which will likely be too salty. "Light soy sauce" refers to color and is not the same as "low sodium soy sauce."
(3) Sweetener. I use swerve, which is a dry sweetener that measures the same as sugar, but has no carb impact. Use your preferred sweetener by making any necessary conversions or adding to taste.
(4) Sauté Pan. I use a 10-inch nonstick sauté pan with 3-inch tall sides. Smaller pans may not be able to hold all of the ingredients.
(5) Serving. Serve this pork and broccoli stir fry with a bright side dish like Asian cucumber salad or a flavorful appetizer like chicken satay with peanut sauce. Leftovers can be stored in an airtight container in the refrigerator for up to 3 days, and reheated using the microwave.
(6) Carbs. The nutrition calculation assumes you are using Swerve or a similar erythritol-based sweetener that uses sugar alcohols, whose carbs are non-impact and therefore not included in the nutrition estimate. Apps that count sugar alcohols will show a higher number of carbs.