Summary:
These healthy pumpkin cheesecake bars are layered with a bottom almond flour crust, a middle cheesecake layer, and a top pumpkin layer. A low carb, keto friendly Thanksgiving recipe.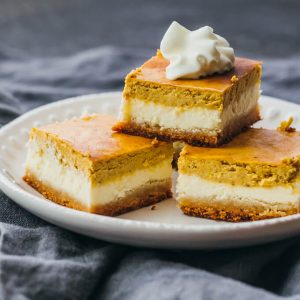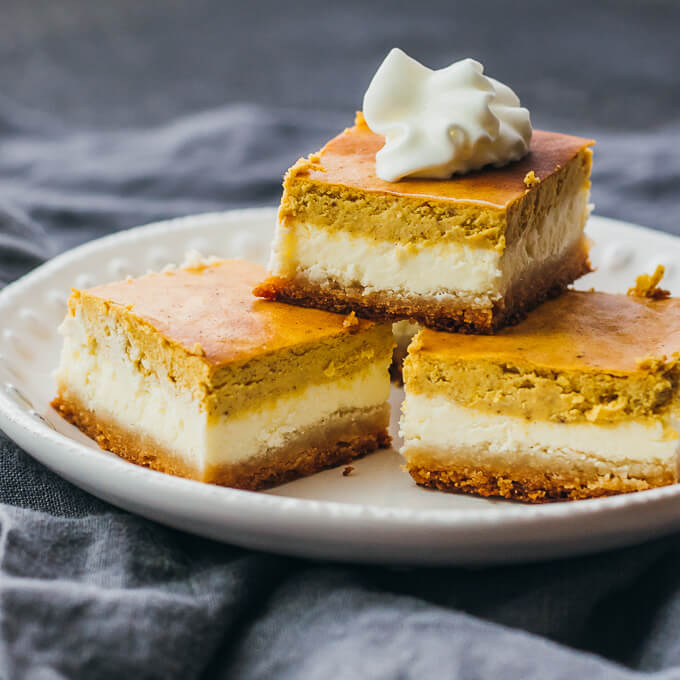 Low Carb Pumpkin Cheesecake Bars
INSTRUCTIONS
Make the crust:
Preheat the oven to 300 F.

Combine melted butter and erythritol in a mixing bowl, and stir together. Add almond flour, stirring until incorporated.

Transfer the mixture to the baking dish. Press down along the bottom of the dish to form a flat and smooth crust.

Bake the crust for 15 minutes at 300 F. Remove the crust from the oven and let it rest for 10 minutes while you work on the filling.
Make the cheesecake and pumpkin layers:
Preheat the oven to 350 F.

Combine cream cheese and erythritol in a large bowl. Use a hand mixer to beat on low speed until light and airy.

Add eggs one at a time, beating them in until combined. The resulting mixture should be very fluffy and airy.

Transfer about half of the mixture over the crust, spreading it out evenly -- this becomes the cheesecake layer.

Combine the remaining mixture with pumpkin puree, cinnamon, ginger, and cloves. Beat until smooth.

Carefully scoop a small amount of pumpkin mixture over the cheesecake layer. Repeat to evenly distribute the pumpkin mixture over the cheesecake layer. Use a rubber spatula to spread out and smooth the pumpkin layer.

Bake at 350 F until set, about 50 minutes. Ovens can vary so it may take you more or less time; frequently monitor the cheesecake and remove when done.

Let the pumpkin cheesecake cool, and then refrigerate overnight to harden before cutting into it.

To serve, slice into bars and optionally top with a dollop of whipped cream.
NUTRITION
Makes 24 Servings
Amount Per Serving (1 bar):
| | |
| --- | --- |
| Calories 230 (84% from fat) | |
| Total Fat 22g | 34% |
| Saturated Fat 10g | 52% |
| Cholesterol 78mg | 26% |
| Sodium 180mg | 8% |
| Net Carb 3g | |
| Total Carb 4.5g | 2% |
| Dietary Fiber 1.5g | 7% |
| Sugars 1g | |
| Protein 6g | |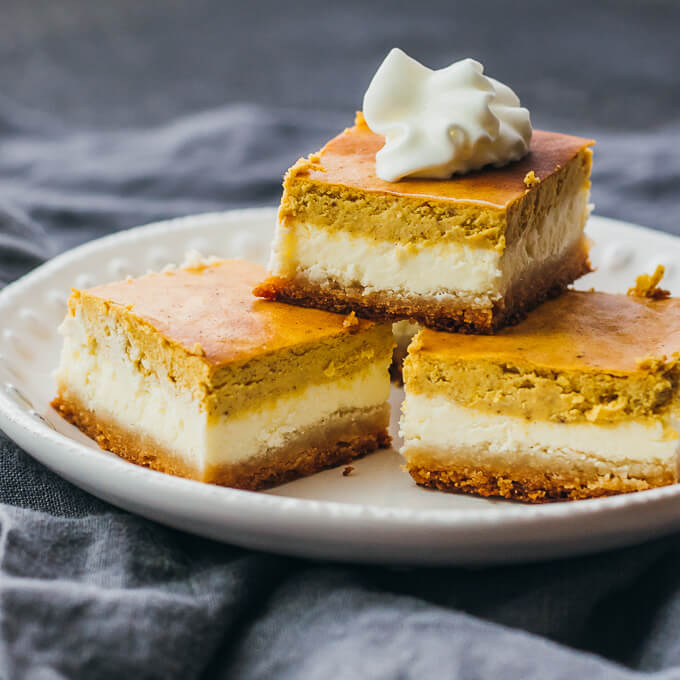 These dessert bars represent the best of both worlds — part pumpkin pie and part cheesecake, so you can get both flavors in a single bite. They're perfect for people who consider pumpkin pie to be a bit too strong on the pumpkin flavor (that's me), as the cheesecake layer helps to offset the pumpkin. The bars have a dense texture with a sturdy almond flour crust on the bottom, a thick and rich cheesecake layer, and a lighter pumpkin layer on the top.
The bars are not too sweet, and are very low in carbs with only 2.5 g net carbs and 230 calories per bar. Even people who are not following any particular diet will love these bars. They store well when covered in the refrigerator and are ideal for snacking throughout the week or for a holiday party during Thanksgiving and Christmas.
Step-by-step: how to make low carb pumpkin cheesecake bars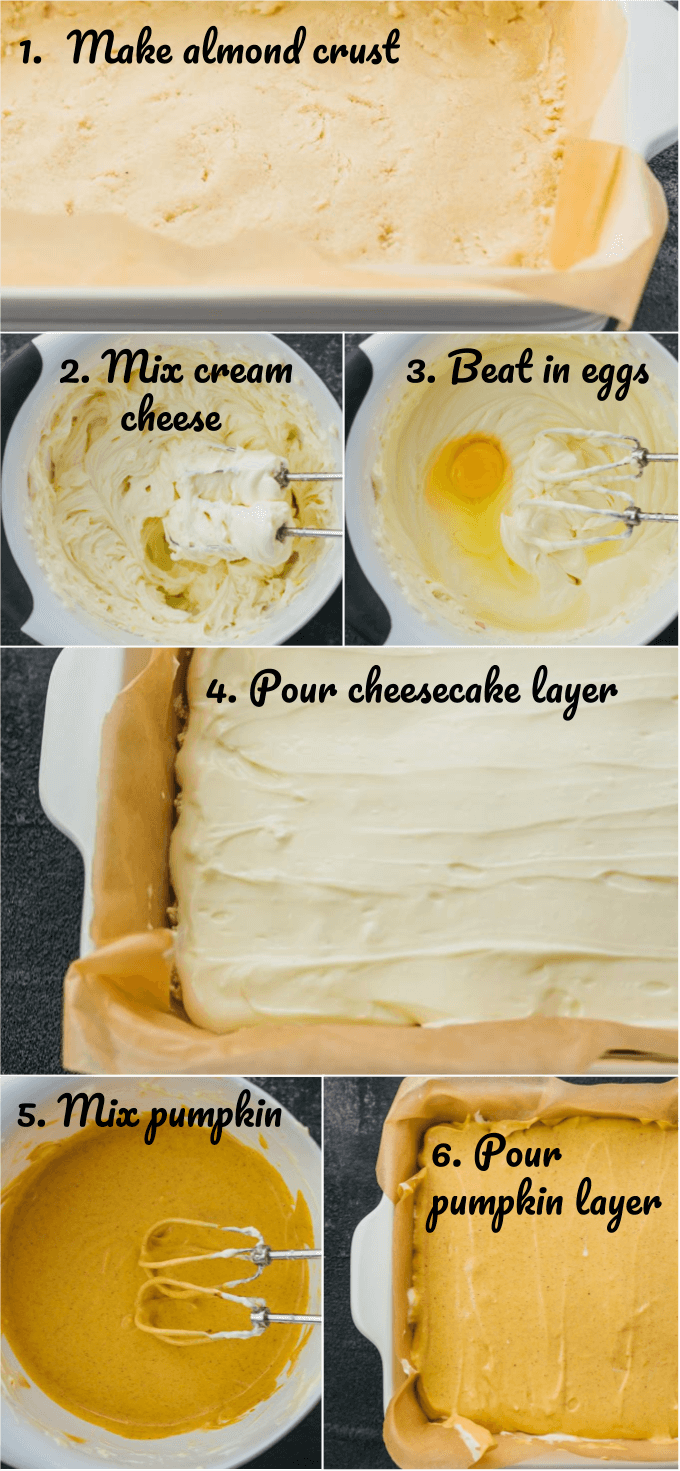 These pumpkin cheesecake bars were developed using snippets from previous baking experiments. For the crust, I have been testing a simple low carb crust using almond flour and butter, which works fantastically well for any recipe that calls for a generic pie crust.
The cheesecake layer is a typical cheesecake filling inspired by my mom's classic cheesecake recipe, and I substituted a low carb sweetener, erythritol. For the pumpkin layer, I mixed in canned pumpkin puree and typical pumpkin pie spices such as cinnamon, ginger, and cloves. I was originally inspired to make these bars after spotting a similar concept on allrecipes.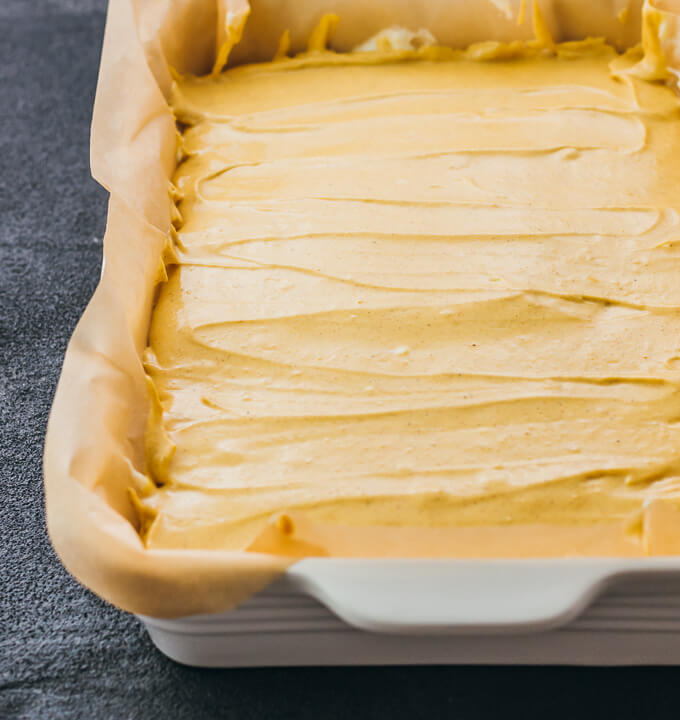 I recommend taking the cream cheese and eggs out of the refrigerator in advance. They are much easier to beat and to incorporate into the filling when they are at room temperature, resulting in a silkier and smoother filling. See the above photos to get an idea of what the layers' texture should look like. If you're in a pinch and forgot to soften the cream cheese, you can microwave it for 10 seconds at a time until soft.
I use the low carb sweetener erythritol because it cannot be digested by the body and has no effect on blood sugar or insulin. I recommend using the powdered version rather than the granules because it's more easily combined into the filling. If you have the granulated kind, you can use a Nutribullet to pulverize into powdered form.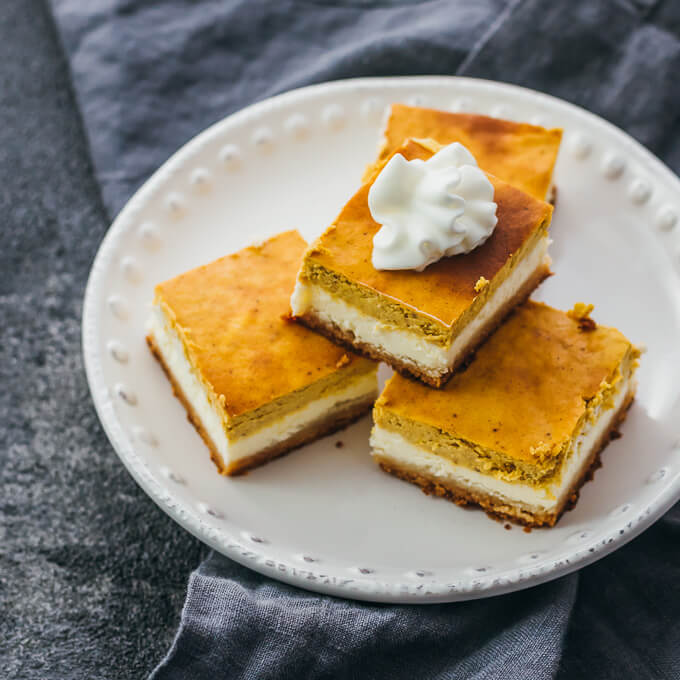 To determine when the cheesecake is "set" and ready to take out of the oven, give the baking dish a gentle shake or nudge and watch how the surface of the cheesecake moves. If the surface jiggles as a whole (think jello), then the cheesecake is set. If the surface doesn't move together as a whole, and instead the center appears to be liquid-like, then the cheesecake is not set.
Another option is to use a thermometer and remove the cheesecake when the center reaches 150 F. Note that cheesecakes never firm up in the oven — the hardening occurs when the cheesecake cools down.
Ovens can vary significantly, so regularly monitor the cheesecake as it's baking and remove from the oven once it sets. I've tested this recipe at various oven temperatures ranging from 350 F to 400 F, but if your oven runs on the hot side then I recommend baking at 350 F or lower.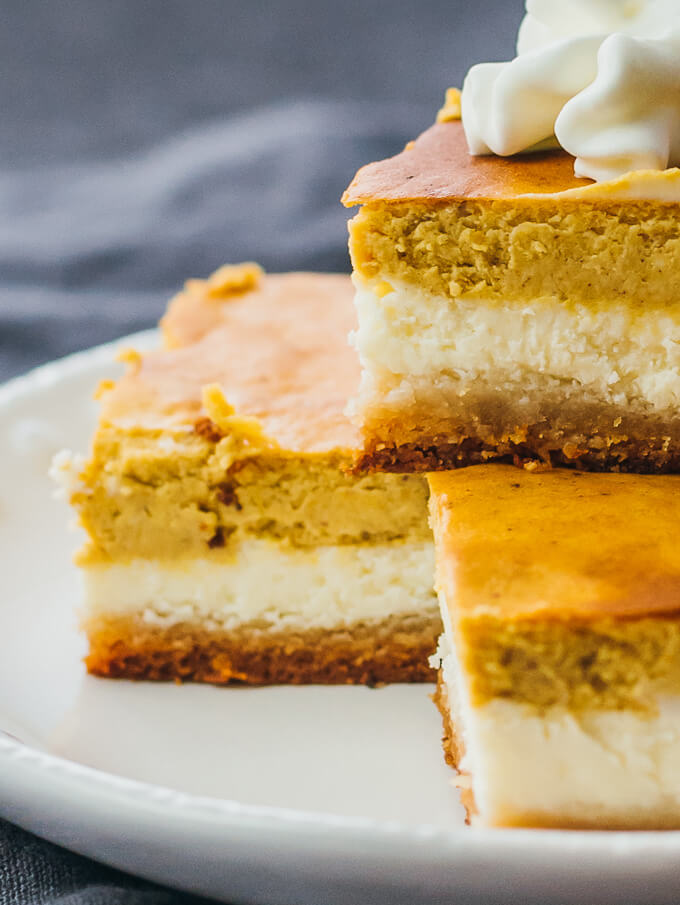 Leftovers are easy to store — cover and place in the refrigerator, where they will last up to a week. I recommend making these bars ahead of time, as they are best after they have hardened overnight in the refrigerator.
If you're making these pumpkin cheesecake bars for fall holidays like Thanksgiving, I suggest also trying out: