Summary:
These low carb dessert bars represent the best of both worlds — part pumpkin pie and part cheesecake, so you can get both flavors in a single bite. The bars are layered with an almond flour crust, a middle cheesecake layer, and a top pumpkin layer.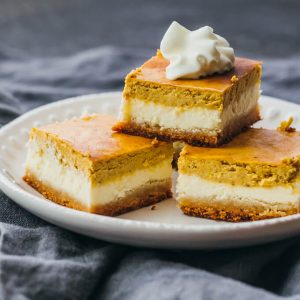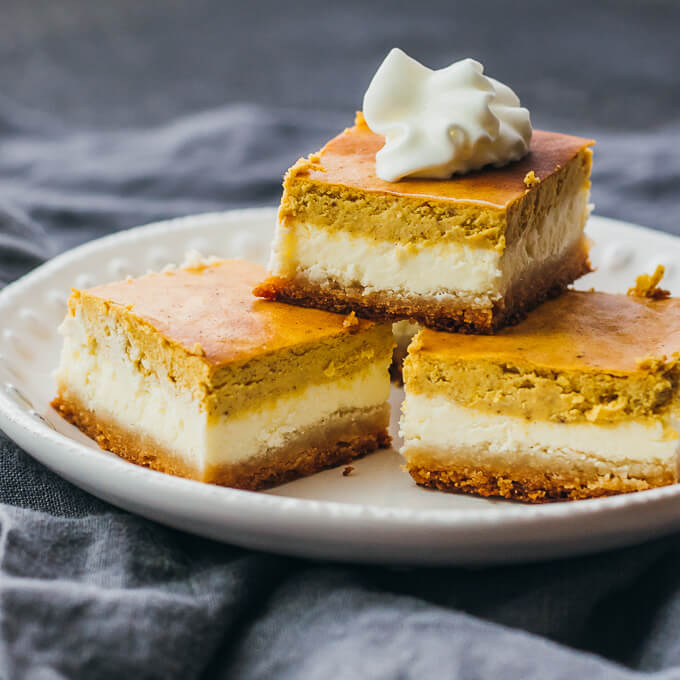 INSTRUCTIONS
Make Crust: Stir melted butter and sweetener in mixing bowl until combined, then stir in almond flour until butter is absorbed, forming dough. Transfer dough to lined baking dish, and firmly press down using hands or measuring cup to form flat, smooth crust covering entire bottom of dish.

Bake Crust: Bake crust for 15 minutes at 300 F. Remove crust from oven and rest for 10 minutes while filling is prepared in next step.

Make Cheesecake Layer: Preheat oven to 350 F. Beat cream cheese and sweetener in large bowl with electric hand mixer on low speed until well-mixed. Add eggs one at a time, beating on low speed until just combined. Transfer about half of mixture over crust, spreading evenly — this becomes cheesecake layer.

Make Pumpkin Layer: Beat remaining mixture with pumpkin, cinnamon, ginger, and cloves until combined. Carefully scoop small amount of pumpkin mixture over cheesecake layer. Repeat to evenly distribute pumpkin mixture over cheesecake layer. Use rubber spatula to spread out and smooth pumpkin layer.

Bake Cheesecake: Bake at 350 F until cheesecake is set, about 50 minutes. Ovens vary, so frequently monitor cheesecake and remove when done (Note 4).
NUTRITION
Makes 24 Servings
Amount Per Serving (1 bar):
| | |
| --- | --- |
| Calories 230 (84% from fat) |   |
| Total Fat 22g | 34% |
|    Saturated Fat 10g | 52% |
| Cholesterol 78mg | 26% |
| Sodium 180mg | 8% |
| Net Carb 3g |   |
| Total Carb 4.5g (Note 7) | 2% |
|    Dietary Fiber 1.5g | 7% |
|    Sugars 1g |   |
| Protein 6g |   |
PHOTOS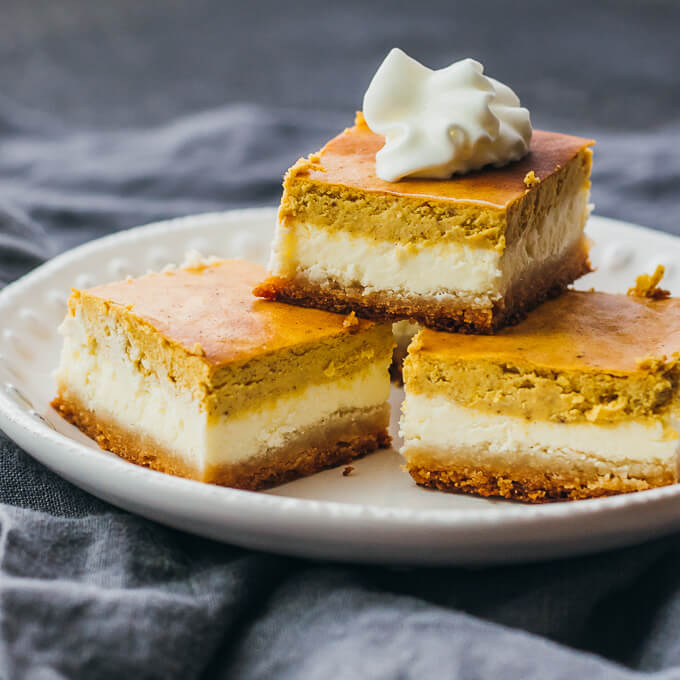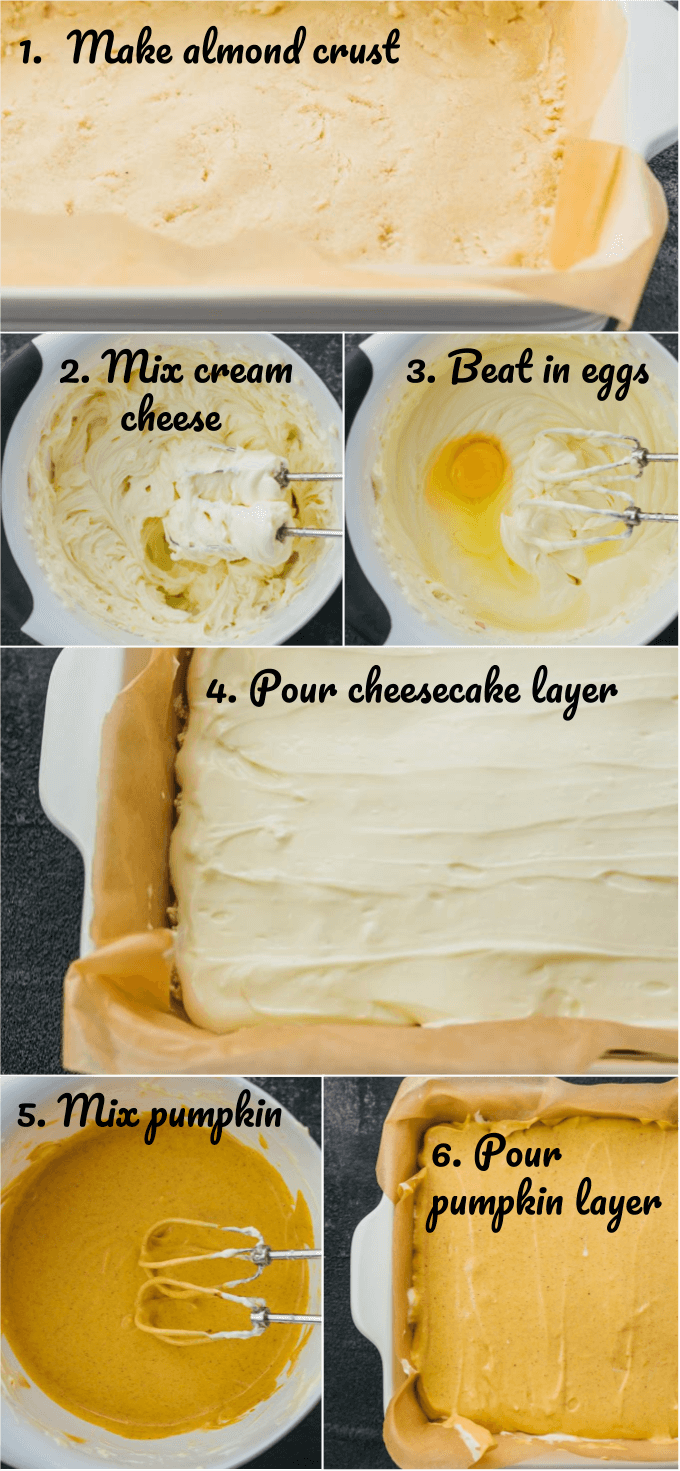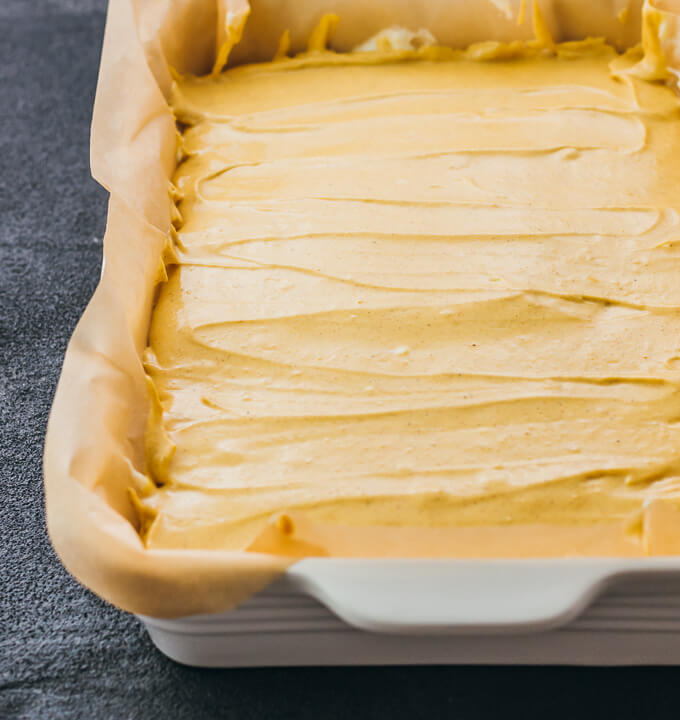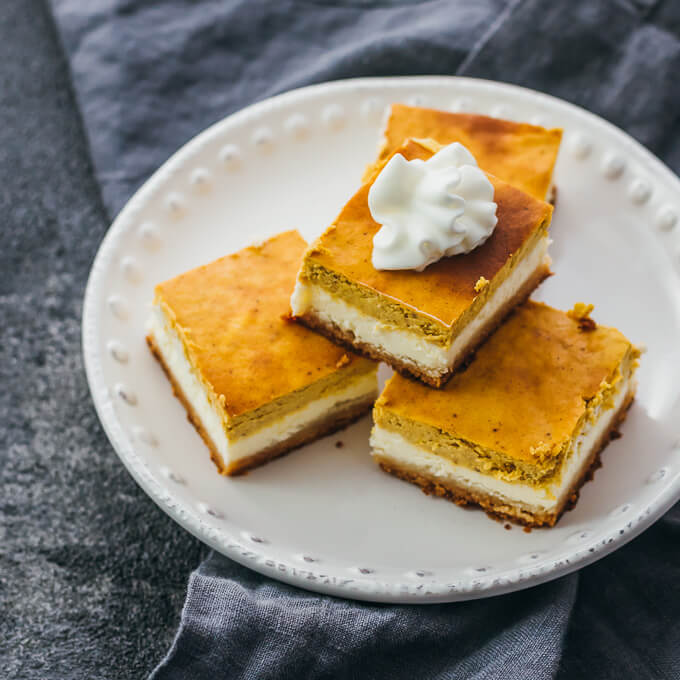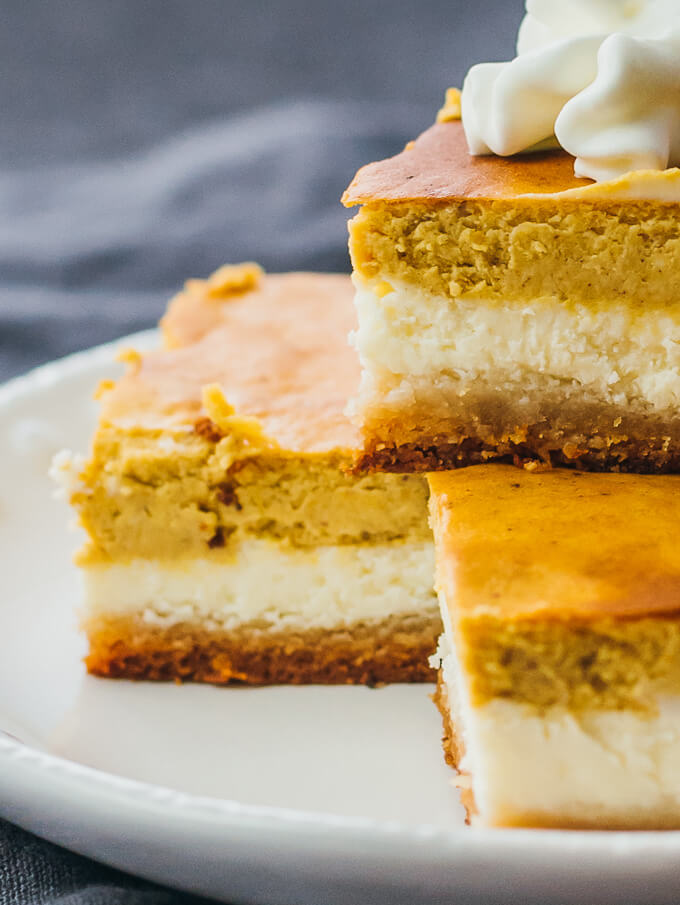 NOTES & TIPS
(1) Almond Flour. I use almond flour that is blanched, which means the skins are taken off of the almonds, so the resulting flour looks white. I typically use Costco's Kirkland brand, which has 2 grams of net carbs per 1/4 cup serving. Some readers have enjoyed substituting or adding ground pecans or walnuts. Don't substitute with coconut flour, which is more absorbent than almond flour.
(2) Sweetener. Erythritol is a dry sweetener, about 70% as sweet as regular sugar. I buy granulated erythritol online and powder it using a small blender like the Nutribullet. If you're substituting with Confectioners Swerve, use 1.5 tablespoons for the crust and 1 cup for the filling. You can substitute with another dry sweetener; to determine how much to use, check your sweetener's packaging to see how it compares to regular sugar. I don't recommend liquid sweeteners, which will affect the ratio of dry to wet ingredients in this recipe.
(3) Cream Cheese. Four standard bricks = 32 ounces total. I use regular, full-fat cream cheese from the brand Philadelphia, not reduced fat or light versions. I recommend taking the cream cheese out of the refrigerator in advance to soften it, making it much easier to beat and incorporate into the filling, resulting in a silkier and smoother filling. If you're in a pinch and forgot to soften the cream cheese, you can microwave it for 10 seconds at a time until soft.
(4) Baking Cheesecake. To determine when cheesecake is "set" and ready to take out of the oven, give the baking dish a gentle shake or nudge and watch how the surface of the cheesecake moves. If the surface jiggles as a whole (think jello), then the cheesecake is set. If the surface doesn't move together as a whole, and instead the center appears to be liquid-like, then the cheesecake is not set. Another option is to use a thermometer and remove the cheesecake when the center reaches 150 F. Note that cheesecakes don't firm up in the oven — the hardening occurs when the cheesecake cools.
(5) Chilling Cheesecake. It's important to chill the cheesecake overnight so that it can firm up. If you're in a rush, some readers have had success freezing the cheesecake for 1 to 2 hours in lieu of refrigerating overnight.
(6) Serving / Leftovers. Serve these pumpkin cheesecake bars topped with a dollop of whipped cream or your favorite sugar-free sauce, perfect as a low carb Halloween or Thanksgiving dessert. Leftovers can be stored in an airtight container in the refrigerator for up to 1 week, or frozen for longer storage.
(7) Carbs. The nutrition calculation assumes you are using erythritol or a similar erythritol-based sweetener that uses sugar alcohols, whose carbs are non-impact and therefore not included in the nutrition estimate. Apps that count sugar alcohols will show a higher number of carbs.
(8) Pumpkin Pie Spice Option. You can use 1.5 teaspoons of pumpkin pie spice in place of the ground cinnamon, ginger, and cloves.