Note: This is one of my older recipes and is not low carb. Visit my Recipes page for low carb and keto recipes.
These cheese stuffed shells include spinach and smoked salmon, and are baked in a slightly spicy balsamic tomato sauce.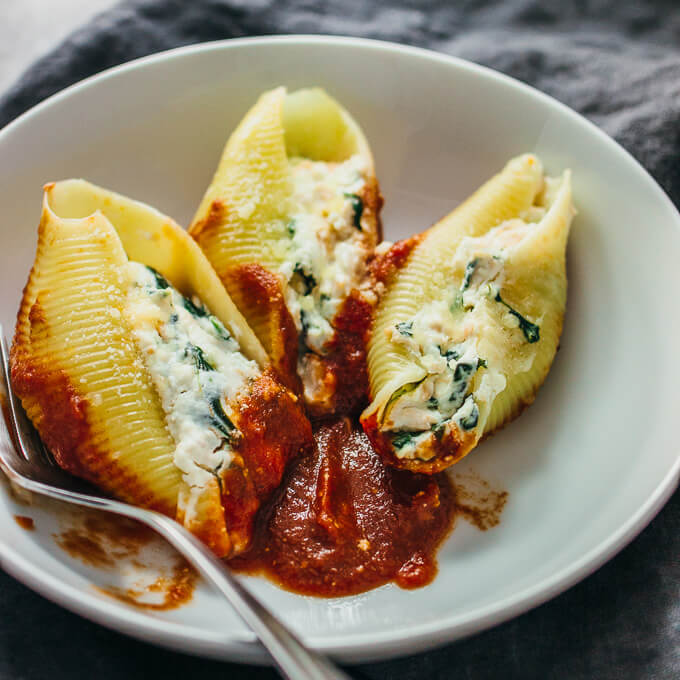 I've been eyeing these jumbo pasta shells for a few months now, thinking about all of the interesting things I can stuff them with. However, Mr. Savory Tooth wanted something basic for the stuffing such as ricotta cheese and spinach, so I relented, sort of. There's plenty of ricotta and spinach, but there's also a smoked salmon surprise. You can't really tell by looking at the stuffed shells that there's anything besides cheese and spinach, but once you take a bite, you'll taste a lot of smoked salmon flavor that makes these stuffed shells so much more interesting.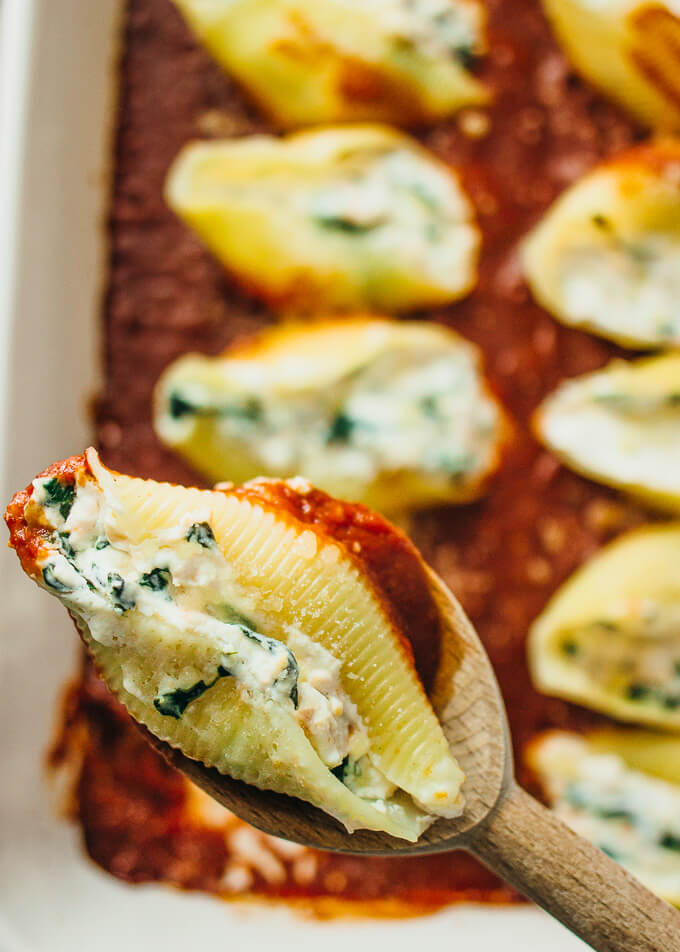 Now that I've mentioned the smoked salmon, the second best thing going on here is the SAUCE. This was inspired by the sauce I used for these stuffed peppers, which is really easy to make with just three ingredients: tomato sauce, a drizzle of balsamic vinegar, and a pinch of cayenne. It's a little tangy and a little spicy. Just perfect. It really adds to the overall rich flavor of this dish, so don't skip it.

If you've cooked with jumbo pasta shells before, you'll know that they can break easily. This has led me to be careful whenever handling them, and I usually cook a few more than I need, so that I have extras in case one of them cracks. This can happen during cooking or when you're trying to stuff them.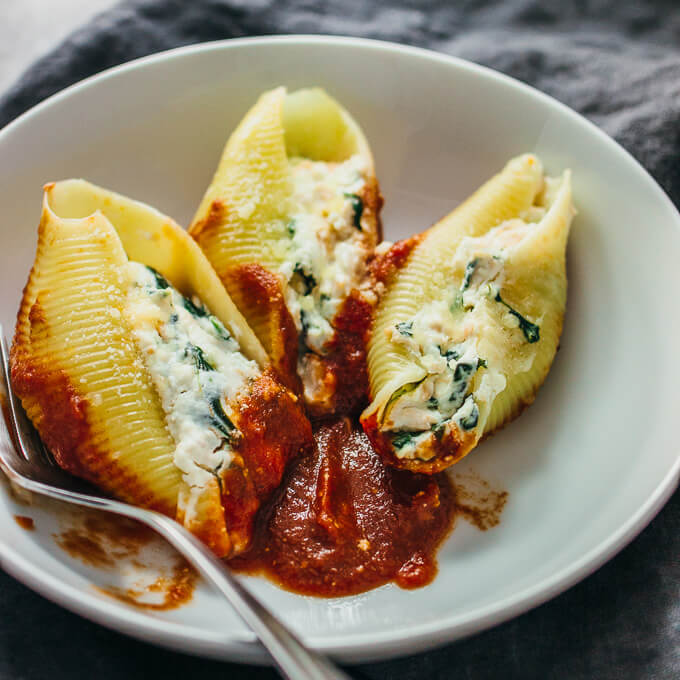 Easy ricotta cheese stuffed shells with spinach
These cheese stuffed shells include spinach and smoked salmon, and are baked in a slightly spicy balsamic tomato sauce.
Ingredients
Stuffing:
16

ounces

ricotta cheese

6

ounces

smoked salmon

roughly broken up

2

cups

fresh spinach leaves

roughly chopped

1

tablespoon

olive oil

1/2

teaspoon

salt
Instructions
Cook pasta shells according to package instructions. Drain and set aside.

Heat olive oil in a pot over medium heat. Add chopped spinach and cook until it starts to wilt, about a minute, stirring constantly. Remove from heat and set aside.

Combine all sauce ingredients in a pot over medium heat. Bring to a light simmer while stirring together. Then pour the sauce into a

9x13 inch baking dish

, spreading it out.

Combine smoked salmon, cooked spinach, ricotta cheese, and salt in a mixing bowl. Stir until well mixed. Use this mixture to generously stuff each pasta shell, and place the stuffed shells on top of the sauce in the baking dish.

Cover with foil and bake for 30 minutes at 350 F. Uncover and bake for another 5 minutes. Optionally, top with finely

grated parmesan cheese

.