Summary:
Make this comforting chicken dinner with roasted chicken and tomatoes topped with a creamy caper sauce and served with linguine.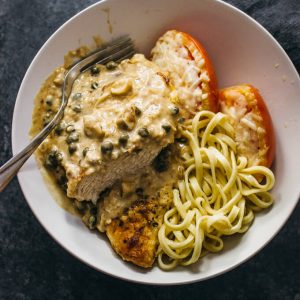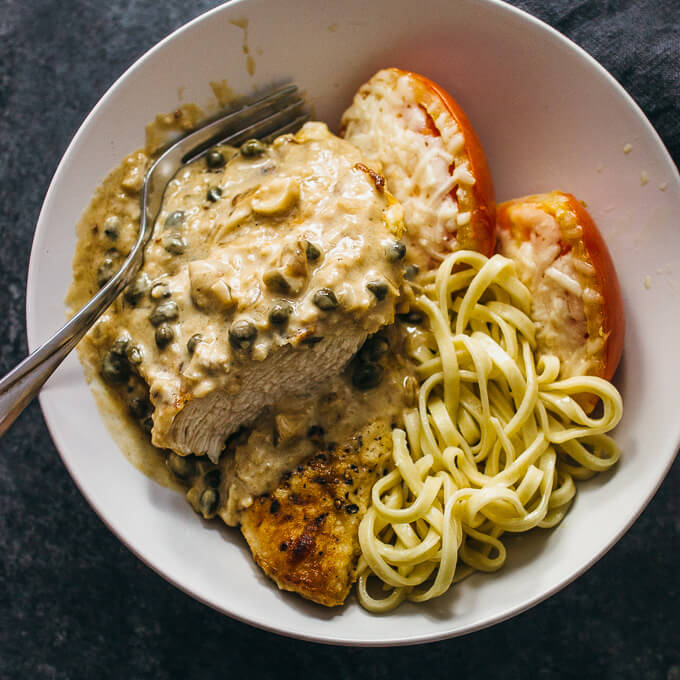 Roasted chicken with creamy caper sauce
INGREDIENTS
1

large chicken breast

1

roma tomato

sliced in half lengthwise

1

egg

beaten

1/4

cup

all-purpose flour

1/4

cup

shredded parmesan cheese
For creamy caper sauce:
5

cloves

garlic

minced

1

shallot

diced

1

tablespoon

capers

drained

1

tablespoon

lemon juice

1/2

cup

cream

1

tablespoon

butter
INSTRUCTIONS
Preheat the oven to 350 F. Add the tomato slices to a baking pan and coat with olive oil. Top tomatoes with parmesan cheese. Transfer to the oven, even if the oven has not fully preheated yet.

Heat a pan over medium-high heat with olive oil. Place the flour and egg on separate shallow plates. Season the chicken breast with salt and pepper. Dip the chicken in the flour and then the egg, coating both sides. Transfer the chicken to the pan, cooking until golden brown, about 2 minutes per side.

Transfer the chicken to the baking tray with the tomatoes. Cook in the oven until the chicken reaches at least 165 F, about 7 minutes.

Wipe the pan clean. Add olive oil over medium heat. Add garlic, shallots, and capers, cooking for a minute until the garlic browns. Add lemon juice and stir. Add cream and butter, letting the sauce simmer for a minute.

Take the chicken and tomatoes out of the oven. Serve with caper sauce and optionally linguine noodles.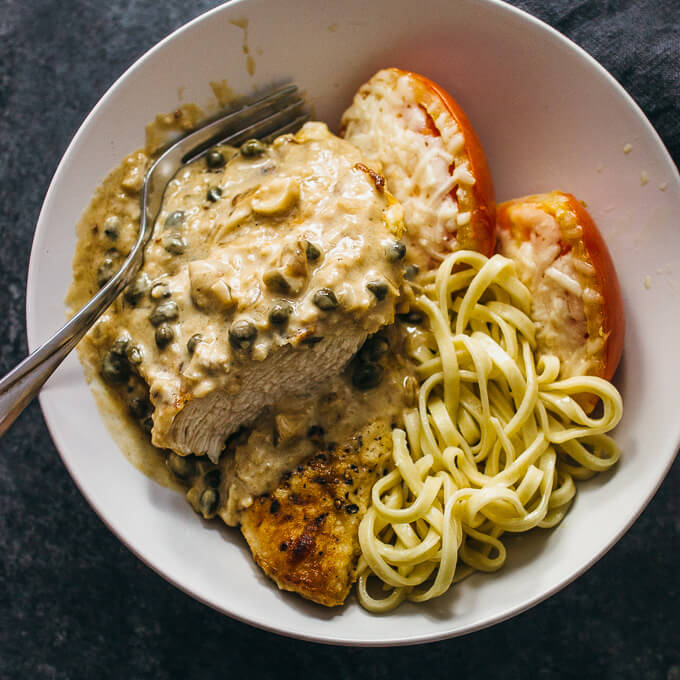 This post is sponsored by Dinner Thyme.
This is the tastiest chicken dish that I've eaten in recent memory — the chicken is coated in flour and then dipped in egg, pan-seared until golden-brown, roasted in the oven until cooked through, and drizzled with a creamy caper sauce. So savory and full of flavors, this chicken is crispy on the outside, and moist and tender on the inside. The caper sauce is made using garlic, shallots, a drizzle of lemon juice, cream, and butter. Lastly, the chicken is paired with roasted parmesan-crusted tomatoes and a side of linguine noodles. Yum.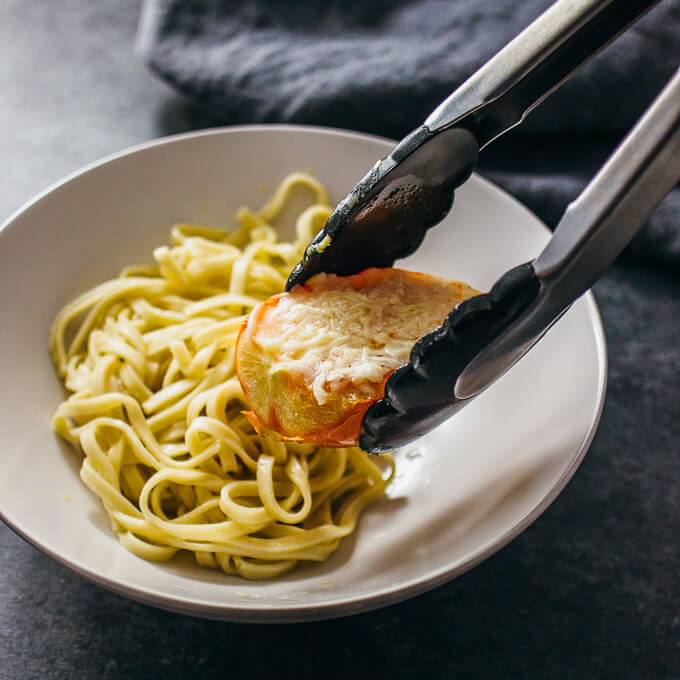 The ingredients for this recipe were delivered from Dinner Thyme, a meal delivery service that provides fresh and familiar ingredients that are already prepped and portioned for each recipe. All I had to do was cook, and their meals are designed to be cooked in 15 minutes. This is great for busy professionals who don't have an hour to cook a meal. Along with this roasted chicken dish, I also received three other meals in a single shipment, which included baked salmon on puff pastry with tomatoes and pesto, kale and sun-dried tomato cheese tortellini, and crispy honey baked chicken with cauliflower fried rice. Each week, they have a menu with nine different options so you can choose which ones you want delivered to you.

I've tried other meal delivery services in the past, and here are a few things that stood out to me about Dinner Thyme:
I was pleasantly surprised by the lightness and compact size of the delivery box, and it seemed like a very efficient way to pack four separate meals. All of the ingredients were clearly labeled.
The instructions on how to make the dish were very clear and easy to understand. The cooking times were accurate. I also liked how each recipe mentioned the maximum number of days after delivery that the ingredients will remain fresh.
The recipes are diverse and high-quality, and can be portioned for a single serving. It's great for those who are only cooking for themselves. Dinner Thyme is actually the only company that offers single portions.
My only suggestion is that they list or label the individual amounts of each ingredient, such as weight or volume.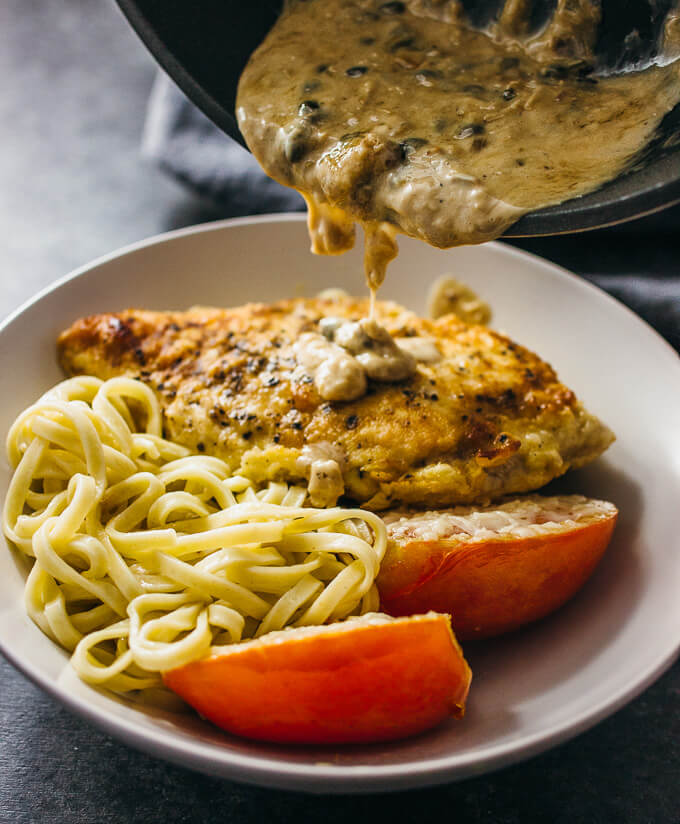 To learn more about Dinner Thyme, follow along at @TeamDinnerThyme on Twitter, Facebook, and Instagram. #ReadySetCook #StarvedForTime