Note: This is one of my older recipes and is not low carb. Visit my Recipes page for low carb and keto recipes.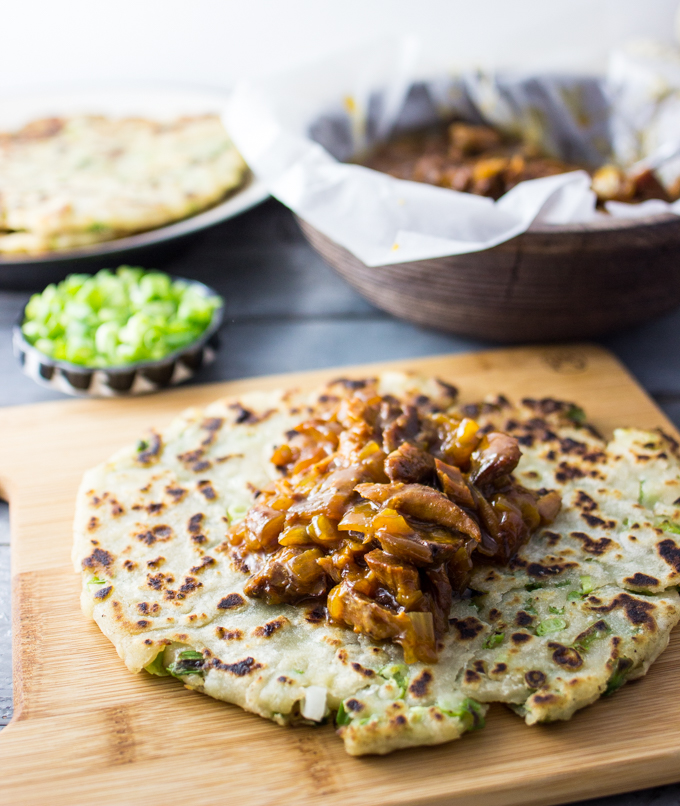 SCALLION PANCAKE SANDWICH. Yes, that's right: a sandwich made out of scallion pancakes, which is a savory dish typically served at Chinese restaurants. For the sandwich filling, I used pulled pork and onions slow-cooked in a barbecue mustard-based sauce. Delicious and hearty. If you're looking for something a little different for dinner, or a bit of a challenge, you've found it.
When was the last time that you had scallion pancakes? Or have you never tried them before? As a kid, my parents often took me to Chinese restaurants where we would feast on a bunch of dishes, and one of them was always a dish of some delicious, flaky scallion pancakes. They are so good, even when they're by themselves with no dips or sauces.
I always assumed that scallion pancakes were probably difficult to make, but GUESS WHAT, they are actually not that hard at all! I learned how to make them at home by following the techniques by the folks at Serious Eats' Food Lab, where they have detailed step-by-step instructions. Definitely worth a read if you're going to make these! My simplified recipe instructions below are adapted from them.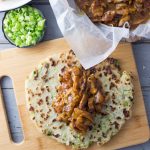 Scallion pancake sandwich with pulled pork
A scallion pancake sandwich is made out of scallion pancakes, which is a savory dish typically served at Chinese restaurants.
Cook Time
1
hour
15
minutes
Total Time
1
hour
45
minutes
Ingredients
For the pulled pork:
1

pound

boneless pork cutlets

1

yellow onion

chopped

1

cup

barbecue sauce
For the scallion pancakes:
2

cups

flour

1

cup

boiling water

1/4

cup

canola oil

1

cups

scallions

about 8, thinly sliced
Instructions
Cooking the pork:
Place the pork, onion, and sauce into the slow cooker, and mix up the ingredients a bit so that the pork is coated in sauce. Cook on low for 8 hours. Shred the pork using two forks.
Making scallion pancakes (reference: Serious Eats):
Add flour to a food processor's bowl. Gradually add boiling water while running the processor until the dough comes together and rides around the blade. Take the dough out, knead it a few times to form into a ball, and place in a bowl covered with a wet paper towel. Let sit for at least 30 minutes at room temperature.

Divide the dough into 4 round lumps. For each, roll into an 8-inch flat patty, brush the surface with some oil, sprinkle scallions, roll up, twist into a tight spiral, and flatten and re-roll into an 8-inch circle again. By re-rolling, this creates layers in the scallion pancake.

Heat some oil in a large pan over medium-high heat. Cook each scallion pancake until both sides are golden brown, about a few minutes per side. Transfer to a paper towel to dry.
Assembly:
Distribute the pulled pork (with onions and sauce) amongst the 4 cooked scallion pancakes. To eat, fold the scallion pancake like a taco.