Note: This is one of my older recipes and is not low carb. Visit my Recipes page for low carb and keto recipes.
This scallop risotto is paired with broccoli florets and corn, and simmered with saffron threads for a flavorful dish. Scallops are a great choice if you are looking to make a seafood risotto.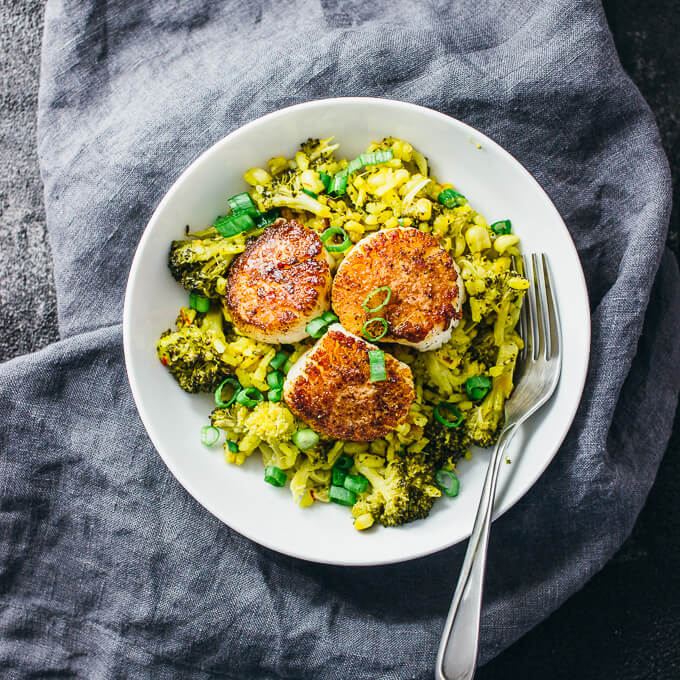 I've always thought that scallops were very delicious, but I rarely get the chance to enjoy them. My favorite way to cook scallops is to give them a quick pan-sear on both sides. There's definitely an art to this. First, I make sure to pat down the scallops with a paper towel so that they are as dry as they can be; as you know, moisture is the enemy of a good sear. Then I sprinkle salt and pepper immediately before adding each scallop to the pan. The reason that I say immediately is because the scallop will release moisture as soon as it is salted. Once I place the scallop on the hot pan (greased with olive oil and butter), I do not move it until it's done. I let a nice charred crust form before flipping it to repeat for the other side.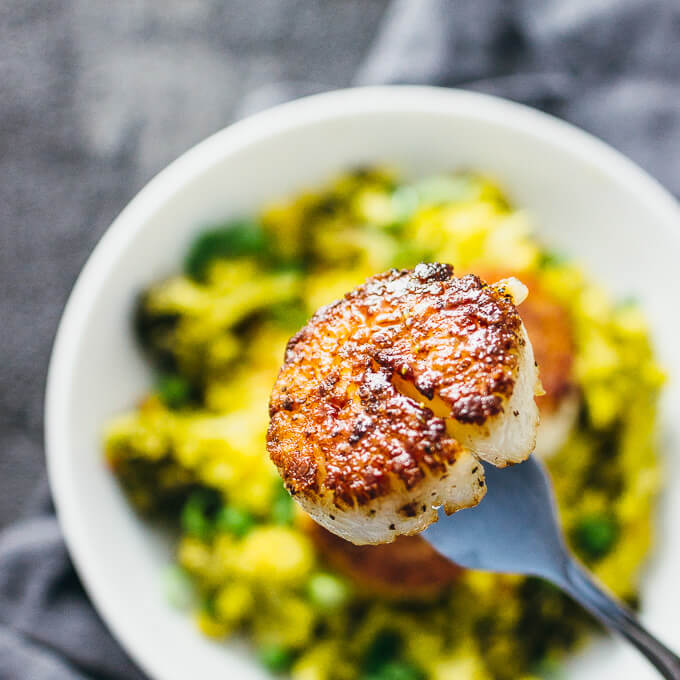 This recipe is one of those fancy dishes that you can make for a nice occasion. Not only do the scallops elevate the dish, but the addition of saffron most definitely qualifies this dish for a special occasion. I had bought a tiny jar of saffron from Trader Joe's last year while experimenting with a paella recipe, and I've been saving it for something nice since then. I think it works well with this risotto. When added to rice and simmered, the saffron imbues a yellow color to the risotto's ingredients.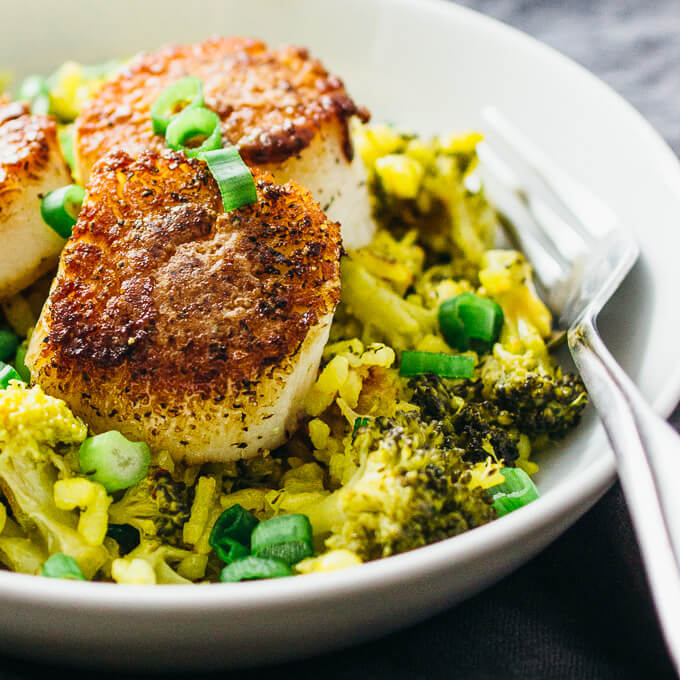 The mechanics of making this scallop risotto are very similar to the instructions that I laid out for my butternut squash risotto with mushroom. Check out that post for descriptions and tips as well as information on how I make my own homemade vegetable stock.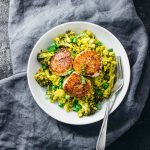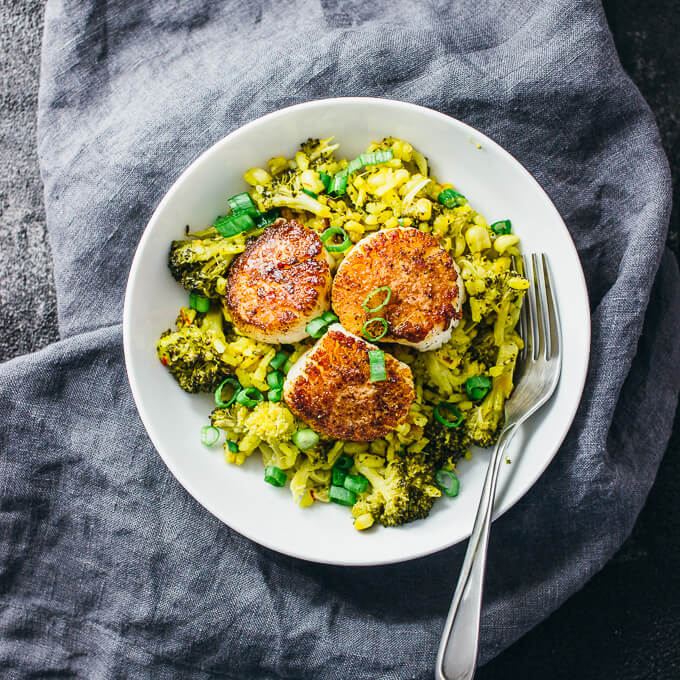 Scallop risotto with saffron
This scallop risotto is paired with broccoli florets and corn, and simmered with saffron threads for a flavorful dish.
Total Time
1
hour
5
minutes
Ingredients
For cooking the scallops:
12

sea scallops

1 pound

1

tablespoon

olive oil

1/2

tablespoon

butter

salt

to taste

pepper

to taste
Instructions
For the risotto:
Heat olive oil in a large

5 quart saute pan

over medium heat. Add broccoli and salt. Cook for 5 minutes, stirring occasionally.

Add rice, vegetable stock, corn, and saffron to the pan. Mix everything together. Bring to a boil and then decrease to a simmer. Cover the pan with a lid and simmer on medium-low heat for 30 minutes.

Uncover the pan and check that the rice is tender and done. Simmer with the pan uncovered for a few minutes to evaporate any excess liquid.

Add sliced scallions (reserving a quarter) and butter to the pan and stir as it melts.
For the scallops:
Pat the scallops dry with paper towels. Moisture is the enemy of a good pan sear.

Heat olive oil on a pan over medium heat for a few minutes. Add butter.

Salt and pepper the scallops on one side and immediately add to the pan, with the seasoned side facing the pan. Don't move them until a nice crust appears, about 2 minutes.

Flip the scallops to repeat for the other side.
For serving:
Distribute the risotto and scallops among 4 bowls. Garnish with remaining scallions.