Note: This is one of my older recipes and is not low carb. Visit my Recipes page for low carb and keto recipes.

These are simple, easy-to-prep mashed potatoes with strong flavors of garlic and basil. This takes less than 30 minutes to prep and cook, and makes for a delicious creamy side dish at family gatherings and holidays.
I oftentimes think that restaurant-quality mashed potatoes are too gooey and boring, so these mashed potatoes are thick and creamy, and full of strong garlic and basil savoriness. If you love garlic, you will love these mashed potatoes. I made these for Thanksgiving this year, and Mr. Savory Tooth and I gobbled these right up.
Herb Tip: If you don't have basil on hand and need to buy some, don't get the pre-packaged basil at the supermarket! They are often wilty and look pretty depressing. For the same price, you should grab a pot of living basil plants if your grocery store has them. It's better quality AND it will keep on growing and producing basil. And it's oftentimes the same price or cheaper. You can use this tip for any herbs — not just basil.
This is the basil plant that I just picked up from Trader Joe's:

Tell me this isn't WAY better than pre-packaged basil.
Fluffy vs. creamy: If you want fluffy mashed potatoes, use less milk than the recipe calls for or omit altogether. If you want creamy, you should use the amount listed below in the recipe. Whatever you choose, I suggest that you start off with a little milk, mix, taste, and adjust as necessary.
This recipe makes a good amount of mashed potatoes for 4 people as a side dish. It can easily be doubled or tripled for a larger crowd. Enjoy!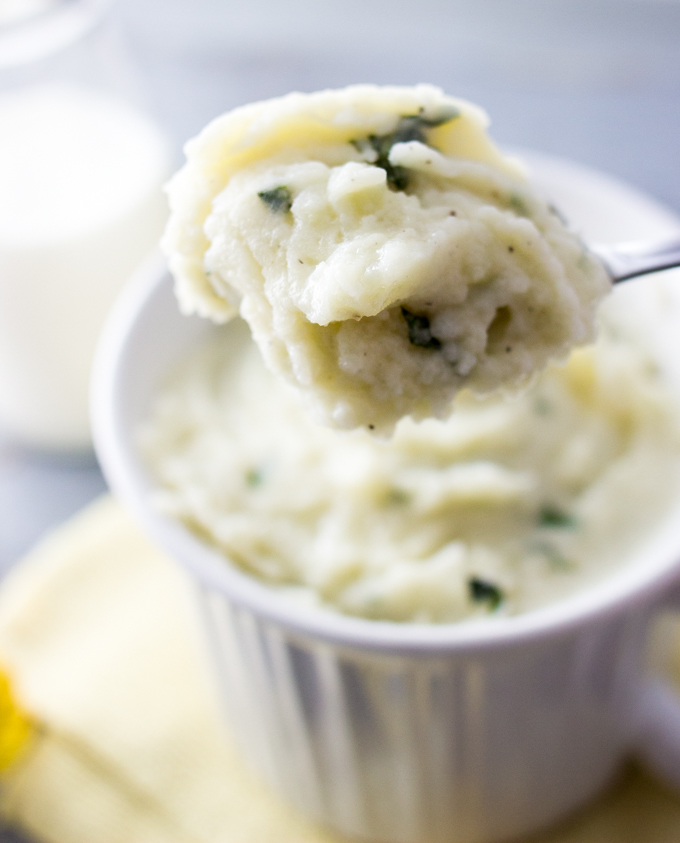 Simple garlic and basil mashed potatoes
DESCRIPTION
These are simple, easy-to-prep mashed potatoes with strong flavors of garlic and basil.
INGREDIENTS
2

large Russet potatoes

peeled and cut into 1-inch chunks

10

fresh basil leaves

finely chopped

5

garlic cloves

minced

4 tablespoons of butter (half stick)

1/2

cup

whole milk

1/4

teaspoon

salt

1/4

teaspoon

pepper

drizzle of olive oil

for serving
INSTRUCTIONS
Place the potato chunks into a large pot and fill with water. Place over medium-high heat. Let it boil until the potatoes are soft enough to mash, about 10 to 15 minutes of boiling. Turn off the heat and thoroughly drain the potatoes.

Add butter to the pot with the drained potatoes. As the butter melts, mash the potatoes until they are thoroughly mashed and the butter is melted. It's easiest if you use a

potato masher

, but not necessary.

Add basil, garlic, milk, salt, and pepper. Mix well. Serve immediately with a drizzle of olive oil on top.
Liked this recipe?
Sign up for email updates!