Summary:
Calling all spicy food lovers: this quesadilla is filled with smoked salmon, black olives, jalapeños, pepper jack cheese, and a garlic-sriracha mayo sauce.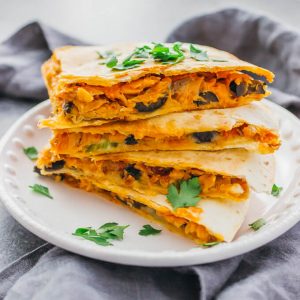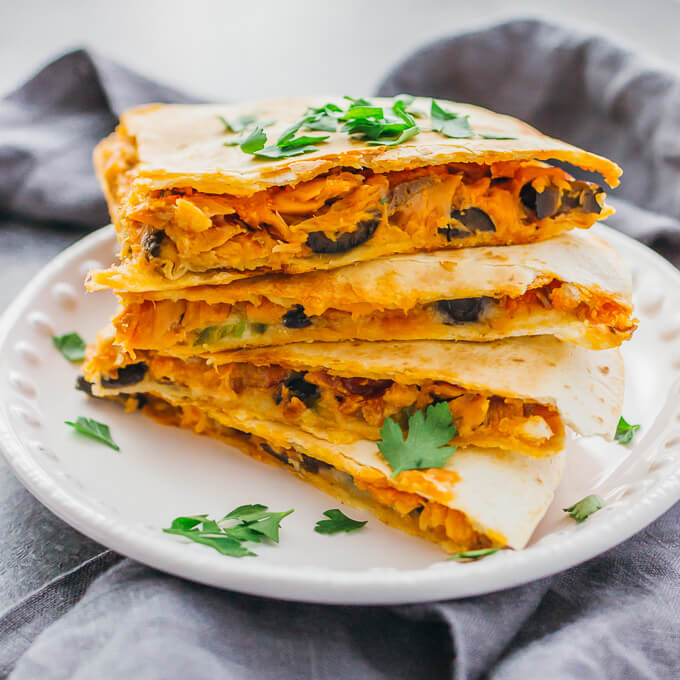 INGREDIENTS
2

flour tortilla wraps

10 inches in diameter

8

ounces

smoked salmon

deskinned and flaked

1

jalapeño

thinly sliced widthwise and seeds/membranes removed

2

ounces

sliced black olives

2

ounces

shredded pepper jack cheese
INSTRUCTIONS
Combine all of the sauce ingredients in a small bowl. Stir until well-mixed.

Place one of the tortilla wraps on a pan large enough to fit the tortilla without bending. Spread the sauce evenly across the tortilla.

Evenly distribute smoked salmon, jalapeño, olives, and cheese on top of the tortilla.

Cover with the second tortilla wrap. Turn the heat to medium and cook until the cheese is melted and the bottom tortilla wrap is crispy and browned.

Carefully flip the quesadilla to brown the other side until crispy.

Transfer to a cutting board and slice into 4 quadrants. Serve while warm.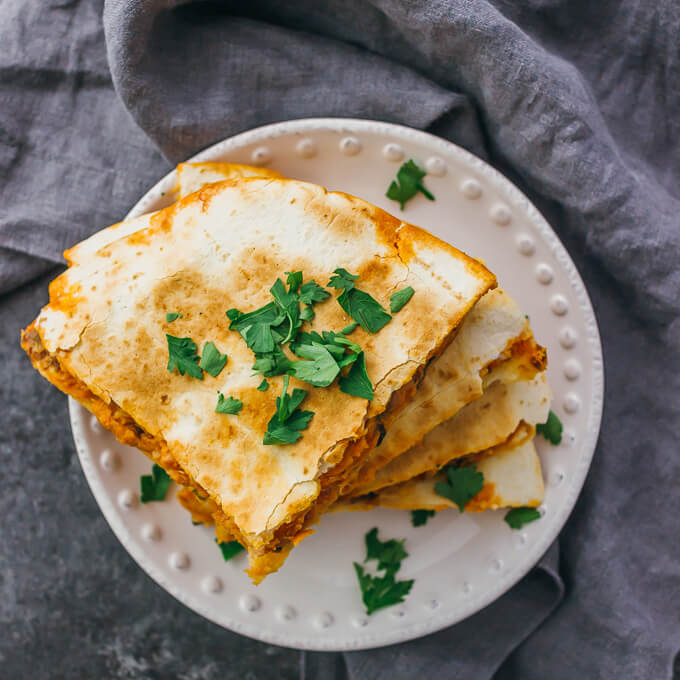 I hope you like spicy ingredients, because there's plenty of it in this smoked salmon quesadilla. First and foremost are the sliced jalapeños (trust me, you cannot miss them), then the sriracha sauce that's evenly distributed throughout the quesadilla, and lastly and more mildly, the pepper jack cheese. Whenever I make this quesadilla, it is almost required that I also prepare a glass (or two) of milk on standby. It's practically a prerequisite for making this recipe.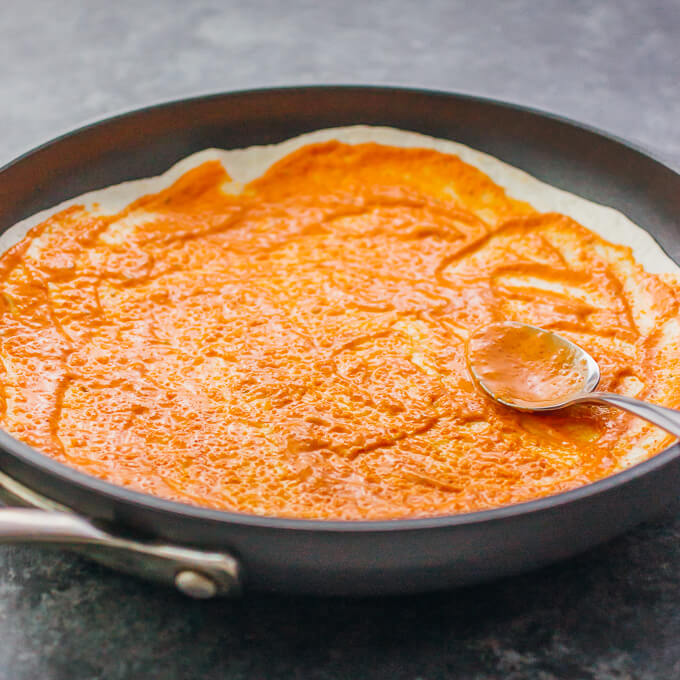 If your heat tolerance is woefully low, I recommend cooking the jalapeño slices first to release some of the capsaicin, or just using fewer slices. You can pan-fry them with a bit of oil until they get a little charred, and then distribute them over the tortilla like you normally would. On the other side of the scale, if you're a spicy foods junkie, you can double or even triple the number of jalapeños in the recipe. Be warned — it will be hot.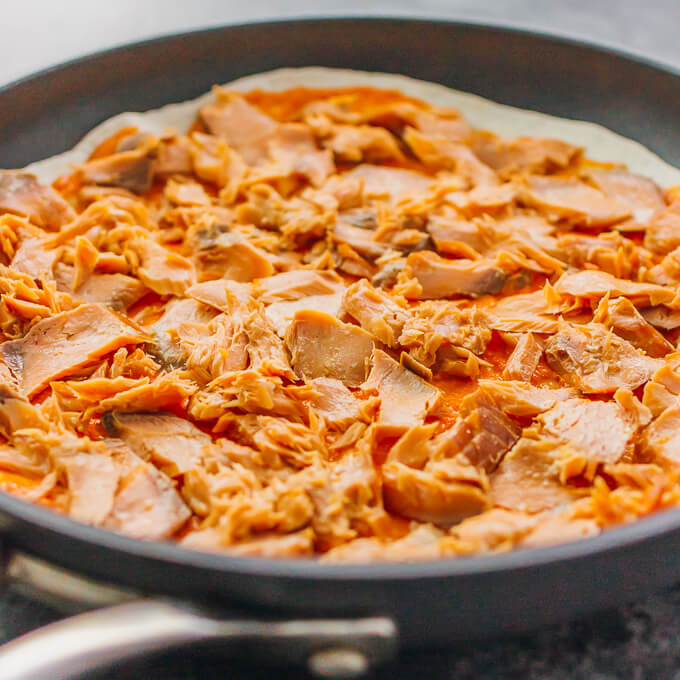 This smoked salmon quesadilla is one of those assembly recipes, which is why it's blazingly fast to make. I assemble all of the ingredients by distributing them over a flour tortilla on a large pan, and cook over medium heat until the cheese is melted and the tortilla is crispy and browned. Then I flip to brown the other side, slice up into quadrants, and serve. It's so easy and quick, given that there is barely any cooking involved, and a pan is the only cooking equipment you need.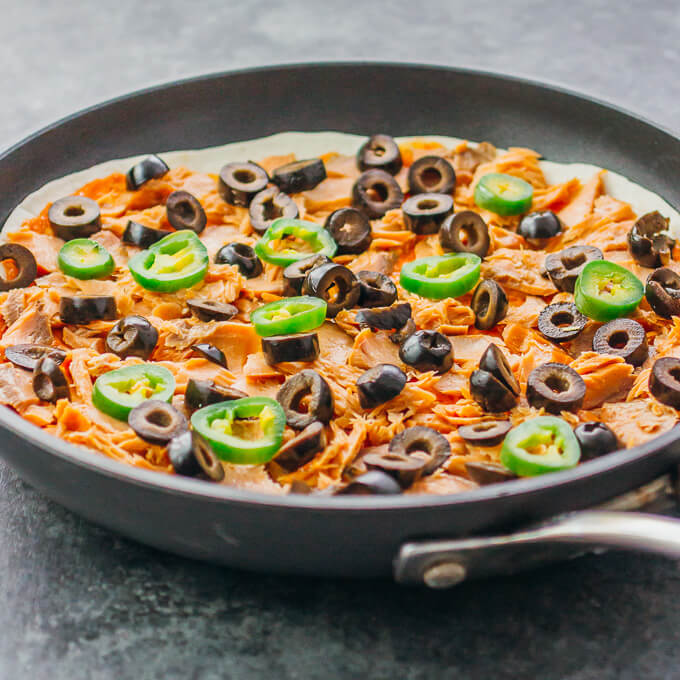 I first started making this quesadilla about 2 years ago. Mr. Savory Tooth and I were vacationing in the mountains and we spotted this small quirky restaurant. He ordered a smoked salmon quesadilla and absolutely loved the dish. As soon as I got back from the trip, I started experimenting to see if I could reproduce it. This recipe is my best recreation, plus a few favorite ingredients tossed in, and it's always a hit in the Savory Tooth household.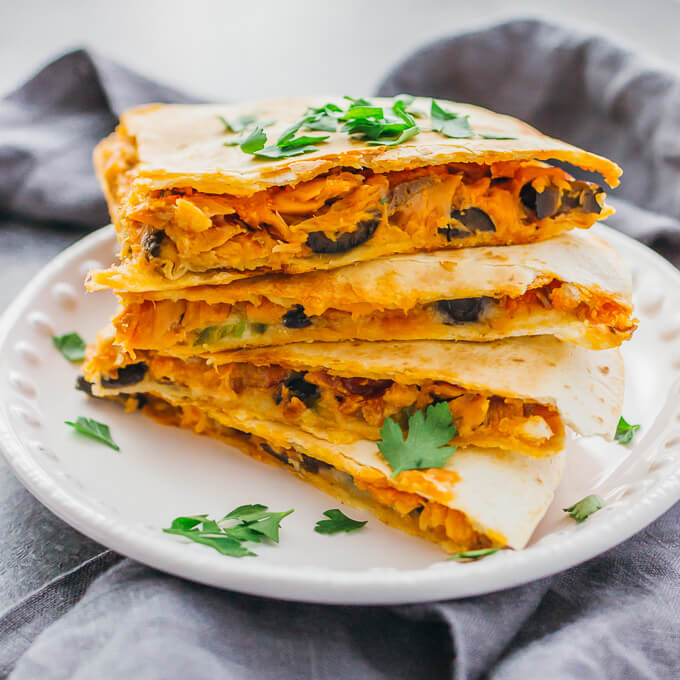 If you're looking for more spicy stuff, check out: