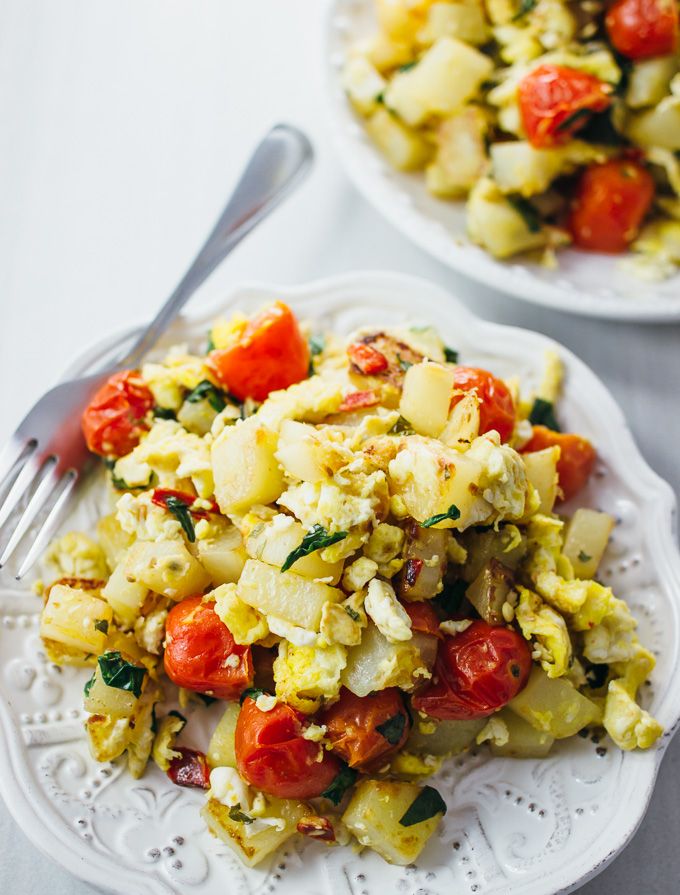 My favorite weeknight dinners are, without a doubt, easy and fast one-pot meals. So I'm excited to share this delicious recipe: a one-pot spicy potato hash with jalapeños, seared garlic, fresh basil, and blistered grape tomatoes. It is a summertime favorite of mine when I'm making quick weeknight meals using fresh summer produce.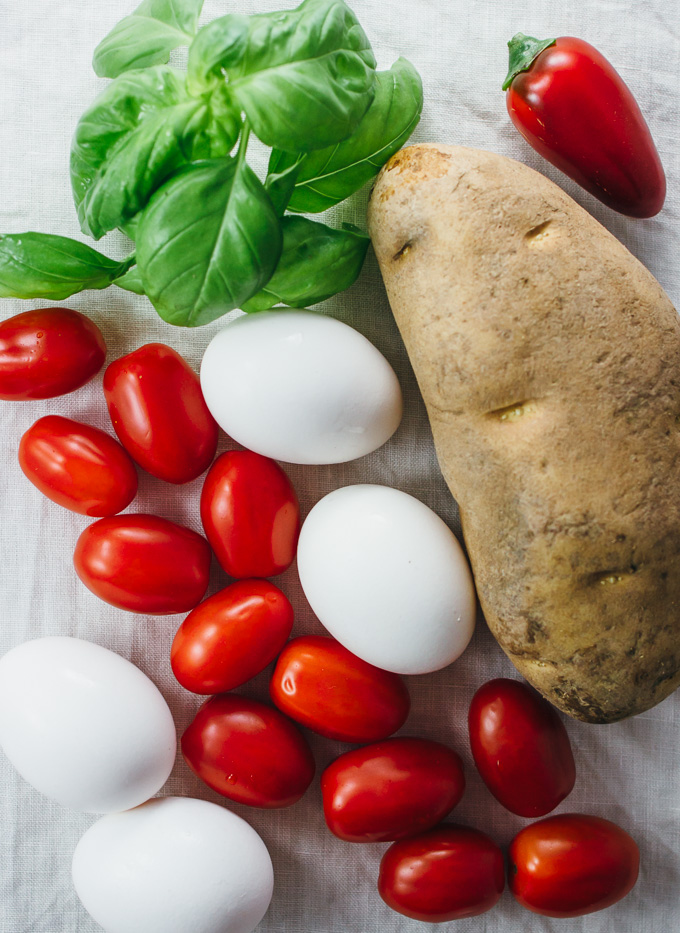 My jalapeños are growing in my garden and they are all going CRAZY right now — they are flowering and fruiting galore. I have 4 indoor plants that are left over from my last year's winter crop (yes, I grow jalapeños indoors in Boston in winter, and yes, they flourish!!) as well as 4 outdoor plants that are newly planted this year. I grew all of them by seed, and I've done this enough times now that I'm a pro at getting the seeds to germinate into successful, happy seedlings. Everyone's jealous of my jalapeno crop, of course, so I have dutifully sent seeds for these precious jalapeños to everyone who requests them, including my mom and Mr. Savory Tooth's sister, both of whom live on the west coast.

Anyway, I love this recipe because of all the fresh summer produce that I get to use: jalapeños, basil, grape tomatoes, and potatoes. This is also one of those clean-up-your-fridge-and-pantry recipes because this recipe is forgiving and you can use whatever leftover veggies that you have in your refrigerator + eggs. It's a win for everybody. And because this is an easy weeknight meal, everything is cooked in a single pan so this is really fast and simple to cook.

Also: the spiciness is minimal in this recipe. Really. It's only 1 jalapeno, and the recipe calls for removal of its innards (where most of the capsaicin resides) so it's quite tame. It's enough heat to give you a bit of a kick but not enough to sweat. It's optimal, in my opinion.
Spicy potato hash with jalapenos and garlic
This is a one-pot spicy potato hash with jalapeños, seared garlic, fresh basil, and blistered grape tomatoes.
Ingredients
1

Russet potato

peeled and chopped into 1/2-inch cubes

1

jalapeno

seeds and inner membrane removed, diced

1

cup

grape tomatoes

halved

5

garlic cloves

minced

4

eggs

beaten

1/4

cup

basil leaves

chopped

2

tablespoons

olive oil

1/4

teaspoon

salt
Instructions
Heat olive oil on a large pan over medium heat for a few minutes to let it warm up. Add halved cherry tomatoes and minced garlic, cooking until the garlic browns, about a few minutes. Add diced jalapeños and potato cubes, stirring and cooking until the tomatoes are blistered and kind of shriveled and the potatoes are soft, about 10 minutes.

Add beaten eggs and salt to the pan and scramble it up with all of the other ingredients. Stir and cook until the eggs are done, about a few minutes. Remove from heat and mix in basil leaves. Serve immediately.