Note: This is one of my older recipes and is not low carb. Visit my Recipes page for low carb and keto recipes.
These spicy Thai noodles are stir-fried with vegetables, chopped peanuts, and fresh ginger. The best part of this easy recipe is the spicy sauce, which is made from soy sauce, sriracha, rice vinegar, and brown sugar.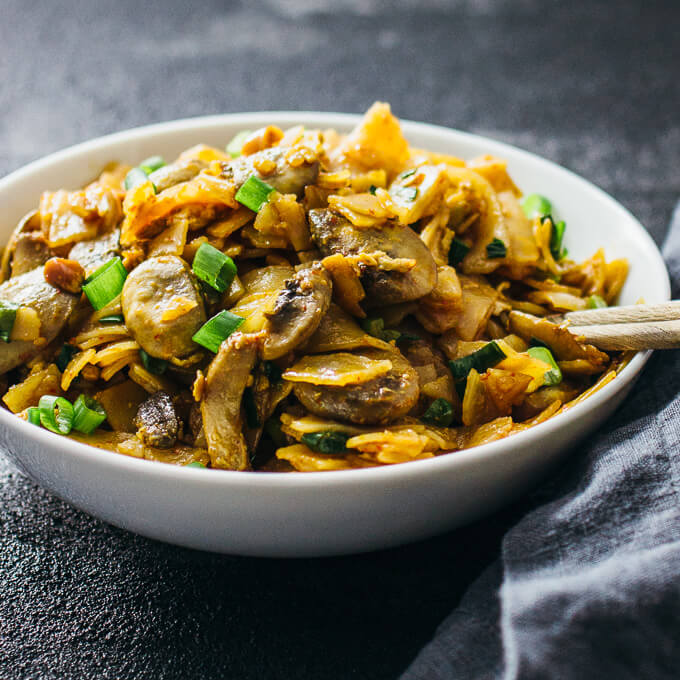 I've cooked a lot of Thai-inspired noodles in the past — most notably these peanut noodles with shredded chicken and pad see ew with chicken — but today I wanted to share an easier take on these Thai stir-fry dishes that's both simple and vegetarian. This is what I cook when I want a no-fuss and easy version of these noodles with all of the flavor and none of the hassle of marinating meat. You can use whatever vegetables you have on hand. Instead of including chicken or beef, I'm substituting with sliced mushrooms, scallions, and chopped peanuts. I'm also borrowing a sauce recipe from my spicy tofu skillet — it's dark-colored, spicy, and flavorful.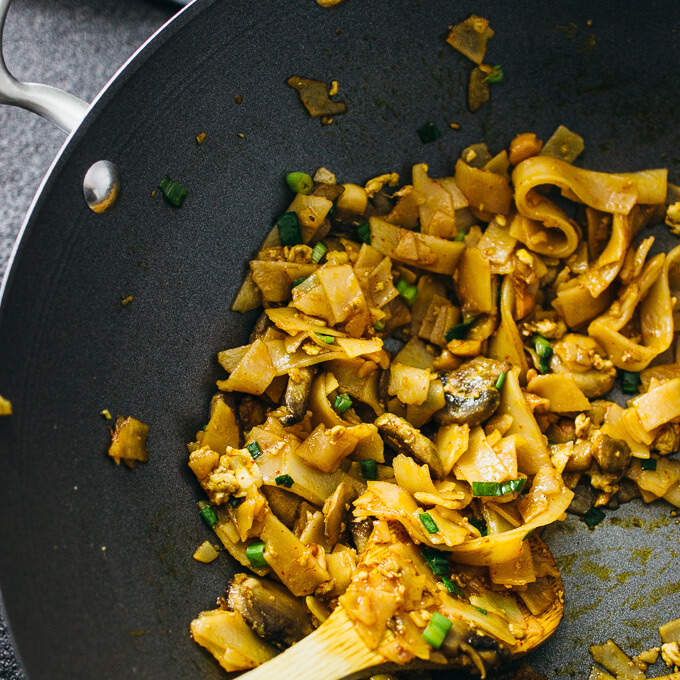 I cooked these spicy Thai noodles in my wok (this is the same wok that I used to make chili-ginger brussels sprouts with beef — go there for tips on using a wok), but you can use any large skillet or pan. These noodles are made from rice and have a wide and flat shape, and have been pre-cooked by soaking in hot water. If you don't have rice noodles available, you can substitute with linguine noodles. It won't look as pretty, but it'll taste just as good.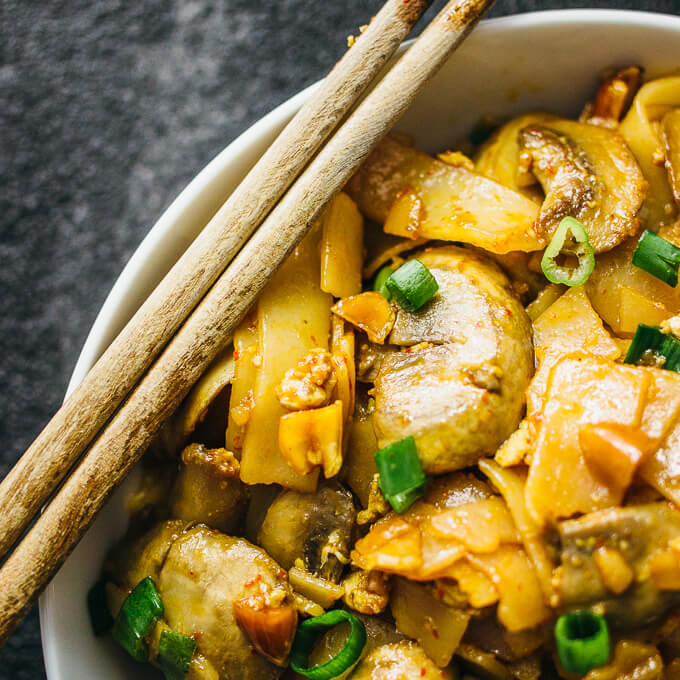 The listed ingredient quantities below yield two servings, so it's great for dinner for two without leftovers. It's a vegetarian dish but not vegan as-is; to make vegan-friendly, simply omit the use of eggs.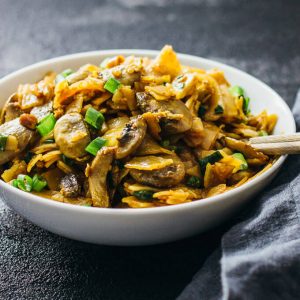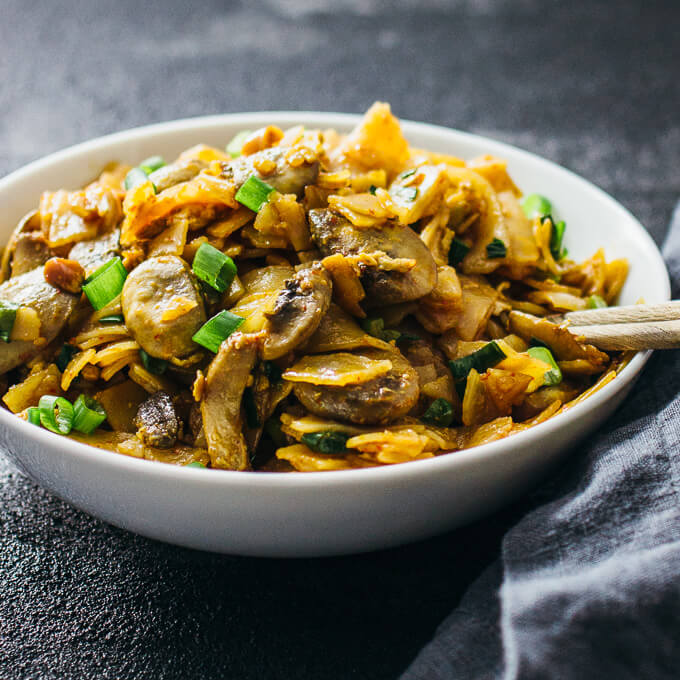 Spicy thai noodles with mushrooms
DESCRIPTION
These spicy Thai noodles are stir-fried with vegetables, chopped peanuts, and fresh ginger.
INGREDIENTS
8

ounces

rice noodles

10

ounces

mushrooms

sliced

1

egg

1/4

cup

peanuts

chopped

4

scallions

chopped

2

inches

fresh ginger

chopped

2

tablespoons

canola oil
INSTRUCTIONS
Cook the noodles according to package directions. When done, drain the noodles and toss with a drizzle of canola oil to keep them from sticking to each other. Set aside.

Mix all of the sauce ingredients together in a bowl. Set aside.

Heat canola oil in the wok over medium-high heat. Add mushrooms and ginger. Cook for 5 minutes, stirring frequently.

Crack the egg over the wok, immediately scrambling and stirring it with the mushrooms.

Add the noodles and chopped peanuts to the wok. Stir and mix everything together.

Add the sauce to the wok. Mix well so that everything is coated in the sauce.

Remove the wok from heat. Add and stir in the scallions.
Liked this recipe?
Sign up for email updates!