Summary:
This Tuscan Chicken is a low carb and keto friendly chicken dinner with spinach and sun-dried tomatoes cooked in a creamy garlic sauce. It's a quick 30-minute one-pan meal, great for weeknight dinners.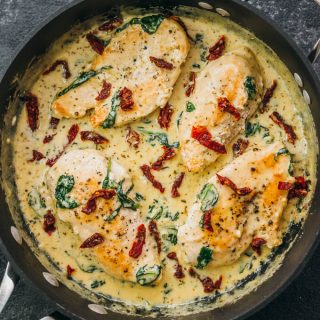 INGREDIENTS
2

boneless skinless chicken breasts (8 ounces each)

1

cup

roughly chopped fresh baby spinach

1/2

cup

heavy whipping cream

1/2

cup

finely grated parmesan cheese

plus more for serving

1/4

cup

finely chopped sun-dried tomatoes

5

cloves

garlic

minced

2

tablespoons

olive oil

2

tablespoons

salted butter

1

teaspoon

dried oregano

salt and pepper

to taste
INSTRUCTIONS
Cut each chicken breast horizontally so it's half as thick as before, resulting in 4 thinner pieces. Pat dry with a paper towel. Generously season both sides of each chicken piece with salt and pepper.

Heat a wide pan over medium to medium-high heat until hot. Add olive oil to cover the pan.

Add chicken breasts to the pan in a single layer. Cook until each side is golden brown, 4 to 5 minutes per side. When the chicken is cooked through, transfer to a plate. Work in batches if your pan is not large enough to hold them all at once.

Reduce to low heat. Add heavy cream, butter, and parmesan cheese to the pan. Stir until the butter and cheese has melted, scraping up any bits that have stuck to the pan.

Increase to medium heat and bring to a simmer. Add spinach and stir until it has wilted.

Add minced garlic and oregano, stirring until well-mixed.

Transfer the chicken back to the pan, leaving any liquid on the plate, and simmer for a minute. Top with sun-dried tomatoes. Turn off the heat.

Serve while hot, and optionally top with additional grated parmesan cheese.
NUTRITION
Makes 2 Servings
Amount Per Serving:
| | |
| --- | --- |
| Calories 780 |   |
| Total Fat 53g | 82% |
|    Saturated Fat 27g | 136% |
| Cholesterol 249mg | 83% |
| Sodium 460mg | 19% |
| Net Carb 6.5g |   |
| Total Carb 8g | 3% |
|    Dietary Fiber 1.5g | 6% |
|    Sugars 4.5g |   |
| Protein 63g |   |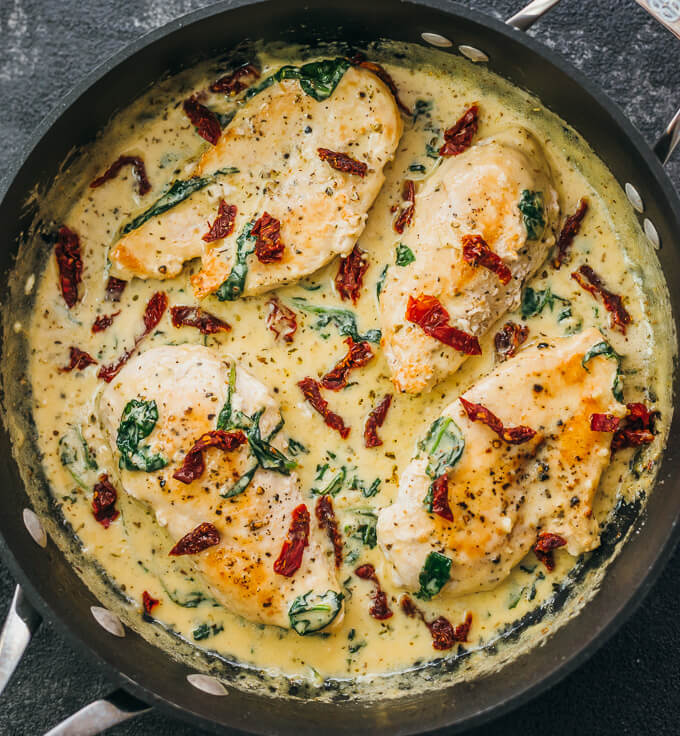 Cooking With Chicken Breasts
This recipe is inspired by my creamy chicken skillet dinners, like pan-seared chicken with a creamy caper sauce, tomato chicken with basil garlic sauce, and lemon chicken piccata. There are many flavor combinations that work well with chicken and are low in carbs (see 100 Low Carb Chicken Recipes).
When working with chicken breasts, slice each breast horizontally in half to reduce its thickness prior to cooking. This makes it easier to cook, with a faster and more predictable cooking time, and results in more tender and moist meat. It's also a lot easier than pounding chicken breasts to flatten them.
Another tip for juicier chicken breasts is to let them rest for about 5 minutes after cooking. As the chicken cools, the juices are sealed in. If you've ever sliced into chicken immediately after cooking, you'll notice liquid pooling out of the meat, leaving behind dry and tough-tasting chicken. In this recipe, the chicken gets a chance to rest while you work on the sauce.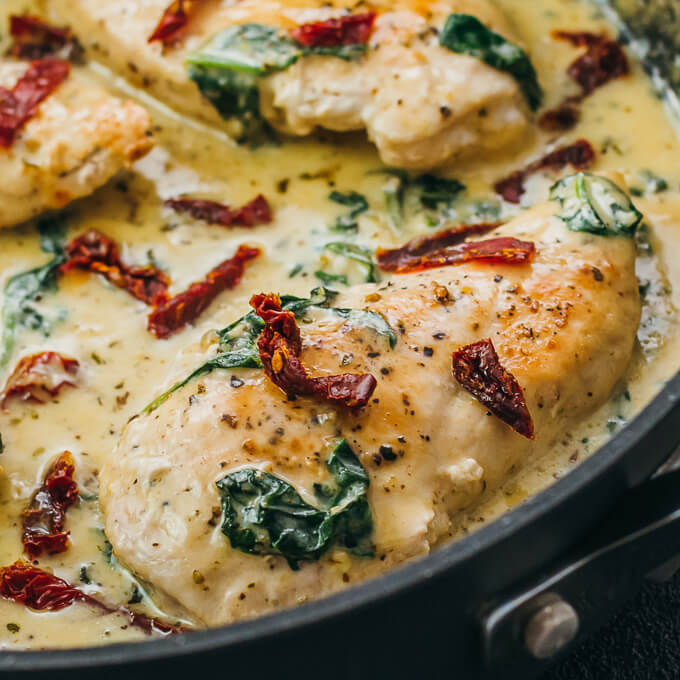 Serving Suggestions
This chicken dinner can be a filling and hearty dinner for two, or it can feed four people with additional side dishes to round out the meal. Here are some potential low carb sides:
Lower Calorie Option
I have also made a lower calorie version of this meal via small adjustments in the sauce's ingredients, which brings the calories per serving down to 610 kcal: reduce the heavy whipping cream to 1/4 cup, and omit the butter entirely. There's less overall sauce, but the same great flavors are still there. Keep all other ingredients the same.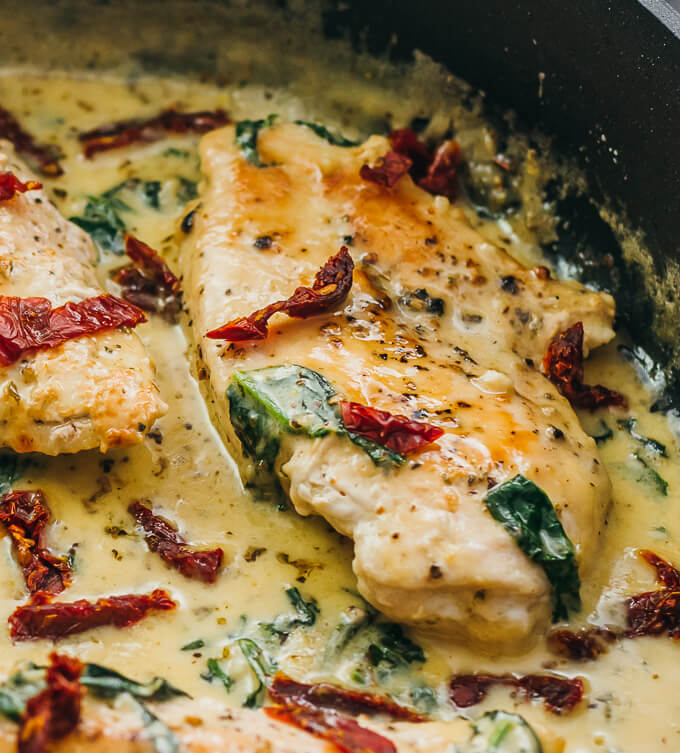 More Keto & Low Carb Chicken Recipes