Summary:
This Indian dish may be traditionally made in a tandoor clay oven, but you can easily make this at home using your oven and everyday ingredients. Chicken is infused with flavor from a richly spiced yogurt marinade, then broiled or baked until crisp with delicious blackened bits. Keto friendly and low carb.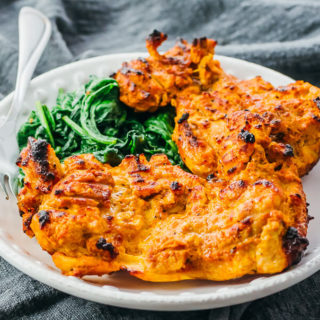 INGREDIENTS
1.5

pounds

boneless skinless chicken thighs, trimmed (Note 1)
Rub:
1

lime, juiced (1-2 tablespoons)

3/4

teaspoon

table salt

3/4

teaspoon

ground black pepper
INSTRUCTIONS
Marinate Chicken: Rub salt, pepper, and lime juice over all surfaces of chicken thighs; set aside. Stir together all marinade ingredients in large bowl until well-mixed. Add chicken thighs to bowl one at a time, using tongs to stir them around until smeared with marinade before adding another. Cover and refrigerate for 6 to 24 hours.

Prepare: Position oven rack in center of oven. Turn on broiler, set to high. If broiler is not available, plan to bake instead (Note 4) by preheating oven to 450 F. Prepare baking sheet lined with foil or parchment paper, optionally fitted with greased wire rack (Note 5). Use tongs to transfer marinade-covered chicken thighs to baking sheet, spreading out each thigh to lay it flat without touching others. Discard excess marinade in bowl.

Cook Chicken: Place baking sheet in oven, cooking until chicken appears mostly dry on top with a few blackened tips, 15 to 20 minutes. Take out baking sheet, flip chicken thighs, and return to oven. Cook until chicken appears dry and is cooked through, about 10 minutes, monitoring frequently to avoid burning. Serve (Note 6).
NUTRITION
Makes 3 Servings (Note 7)
Amount Per Serving:
| | |
| --- | --- |
| Calories 340 (43% from fat) |   |
| Total Fat 16g | 25% |
|    Saturated Fat 1g | 4% |
| Cholesterol 189mg | 63% |
| Sodium 930mg | 39% |
| Net Carb 5g |   |
| Total Carb 6.5g | 2% |
|    Dietary Fiber 1.5g | 5% |
|    Sugars 2.5g |   |
| Protein 44g |   |
PHOTOS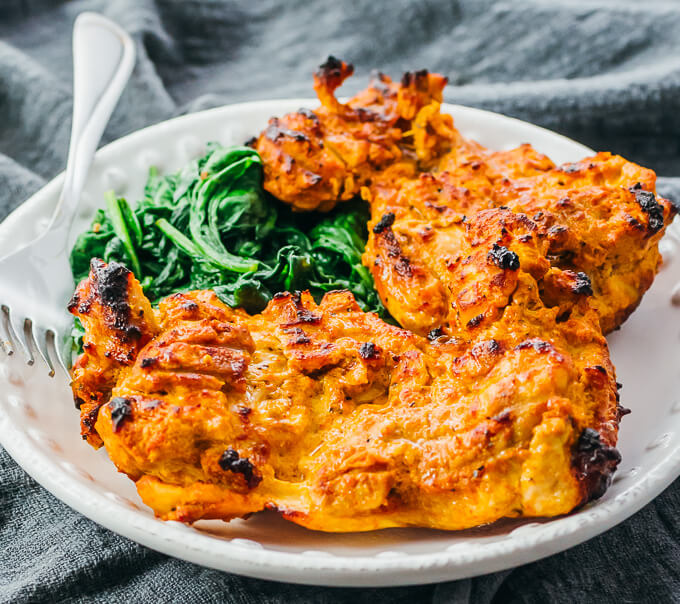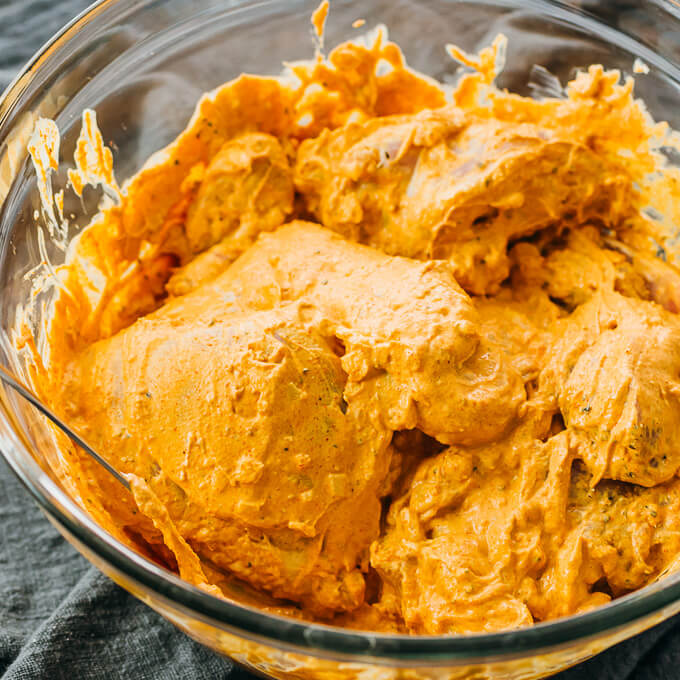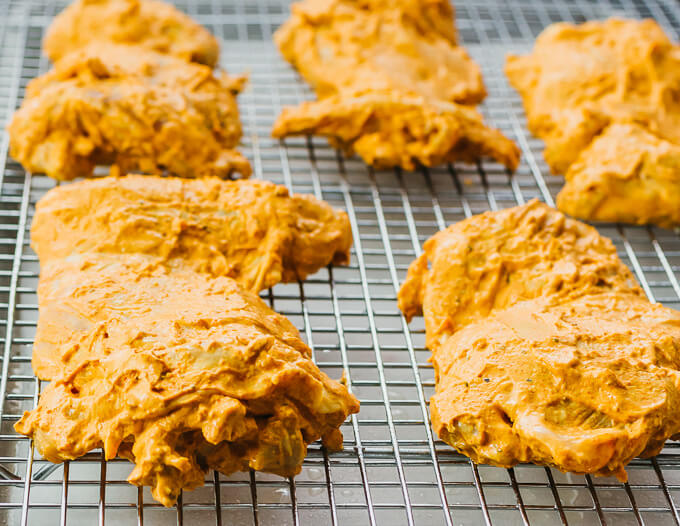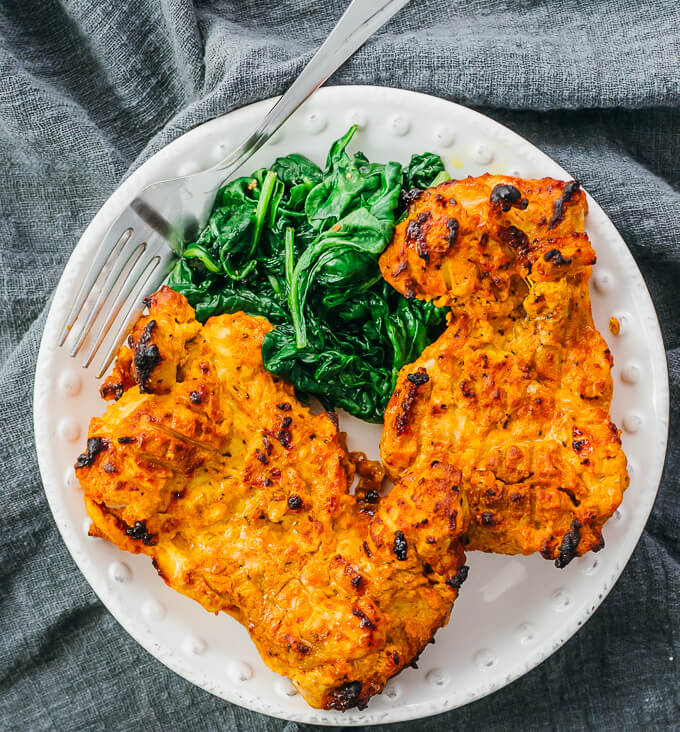 NOTES & TIPS
(1) Chicken. About 6 chicken thighs. Depending on your personal preference, you may want to trim off excess fat. I use fresh chicken; if yours is frozen, thaw overnight in the fridge beforehand. Chicken breasts should also work well — cut each breast into 3 pieces so that each piece is approximately the same size as a thigh.
(2) Greek Yogurt. Greek yogurt is used because of its thick consistency; don't use American yogurts, which would result in a watery marinade. Select a Greek yogurt with at least 2% fat, plain flavor, and unsweetened. I use the Fage brand. Don't substitute with sour cream or other dairy products.
(3) Cayenne. This amount yields medium spiciness. Adjust as needed to match your preferences.
(4) Baking Option. Broiling is recommended because it gives a nice charred appearance to the chicken, and the yogurt marinade dries easily, baking into the surface of the chicken. If you choose to bake instead, the resulting chicken will taste equally delicious, but will have a less crisp finish and won't look as attractive as the photos shown here.
(5) Wire Rack. Using a wire rack allows the cooked chicken juices to fall through instead of pooling around the chicken, and allows heat to evenly circulate. This is optional; in my tests, the results were pretty similar whether or not I used a wire rack. If you decide to use a rack, use a nonstick rack or a well-greased one so that the chicken doesn't stick to it.
(6) Serving. Serve while warm. Since tandoori chicken is very flavorful, it's well-complemented by a mild side dish, like fried cauliflower rice, sauteed spinach, or steamed asparagus. If you're serving this alongside other Indian main dishes, I recommend low carb cauliflower curry, chicken tikka masala, or butter chicken. Tandoori chicken leftovers can be covered and refrigerated for up to 3 days, and reheated in the microwave.
(7) Adjusting Yield. You can halve or double the ingredients proportionally. Since the baking time may need to be adjusted, follow the visual tests for doneness given in the instructions.