You'll love these tasty baked jalapeño poppers! They are stuffed with cream cheese, wrapped in bacon, and brushed with BBQ sauce. It's an easy recipe with only 5 ingredients.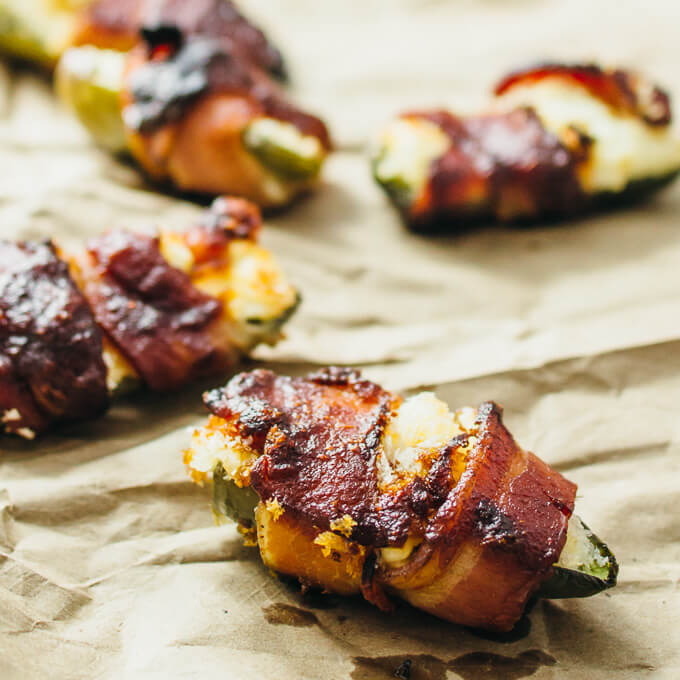 I love the texture contrast when biting into one of these poppers — the crispy bacon-wrapped exterior and the melty soft cream cheese interior. It's perfect! These are great for party appetizers during summer and would go great with others like these loaded Mexican nachos with pulled chicken and a jalapeno artichoke and spinach dip. And I just can't get over how easy these are to make. There are only 5 ingredients total, assembling is super easy, and then the oven does the rest of the work. This is a tasty, simple, and healthy way to get the jalapeño popper taste and texture without frying anything.

This recipe was perfectly timed because my outdoor jalapeño garden is thriving again. I have four plants that are about waist-high and they have a total of about 30 jalapeño peppers growing on them. I had a hard time just choosing EIGHT for this recipe — maybe that means I'll need to make these baked jalapeño poppers again soon! 😃

Jalapeño poppers have a special place in my heart; when Mr. Savory Tooth and I got engaged, we were in the Caribbean at a resort where they made AMAZING fried jalapeño poppers. These poppers were leagues better than anything else they had on the menu, so we ordered them almost every day. They were seriously good. I developed this jalapeño popper recipe so that we would have an easy, simple, and healthier way of eating these at home without bothering with a fryer.
Mr. Savory Tooth loves BBQ sauce, so of course I had to coat these bacon-wrapped jalapeño poppers with a good helping of BBQ sauce prior to baking. It adds such a nice sweet flavor to these smoky jalapeños and charred bacon slices. We also prefer cream cheese filling when eating jalapeño poppers so I used that exclusively; if you prefer cheddar instead, feel free to use 1 part cream cheese to 1 part cheddar.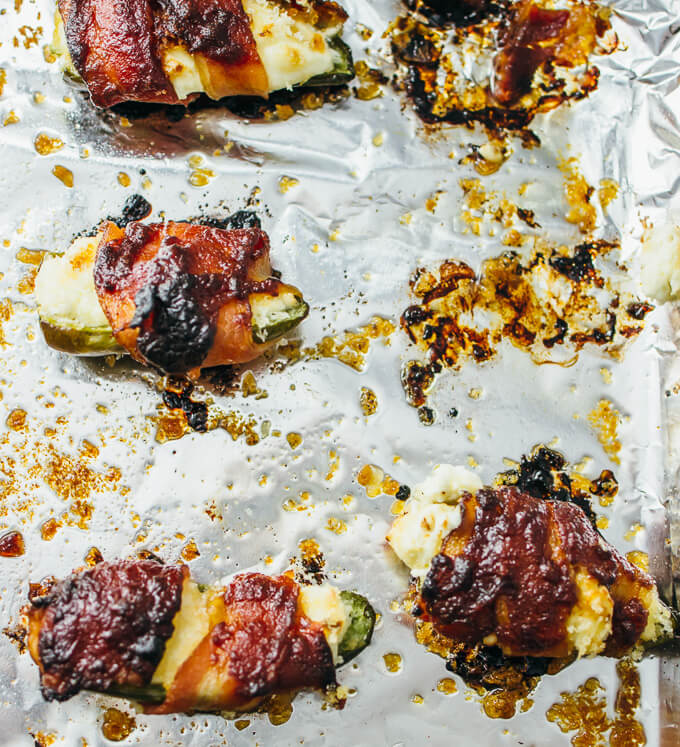 If you're wondering how to assemble these jalapeño poppers for baking, you're in luck! I've made a short video on how I assemble these poppers. Watch below.

Baked jalapeño poppers wrapped in bacon
Ingredients
8 jalapeño peppers, sliced lengthwise in half with seeds removed
8 bacon slices, sliced lengthwise in half
8 ounces cream cheese, room temperature
1/4 cup panko bread crumbs
1/4 cup barbecue sauce
Instructions
Prepare a baking tray by lining it with foil.
Use a small spoon to scoop cream cheese into each exposed pepper half. Be generous when stuffing! Place each pepper on its back on the baking tray.
Sprinkle panko crumbs on the top face of each pepper, on top of the cream cheese.
Wrap a halved bacon slice around each pepper.
Brush the top surface of each pepper with BBQ sauce.
Bake at 400 F until bacon is crispy, about 30 minutes. Let the jalapeño poppers cool for 10 minutes before serving.
http://www.savorytooth.com/baked-jalapeno-poppers-wrapped-bacon/
COPYRIGHT © 2016 · SAVORY TOOTH

Sign up for the savory tooth e-mail list and I'll send you new recipes right when they come out. Better than having to check the site! You can also follow me on Instagram, Pinterest, Twitter, and Facebook.