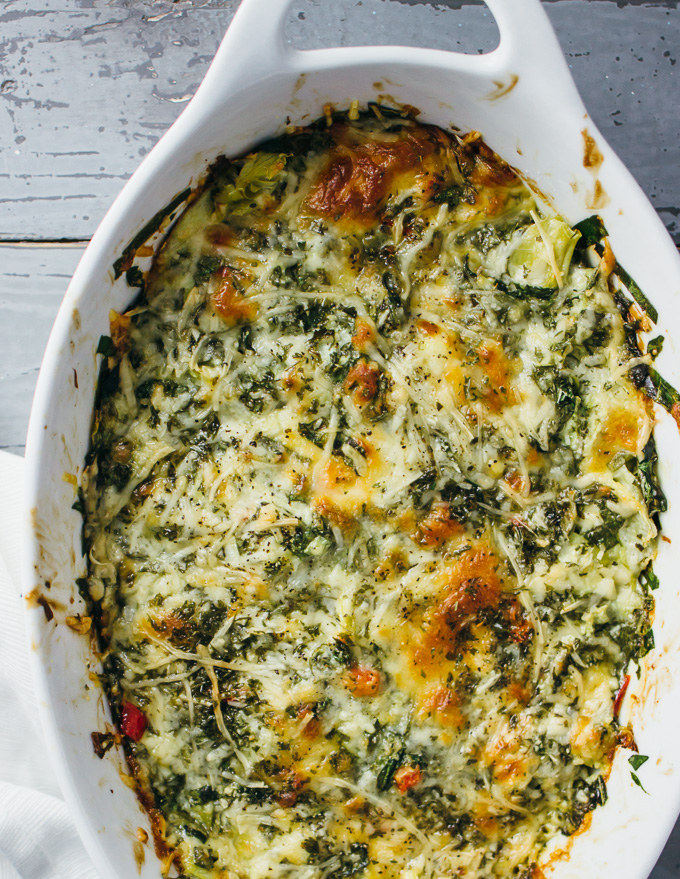 This is the BEST EVER artichoke and spinach dip. If you're looking for an easy, fuss-free version of this classic dip, you can stop right now. You've found it.
I've been experimenting with this dip for the past several months. Varying this, varying that. One thing that I dislike using is cream cheese and sour cream, because they're just extra things that I need to buy that I don't usually have in stock in my fridge. I've got this recipe down to a science now, and I'm happy to say that there is no cream cheese nor sour cream required here. YES.
In fact, let me list all of the things that make this dip so wonderful:
No pre-cooking or sautéing of anything prior to baking. Just assemble everything in a baking dish and bake away.
No sour cream, cream cheese, or yogurt required. I like to keep things simple around here.
Roasted jalapeños included. Spicy dips should be the norm, right? Don't worry if you can't take the heat — the spiciness level is pretty low, in my opinion. You can always omit the jalapeños, too.
Chunky texture and stretchy cheese abound. I dislike dips that are too smooth and watery; they feel too processed like a commercial dip. I prefer mine on the chunkier side, so that, you know, you can tell that there's actual food here. Also, LOTS OF STRETCHY MOZZARELLA CHEESE. Like in that photo above.
Chunky jalapeno artichoke and spinach dip
Ingredients
6 ounces fresh spinach leaves, chopped into 1/2-inch wide strips
14.5 ounce can artichoke hearts, drained, squeezed dry using cheese cloth or a tea towel, and chopped
2 jalapeños, seeds removed and finely chopped
3 garlic cloves, minced
1 cup mozzarella cheese, shredded (plus another 1/4 cup for sprinkling on top)
1 cup asiago cheese, shredded
1/2 cup mayonnaise
1/2 teaspoon dried oregano (or other herbs)
1/2 teaspoon salt
1/4 teaspoon pepper
Instructions
Preheat the oven to 350 F.
Mix all of the ingredients in a large mixing bowl. Transfer to a 1.5 quart baking dish. Sprinkle some mozzarella cheese on top.
Bake until the surface starts to turn golden, about 35 minutes.
http://www.savorytooth.com/chunky-jalapeno-artichoke-and-spinach-dip/
COPYRIGHT © 2016 · SAVORY TOOTH