Summary:
Not only is this dip deliciously creamy and cheesy, but it's also super easy to make. No need to pre-cook anything; all you have to do is toss everything together in a mixing bowl, transfer to a baking dish, and bake until golden.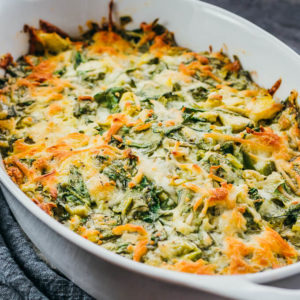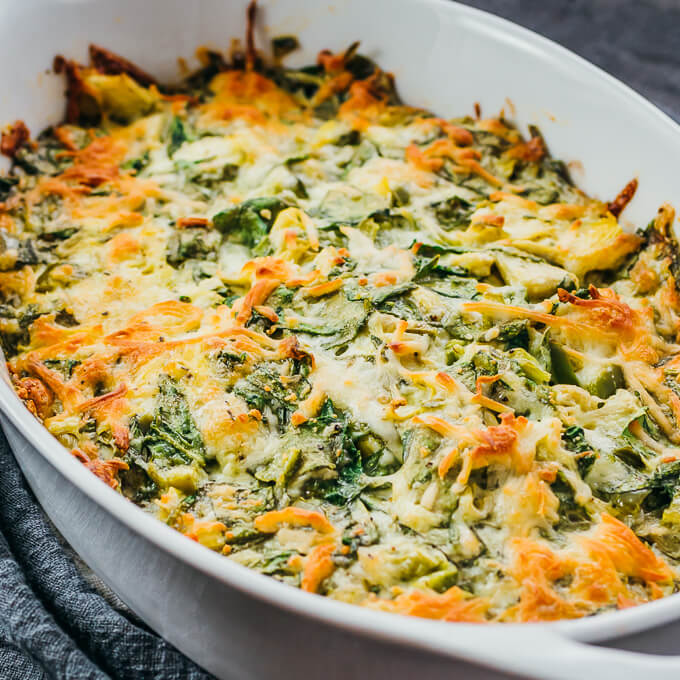 INGREDIENTS
14-ounce can

artichoke hearts in water

4

cups

fresh spinach, chopped (Note 1)

1.25

cups

shredded mozzarella cheese (Note 2)

1/2

cup

shredded asiago cheese (Note 3)

2

jalapeños, seeded and diced (Note 4)

3

cloves

garlic, minced

1/2

cup

mayonnaise

1/2

teaspoon

dried oregano

1/2

teaspoon

table salt

1/4

teaspoon

ground black pepper
INSTRUCTIONS
Prepare Artichokes: Drain can of artichoke hearts. Use cheese cloth or tea towel to squeeze moisture from artichoke hearts until very dry (Note 5). Chop dried artichoke hearts.

Combine Ingredients: Stir together chopped artichoke hearts, 1 cup mozzarella cheese (reserving remainder for topping), and all other ingredients in large bowl until well-mixed.
NUTRITION
Makes 4 Servings
Amount Per Serving:
| | |
| --- | --- |
| Calories 410 (75% from fat) |   |
| Total Fat 34g | 52% |
|    Saturated Fat 9g | 43% |
| Cholesterol 53mg | 18% |
| Sodium 1170mg | 49% |
| Net Carb 5.5g |   |
| Total Carb 10.5g | 4% |
|    Dietary Fiber 5g | 20% |
|    Sugars 4g |   |
| Protein 15g |   |
PHOTOS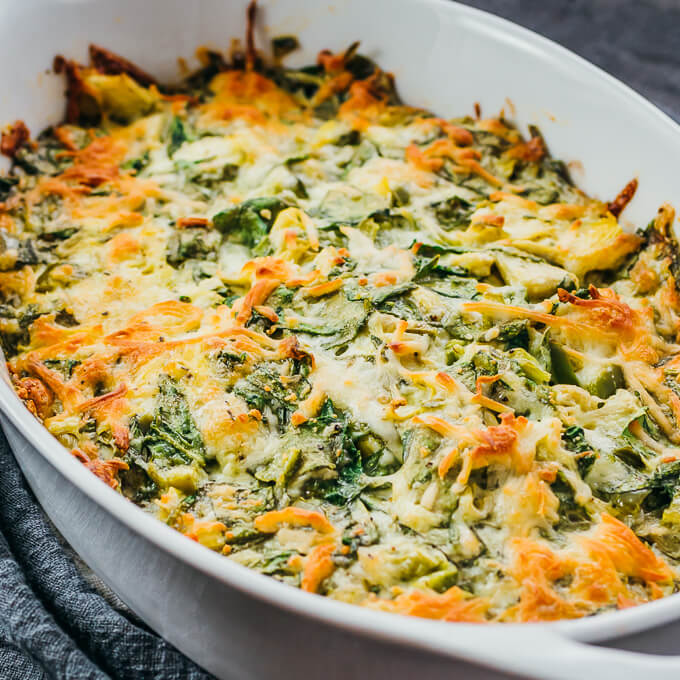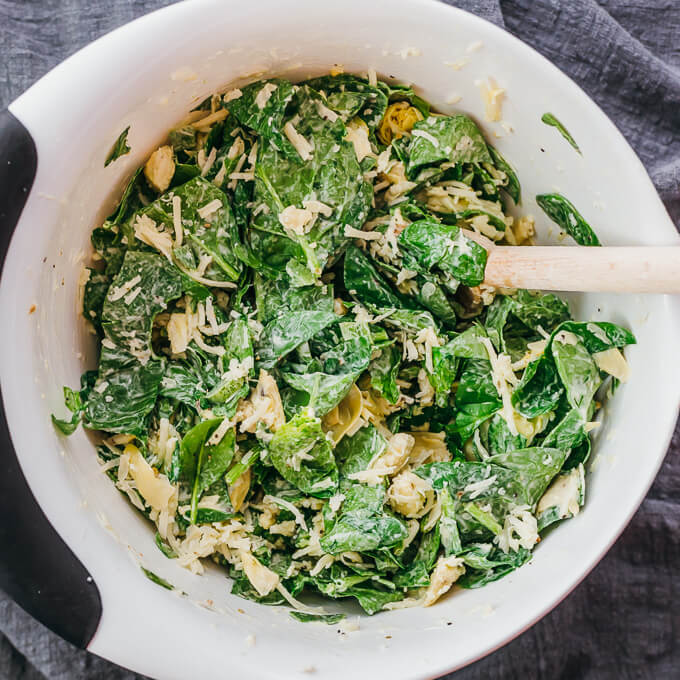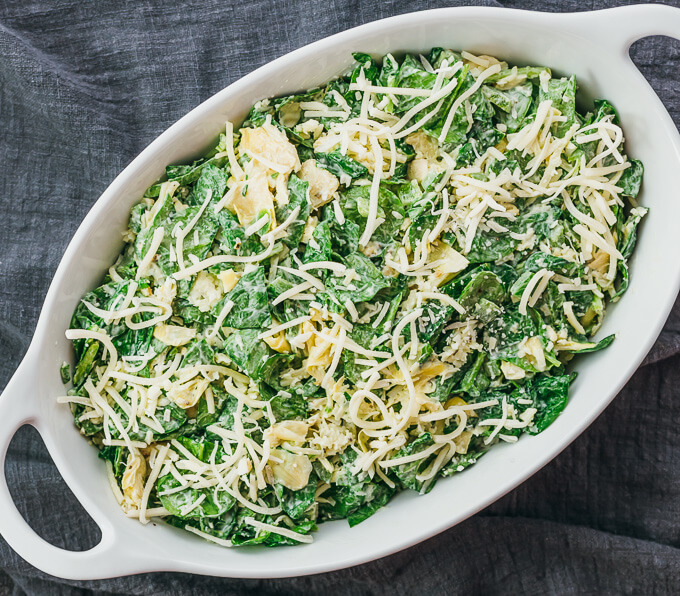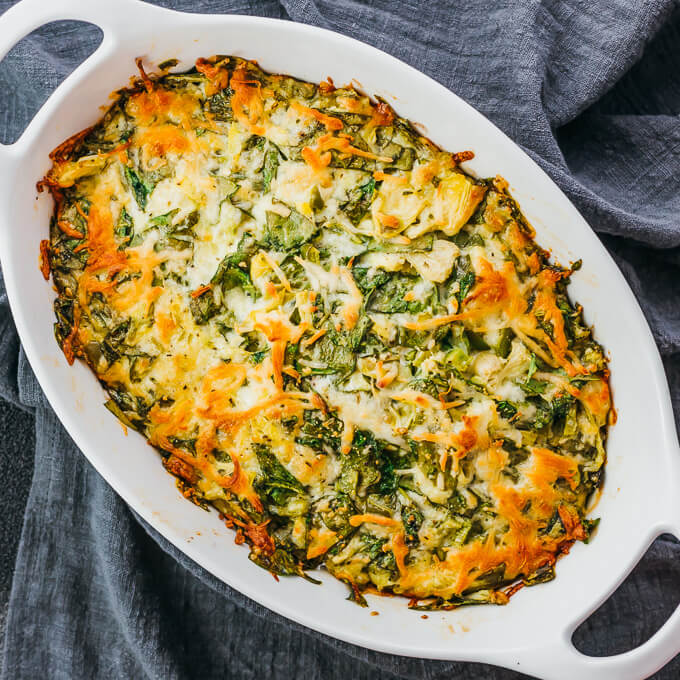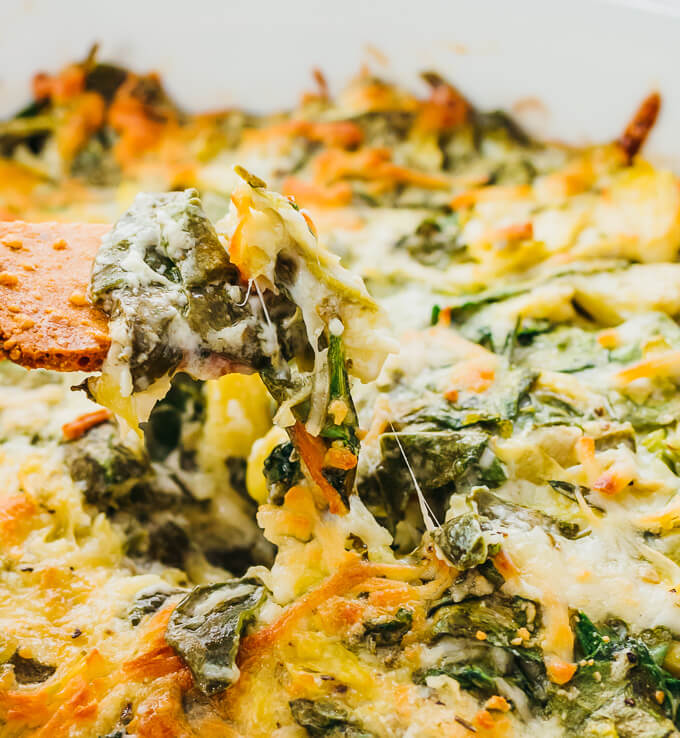 NOTES & TIPS
(1) Spinach. About 6 ounces weight. I use fresh baby spinach leaves, chopped into roughly 1/2 inch wide strips.
(2) Mozzarella Cheese. About 4 ounces weight. I use a bag of pre-shredded low-moisture part-skim mozzarella, which means the cheese has been dried out for a longer shelf life and better browning.
(3) Asiago Cheese. About 2 ounces weight. I buy a block of asiago cheese and shred it at home. This can be substituted with similar cheeses like parmesan or pecorino romano.
(4) Jalapeños. To reduce overall spiciness, use half as much or omit the jalapeños completely. To make this spicier, include the seeds or double the amount. If you're sensitive to capsaicin, wear gloves while handling jalapeños, especially if you come into contact with the seeds or membranes.
(5) Drying Artichoke Hearts. Canned artichoke hearts are packaged in water and simply draining them in a colander is not sufficient. You need them to be very dry so that you don't end up with a watery dip. My preference is using a tea towel: fold a tea towel and lay it flat on a countertop. Placing the drained artichokes in the center, fold the towel over the artichokes and roll it up, then twist the ends in opposite directions to wring it dry.
(6) Serving. Serve this dip with almond flour crackers, as seen in the photos on this page. These crackers are sturdy and crispy, making them an excellent dipper. You can also use parmesan crisps, store-bought flaxseed crackers, celery sticks, baby carrots, or halved mini bell peppers.
(7) Leftovers. Leftovers can be covered and stored in the refrigerator for up to 2 days. To reheat, transfer the leftover dip to an oven-safe dish (if not already) and bake at 350 F until heated through.