Summary:
A hot spinach artichoke dip with a deliciously cheesy, creamy texture. Made with artichoke hearts, fresh baby spinach, and shredded cheeses, all baked together in the oven. Low carb and keto friendly dip recipe.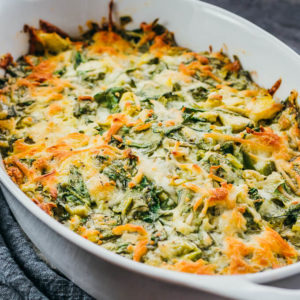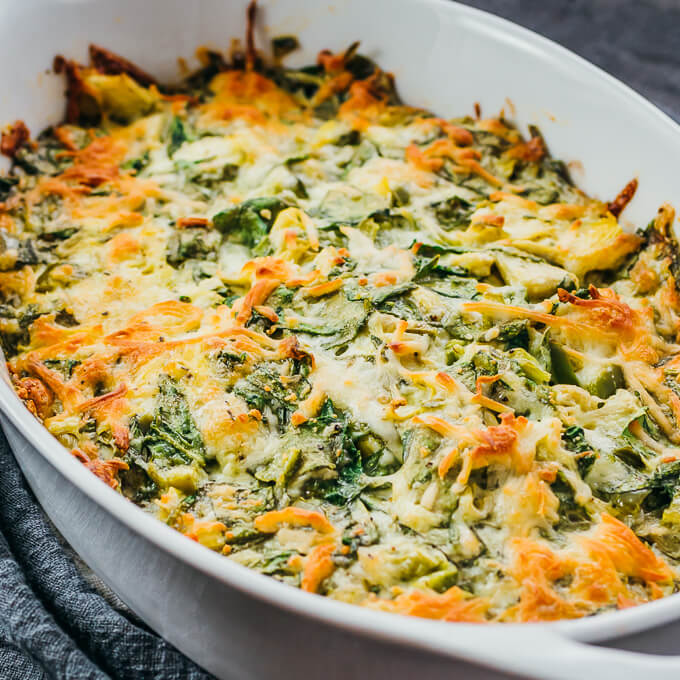 Crazy Good Spinach Artichoke Dip
INGREDIENTS
1

(14-ounce)

can artichoke hearts in water

4

cups

fresh baby spinach leaves (6 ounces weight), chopped into 1/2-inch wide strips

1.25

cups

shredded mozzarella cheese (4 ounces weight)

1/2

cup

shredded asiago cheese (2 ounces weight)

2

jalapeños, seeded and diced

3

cloves

garlic, minced

1/2

cup

mayonnaise

1/2

teaspoon

dried oregano

1/2

teaspoon

table salt

1/4

teaspoon

ground black pepper
INSTRUCTIONS
Drain the can of artichoke hearts. Using cheese cloth or a tea towel, squeeze the artichoke hearts until very dry. Chop the dried hearts.

In a large mixing bowl, add the chopped artichoke hearts, 1 cup of mozzarella cheese (reserving the rest for later), and all other ingredients. Stir until well-mixed.

Transfer to a 1.5 quart or larger baking dish. Evenly sprinkle the remaining 1/4 cup of mozzarella cheese on top.

Bake at 350 F until the top is golden brown, about 35 minutes. Serve while hot.
NUTRITION
Makes 4 Servings
Amount Per Serving:
| | |
| --- | --- |
| Calories 410 (75% from fat) | |
| Total Fat 34g | 52% |
| Saturated Fat 9g | 43% |
| Cholesterol 53mg | 18% |
| Sodium 1170mg | 49% |
| Net Carb 5.5g | |
| Total Carb 10.5g | 4% |
| Dietary Fiber 5g | 20% |
| Sugars 4g | |
| Protein 15g | |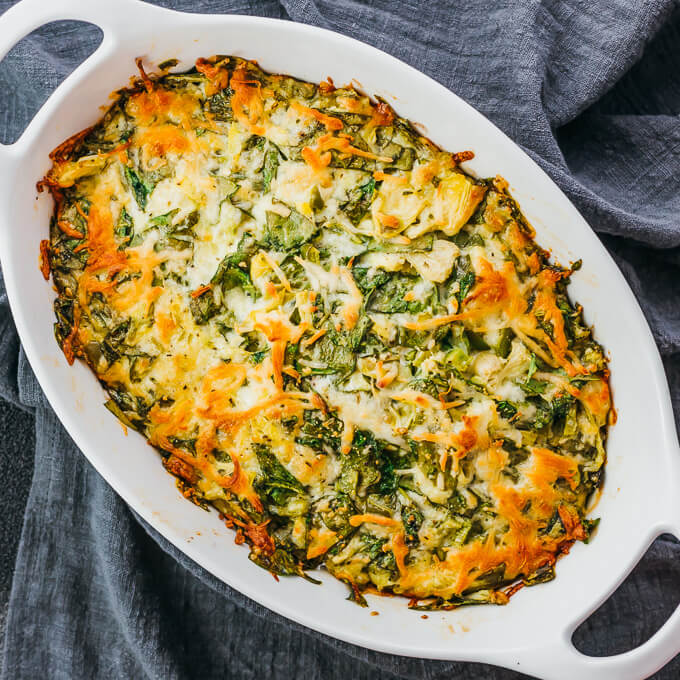 Why you should make this dip
Easy to make. It's not necessary to pre-cook or sauté anything prior to baking. All you have to do is toss everything together in a mixing bowl, transfer to a baking dish, and bake. You can even skip the mixing bowl and just mix everything directly in the baking dish, if you prefer.
Simple ingredients. No sour cream, cream cheese, or yogurt required. I don't usually keep any of these ingredients stocked in my fridge, and you won't miss them in the dip.
Spicy. It's a hot spinach artichoke dip with a bit of heat. You're in luck if you love spicy dips like me. Don't worry if you can't take the heat — you can easily omit one or both jalapeños. For extra heat, include the jalapeños' membranes and seeds.
Cheesy. This dip has a nice chunky texture with stretchy cheese abound. I dislike dips that are too smooth; I prefer mine on the chunkier side, so that you can tell there's actually real food in the dip. Melted mozzarella also means that there's plenty of stretchy cheese action going on here.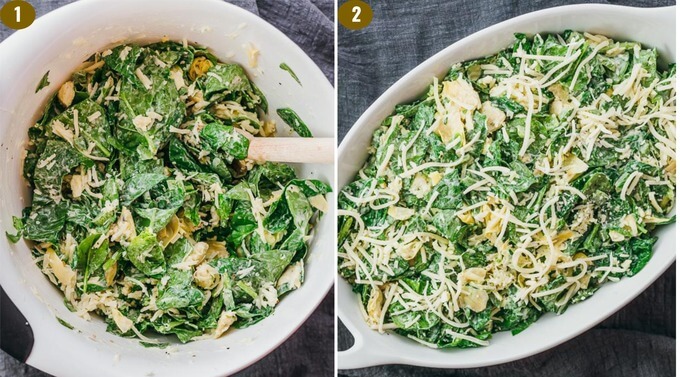 Tip for drying artichoke hearts
Canned artichoke hearts are packaged in water and simply draining them in a colander is not sufficient. You want them to be very dry so that you don't end up with a watery dip. I recommend using cheesecloth or a tea towel for the job.
My preference is using a tea towel. I take a tea towel and fold it over once, and lay it flat on a countertop. Placing the drained artichokes in the center, I fold the towel over the artichokes and roll it up, twisting the ends in opposite directions to wring it dry.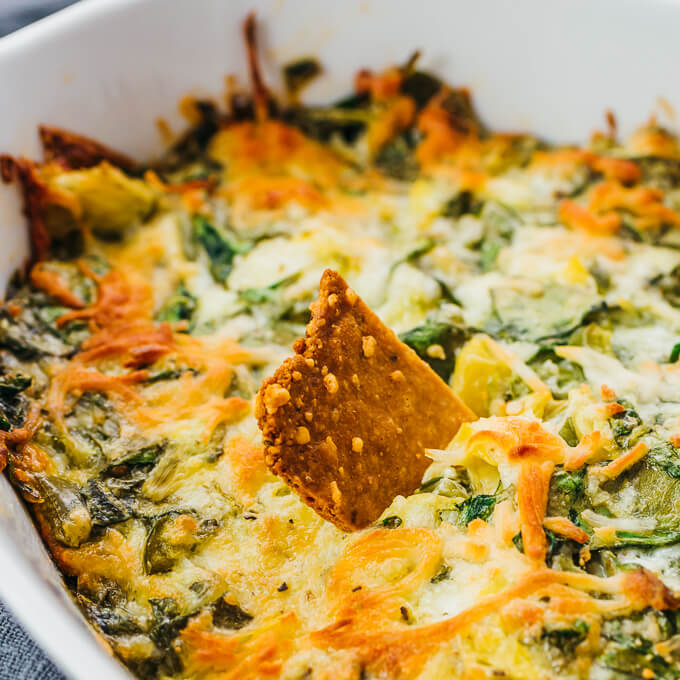 What to serve with this dip (low carb ideas)
My favorite low carb dipping vehicle for this dip is keto friendly almond flour crackers, as seen in the photos here. They're super sturdy and crispy, making them an excellent tool for scooping up generous amounts of spinach artichoke dip. I also use them for my hot crab dip with cream cheese.
You can also use flax seed crackers, which are sold at my local Whole Foods store. Other dipping ideas include celery sticks or baby carrots. For more ideas, check out this list of common low carb foods.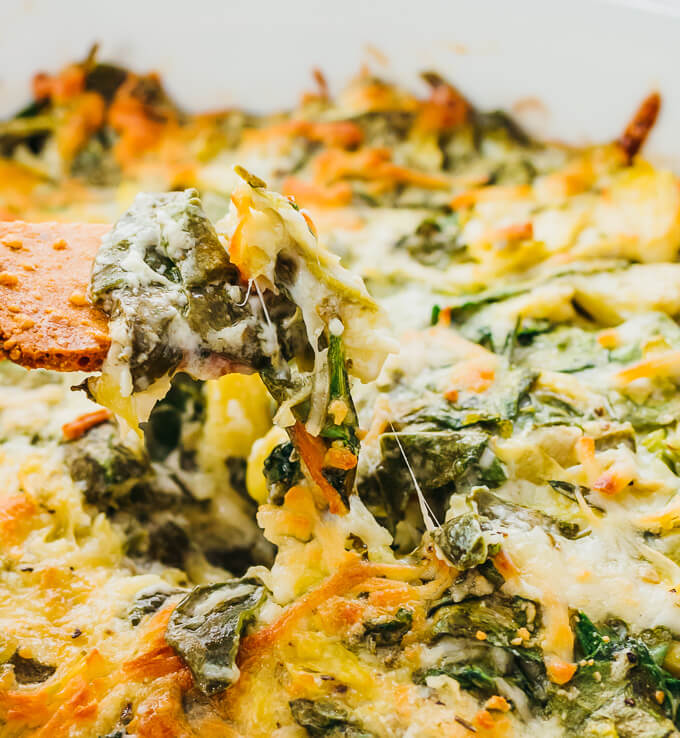 MORE DELICIOUS PARTY FOOD: