Summary:
This casserole is a low carb and keto version of my favorite mushroom swiss burger. Deep savoriness from mushrooms and ground beef combined with distinct goat cheese flavors make this casserole a crowd-pleasing dinner. For more tasty ideas, see Casserole Dinners.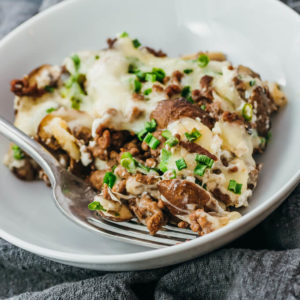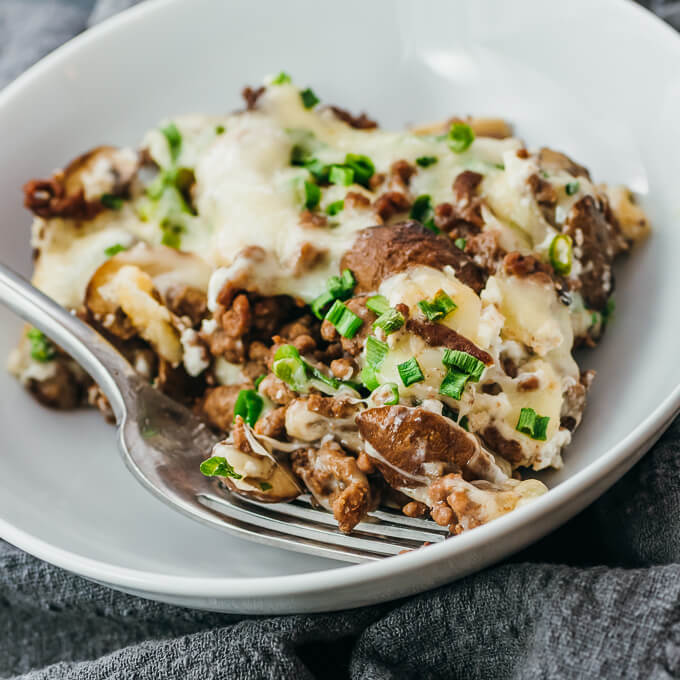 Mushroom Cheeseburger Casserole Recipe
INGREDIENTS
1

lb

ground beef

(I use 85% lean)

1

lb

mushrooms, sliced

(I use cremini or baby bella)

5

cloves

garlic, thinly sliced

8

slices

swiss cheese (6 ounces weight), finely chopped

1

cup

crumbled goat cheese (4 ounces weight)

1/3

cup

thinly sliced scallions

(about 3 scallions; also called green onions)

1

tsp

table salt
INSTRUCTIONS
Preheat the oven to 375 F. Set aside an 8×8 inch baking dish; I use a glass one and do not grease or line.

Add ground beef and salt to a high-sided skillet (I use a 10-inch nonstick pan with 3-inch-tall sides; smaller ones won't be able to fit the raw mushrooms). Place over high heat, constantly breaking apart the meat as it cooks until it is crumbled, browned, and releasing liquid, a few minutes. Keep everything in the pan for the next step.

Add mushrooms and garlic. Cook until the mushrooms are significantly shrunken and most of their released juices have evaporated, 6 to 8 minutes, stirring occasionally. The only liquid remaining should be the grease from the meat.

Transfer the beef-mushroom-garlic mixture to the baking dish, using a slotted spoon if you prefer to leave behind any grease pooling at the bottom of the skillet.

Add goat cheese and two-thirds of the swiss cheese to the baking dish, carefully stirring directly in the dish until well-mixed with the beef and mushrooms. The goat cheese should melt quickly and nicely coat the other ingredients. See below section called "Fun Flavor Additions" for ideas on other things you can add.

Evenly sprinkle scallions over everything, then distribute remaining one-third of swiss cheese on top. Arrange the surface a bit so it's flattened and even.

Transfer the baking dish to the oven. Bake for about 15 minutes; it's done when the casserole is very hot, bubbling up the sides, and the swiss cheese is completely melted.

Let it rest for about 5 minutes before cutting into 4 squares. Serve immediately while hot.

Leftovers: Cover tightly with foil and refrigerate for up to 3 days. Reheat covered in a 350 F oven until very hot, 15 to 20 minutes. This casserole tastes better when it's hot rather than just warmed through.
NUTRITION
Makes 4 Servings
Amount Per Serving (4×4-inch square):
| | |
| --- | --- |
| Calories 540 | |
| Total Fat 35g | 54% |
| Saturated Fat 18g | 90% |
| Cholesterol 150mg | 50% |
| Sodium 890mg | 37% |
| Net Carb 6g | |
| Total Carb 6.5g | 2% |
| Dietary Fiber 0.5g | 1% |
| Sugars 1g | |
| Protein 45g | |
adding mushrooms and beef

stirring in cheese and scallions
Recipe Development
This casserole is inspired by one of my favorite burger flavors — a mushroom swiss burger with goat cheese. I wanted to create a low carb, keto friendly version of this burger that captured all of its delicious flavors.
I tested various proportions of mushrooms, ground beef, and cheese so that their flavors are well-balanced without overpowering each other. I also wanted to keep the ingredients list pared down, so I only use seven ingredients total. In the end, each generous serving comes out to just 6g net carbs.
after baking
Fun Flavor Additions
For a nice pop of tart flavor, sprinkle some diced sun-dried tomatoes or sliced stuffed olives over the casserole prior to baking. Note that sun-dried tomatoes have a fair amount of carbs, so add them in moderation.
To add a smoky flavor and crispy texture, top with cooked crumbled bacon. For a spicy version, add thinly sliced jalapeños. If you're looking for something sweeter, stir in caramelized onions. All of these ingredients can be added when you're assembling the casserole. Enjoy!
More Keto Casserole Recipes