Summary:
This 7-ingredient casserole is a low carb and keto version of my favorite mushroom swiss burger, with just 6g net carbs per serving. Deep savoriness from mushrooms and ground beef combined with distinct goat cheese flavors make this casserole a crowd-pleasing dinner. For more tasty ideas, see Casserole Recipes.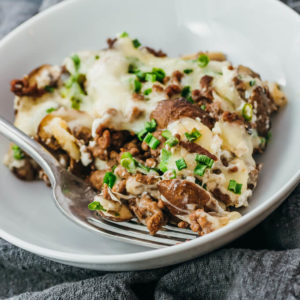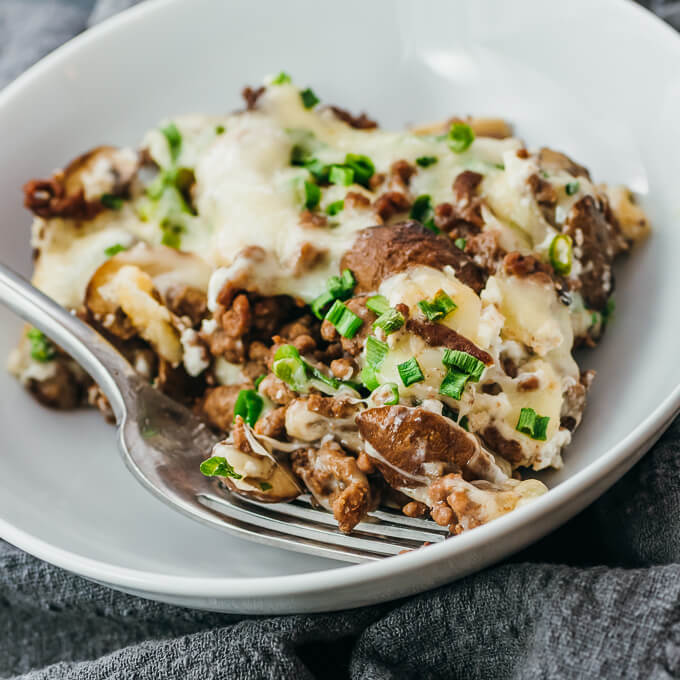 Mushroom Cheeseburger Casserole
INGREDIENTS
NUTRITION
Makes 4 Servings
Amount Per Serving (4×4-inch square):
| | |
| --- | --- |
| Calories 540 |   |
| Total Fat 35g | 54% |
|    Saturated Fat 18g | 90% |
| Cholesterol 150mg | 50% |
| Sodium 890mg | 37% |
| Net Carb 6g |   |
| Total Carb 6.5g | 2% |
|    Dietary Fiber 0.5g | 1% |
|    Sugars 1g |   |
| Protein 45g |   |
PHOTOS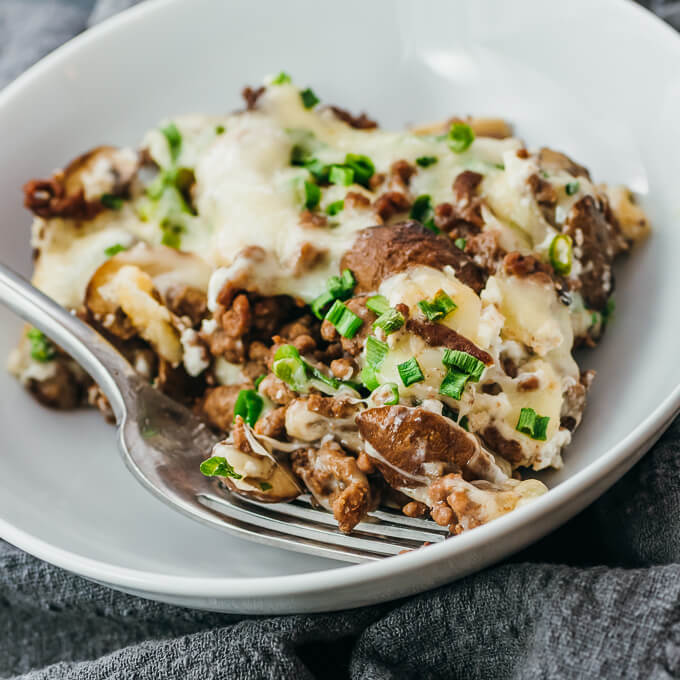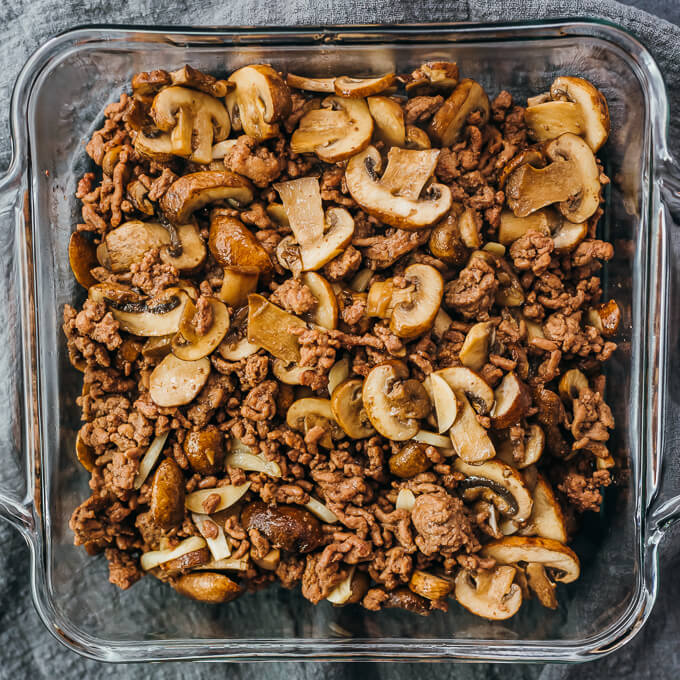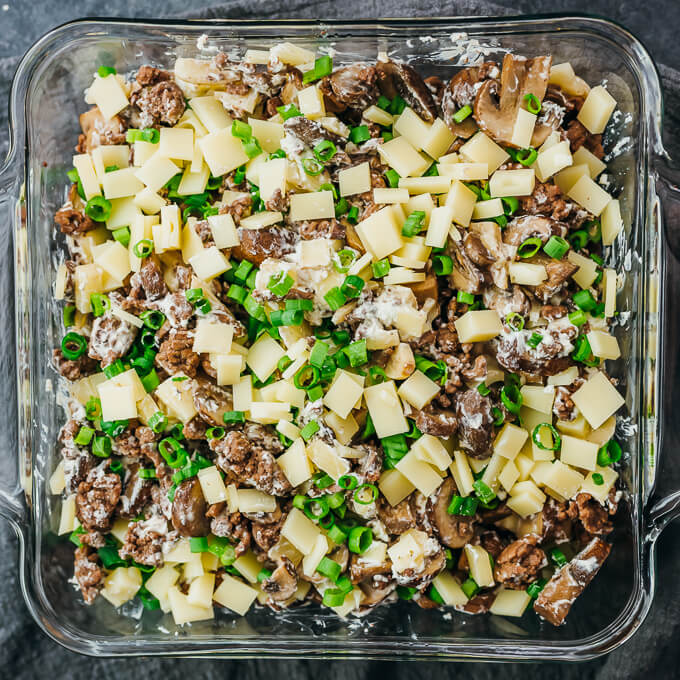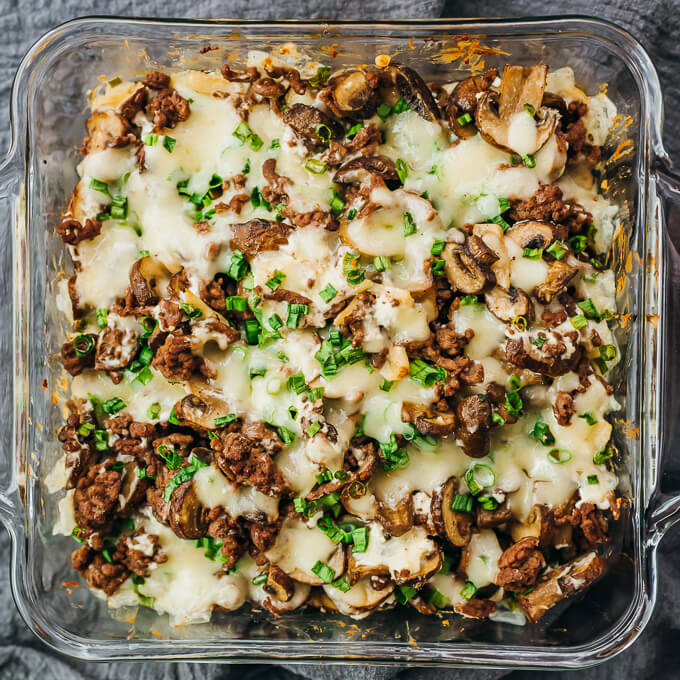 NOTES & TIPS
(1) Ground Beef. I typically use 85% lean.
(2) Mushrooms. I use cremini or baby bella.
(3) Swiss Cheese. Same as 6 ounces weight. You can substitute with any kind of softer cheese that melts easily, like shredded cheddar, mozzarella, or provolone.
(4) Goat Cheese. Same as 4 ounces weight. If you don't like goat cheese, consider substituting with blue cheese, feta, ricotta, or cream cheese.
(5) Scallions. About 3 scallions, also known as green onions. I use both green and white parts.
(6) Baking Dish. I use a glass baking dish and do not grease or line. If you use a metal pan, your baking time may be different from mine since glass transfers heat differently than metal.
(7) Saute Pan. I use a 10-inch nonstick pan with 3-inch-tall sides. Avoid smaller pans because they won't be able to simultaneously fit all of the raw mushrooms. The pan does not need to be pre-heated or greased.
(8) Assembling Casserole. Don't be limited by the listed ingredients. You can add diced sun-dried tomatoes or sliced olives for a nice pop of tart flavor, or top with cooked crumbled bacon for its crispness and smoky flavor. For a spicy version, add thinly sliced jalapeños. If you're looking for something sweeter, stir in caramelized onions. For more creaminess, add sour cream. Lots of options to customize this casserole.
(9) Transferring Beef & Mushrooms. Use a slotted spoon, or drain using a colander, if you prefer to leave behind any grease pooling on the bottom of the saute pan. This is optional and depends on how much fat you want in your final dish. If you used ground beef that's fattier than 85%, you may want to leave behind some of the fat to avoid an overly greasy finish.
(10) Serving. This casserole tastes best when hot, so serve immediately before it cools down too much. Pair with creamy cauliflower mash or a refreshing Mediterranean salad.
(11) Leftovers. Cover tightly with foil and refrigerate up to 3 days. Reheat covered in a 350 F oven until very hot, 15 to 20 minutes. This casserole tastes better when it's hot rather than just warmed through.
(12) Increasing Yield. To increase the number of servings, you can double the ingredients proportionally. You'll need to use a larger baking dish such as 13×9-inch, and increase the baking time as needed until the casserole is very hot and bubbling up sides.