Summary:
Looking for a refreshing low carb salad? This vegetarian Mediterranean salad has cucumbers, tomatoes, feta cheese, olives, and pistachios -- designed to maximize flavors and textures while being mindful of their carbs. A vibrant vinaigrette is the dressing of choice, since oil and vinegar have no carbs.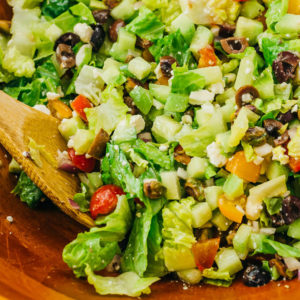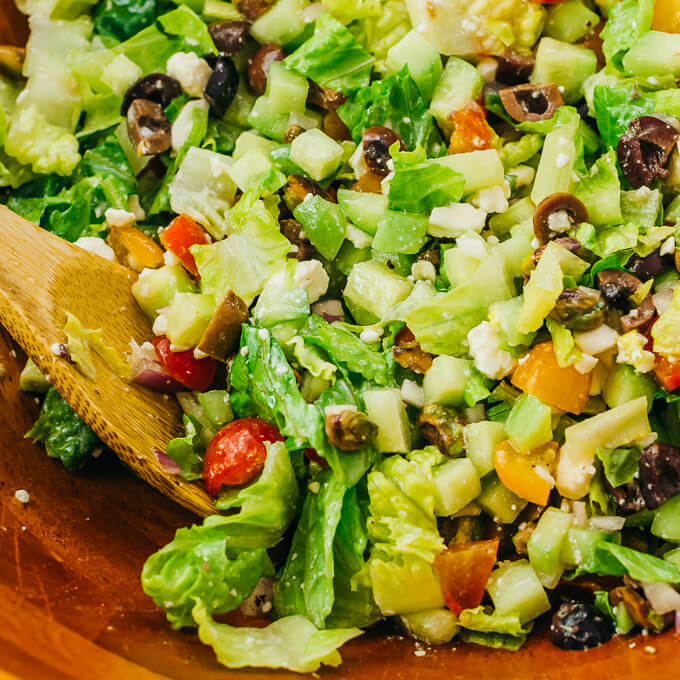 INGREDIENTS
Salad:
1

english cucumber, peeled and diced (2 cups) (Note 1)

1

romaine lettuce heart, cut into 1/2 inch thick pieces

1

cup

grape tomatoes, quartered (Note 2)

2/3

cup

crumbled feta cheese

2/3

cup

pitted kalamata olives, chopped (Note 3)

1/2

cup

shelled pistachios

1/4

cup

minced shallot (Note 4)

1

teaspoon

table salt
ground black pepper, to taste
NUTRITION
Makes 4 Servings
Amount Per Serving (1 dressed salad):
| | |
| --- | --- |
| Calories 330 |   |
| Total Fat 27g | 41% |
|    Saturated Fat 5g | 25% |
| Cholesterol 11mg | 4% |
| Sodium 1060mg | 44% |
| Net Carb 7.5g |   |
| Total Carb 13g | 4% |
|    Dietary Fiber 5.5g | 22% |
|    Sugars 5g |   |
| Protein 9g |   |
PHOTOS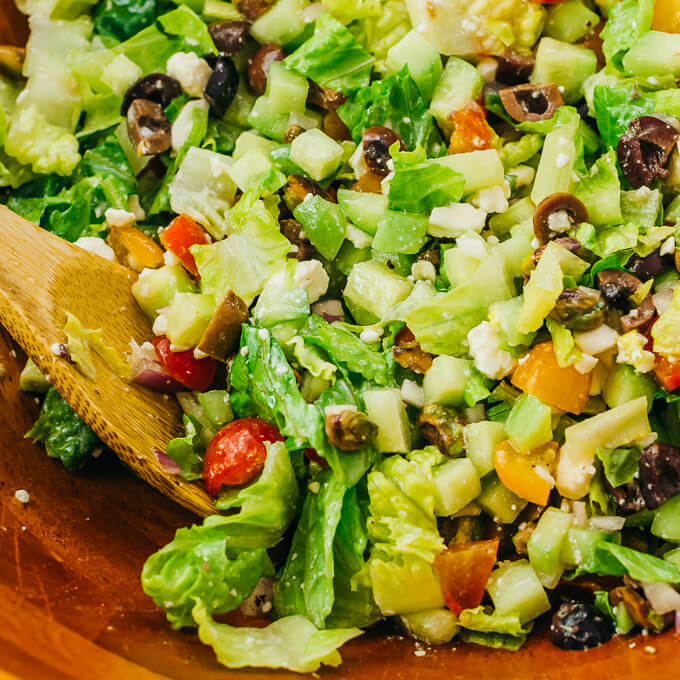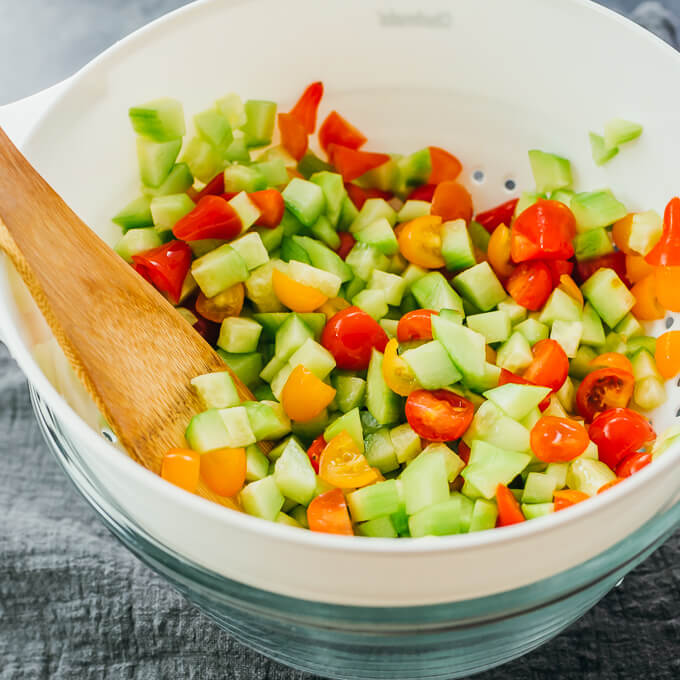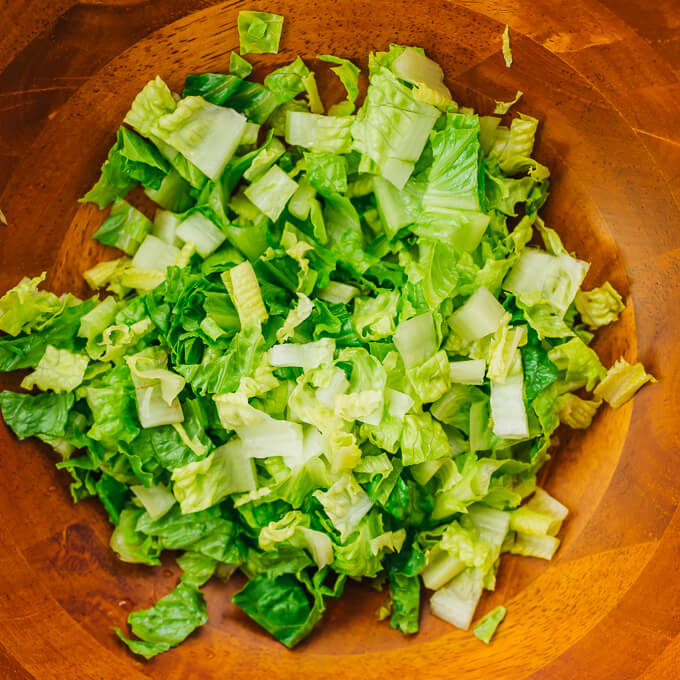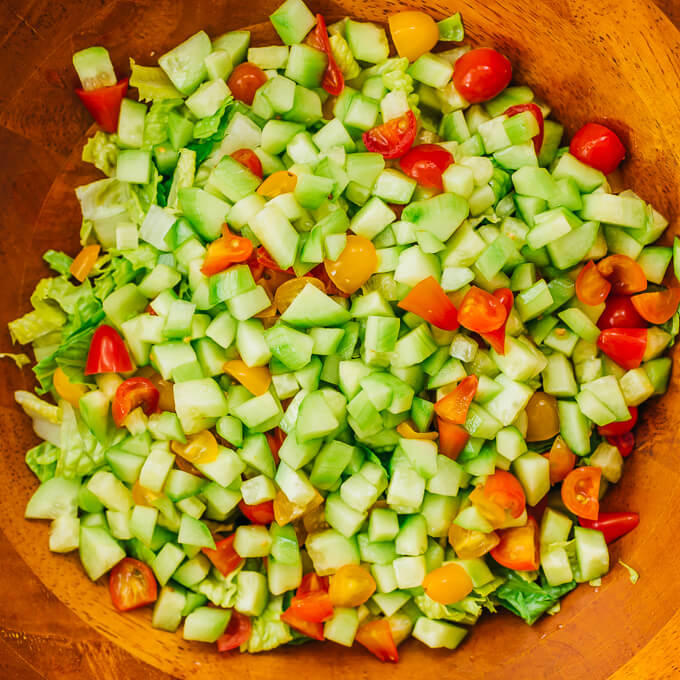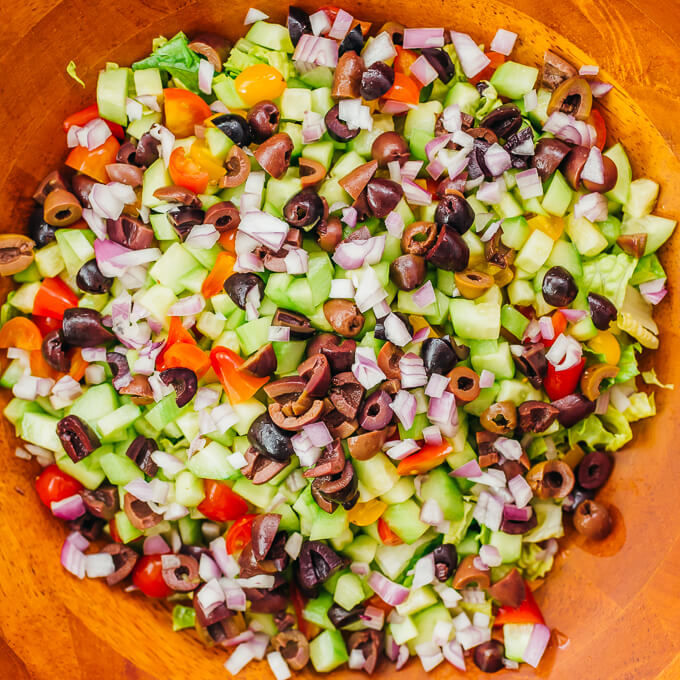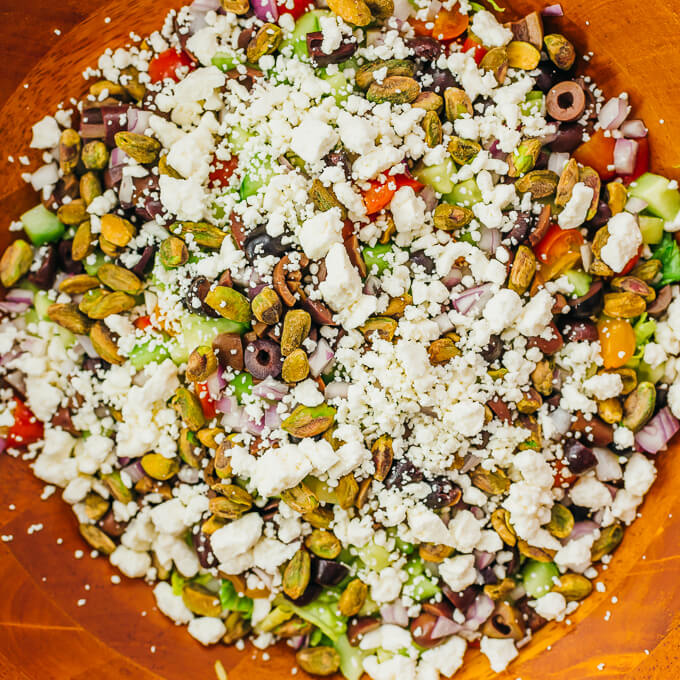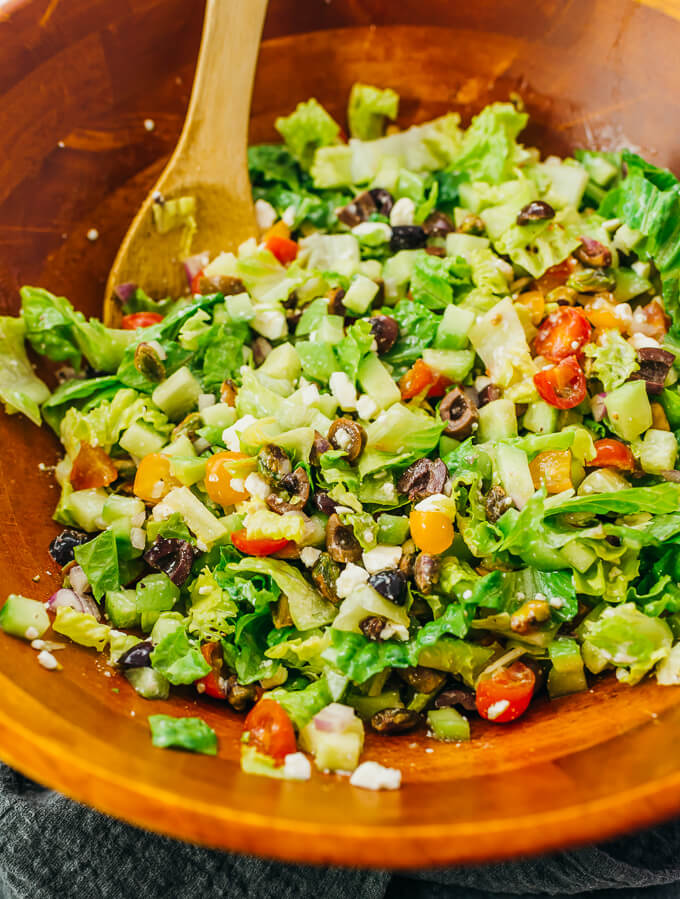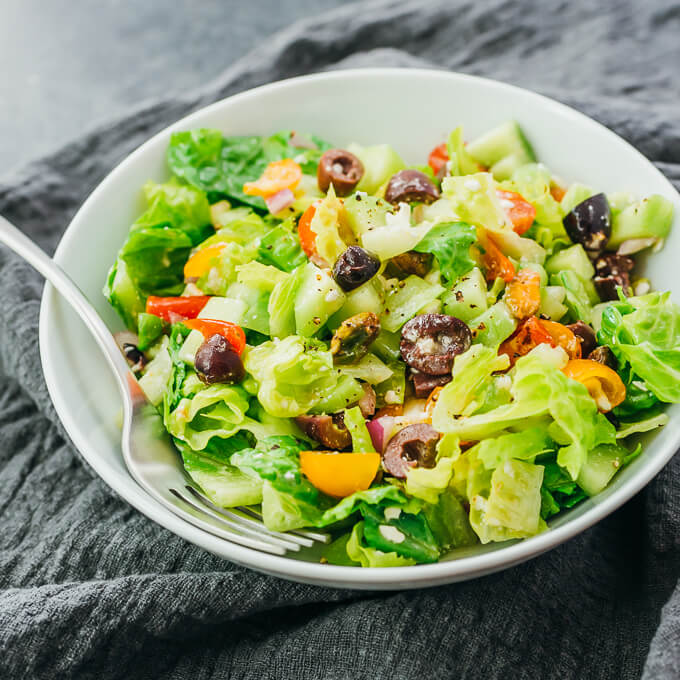 NOTES & TIPS
(1) Cucumbers. One medium english cucumber is about 14 ounces weight. I recommend english cucumbers because they're seedless.
(2) Grape Tomatoes. One cup is 1/2 pint, which corresponds to 5 ounces weight. You can also use cherry tomatoes. I like using multi-color varieties.
(3) Olives. Same as 3 ounces drained weight. I use jarred olives and drain out the liquid before measuring the amount to use.
(4) Shallot. About 1/3 medium shallot. You can substitute with red onion.
(5) Vinegar. If you can't find sherry vinegar, you can substitute with red wine vinegar. I recommend sherry vinegar because it adds a bright, vibrant, and complex flavor to the whole salad. Sherry vinegar can also be used in place of the default vinegar in other salads like steak salad, shrimp avocado salad, and strawberry salad.
(6) Salting Veggies. Since cucumbers and tomatoes release a lot of water after being chopped, they are salted and drained in a colander to draw out their moisture beforehand, avoiding a water-logged salad.
(7) Salad Customizations. You can add other vegetables (sliced radishes, bell peppers, canned artichoke hearts, sun-dried tomatoes), nuts (pumpkin seeds, pine nuts, walnuts, sliced almonds), cheeses (crumbled bleu cheese, goat cheese, shaved parmesan), herbs (fresh basil, oregano), or proteins (grilled chicken strips, steak, fish, shrimp, tofu). To make this salad vegan friendly, just omit the cheese or replace with a dairy-free imitation cheese.
(8) Serving. You can serve this salad as a standalone entree, or as a side salad alongside mains like baked cod, Greek chicken, or pan-seared salmon. Another serving idea is to wrap the salad plus some hummus in a low carb tortilla (by brands like Mission) to make it a Greek wrap.
(9) Saving For Later. Keep the chopped romaine, salted cucumbers and tomatoes, and dressing separate from the other ingredients. Toss everything together just prior to serving.