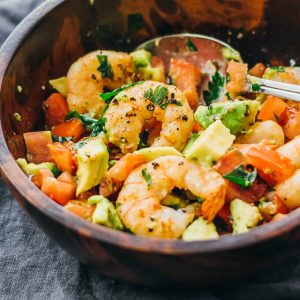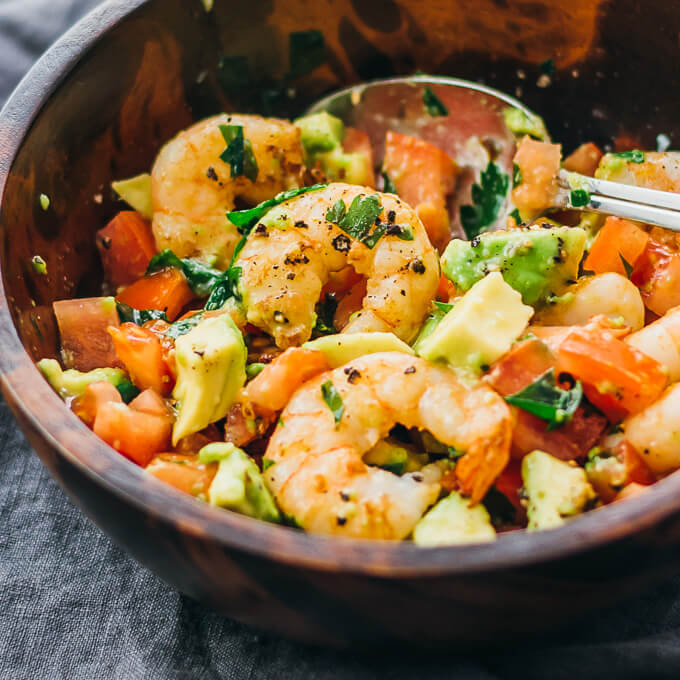 Easy Shrimp Avocado Salad with Tomatoes and Feta
DESCRIPTION
A delicious and low carb cold shrimp salad with avocado, tomatoes, feta cheese, and lemon juice.
INGREDIENTS
8

ounces

shrimp

peeled, deveined, patted dry

1

large avocado

diced

1

small beefsteak tomato

diced and drained

1/3

cup

crumbled feta cheese

1/3

cup

freshly chopped cilantro or parsley

2

tablespoons

salted butter

melted

1

tablespoon

lemon juice

1

tablespoon

olive oil

1/4

teaspoon

salt

1/4

teaspoon

black pepper
INSTRUCTIONS
Toss shrimp with melted butter in a bowl until well-coated.

Heat a pan over medium-high heat for a few minutes until hot. Add shrimp to the pan in a single layer, searing for a minute or until it starts to become pink around the edges, then flip and cook until shrimp are cooked through, less than a minute.

Transfer the shrimp to a plate as they finish cooking. Let them cool while you prepare the other ingredients.

Add all other ingredients to a large mixing bowl -- diced avocado, diced tomato, feta cheese, cilantro, lemon juice, olive oil, salt, and pepper -- and toss to mix.

Add shrimp and stir to mix together. Add additional salt and pepper to taste.
NUTRITION
This recipe yields 6.5 g net carbs per serving.
Nutrition Facts Per Serving
| | |
| --- | --- |
| Calories 430 |   |
| Total Fat 33g | 50% |
|    Saturated Fat 12g | 61% |
|    Trans Fat 0g |   |
| Cholesterol 143mg | 48% |
| Sodium 1250mg | 52% |
| Potassium 600mg | 17% |
| Total Carb 12.5g | 4% |
|    Dietary Fiber 6g | 25% |
|    Sugars 1.5g |   |
| Protein 24g |   |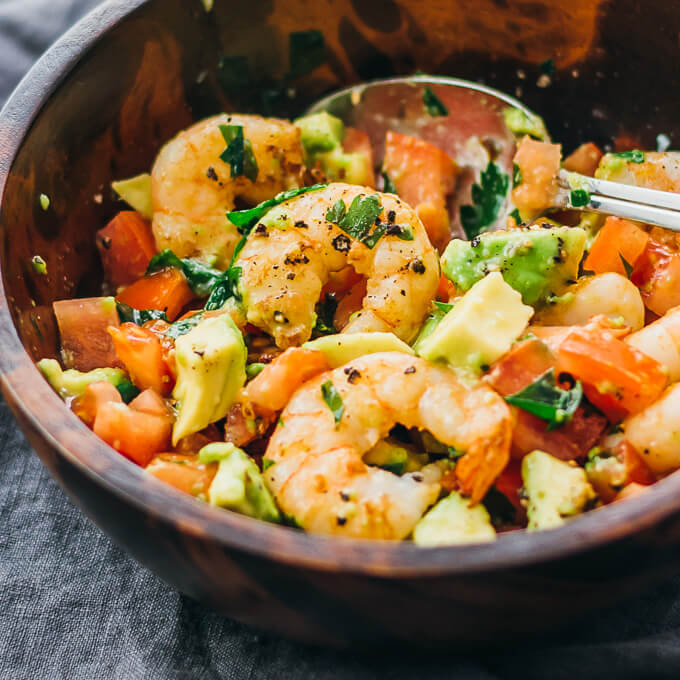 Summer might officially be over, but that doesn't mean you can't pretend it's still here by having an early autumn cookout and making this shrimp avocado salad as a side dish. You'll love all of the flavors and textures in this salad, with ripe avocado chunks, seared shrimp, chopped cilantro leaves, fresh tomatoes, and crumbled feta cheese.
This is a fairly simple recipe, and only takes around 5 minutes for cooking the shrimp plus 15 minutes for prepping and tossing the salad together. It's also very refreshing in taste and healthy to boot — low in carbs, packed with good fats, with plenty of protein and vitamins.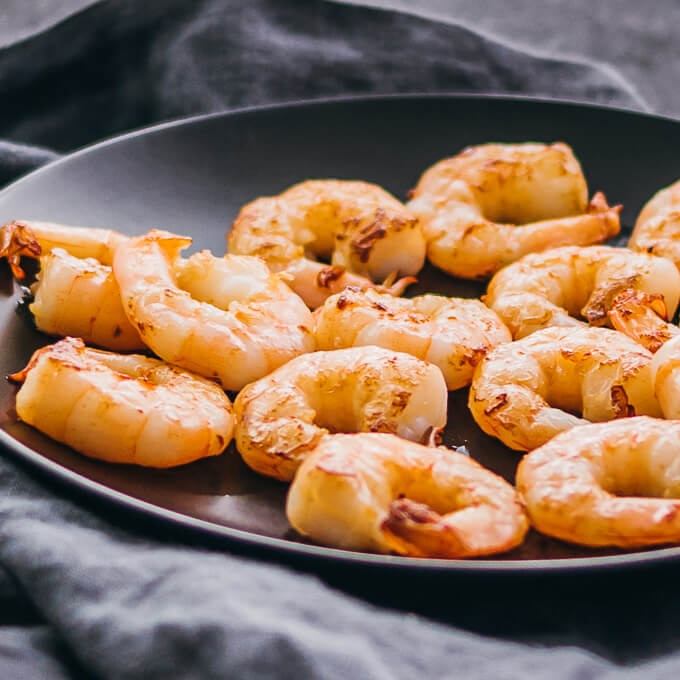 You can cook the shrimp a number of different ways — pan searing, boiling, or grilling. I prefer the taste and flavor of pan seared shrimp in butter over boiled shrimp, and I find pan searing to be the easiest option. Any method of cooking will work here, as long as you cool the shrimp before mixing them with the rest of the salad fixings.
If you love pan seared shrimp, you should also make my pan seared shrimp with tomatoes and garlic. The sauce is delicious and goes great with zucchini noodles and vegetable sides.
Fresh or frozen shrimp will work here. If using the frozen variety, let thaw before cooking by defrosting in the refrigerator overnight or running the shrimp under cold tap water.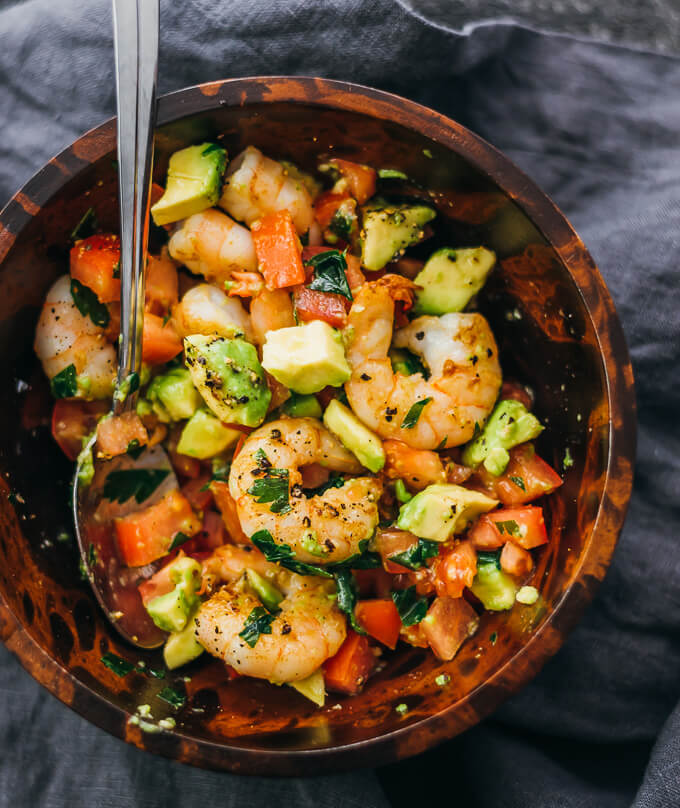 This recipe makes a small amount of food — just 2 servings as a side salad. It's perfect as an appetizer or a small meal for two people. If you're looking to serve a larger crowd, you can simply double or multiply the ingredient amounts accordingly and follow the recipe instructions as usual. Depending on the amount of shrimp you have and the size of your pan, you might need to pan sear them in batches.

You can make this shrimp avocado salad ahead of time — just refrigerate until ready to serve. Make sure the tomatoes are well-drained before adding to the salad so that you don't end up with a pool of tomato liquid at the bottom of the salad.