Summary:
One of my favorite Seafood Dinner Recipes, these swordfish steaks are a low carb, keto meal with few ingredients. They only take minutes to prepare, and are quickly pan-seared until golden and crisp on the outside yet juicy and tender within.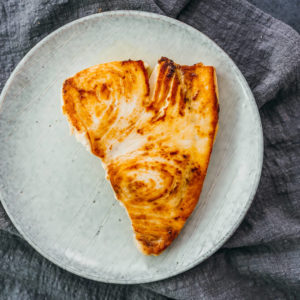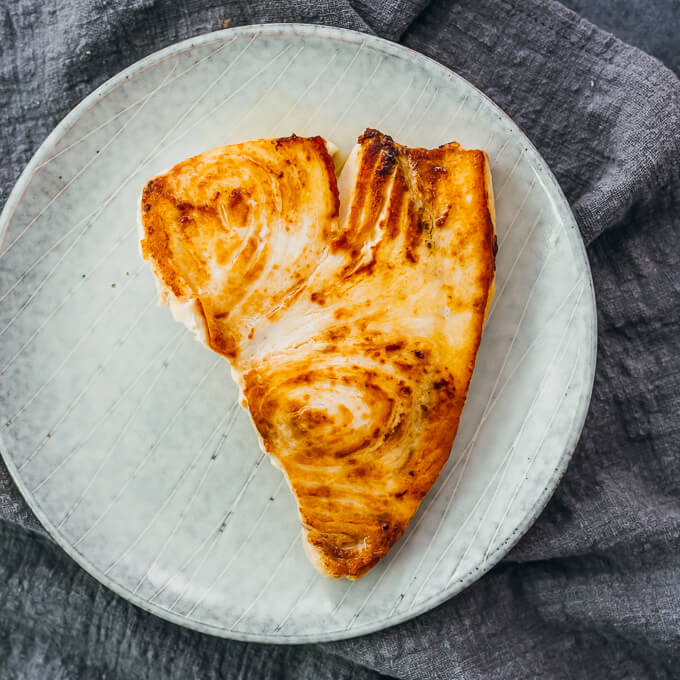 INGREDIENTS
Swordfish:
2

swordfish steaks (3/4 to 1 inch thick, each weighing about 8 ounces)

(see below section called "Selecting Swordfish" for tips)

1

tablespoon

olive oil

1/2

teaspoon

table salt
Optional Topping Ideas (homemade or storebought):
freshly squeezed lemon or lime juice

pico de gallo or salsa
INSTRUCTIONS
Pat the steaks dry with paper towels. Trim off any skin, discarding it. Sprinkle both sides of each steak with salt. Set aside.

In a 10-inch nonstick pan, heat olive oil over medium-high heat for a few minutes or until very hot.

Add swordfish steaks to the pan. Flipping every 2 minutes, cook them until the center registers 130 F, 5 to 7 minutes depending on the size of your steaks. I use a stopwatch and flip on even-numbered minutes, and after 4 minutes, I use a probe thermometer to start monitoring the temperature.

Immediately transfer the steaks to serving plates, or to a different dish to collect juices if you don't want them pooling on serving plates. For the latter, let the steaks rest for a few minutes until the juices are released, then transfer to serving plates.

Add optional toppings over the swordfish steaks, and serve while hot.
NUTRITION
Makes 2 Servings
Amount Per Serving (1 steak, no toppings):
| | |
| --- | --- |
| Calories 390 | |
| Total Fat 22g | 34% |
| Saturated Fat 5g | 24% |
| Cholesterol 150mg | 50% |
| Sodium 760mg | 32% |
| Net Carb 0g | |
| Total Carb 0g | 0% |
| Dietary Fiber 0g | 0% |
| Sugars 0g | |
| Protein 45g | |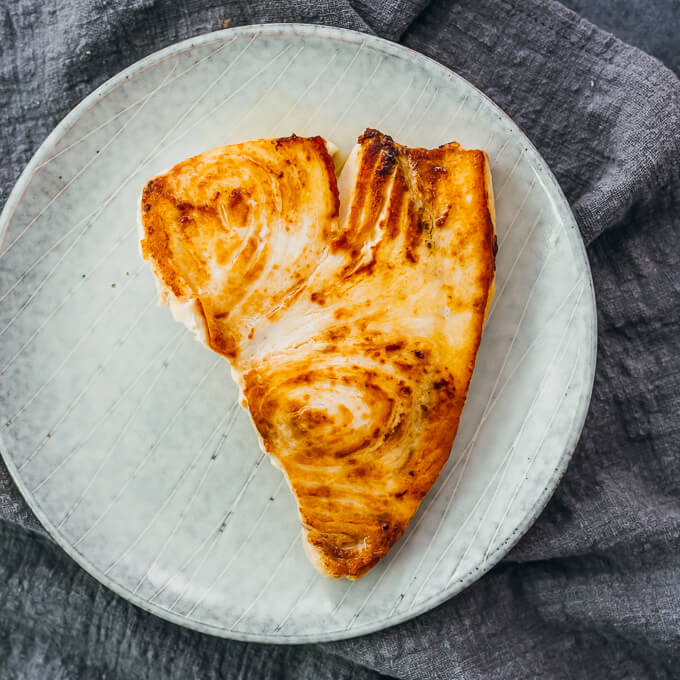 Selecting Swordfish: Thickness & Weight
Aim for fresh swordfish steaks, about 8 ounces each with a thickness between 3/4 and 1 inch. Try to find two steaks that are evenly sized so they cook at the same rate.
If your steak has the right thickness but is too large (about a pound), you can cut it in half to get two 8-ounce steaks. Or if your steak is more than 1.5 inches thick, you can slice it horizontally and end up with two 3/4-inch thick steaks.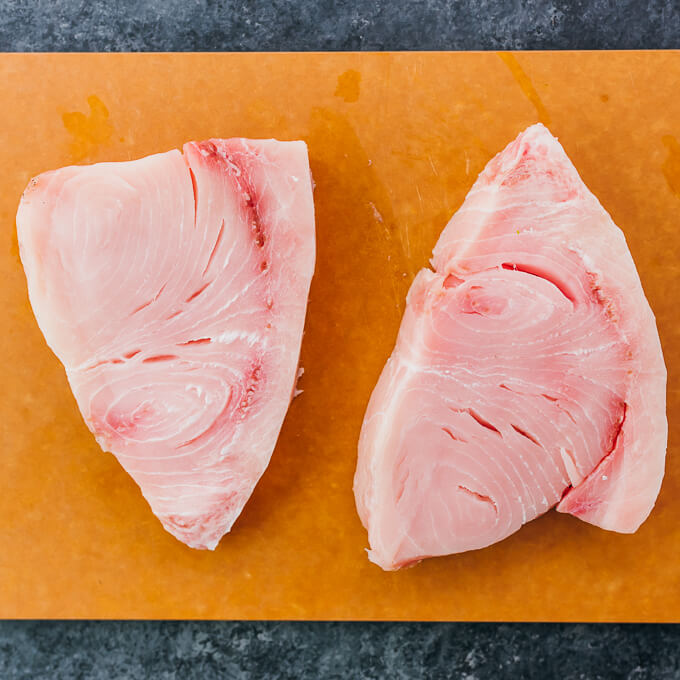 Cooking Swordfish: Knowing When It's Done
You should treat swordfish like a fine steak; it should be cooked on the rarer side, not overcooked, or it will be dry and flavorless. In this recipe, the swordfish is pan-seared until it reaches 130 F in the center. Off the heat, the swordfish's internal temperature quickly rises to 140 F within a few minutes, due to carryover cooking.
A probe thermometer or instant-read thermometer is ideal for gauging doneness and therefore perfectly cooked swordfish, since the cooking time will vary for differently sized steaks. In my tests, two swordfish steaks (3/4 to 1 inch thick and each weighing about 8 ounces) takes 5 to 7 minutes of cooking.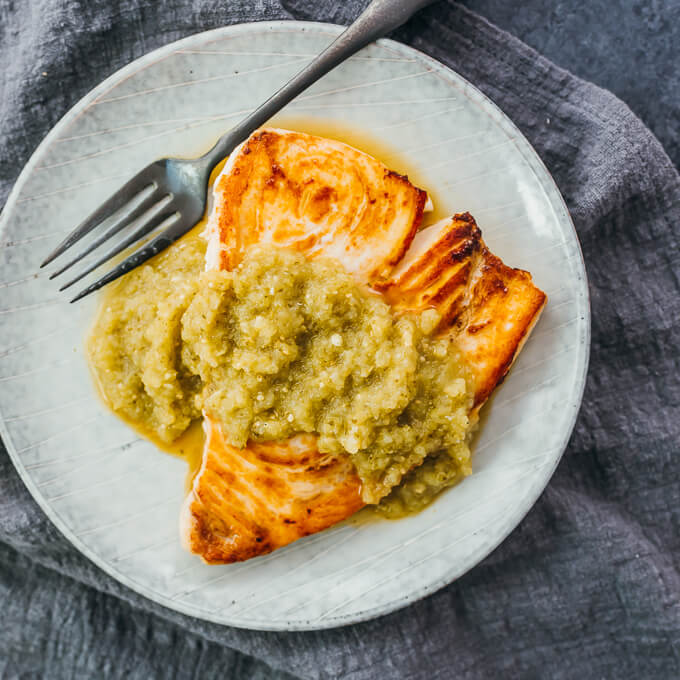 Serving Swordfish: Optional Toppings
You can brighten up this swordfish dish by pairing it with lemon wedges, fresh salsa, or pico de gallo. It can be homemade or storebought. Whatever topping you choose, keep it simple so it doesn't detract from the delicious swordfish flavor.
The swordfish also tastes fantastic by itself; simply lightly salted and cooked in olive oil, with no toppings. The meat is meltingly tender and juicy, no knife needed. This is especially true if it's fresh, high quality swordfish.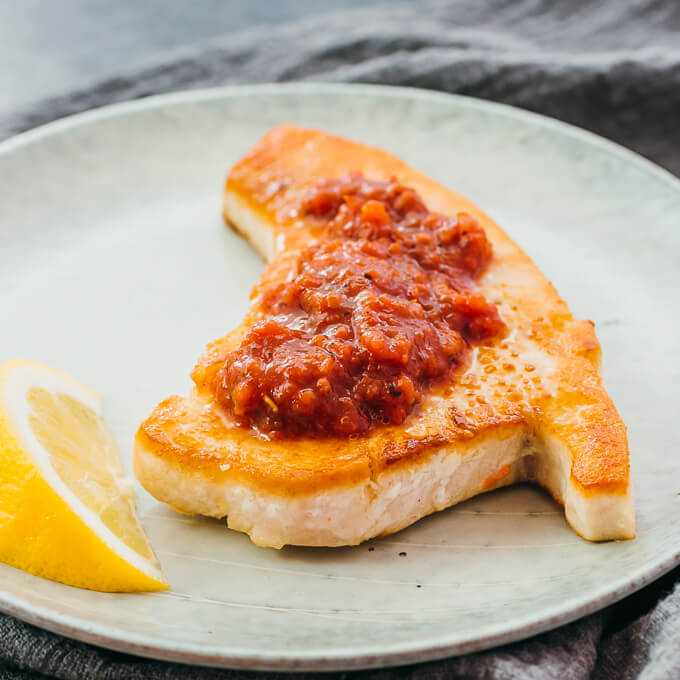 More Keto Fish Recipes