Summary:
These pan seared salmon fillets have a nice charred crust and are extremely tender on the inside -- silken, moist flesh that flakes off easily. They're topped with a simple and refreshing strawberry relish. For more great keto, low carb, and paleo meals, visit Seafood Dinner Recipes.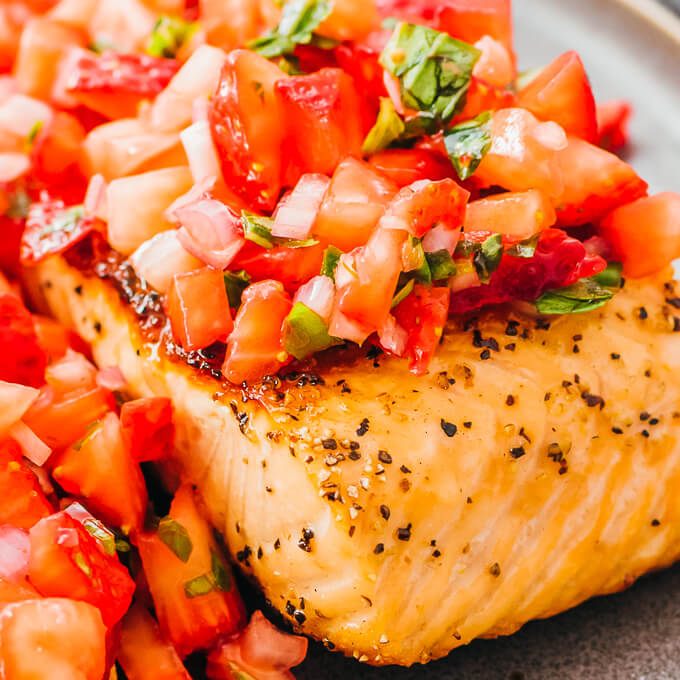 Pan Seared Salmon With Strawberry Relish
(Ratings:
)
INGREDIENTS
3/4 to 1

pound

center-cut fresh salmon with skin

(center-cut is easier to cut uniform fillets that cook evenly)

1/2

teaspoon

salt

1/2

teaspoon

black pepper
Strawberry Relish:
1

cup

(4.5 ounces weight) finely chopped fresh strawberries

1

tablespoon

finely chopped fresh shallot or red onion

1

tablespoon

finely chopped fresh basil

1

tablespoon

fresh lemon juice
INSTRUCTIONS
Cut the salmon into 2 equal-sized fillets, 6 to 8 ounces each. Pat the fillets dry with paper towels. Place the fillets skin-side down, and season 1/4 teaspoon each of salt and pepper over them and spread over all flesh sides. Let them sit at room temperature for 15 minutes to let the salt penetrate while you prepare the relish ingredients.

In a bowl, add all relish ingredients and stir together. Set aside.

In a nonstick pan wide enough to hold both fillets side-by-side, evenly sprinkle 1/4 teaspoon each of salt and pepper over the bottom of the pan. Place the salmon fillets on the cold pan, skin side down.

Place the pan over medium-high heat. Don't move the fillets while they're cooking. Cook for 6 to 8 minutes until the bottom 1/4 to 1/2 inch of the fillets are cooked (they will turn opaque) and the skin is charred, then flip each fillet using tongs.

Continue cooking the fillets without moving them. Once they're cooked through (125 F with an instant-read thermometer in the thickest part) and have developed a nice browned crust on the bottom, 6 to 8 minutes, immediately transfer them to serving plates with the skin side down.

Spoon relish over the tops of the salmon fillets, and serve.
NUTRITION
Makes 2 Servings
Amount Per Serving (1 fillet with relish):
| | |
| --- | --- |
| Calories 440 | |
| Total Fat 26g | 40% |
| Saturated Fat 6g | 30% |
| Cholesterol 110mg | 37% |
| Sodium 700mg | 29% |
| Net Carb 5.5g | |
| Total Carb 7g | 2% |
| Dietary Fiber 1.5g | 7% |
| Sugars 4g | |
| Protein 40g | |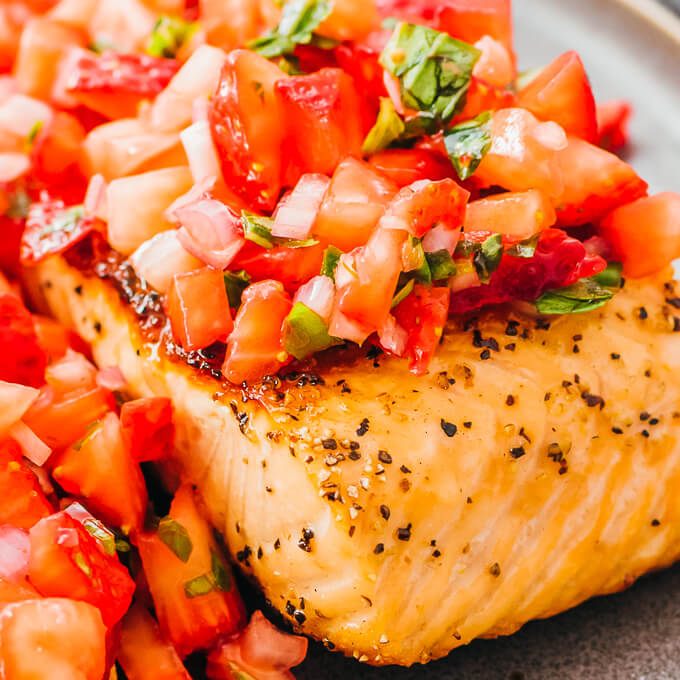 An Easy Weeknight Dinner
Pan seared salmon is a crowd-pleasing dinner that you can quickly whip up on a weeknight. Here's why:
Few ingredients. All that's required is 3 ingredients: salmon, salt, and pepper. You don't even need any cooking oil. The strawberry relish is optional, and adds anther 4 ingredients.
One pan. You won't need to spend a lot of time cleaning up the dishes because only a single pan is needed for the job.
Fast. It takes about 20 minutes to prep and 15 minutes to cook the salmon.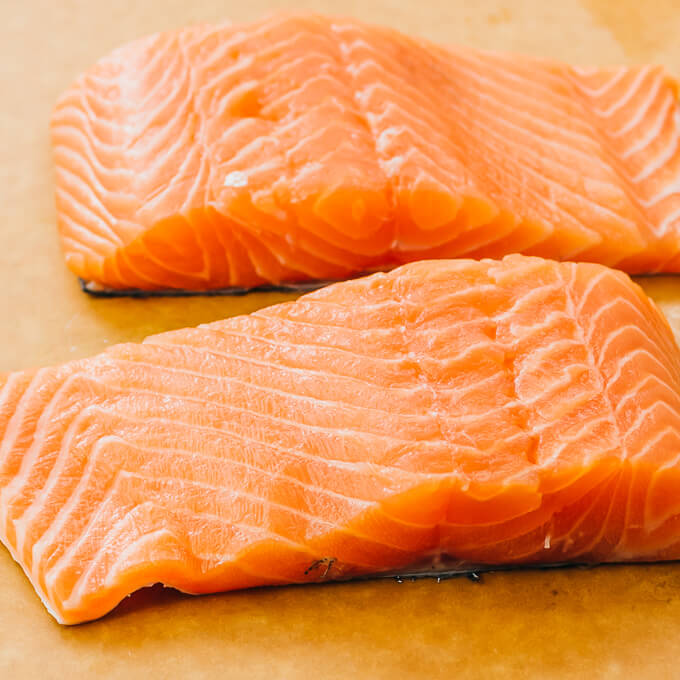 Techniques for Pan Searing Salmon
I use some of the techniques taught by America's Test Kitchen for cooking perfect salmon. The pan is sprinkled with salt and pepper, which will elevate the fillets to prevent them from sticking to the pan. The fillets go on the pan while it's cold, cooking them more gently and evenly.
The salmon skins play more than one role. First, they produce some fat while cooking, so no oil is required. Second, they protect the flesh from drying out while it cooks. You can easily separate the skin after they're cooked; the flesh is so tender that it'll slide right off the skin with almost no effort.
How Long To Cook Salmon
I use fillets that weigh 6 to 8 ounces each, and it takes 6 to 8 minutes per side until they're done. When cooking the first side, the clock starts ticking when the heat is turned on and not when the pan is fully heated.
Your cooking time will depend on the weight and thickness of your fillets. I recommend using a probe thermometer to determine when they're done (125 F in the thickest part), which will ensure perfectly cooked salmon. The benefit of using a probe thermometer, which stays inserted in the salmon during cooking, is that it will beep when the set temperature has been reached. An instant-read thermometer is less convenient but will also work well.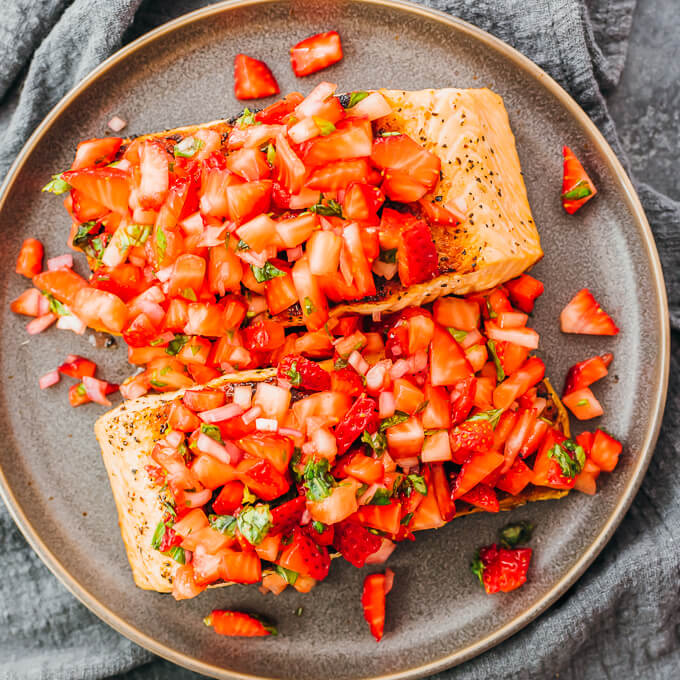 Serving Ideas
Salmon pairs well with almost any appetizer or side dish, such as fresh leafy greens or cooked vegetables like roasted mushrooms, creamed spinach, and artichokes.
You can also use the pan seared salmon in a salad. Cut it in 1 to 2 inch chunks, removing the skin, and top it in a salad to add some delicious protein.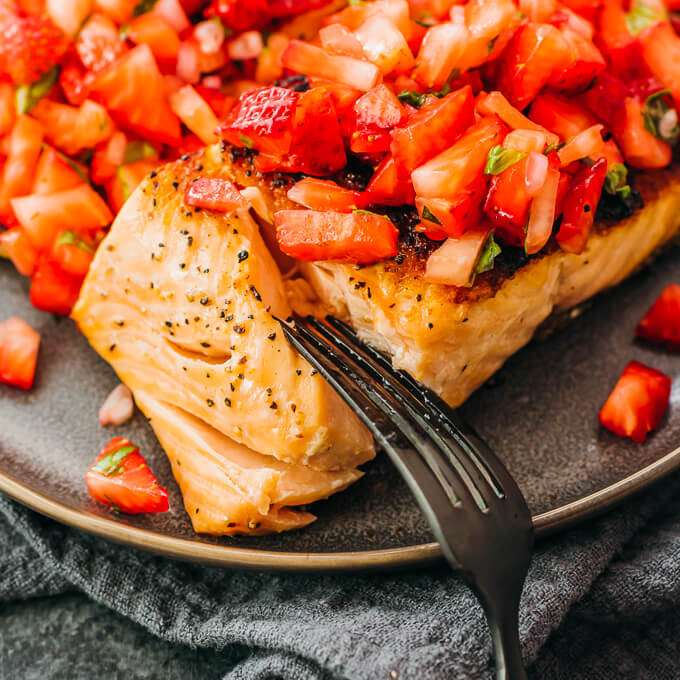 More Easy Seafood Recipes