Summary:
These pan seared salmon fillets have a nice charred crust with an amazingly tender inside — silken, moist flesh that flakes easily. They're topped with a simple and refreshing strawberry relish.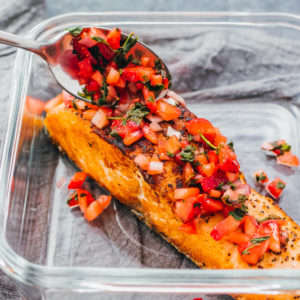 INGREDIENTS
3/4 to 1

pound

salmon (Note 1)

1/4

teaspoon

table salt

1/4

teaspoon

ground black pepper
NUTRITION
Makes 2 Servings
Amount Per Serving:
| | |
| --- | --- |
| Calories 490 (54% from fat) |   |
| Total Fat 29g | 45% |
|    Saturated Fat 7g | 35% |
| Cholesterol 125mg | 42% |
| Sodium 420mg | 18% |
| Net Carb 2.5g |   |
| Total Carb 3.5g | 1% |
|    Dietary Fiber 1g | 3% |
|    Sugars 2g |   |
| Protein 46g |   |
PHOTOS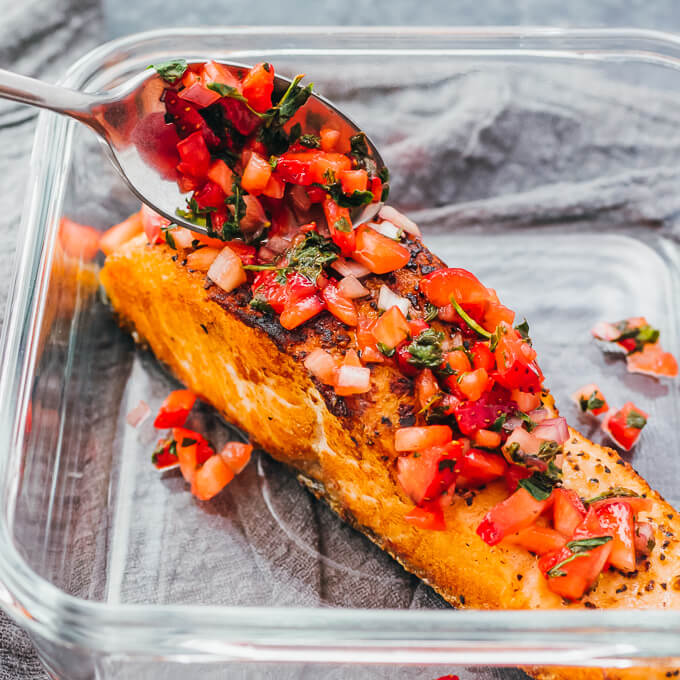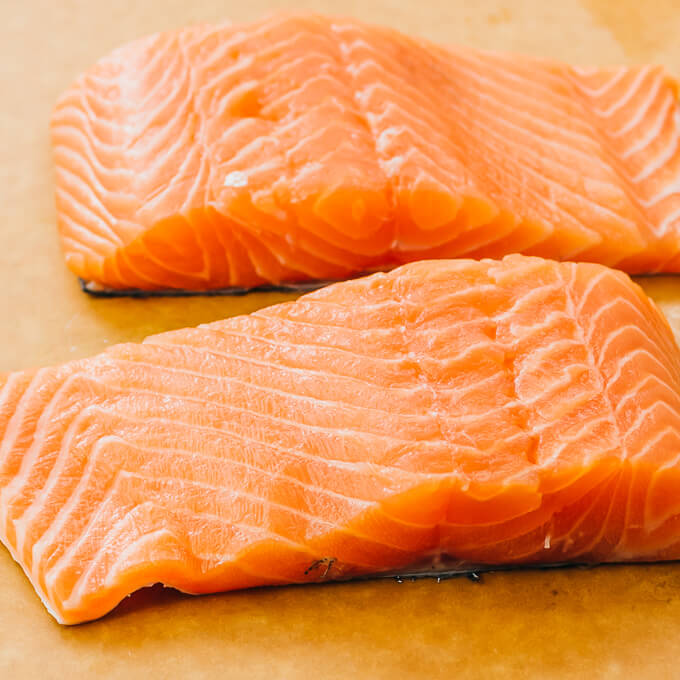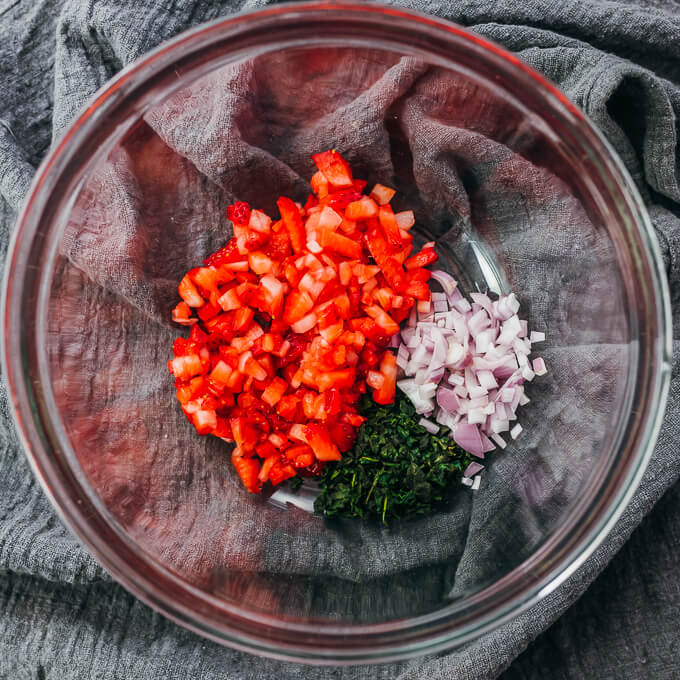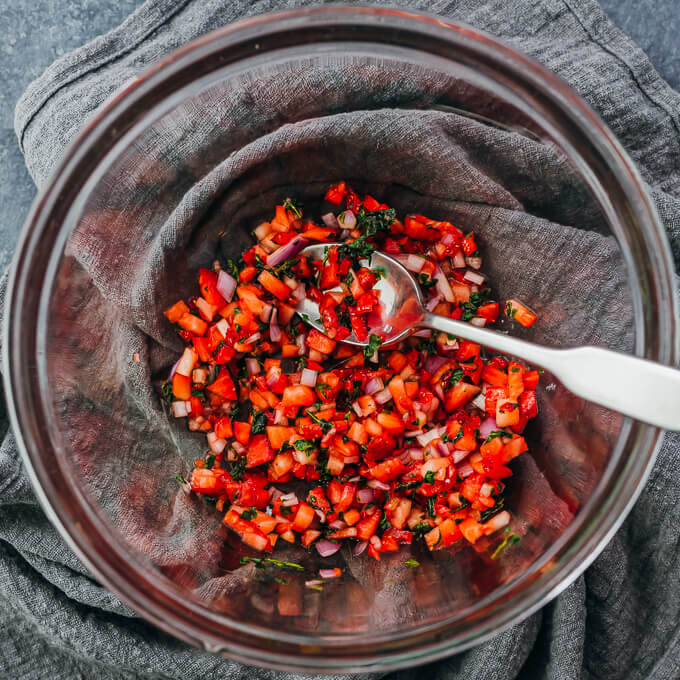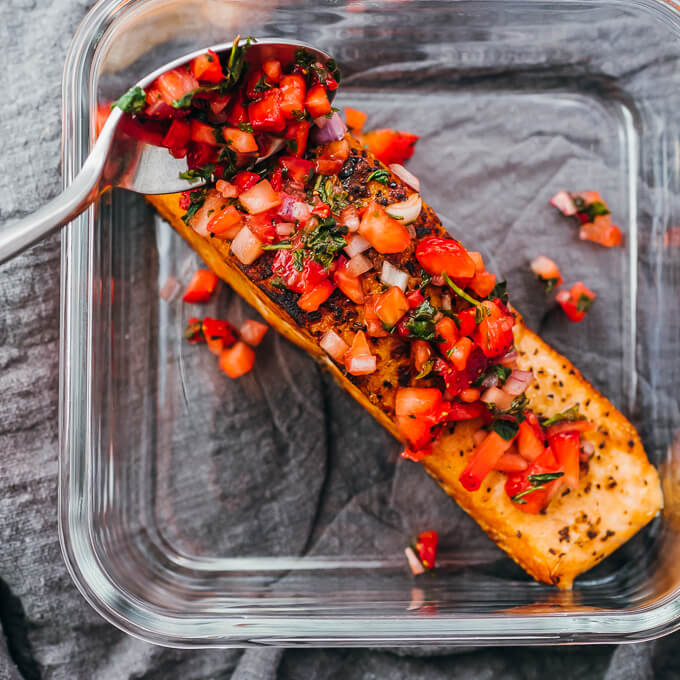 NOTES & TIPS
(1) Salmon. I use a center-cut salmon fillet because it's more uniform in shape, which means more even cooking. You can buy 1 fillet weighing 3/4 to 1 pound, which gets cut into 2 fillets, or you can buy 2 fillets, each weighing 6 to 8 ounces. I use fresh; if yours is frozen, thaw overnight in the refrigerator. I prefer skin-on salmon because it protects the flesh from drying out while it cooks. Note that the skin is very easily removed after cooking — the flesh is so tender that it slides right off the skin with no effort. If you prefer lightly seared salmon, select a fillet less than 1/2 inch thick so that it'll cook quickly before the exterior can fully sear. If you prefer darkly seared or blackened salmon, select a fillet up to 1.5 inches thick in its thickest part, which will take much longer to cook, developing a nice crust.
(2) Strawberries. About 2 ounces weight or 2 medium strawberries. Make sure they're minced, which helps the relish stick more easily to the salmon. Roughly chopped strawberry will just fall off. Other berries like raspberries or blackberries will likely work well. Since berries are usually sold in much larger quantities, consider using up the rest by making strawberry salad or fruity cheesecake fat bombs.
(3) Lemon Juice. This can be substituted with your favorite vinegar.
(4) Skillet. I use a 10-inch nonstick skillet; no greasing or preheating needed. The skillet should be large enough so that the fillets can sit side-by-side without touching each other. Since the skillet isn't preheated, the fillets start on a cold surface, cooking them more gently and evenly.
(5) Serving. Serve while warm. Salmon pairs well with almost any appetizer or side dish, such as these low carb options: artichokes, fried zucchini coins, quick coleslaw, or Mexican cauliflower rice. You can also enjoy salmon in a salad: cut cooked salmon into 1 to 2 inch chunks, removing the skin, and add to any salad.
(6) Make Ahead. If you're planning on making this salmon ahead of time, consider slightly undercooking the salmon so that when you're reheating it later in the microwave, it's not overcooked, fishy smelling, or dry. If you're not planning to reheat, cook normally. Salmon tastes great cold.