Note: This is one of my older recipes and is not low carb. Visit my Recipes page for low carb and keto recipes.
These pan-fried zucchini slices are a deliciously crunchy snack that goes well with a sweet and spicy dipping sauce.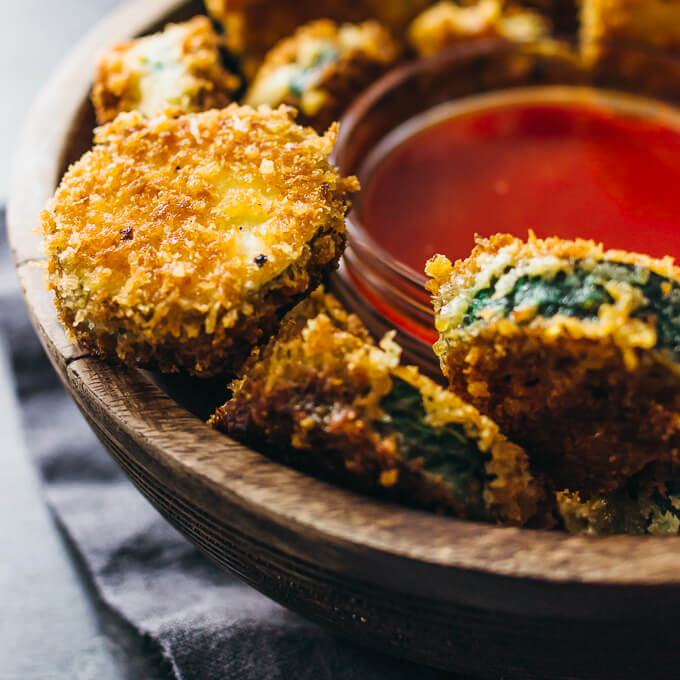 Sometimes after I've been eating comforting stews and soups for awhile (hello creamy potato soup), I start to crave foods that are crispy and yield a satisfying crunch with every bite. Mr. Savory Tooth feels the same way — he's been drinking a bottle each of Coffiest and Cacao Soylent every day for lunch — and when dinner time rolls around, he wants something substantial to sink his teeth into. So one afternoon when I found myself staring at two leftover zucchini and a bag of grated parmesan cheese in the refrigerator, these crispy pan-fried zucchini slices were born. They are seriously crazy good, and I'm kicking myself for not having made them sooner.

Preparing the zucchini slices is not difficult: roll them around in flour, then beaten egg, and lastly a panko-parmesan mix. Then I pan-fry them — not deep fry — in a shallow layer of oil deep enough to just barely cover the bottom of my pan. I love how I can fry these zucchini slices nice and crisp without having to resort to using a ton of oil, as you would for deep frying. I prefer to keep the oil at a temperature around 350 F, which means that each zucchini slice will need about 3 minutes of frying on each side. Your frying oil will change temperature quickly as you cook, as it drops quite a bit when you add zucchini slices to the pan. I keep my thermometer handy and adjust the heat level accordingly. You'll know when your oil has increased or decreased in temperature when it takes less or more than about 3 minutes to cook the zucchini slices to a golden brown color.
The sriracha sauce is both sweet and spicy, and gives a nice flavor kick to the fried zucchini. I've used this exact dipping sauce in many of my other recipes because it goes great with fried foods, such as fried chicken, fried avocado egg rolls, fried vegetable egg rolls, and cream cheese fried wontons. If you're the greedy type, you might want to double the sauce so that you don't have to share with anyone.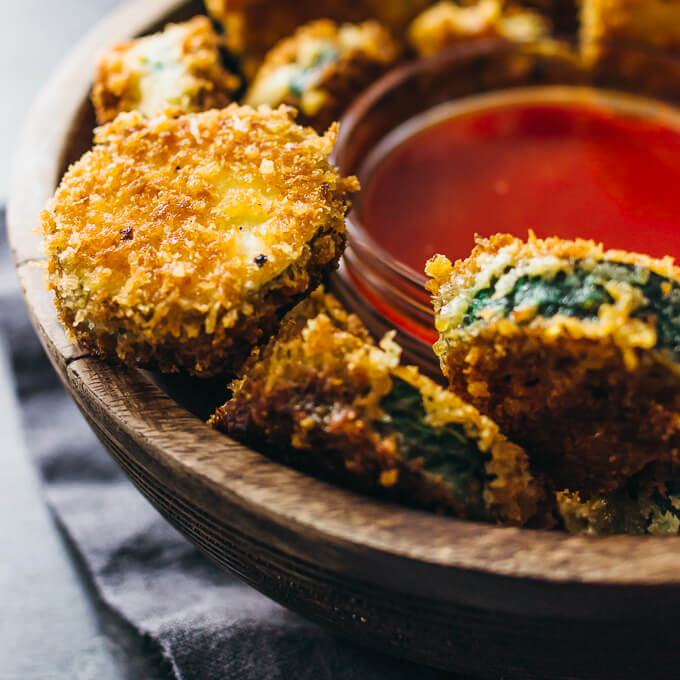 Crazy good fried zucchini slices
DESCRIPTION
These pan-fried zucchini slices are a deliciously crunchy snack that goes well with a sweet and spicy dipping sauce.
INGREDIENTS
Sweet sriracha dipping sauce:
INSTRUCTIONS
Set up 3 stations: 1 bowl with flour, 1 bowl with beaten eggs, and 1 bowl with panko, parmesan cheese, salt, and pepper mixed together.

Add enough canola oil to a pan to cover its bottom, placing over medium heat. While waiting for the oil to heat up, proceed to the next step.

Working in batches, dip each zucchini round first into the flour, then the egg, and then the panko mix.

When the oil reaches 350 F, add zucchini in batches to the pan. Fry until crispy and golden brown, about 3 minutes per side. Transfer to a paper towel to cool.

Combine dipping sauce ingredients in a small bowl. Stir and serve with fried zucchini.
Liked this recipe?
Sign up for email updates!