Summary:
These are no ordinary deviled eggs. This version packs a ton of flavor into each bite with its spicy mustard filling, attractively topped with paprika, chives, and crispy bacon. Its high fat percentage and low carbs make it an excellent appetizer choice for keto diets.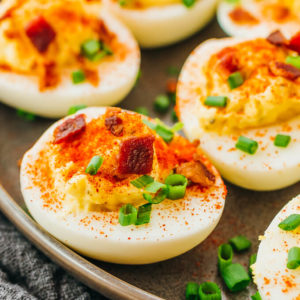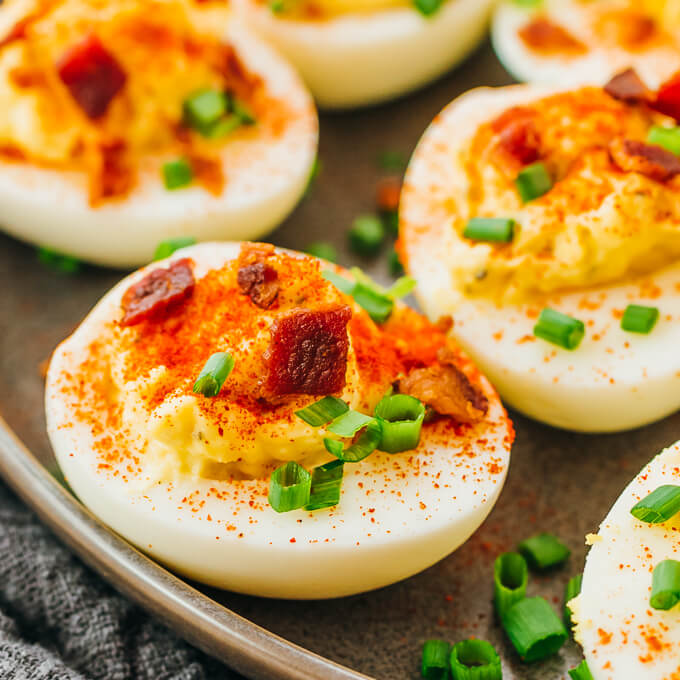 INGREDIENTS
Toppings:
1

slice

bacon, cooked and crumbled (Note 3)

1

tablespoon

chopped fresh chives

1/8

teaspoon

smoked paprika
INSTRUCTIONS
Make Filling: Peel and slice each egg lengthwise. Carefully scoop or pop out egg yolks into a large mixing bowl. Mash egg yolks, then stir in mayonnaise, mustard, salt, and pepper until smooth.

Add Spiciness: Using sriracha in its squeeze bottle, squirt about 1/4 teaspoon of sriracha into each empty egg white. You can use less or more, depending on how spicy you want them to be.

Pipe Filling: Scoop egg yolk mixture into a small sandwich plastic bag. Cut off a tiny corner of it, and use this to pipe filling over each egg white.

Garnish & Serve: Top eggs with paprika, fresh chives, and crumbled bacon. Serve room temperature or chilled (Note 4).
NUTRITION
Makes 6 Servings
Amount Per Serving (2 deviled eggs):
| | |
| --- | --- |
| Calories 150 (78% from fat) |   |
| Total Fat 13g | 20% |
|    Saturated Fat 2g | 11% |
| Cholesterol 193mg | 64% |
| Sodium 290mg | 12% |
| Net Carb 0.5g |   |
| Total Carb 0.5g | 0% |
|    Dietary Fiber 0g | 0% |
|    Sugars 0.5g |   |
| Protein 6g |   |
PHOTOS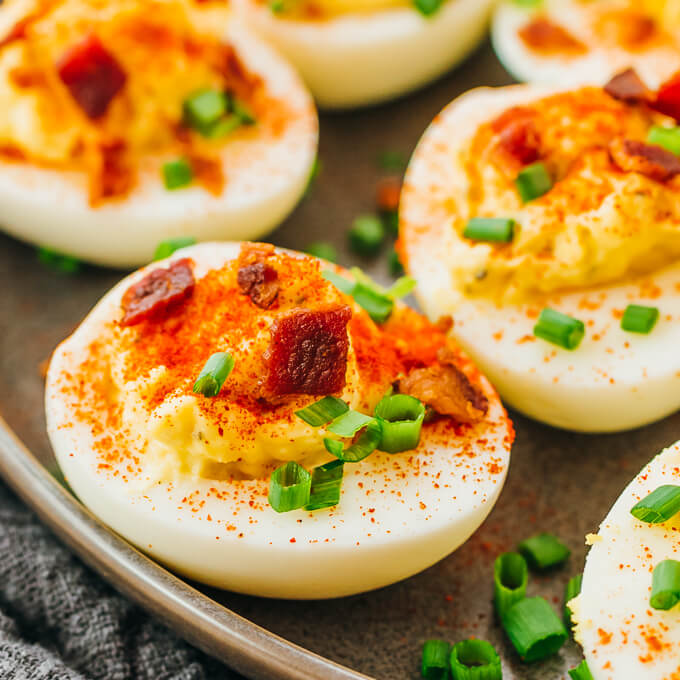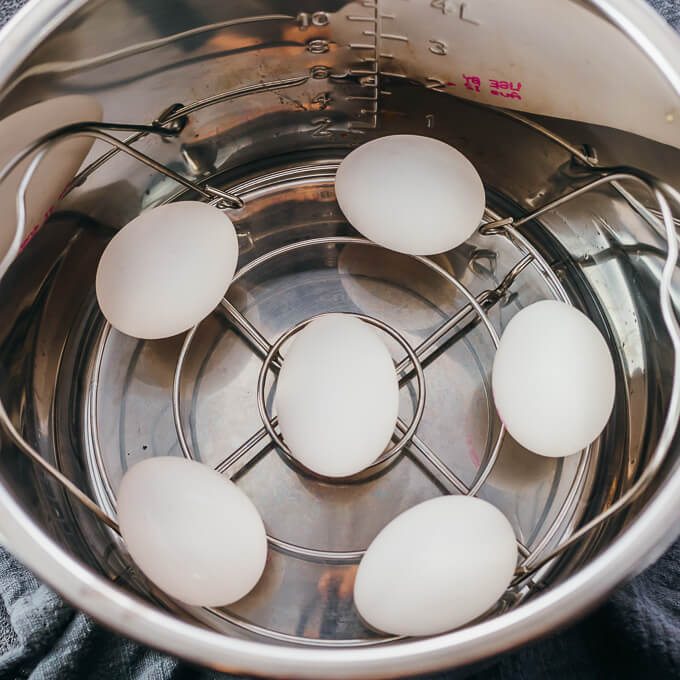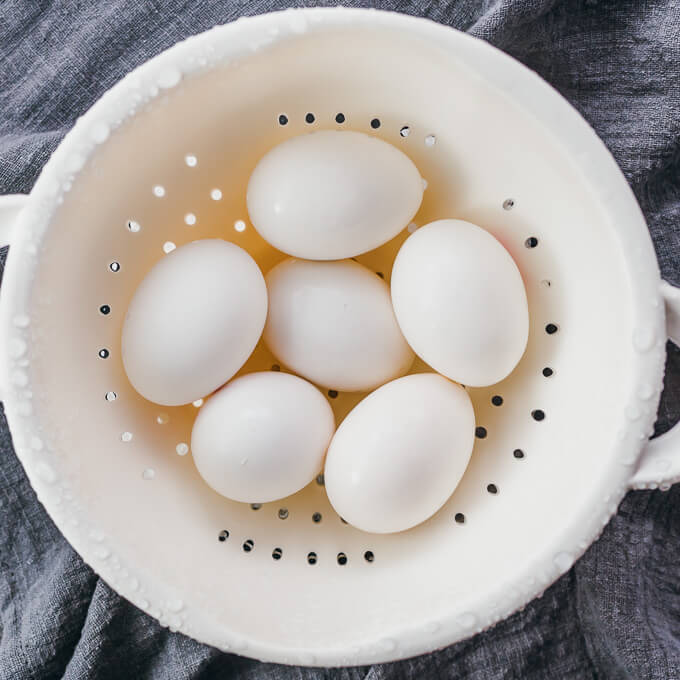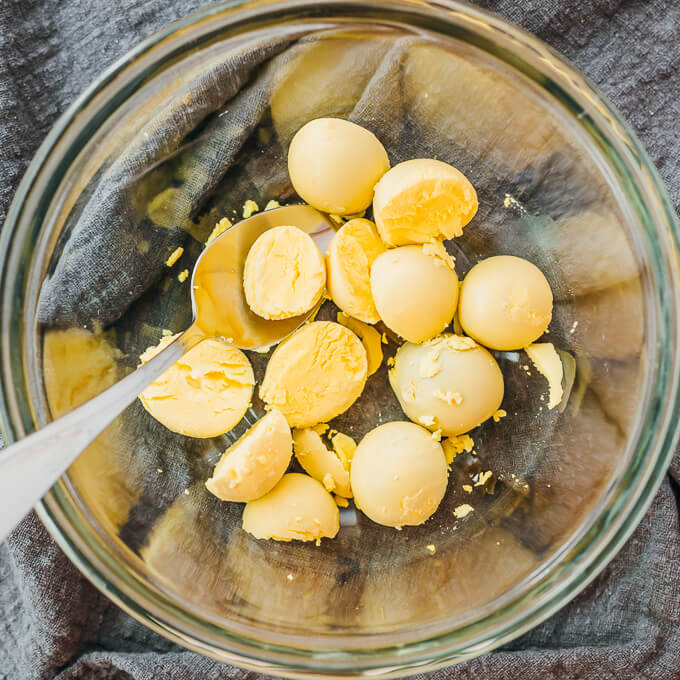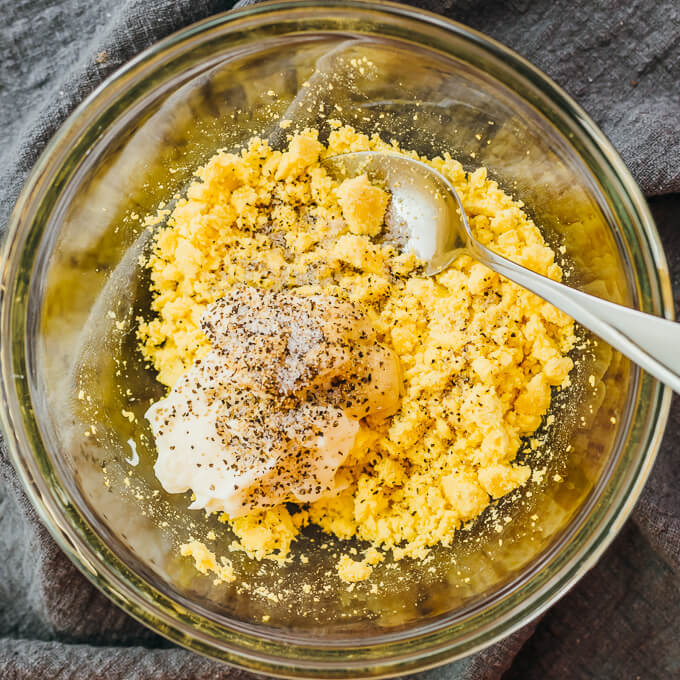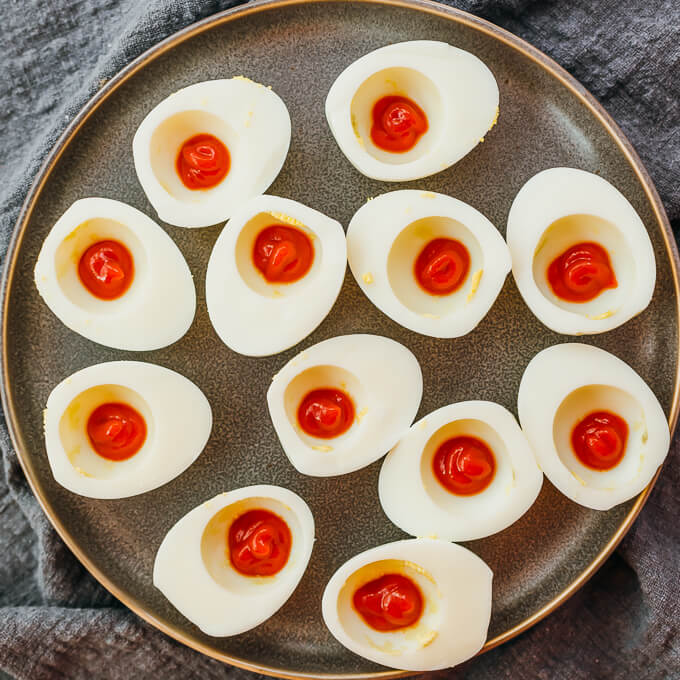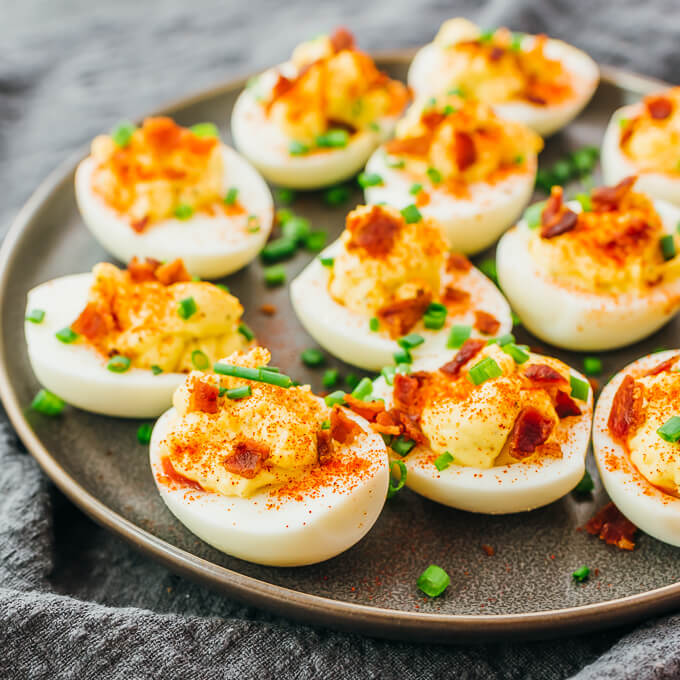 NOTES & TIPS
(1) Hard-Boiled Eggs. Despite the name, the best way to hard-boil eggs is by steaming them, not boiling. Steaming causes the whites to pull away from the shell membranes, making peeling incredibly easy. On the stovetop, place eggs in a steamer basket over simmering water in a saucepan. Cover and steam for 12 to 14 minutes, depending on how well done you prefer the yolks to be. Using the Instant Pot, place eggs on a trivet or steamer basket over 1 cup of water. Cook for 5 minutes at high pressure, followed by 5 minutes of natural release.
(2) Sriracha. You can substitute with your favorite hot sauce.
(3) Cooking Bacon. You can cook bacon in the microwave, in the oven (see How To Bake Bacon), or on the stovetop by frying them on a pan until crispy, turning them occasionally. After cooking, transfer bacon to paper towels to absorb the grease. Once the bacon is cool, crumble into small pieces.
(4) Serving. If not serving right away, cover and refrigerate. I prefer deviled eggs to be chilled, so I will refrigerate them for at least a few hours before serving. You can make them up to 1 day in advance. You can serve deviled eggs with other party appetizers like Mini Cheese Balls (which can also be made in advance and served chilled), great for potlucks during holidays like Easter.