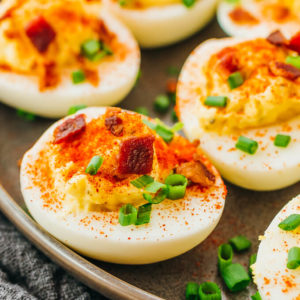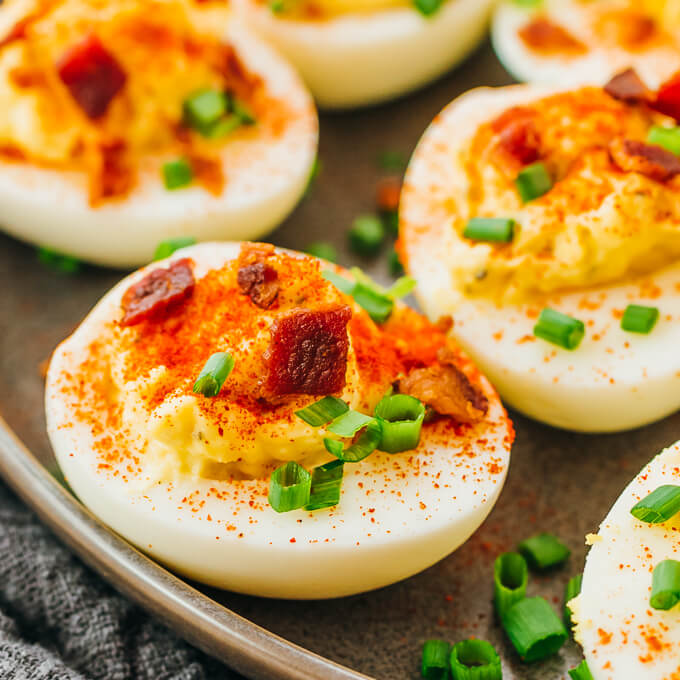 Spicy Keto Deviled Eggs With Bacon
DESCRIPTION
These keto deviled eggs pack a ton of flavor into each bite: a spicy mustard filling, topped with paprika, chives, and crispy bacon. They're suitable for low carb, keto, paleo, and gluten free diets, making them a popular appetizer for parties, potlucks, and holidays like Easter.
INGREDIENTS
6

large eggs

1/4

cup

mayonnaise

1

tablespoon

sriracha

(can be substituted with your favorite hot sauce)

1

teaspoon

dijon mustard

(I use Grey Poupon brand)

1/4

teaspoon

salt

1/4

teaspoon

black pepper
Toppings:
1

slice

bacon

(or use cooked, crumbled bacon)

1

tablespoon

chopped fresh chives

1/8

teaspoon

paprika
INSTRUCTIONS
Hard Boiling Eggs: Pressure Cooker Method (my preference for easy-to-peel eggs)
Add 1 cup of water to the

pressure cooker

pot. Place a trivet, steamer basket, or specialized egg rack inside the pot. Place eggs on top.

Secure and seal the lid. Cook for 5 minutes at high pressure, followed by 5 minutes of natural release. Manually release remaining pressure.

Uncover. Transfer the eggs to a colander and rinse under cold water for a few minutes.
Hard Boiling Eggs: Stovetop Method
Place the eggs in a pot. Fill with cold water to about 1 inch above the top of the eggs.

Bring to a boil over high heat and let it boil for 1 minute. Remove the pot from the burner, cover with a lid, and let sit for 15 minutes.

Strain out the eggs and transfer them to a colander. Rinse under cold water for a few minutes.
Making Deviled Eggs:
If bacon is uncooked, place the bacon slice on a pan over medium heat. Cook until crispy, turning the slice occasionally to fry both sides. Drain the slice on a paper towel lined plate. When cool, crumble into small pieces. Set aside.

When the eggs are cool enough to handle, peel and then slice each egg lengthwise.

Carefully scoop or pop out the egg yolks into a large mixing bowl, and mash them. Add mayonnaise, mustard, salt, and pepper. Mix until smooth.

Using sriracha in its squeeze bottle, squirt about 1/4 teaspoon of sriracha onto each empty egg white. You can use less or more, depending on how spicy you want them to be.

Scoop the egg yolk mixture into a small sandwich plastic bag. Cut off a tiny corner of it, and use this to pipe the filling over each egg white. Garnish with paprika, fresh chives, and crumbled bacon.

Refrigerate the deviled eggs, and serve chilled.
NUTRITION
Makes 6 Servings
Amount Per Serving (2 deviled eggs):
| | |
| --- | --- |
| Calories 160 |   |
| Total Fat 14g | 21% |
|    Saturated Fat 2g | 12% |
| Cholesterol 194mg | 65% |
| Sodium 280mg | 12% |
| Net Carb 1g |   |
| Total Carb 1g | 0% |
|    Dietary Fiber 0g | 0% |
|    Sugars 1g |   |
| Protein 7g |   |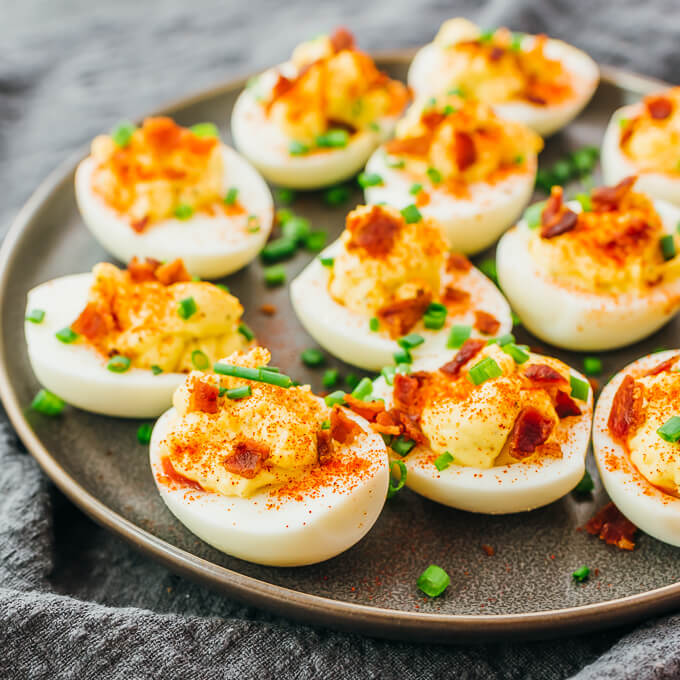 Recipe Overview
These are no ordinary deviled eggs. After separating the egg whites and yolks, I squirt a dollop of spicy sriracha sauce onto each exposed egg white. In other words, the sriracha sits between the egg white and the reconstituted yolk. It's almost as if I'm making secretly spicy deviled eggs.
The yolks are mashed and mixed with mayonnaise, dijon mustard, salt, and pepper — forming the yolk mixture that's piped over the egg whites. The mustard flavor is discernible, but not overpowering.
The last part is the topping, where I like to go all out. I top with paprika, chopped fresh chives, and crispy crumbled bacon. These toppings add a nice pop of color and texture to the deviled eggs.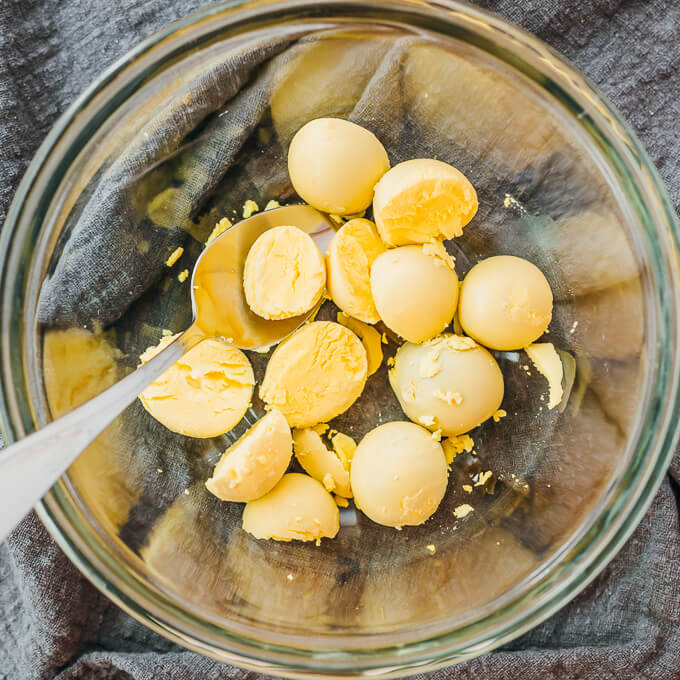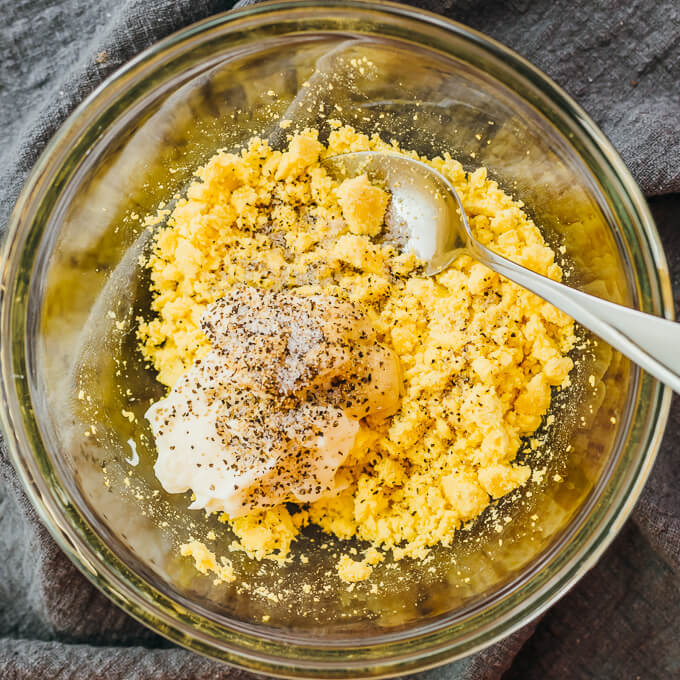 Methods To Hard Boil Eggs
The key to great deviled eggs starts with perfectly hard boiled eggs so that they're easy to peel, resulting in attractive egg whites.
My favorite method is using a pressure cooker — I use a 6 quart Instant Pot with a trivet to elevate the eggs. The eggs are steam-cooked in a high pressure environment for 5 minutes, and the resulting eggs are effortless to peel. I find this to be the easiest method with least hassle.
If you don't have a pressure cooker, you can hard boil eggs using the traditional stovetop method. Boil them for 1 minute, remove the pot from heat, let sit covered for 15 minutes, and then rinse under cold water. This method often works well, but yields less consistent results.
I've included both methods in the recipe box below.
Serving Ideas
These deviled eggs pair well with meaty main dishes such as: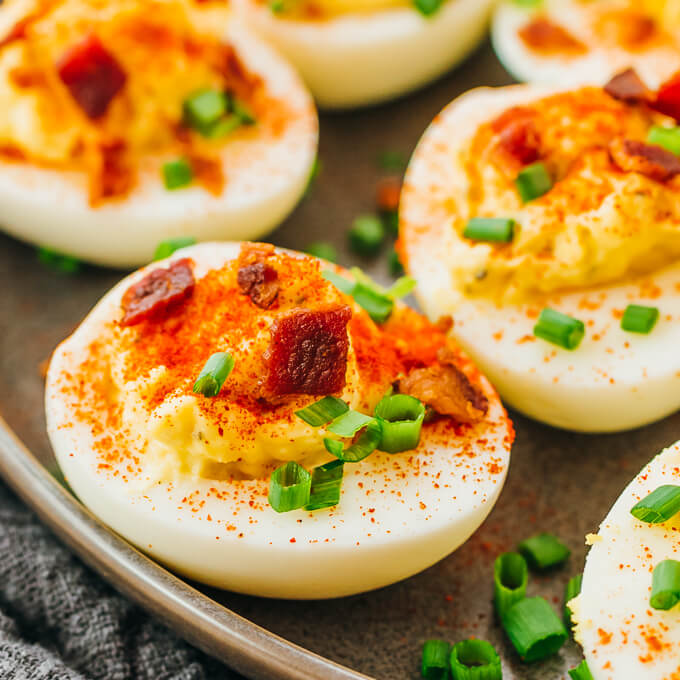 More Bite-Sized Appetizer Ideas