Summary:
Skirt steak is marinated with olive oil and spices, then seared over a hot skillet. Served over a bed of creamy orzo pasta and cooked with tomato sauce and chopped vegetables, this is a flavorful and convenient one-pan meal.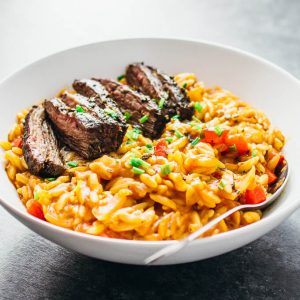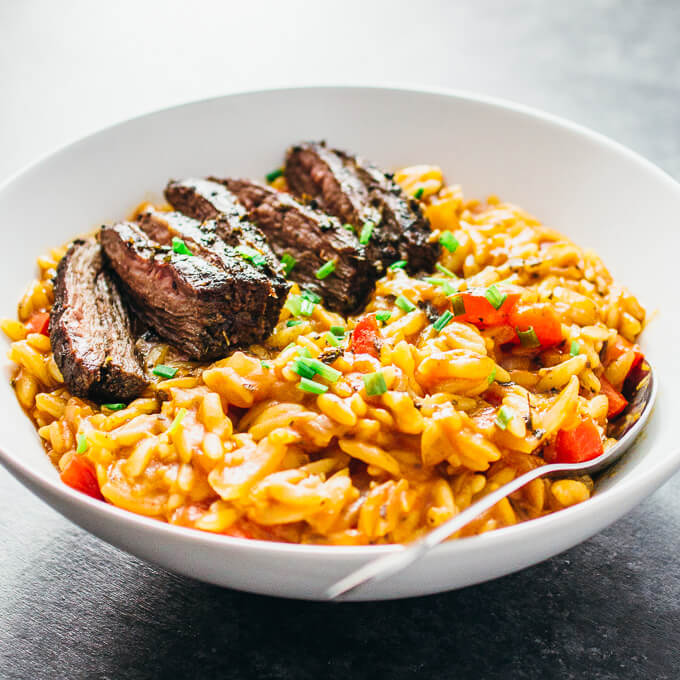 INGREDIENTS
Steak Marinade:
12

ounces

skirt steak

3

cloves

garlic, minced

2

tablespoons

olive oil

1

tablespoon

rice vinegar

1/2

teaspoon

dried oregano

1/2

teaspoon

dried basil

1/2

teaspoon

table salt

1/4

teaspoon

ground black pepper
INSTRUCTIONS
Marinate Steak: Add all marinade ingredients to resealable bag. Toss until steak is well-coated. Marinate at least 1 hour in refrigerator until ready to cook.

Sear Steak: Heat greased skillet (Note 2) over medium to medium-high heat for a few minutes. Add marinated steak. Cook for 3 minutes, flip steak, and cook another 3 minutes. Reduce to low heat and and cook for another 10 minutes or until desired doneness is reached. Transfer to cutting board and cut into slices.

Cook Vegetables: Heat now-empty skillet over medium heat. Add bell pepper, onion, and garlic, cooking until softened, a few minutes, stirring occasionally.

Cook Orzo: Add orzo, tomato sauce, chicken broth, basil, and oregano to skillet with vegetables. Stir. Bring to simmer over high heat, then gradually reduce heat to medium-low to maintain simmer. Stirring frequently to prevent sticking, simmer until orzo is cooked and sauce is thickened, about 15 minutes.

Serve: Remove skillet from heat. Add salt to taste, if needed. Divide orzo among serving bowls, top with skirt steak, and garnish with chives. Serve (Note 3).
NUTRITION
Makes 3 Servings
Amount Per Serving:
| | |
| --- | --- |
| Calories 600 (45% from fat) |   |
| Total Fat 30g | 46% |
|    Saturated Fat 9g | 45% |
| Cholesterol 92mg | 31% |
| Sodium 1410mg | 59% |
| Net Carb 34.5g |   |
| Total Carb 39.5g | 13% |
|    Dietary Fiber 5g | 20% |
|    Sugars 9g |   |
| Protein 42g |   |
PHOTOS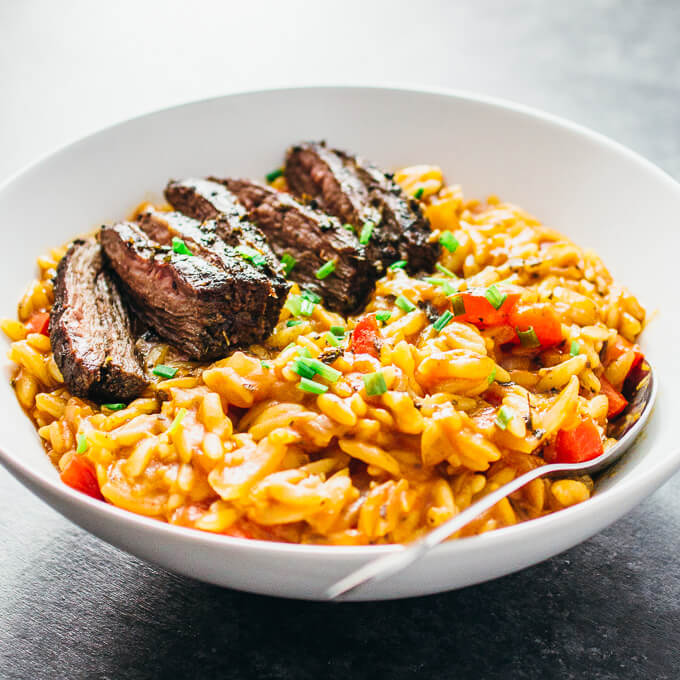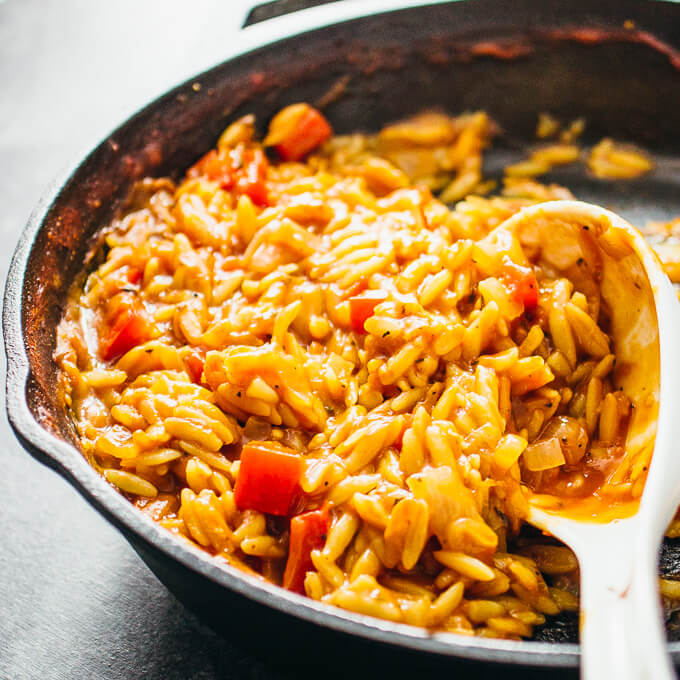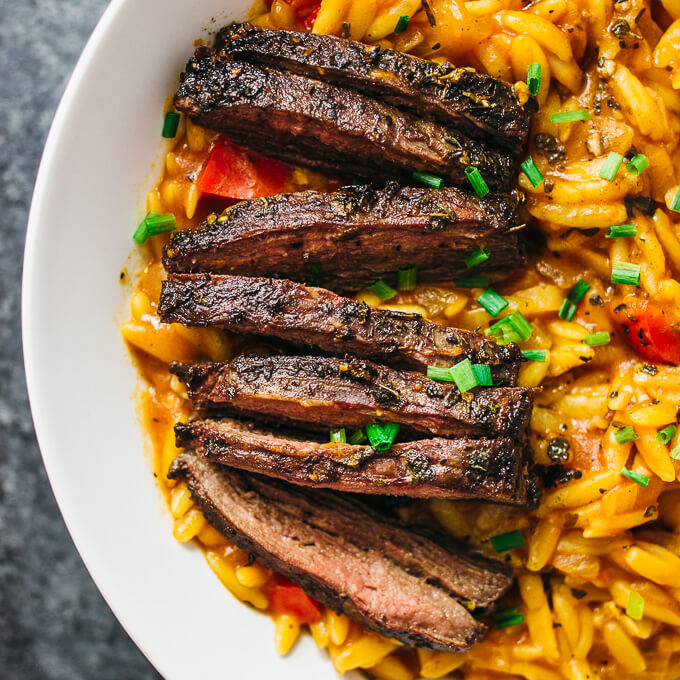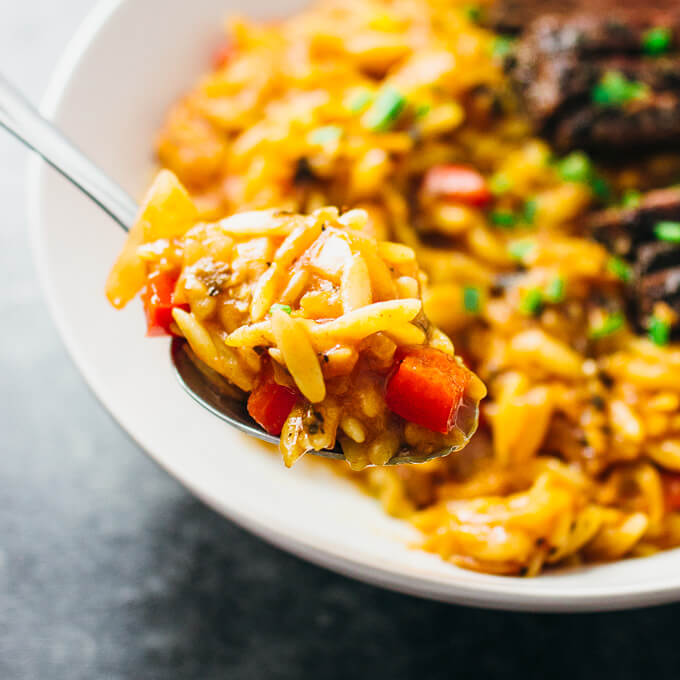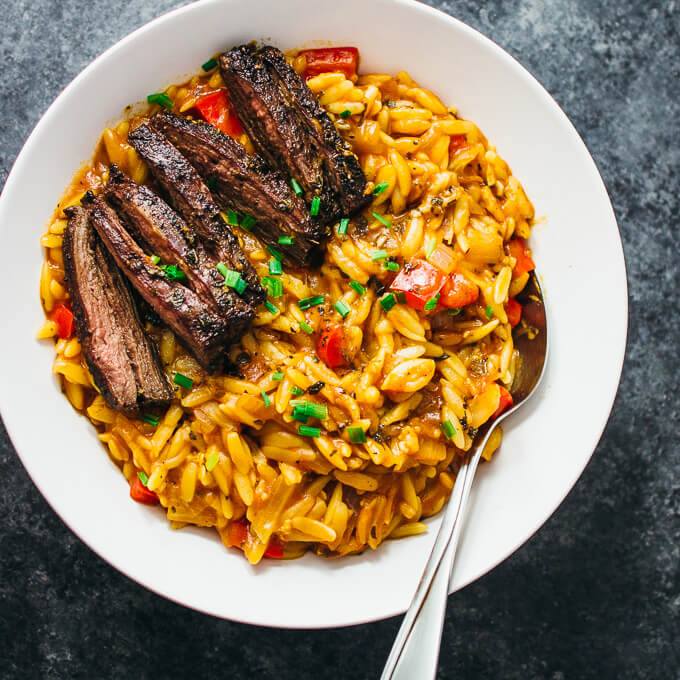 NOTES & TIPS
(1) Orzo. About 1.3 cups. Orzo is a small rice-shaped pasta.
(2) Skillet. I use a 10-inch wide and 2-inch tall cast iron skillet. Avoid using anything smaller, which would not fit all of the ingredients. No accompanying lid needed. Both the steak and the orzo pasta are cooked in the same skillet.
(3) Serving. As the pasta cools, it will re-absorb some of the cooking liquid. Serve with dishes like artichokes, crab stuffed mushrooms, or cold broccoli salad.