Summary:
Enjoy marinated skirt steak served over a bed of creamy tomato orzo pasta simmered with Italian spices.
Looking for low carb recipes instead? Visit the Savory Tooth Homepage.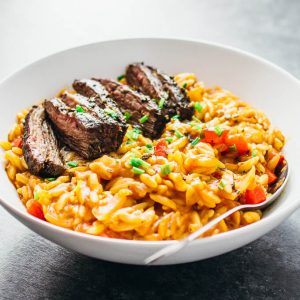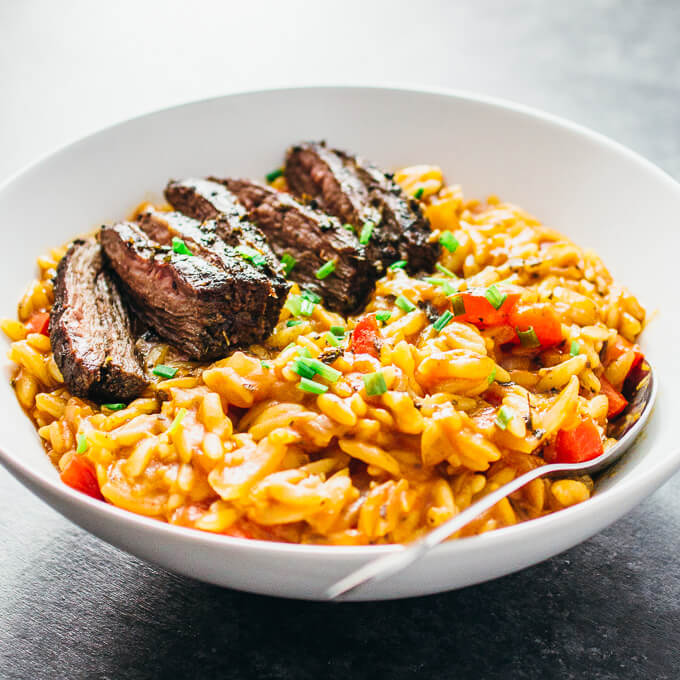 Skirt steak orzo pasta skillet
INGREDIENTS
For marinating the steak:
12

ounces

skirt steak

3

cloves

garlic

minced

2

tablespoons

olive oil

1

tablespoon

rice vinegar

1/2

teaspoon

oregano

1/2

teaspoon

basil

1/2

teaspoon

salt

1/4

teaspoon

pepper
INSTRUCTIONS
Add all marinade ingredients to a ziploc bag. Toss to coat the steak. Marinate in the refrigerator until ready to cook, at least 1 hour.

Heat an oiled skillet over medium to medium-high heat for a few minutes. Add marinated steak. Cook for 3 minutes, flip the steak, and cook another 3 minutes. Turn the heat to low and and let cook for another 10 minutes or until desired doneness. Transfer to a plate and cut into slices.

Heat the same skillet over medium heat. Add onion, bell pepper, and garlic, cooking until the vegetables soften, a few minutes, stirring occasionally.

Add orzo, tomato sauce, chicken broth, basil, and oregano. Stir. Bring to a simmer over high heat, then gradually lower heat down to medium-low to maintain the simmer. Let simmer until the orzo is cooked and the sauce thickens, about 15 minutes, stirring frequently so the orzo does not stick to the pan.

Remove pan from heat. Add salt to taste, if necessary. Divide orzo into serving bowls, top with skirt steak, and garnish with chives.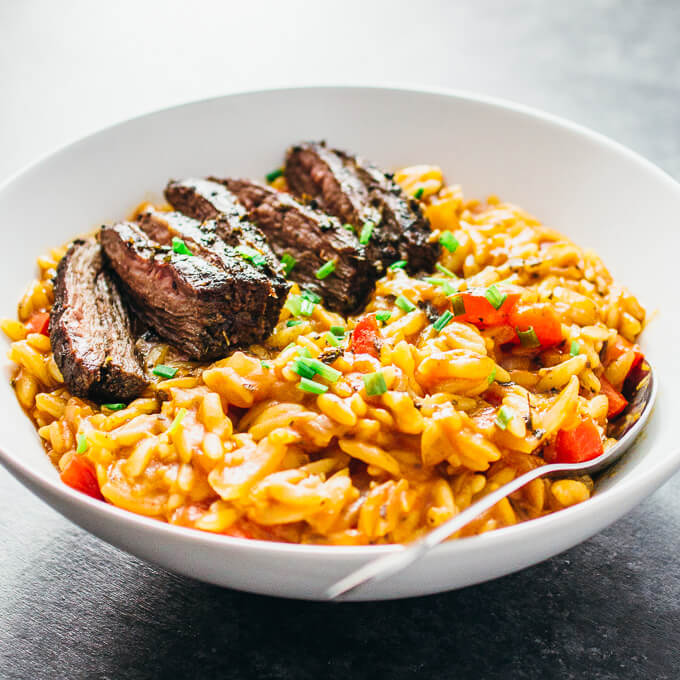 This meal is one of those dishes that just grew out of my leftovers. I had some orzo pasta left over from making this Mediterranean salad, chicken broth left over from experimenting with a new pasta dish a few days ago, raw skirt steak, an extra can of tomato puree left over from making a sauce for these stuffed peppers, and an onion left over from making caramelized onions crostini last week. Whew. That's a lot of leftovers, and I'm still amazed that they all came together so well to make this skirt steak orzo pasta skillet.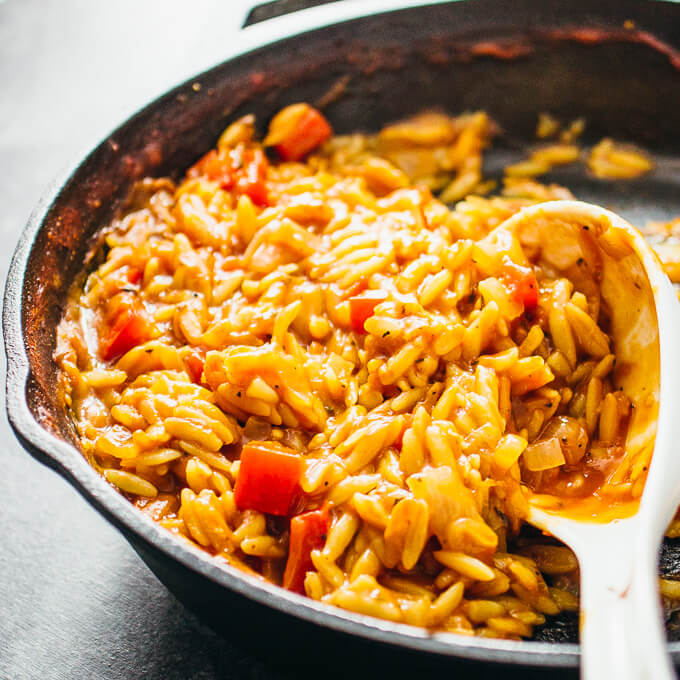 This recipe is a one pan recipe, so everything cooks in the same skillet, including the orzo pasta. I used a 10-inch wide and 2 inch tall cast iron skillet, which just barely fits everything, so make sure you use a pan of equal size or larger. A nonstick pan will also work well for this recipe, and you don't need an accompanying lid.
To cook the orzo pasta as well as to thicken the sauce, I let the skillet simmer for a total of 15 minutes. It will look quite soupy compared to the photos shown here — that is normal, and as the pasta cools the liquid level will decrease. The orzo should taste soft, creamy, and flavorful.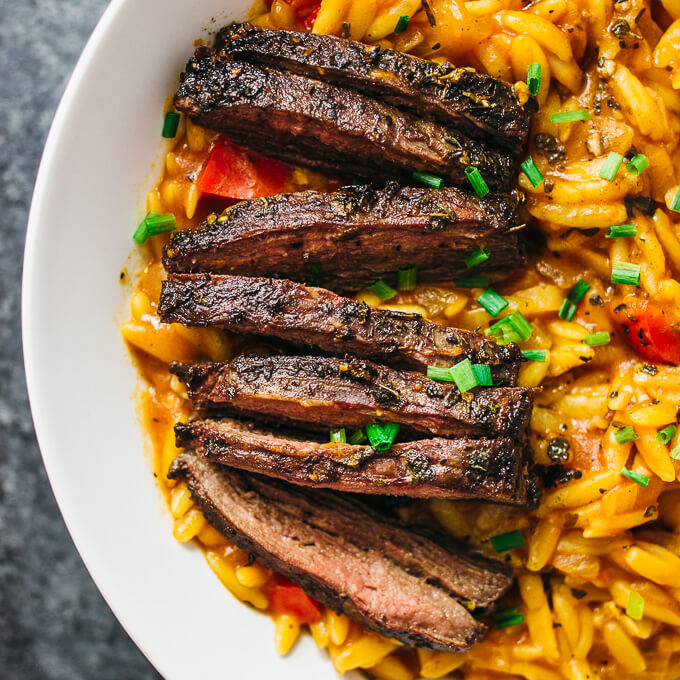 The skirt steak is marinated with olive oil, garlic, oregano, and basil. You can easily add your own flavorings and spices. To cook the steak, I give it a quick sear on both sides and then I cook it longer on low heat until it reaches my preferred doneness. You can modify the cooking times to suit your desired steak doneness.