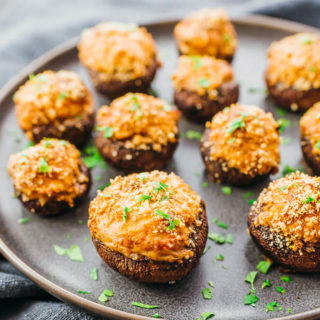 Crab Stuffed Mushrooms With Cream Cheese
INGREDIENTS
20

ounces

cremini (baby bella) mushrooms (20-25 individual mushrooms)

2

tbsp

finely grated parmesan cheese

1

tbsp

chopped fresh parsley

table salt
INSTRUCTIONS
Preheat the oven to 400 F. Prepare a baking sheet lined with parchment paper.

Snap stems from mushrooms (bend the stem slightly in one direction until it pops off), discarding the stems and placing the mushroom caps on the baking sheet 1 inch apart from each other. Season the mushroom caps with salt (this helps them release some liquid so they don't get too soggy while baking, and also improves overall taste and texture).

In a large mixing bowl, combine all filling ingredients and stir until well-mixed without any lumps of cream cheese. Stuff the mushroom caps with the mixture. Evenly sprinkle parmesan cheese on top of the stuffed mushrooms.

Bake uncovered at 400 F until the mushrooms are very tender and the stuffing is nicely browned on top, about 30 minutes. Top with parsley and serve while hot.
NUTRITION
Makes 4 Servings
Amount Per Serving (5-6 stuffed mushrooms):
| | |
| --- | --- |
| Calories 160 (61% from fat) | |
| Total Fat 11g | 16% |
| Saturated Fat 7g | 33% |
| Cholesterol 58mg | 19% |
| Sodium 390mg | 16% |
| Net Carb 5g | |
| Total Carb 5.5g | 2% |
| Dietary Fiber 0.5g | 1% |
| Sugars 0g | |
| Protein 9g | |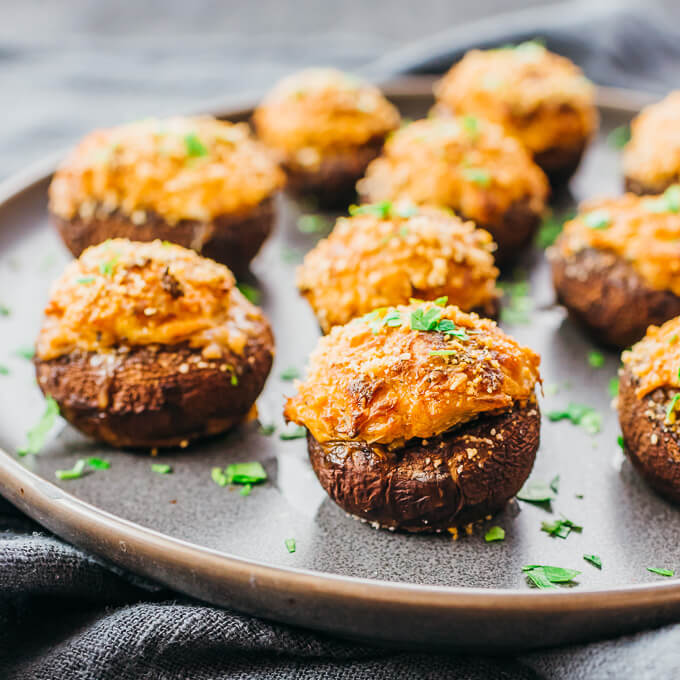 Hot crab dip is one of my favorite recipes from recent memory, and this is like crab dip in a mushroom. I've always loved my stuffed mushrooms and crab just makes it 10x better. The stuffing is soft and savory, with a nice but not overpowering crab flavor, and it's sprinkled with a rich parmesan cheese topping.
You can easily make this appetizer to feed a crowd at holiday parties or family get-togethers. To save time, make everything the day before and pop it into the oven shortly before serving (just add 5-10 minutes to the baking time).
Making crab stuffed mushrooms: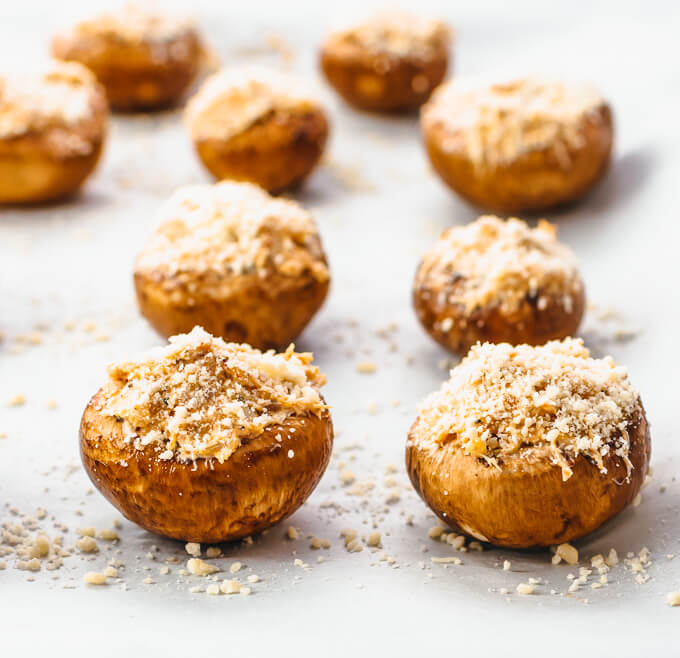 Crab stuffed mushrooms are made by stuffing a crab and cream cheese mixture into mushroom caps and then baking until tender. The crab stuffing uses equal parts (by weight) crab meat and cream cheese along with flavorings like garlic, oregano, paprika, salt, and pepper. I finish by topping the stuffed mushrooms with finely grated parmesan cheese.
I use canned crab meat from Trader Joe's. It's an affordable crab that's available year round, and you can find it in their refrigerated section near the fresh seafood. As with any canned food, make sure you drain it before weighing the appropriate amount to use for this recipe.
It's easiest to mix the crab stuffing when the cream cheese is very soft. Take the cream cheese out of the refrigerator about an hour before you start the recipe to give it time to soften. To expedite this process, I usually zap the cream cheese in the microwave in 5-10 second bursts until it's soft and pliable.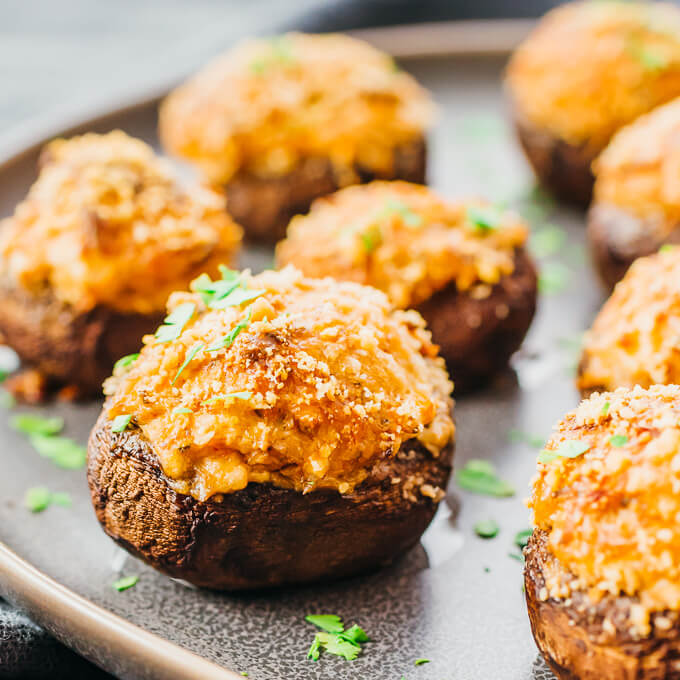 You don't need to cover the stuffed mushrooms while baking. I adjusted my oven rack so that the stuffed mushrooms bake in the center of the oven. At 400 F, they turn nicely brown on top after 30 minutes. Ovens are fickle creatures, so your mileage may vary; if your mushrooms get too browned on top before 30 minutes have elapsed, you can cover with foil to protect them.
MORE TASTY APPETIZERS: