Summary:
This thick and creamy spinach side dish can be conveniently prepared in a single pot on the stove in just 15 minutes. Cooking on the stovetop is faster than using the oven, and allows you to easily monitor the spinach's consistency.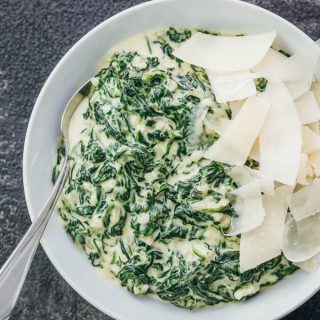 INGREDIENTS
12-ounce package

baby spinach, roughly chopped (Note 1)

1/2

cup

finely grated parmesan cheese (Note 2)

1/2

cup

heavy whipping cream (Note 3)

1/4

cup

diced onion or 2 tablespoons dry minced onion

2

tablespoons

salted butter

2

cloves

garlic, minced
INSTRUCTIONS
Wilt Spinach: Add spinach to large pot over medium-high heat, working in 2 batches if needed (Note 4). Stirring frequently, cook until spinach is wilted and most of liquid released by spinach has evaporated, about 5 minutes.

Cook Onions: Reduce to medium heat. Add butter and onions. Stirring occasionally, cook until butter is melted and onions are tender (if using fresh onions), a few minutes.

Add Dairy: Stir in parmesan cheese until melted, about 1 minute. Add heavy whipping cream and bring to simmer over medium-high heat. Stirring frequently, simmer until desired consistency is reached, a few minutes.

Finish & Serve: Reduce heat to low. Stir in garlic until incorporated, about 1 minute. Season with salt and pepper to taste, and serve (Note 5).
NUTRITION
Makes 2 Servings
Amount Per Serving (3/4 cup):
| | |
| --- | --- |
| Calories 470 (75% from fat) |   |
| Total Fat 39g | 60% |
|    Saturated Fat 27g | 135% |
| Cholesterol 150mg | 50% |
| Sodium 410mg | 17% |
| Net Carb 4g |   |
| Total Carb 8.5g | 3% |
|    Dietary Fiber 4.5g | 17% |
|    Sugars 1g |   |
| Protein 12g |   |
PHOTOS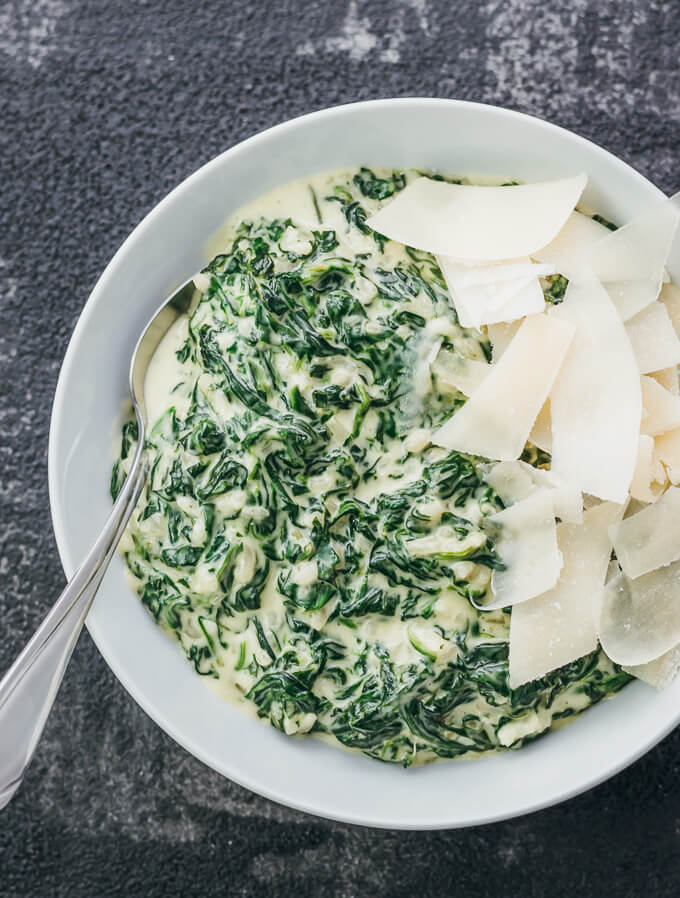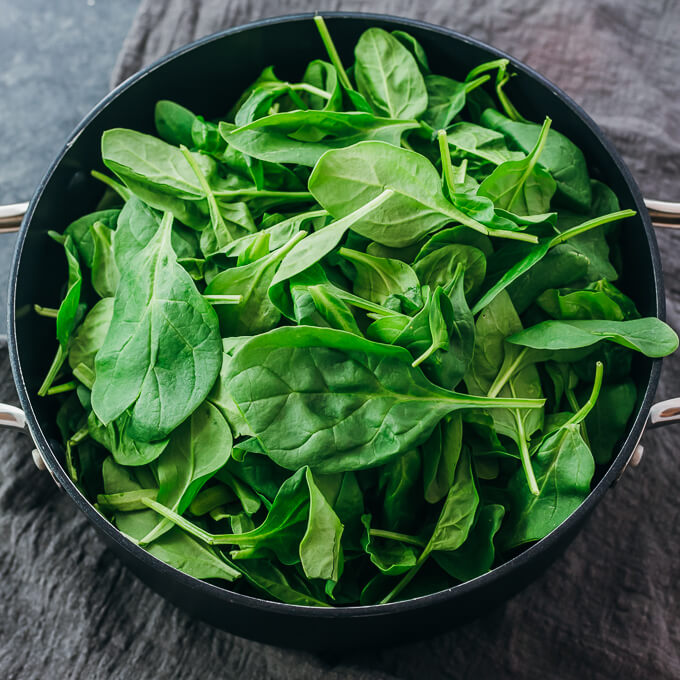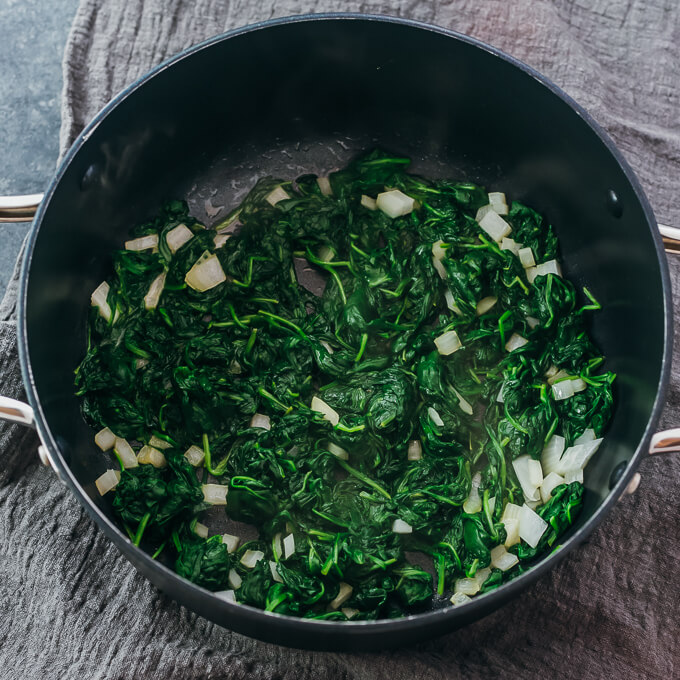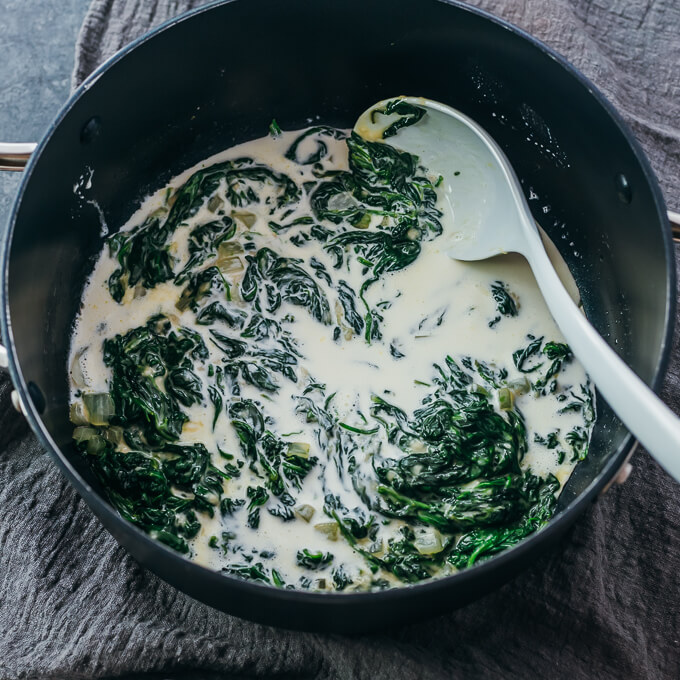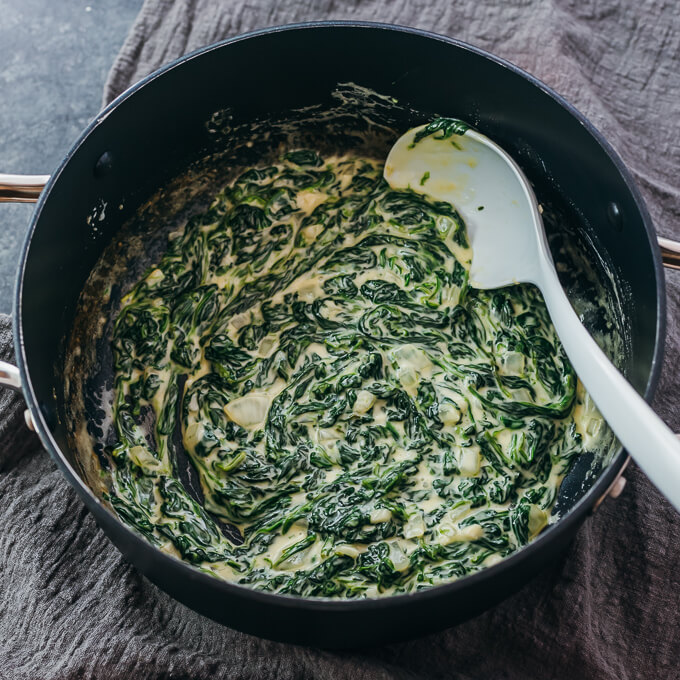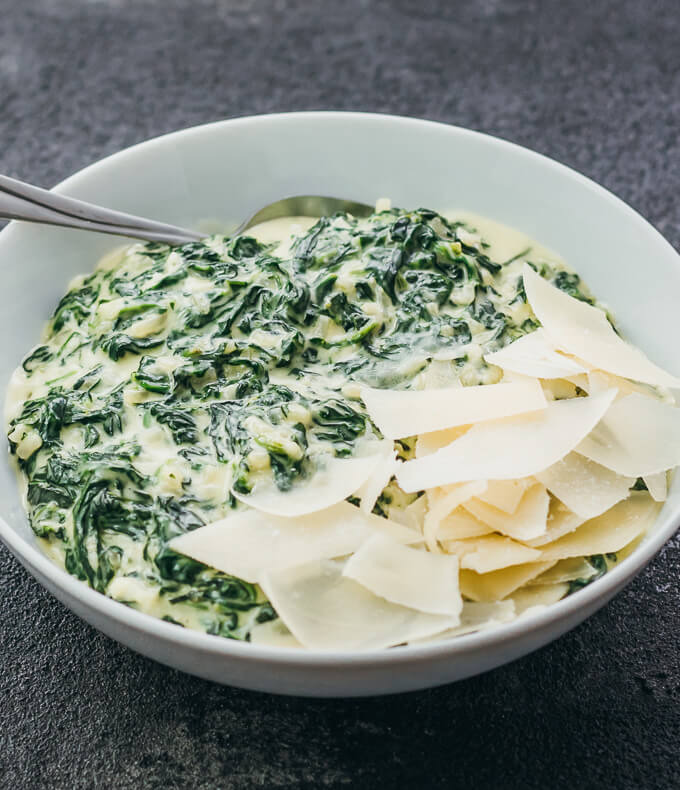 NOTES & TIPS
(1) Spinach. I use fresh baby spinach, including both leaves and stems. Frozen spinach is fine — you may need to increase the cooking time and adjust the amounts of cheese and cream to taste.
(2) Parmesan Cheese. This is finely grated parmesan that has a sandy or almost powdery texture (not shredded), available in pre-grated bags in the refrigerated section of U.S. grocery stores.
(3) Heavy Whipping Cream. If you can't find heavy whipping cream, some readers have had success substituting with half and half. I don't recommend non-dairy nut milks because they won't add a creamy consistency to this dish.
(4) Pot. I use a nonstick pot 9 inches in diameter and 4 inches tall; no cooking oil needed. If your pot is not large enough to hold all of the raw spinach, work in 2 batches by wilting half of the spinach at a time.
(5) Serving. Serve creamed spinach while it's hot, optionally topping with shaved parmesan cheese. Personally, I don't add any salt because it tastes salty enough from the parmesan cheese and butter. Note that garlic is added last, after the sauce has simmered, so it's slightly undercooked and more potent flavor. Creamed spinach is fantastic over grilled or baked chicken, slow cooked turkey breast, or other meat-heavy main dishes. It can also be a great side dish during holidays like Thanksgiving and Christmas.
(6) Flavor Options. This recipe makes a basic creamed spinach. To make it more interesting, you can add crispy crumbled bacon, sautéed mushrooms, various roasted nuts, or baked eggs.