Summary:
Addicting oven-roasted brussels sprouts that are baked with bacon, garlic, parmesan cheese, and balsamic vinegar. A comforting low carb and keto side dish for the colder months and holidays.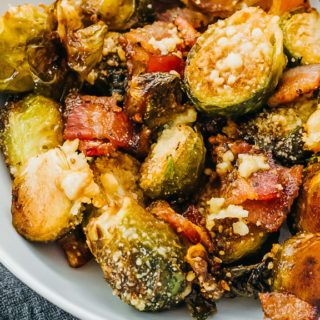 Balsamic Oven Roasted Brussels Sprouts With Bacon
INGREDIENTS
1

pound

brussels sprouts, trimmed and halved through the core

(see "Preparing Brussels Sprouts" below)

6

slices

bacon

chopped

5

cloves

garlic

minced

1/4

cup

finely grated parmesan cheese

2

tablespoons

balsamic vinegar

2

tablespoons

olive oil

1

teaspoon

salt

1/2

teaspoon

black pepper
INSTRUCTIONS
Preheat the oven to 400 F. Prepare a baking sheet lined with foil.

In a large mixing bowl, toss brussels sprouts and any loose leaves, bacon, garlic, olive oil, salt, and pepper until well-mixed.

Spread them out in a single layer on the baking sheet.

Bake at 400 F for 20 minutes.

Drizzle with balsamic vinegar, and toss or flip the brussels sprouts and bacon. Evenly sprinkle the parmesan cheese on top.

Bake for another 10 minutes or until the brussels sprouts are tender.
NUTRITION
Makes 4 Servings
Amount Per Serving:
| | |
| --- | --- |
| Calories 190 (53% from fat) | |
| Total Fat 11g | 17% |
| Saturated Fat 3g | 16% |
| Cholesterol 13mg | 4% |
| Sodium 820mg | 34% |
| Net Carb 5.5g | |
| Total Carb 9.5g | 3% |
| Dietary Fiber 4g | 16% |
| Sugars 3.5g | |
| Protein 8g | |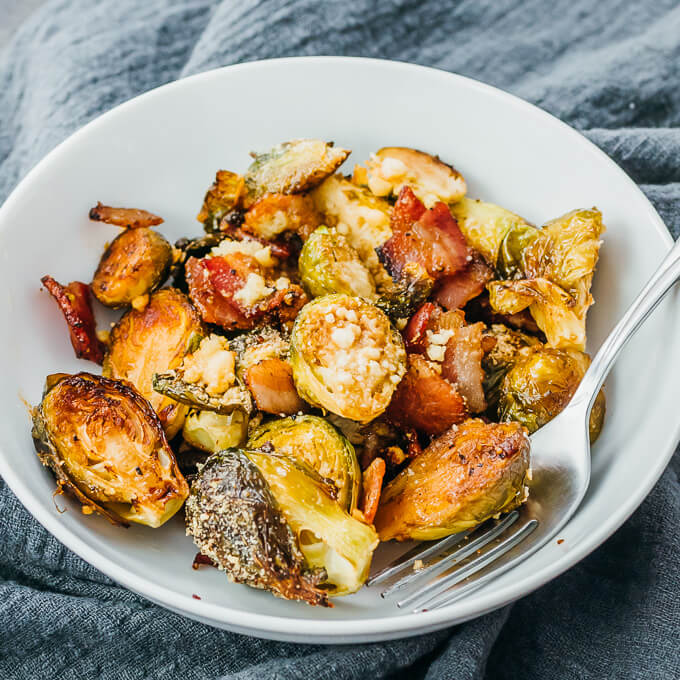 Recipe Overview
Brussels sprouts are one of my favorite cold weather vegetables. They can taste horrible when insufficiently cooked, but are ridiculously good when cooked right and paired with complementary ingredients (in other words, bacon!).
I prefer baking them in the oven vs. sauteing, so they get that nice roasted flavor and texture. That's why I cook this Bacon Wrapped Brussels Sprouts Appetizer in the oven every Thanksgiving. When I'm really short on time, I use my pressure cooker to make Fast Instant Pot Brussels Sprouts.
You'll find these brussels sprouts simple to make. Trim and toss them with bacon, garlic, olive oil, and seasonings before spreading them out on a baking sheet. Bake, toss with balsamic vinegar and parmesan cheese, and bake more until tender. I can't wait to make these again.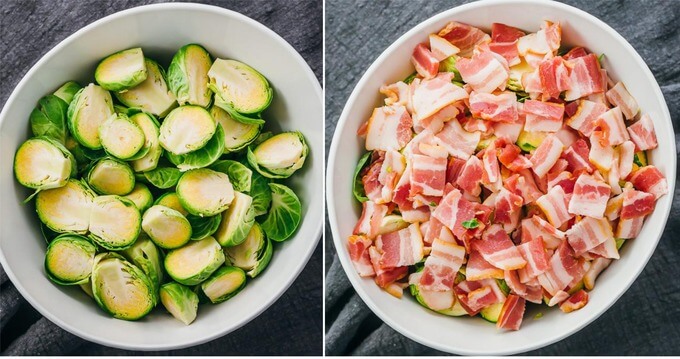 Preparing Brussels Sprouts
New to cooking with brussels sprouts? First, wash and remove any bad leaves. Second, trim by cutting off the bottom core. Then cut each sprout in half by slicing through the core.
Take a look at the photo above to see how they're supposed to look after trimming and halving.
You'll probably end up with lots of loose leaves. Don't discard them; loose leaves crisp up beautifully in the oven (brussels chips?) and are delicious crunchy things that you'll love.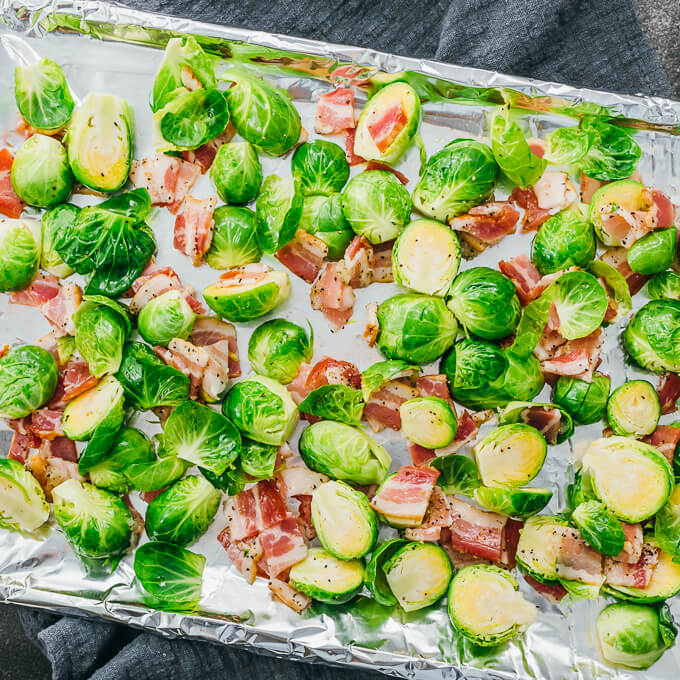 Baking Tips
Make sure the brussels sprouts and bacon are evenly and well spread out on the baking sheet. It'll take much longer to bake them if the ingredients aren't in a single layer.
Don't add the balsamic vinegar and parmesan cheese at the same time as the brussels sprouts. They require a shorter baking time so they're not added until later, in the second-to-last step of the recipe.
Ovens can vary a lot, and the time estimates listed in the recipe are only a general guideline. Monitor the food frequently, and it's done when the brussels sprouts are tender and darkened, the bacon is crispy, and the balsamic vinegar looks "baked in." Avoid baking too long and burning the food.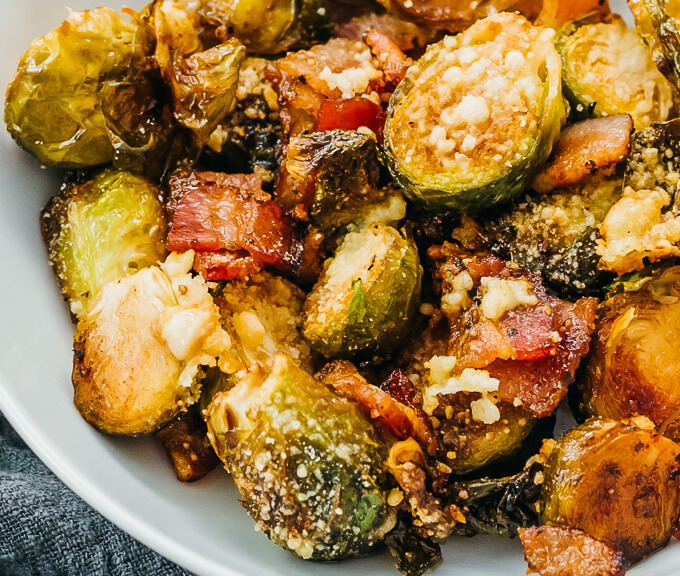 More Tasty Oven Baked Recipes