Summary:
An easy way to cook ultra-tender roasted pork tenderloin with a creamy mustard sauce, ideal for anyone looking for low carb, keto pork dinners.
Roasted Pork Tenderloin with Creamy Mustard Sauce
INGREDIENTS
1

pork tenderloin (1 to 1.5 pounds)

1

tablespoon

olive oil
INSTRUCTIONS
Preheat the oven to 375 F.

Pat the pork tenderloin dry with paper towels. If unseasoned, season all sides with salt and pepper.

Heat an oven-safe pan over medium-high heat. Coat the bottom of the pan with olive oil. Add pork and cook until browned on one side, about 4 minutes.

Flip the pork in the pan. Bake at 375 F until the pork is browned and cooked through, about 25 minutes (thermometer inserted in the center should read at least 145 F).

Transfer the pork to a plate and let it rest while you work on the next step. Do not slice yet.

Add all sauce ingredients to the pan over medium heat. Scrape off any bits that have stuck to the pan. Stir until the cheese and butter are melted. Let the sauce simmer until it reaches a thick consistency, about 5 minutes.

Slice the pork into thin slices and drizzle the sauce on top. Optionally serve with a side of greens.
NUTRITION
Makes 2 Servings
Amount Per Serving:
| | |
| --- | --- |
| Calories 800 (61% from fat) | |
| Total Fat 54g | 83% |
| Saturated Fat 31g | 155% |
| Cholesterol 315mg | 105% |
| Sodium 1060mg | 44% |
| Net Carb 2.5g | |
| Total Carb 2.5g | 1% |
| Dietary Fiber 0g | 0% |
| Sugars 0g | |
| Protein 64g | |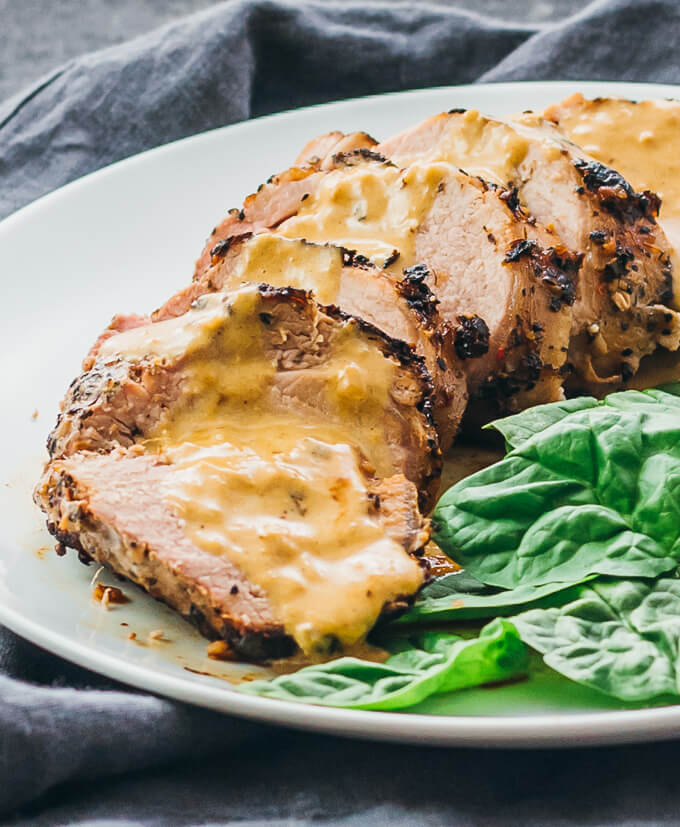 Switch up your dinner routine and make this delicious roasted pork tenderloin with a savory mustard sauce. The pork is perfectly cooked in the oven, resulting in ultra-tender meat that is incredibly juicy and just melts in your mouth. The tenderloin is also pan seared until very crispy, browned, and flavorful.
It's easy to make the sauce — all you need is cream, parmesan cheese, butter, and Dijon mustard — which has a distinct mustard taste but isn't overly strong or overpowering. Pork and mustard sauces go hand-in-hand — they taste terrific together.
Overall, this recipe only takes 35 minutes total (5 minutes to prep and 30 minutes to cook), uses just six ingredients, and requires only a single pan.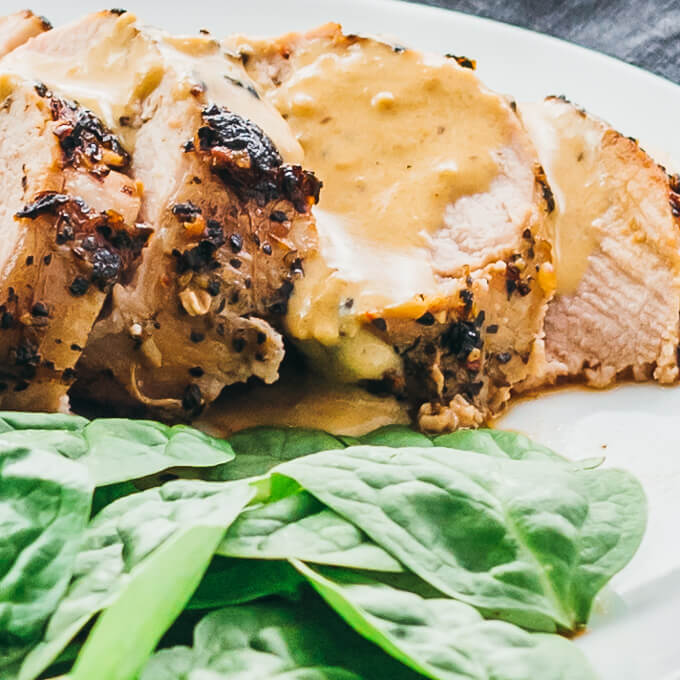 Pork tenderloin, sometimes referred to as pork fillet, is a long cut of pork from a muscle along the pig's central spine. It's the most tender cut, because pigs use those muscles for posture and not for movement. It's typically very lean with almost no marbling, and cooks quickly because of its small size — tenderloins are usually no more than 1 1/2 pounds. If you haven't bought pork tenderloin before, check out this visual guide to pork cuts (pork tenderloin is called "tenderloin roast" in the article).
Supermarkets often sell pork tenderloin with seasonings, spices, and sometimes even marinades. I usually choose tenderloins with fewer additives whenever possible, so take a look at the ingredients before purchasing. If your pork tenderloin does not come with any seasonings, I suggest rubbing with salt and pepper (or any meat seasoning of your choice) before pan searing the tenderloin. Note that my nutrition calculation in the recipe box assumes that your pork tenderloin is seasoned; otherwise, the net carbohydrate count will be nearly zero for this recipe.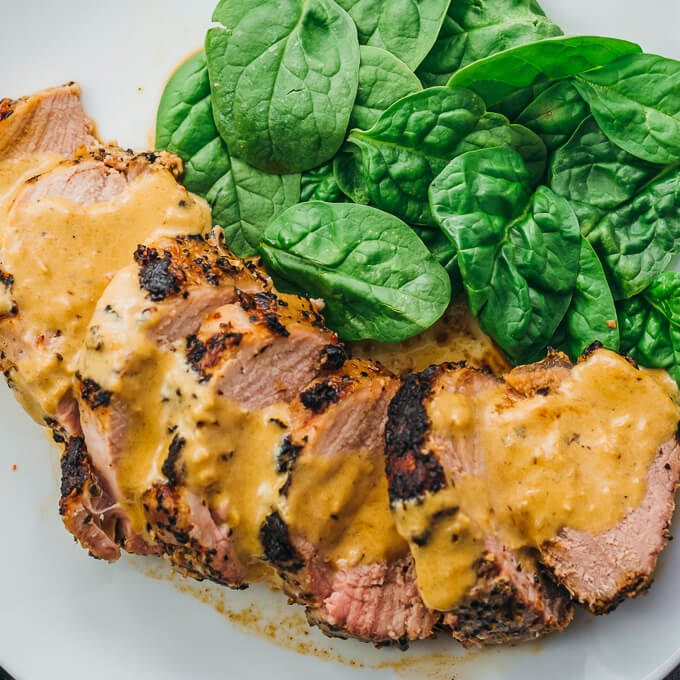 I recommend using an instant-read thermometer to determine when to take the pork out of the oven, as oven times can vary greatly. Alternatively, you can use this as a rough guide:
≤ 1 pound pork tenderloin — 375 F for 20 minutes
1 1/4 pound pork tenderloin — 375 F for 25 minutes
1 1/2 pound pork tenderloin — 375 F for 30 minutes
These times assume that the pork tenderloin is both (a) pan seared before baking and (b) allowed to rest after baking and before slicing. See recipe below for full details.
This pork tenderloin dinner can be served with a variety of side dishes like mashed cauliflower, artichokes, or creamed spinach.