Summary:
A fun fall-themed hummus dip recipe that's easily made using a food processor. Vegan, low carb. Yields 3 cups of hummus.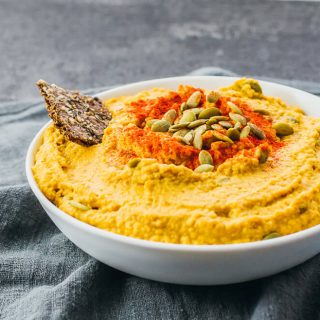 INSTRUCTIONS
Add chickpeas, pumpkin, tahini, lemon juice, and olive oil to a food processor. Puree until smooth.

Add all seasonings to the food processor. Puree again until smooth, pausing once to scrape down the sides of the bowl.

Transfer the mixture to a lidded container. Stir in pumpkin seeds. Cover and refrigerate until cold.

For serving, optionally garnish with additional pumpkin seeds and ground paprika, and serve with crackers, baby carrots, or roasted vegetables.
NUTRITION
Makes 6 Servings
Amount Per Serving:
| | |
| --- | --- |
| Calories 180 (31% from fat) | |
| Total Fat 6g | 10% |
| Saturated Fat 1g | 4% |
| Cholesterol 0mg | 0% |
| Sodium 370mg | 15% |
| Net Carb 14.5g | |
| Total Carb 21g | 7% |
| Dietary Fiber 6.5g | 27% |
| Sugars 3g | |
| Protein 7g | |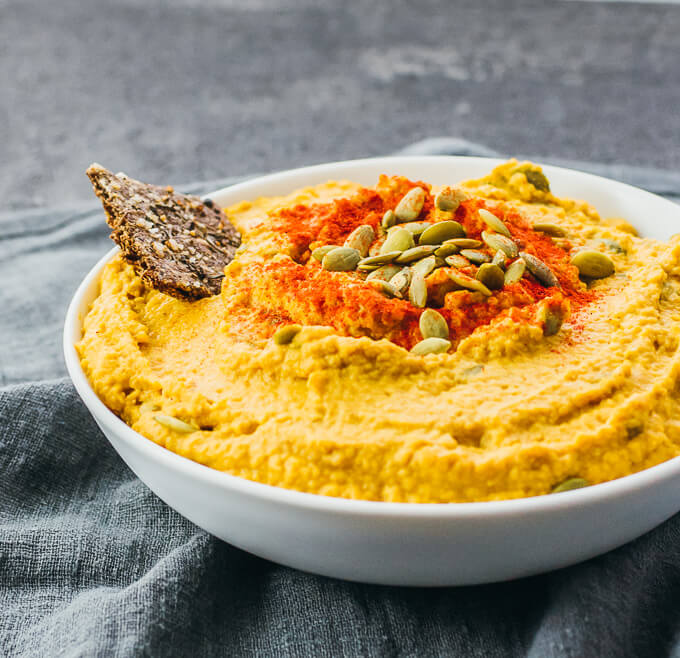 I love experimenting with new ways to jazz up my hummus routine. Given all the pumpkin mania that surrounds the months of October and November, I decided to use canned pumpkin puree for something other than pumpkin cheesecake bars, and made this savory pumpkin hummus dip.
There's no cooking involved, and all you need to do is blend everything in a food processor — canned chickpeas, pumpkin puree, tahini paste, olive oil, lemon juice, pumpkin seeds, and spices. The texture is smooth and creamy, easily scooped using crackers or other dipping vehicles, and is mainly savory with a slight sweetness coming from the pumpkin puree.
This hummus dip can be easily made ahead of time and is perfect for Thanksgiving or any fall parties. It's vegan, gluten free, and low in carbs — so it's accessible for most people.
How to make pumpkin hummus dip in the food processor: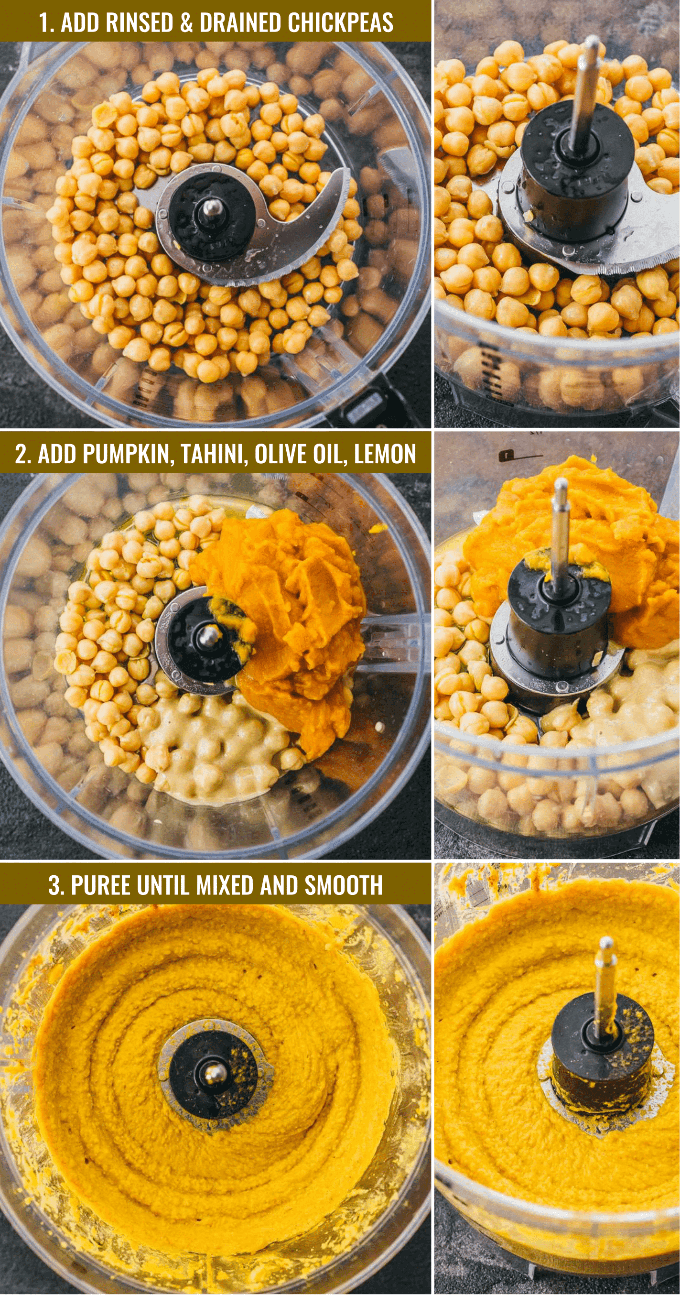 Most of the ingredients in this recipe are typical ingredients used in homemade hummus, including tahini (paste made from sesame seeds), chickpeas (also called garbanzo beans), olive oil, and lemon juice. To give it a pumpkin spin, I've added a substantial amount of canned pumpkin puree that's equal to the weight of chickpeas. This results in a strongly pumpkin flavored hummus with a fluffier and creamier texture and a nice orange hue.
If you're looking for a milder pumpkin flavor and a thicker hummus in general, start with only 1 cup of pumpkin puree, blend in the food processor, and add more pumpkin to taste if needed.
I've also added traditional "pumpkin pie" spices like ground cinnamon, cloves, and ginger. Other great additions include ground nutmeg, allspice, and paprika. You can make your own spice mix or buy pre-made ones to save time.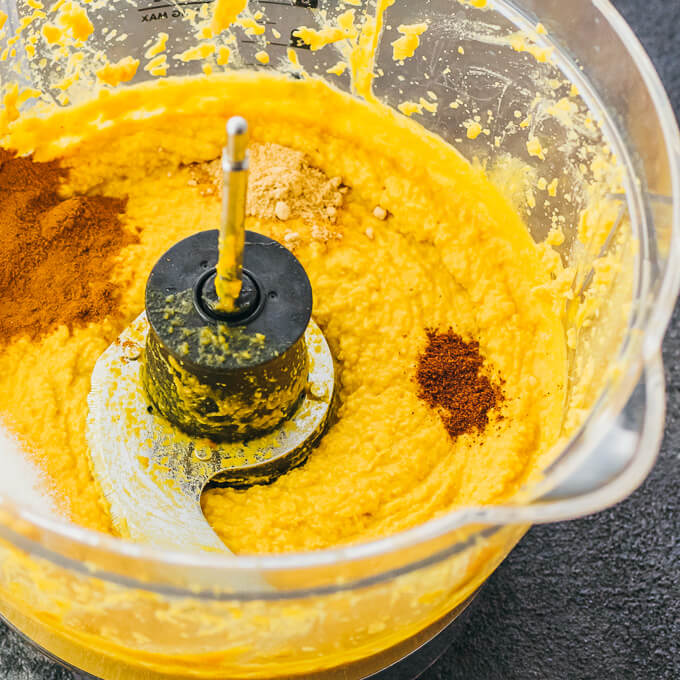 If you're wondering what to eat with pumpkin hummus, I suggest pairing with roasted vegetables like cauliflower, or dippers like baby carrots. Recently, I've started making ultra low carb flax seed crackers. They are very simple to make, crisp up nicely in the oven, and are the perfect vehicle for hummus.
To make flax seed crackers, you'll need 1 cup finely ground flax seed, 1/3 cup finely grated parmesan cheese, 1/2 teaspoon dried thyme, 1/2 teaspoon garlic powder, and 1/4 teaspoon salt. Mix those ingredients well, and then stir in 1/2 to 2/3 cup water until you get a rollable dough. Spread the dough into a large rectangle about 15 x 10 inches on a parchment paper lined baking sheet, flattening the dough as much as you can using a rolling pin. Brush the surface with 1 tablespoon of olive oil, and top with additional thyme, sea salt, and coarse black pepper. Bake at 400 F until the center is crispy, about 20 to 30 minutes. Let the crackers cool completely before you break them into pieces.