Summary:
One of my most popular low carb/keto casseroles, this easy zucchini lasagna with ground meat is a healthy alternative to your typical lasagna. This casserole is so good that you won't miss the noodles.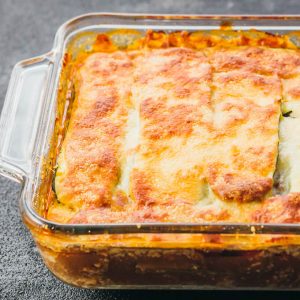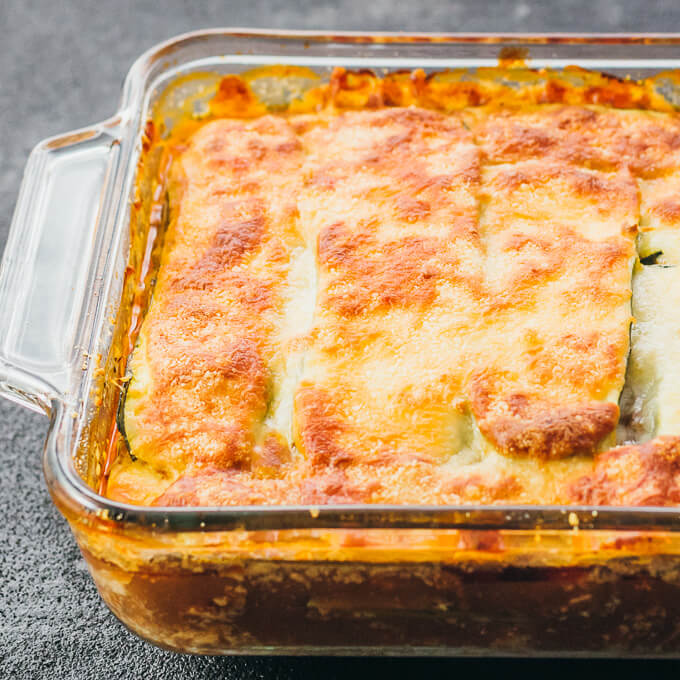 INGREDIENTS
20

oz wt.

zucchini

(about 2 large or 3 medium, peeling is unnecessary)

1

lb

extra lean ground beef

(95% lean is ideal, no less than 90% to avoid a greasy wet dish)

15

oz wt.

canned unsalted tomato sauce

(check the ingredients label to make sure no salt is listed)

1

cup

finely chopped onion

(about 1 small onion)

1 1/2

cups

(5 oz wt.) shredded mozzarella cheese

(I use low moisture part skim)

1/2

cup

(2.2 oz wt.) finely grated parmesan cheese

(should be powder-like, finer than sand)

1

tbsp

olive oil

1

tbsp

dried oregano

2

tsp

table salt

1/4

tsp

ground cayenne
INSTRUCTIONS
Making the meat sauce:
Heat a high-sided pan over medium heat until hot (I use a 10-inch wide nonstick pan with 3-inch high sides). Add olive oil to coat the bottom of the pan. Add onions and cook until softened, about 5 minutes, stirring occasionally.

Add ground beef to the pan. Cook until it's no longer pink, about 5 minutes, breaking it apart as it cooks.

Add tomato sauce, stirring it in. Bring to a simmer over medium-high heat, then gradually reduce the heat as needed to maintain a simmer. Simmer for about 10 minutes to thicken the sauce, stirring frequently. The resulting sauce should be thick, easily clinging to the meat and onions; this helps reduce excess moisture in the resulting lasagna.

Add oregano, salt, and cayenne. Stir for a minute until well-mixed. Turn off the heat.
Assembling and baking the lasagna:
Position an oven rack in the lower half of the oven, and preheat to 375 F. Set aside an 8x8 inch baking dish.

For each zucchini, slice off both ends and discard them. Stand the zucchini vertically on a stable flat end, and carefully slice along its length into 1/8 - 1/4 inch thick strips. Don't worry if the slices aren't perfect because it won't affect the deliciousness of the lasagna.

Arrange about one-third of the zucchini slices along the bottom of the baking dish so that they are slightly overlapping in a criss-cross pattern. Evenly spread about half of the meat sauce over the zucchini. Distribute about 1/2 cup of mozzarella cheese on top of the meat sauce.

Repeat with another zucchini layer, a meat sauce layer, and a cheese layer.

Top with remaining zucchini slices. Add another 1/2 cup mozzarella cheese and 1/2 cup parmesan cheese on top of the zucchini. Give the baking dish a quick shake so the cheeses spread out and settle into cracks.

Bake uncovered at 375 F until the lasagna is golden brown on top, about 45 minutes. Let it cool for at least 15 minutes to allow the lasagna to set and cease bubbling before slicing.
NUTRITION
Makes 4 Servings
Amount Per Serving (quarter of 8x8 casserole):
| | |
| --- | --- |
| Calories 430 |   |
| Total Fat 23g | 36% |
|    Saturated Fat 11g | 57% |
| Cholesterol 104mg | 35% |
| Sodium 1550mg | 65% |
| Net Carb 8g |   |
| Total Carb 12g | 4% |
|    Dietary Fiber 4g | 15% |
|    Sugars 7g |   |
| Protein 38g |   |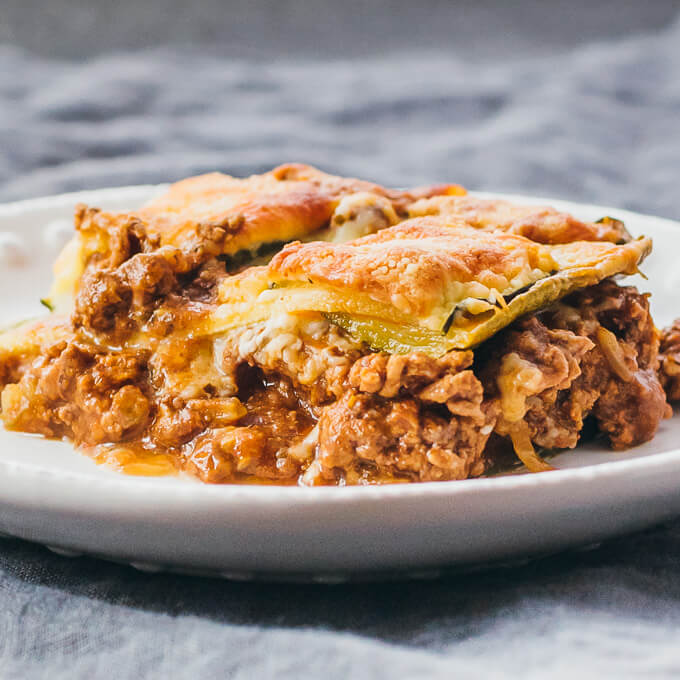 Zucchini Slices Instead Of Lasagna Noodles
This saucy zucchini lasagna is the perfect low carb solution to your Italian comfort food cravings. Wheat-based lasagna noodles are replaced by thin zucchini slices, and you won't even notice the pasta's gone. In fact, I like this version a lot better than traditional pasta-based lasagna. Most of the flavor is in the sauce itself, so taking away the lasagna noodles doesn't detract much.
You'll love the sauce; it's very savory and hearty, richly flavored with beef, onions, tomato sauce, oregano, and a pinch of cayenne. The sauce is roasted between layers of zucchini and mozzarella cheese, imparting delicious flavors to the other ingredients.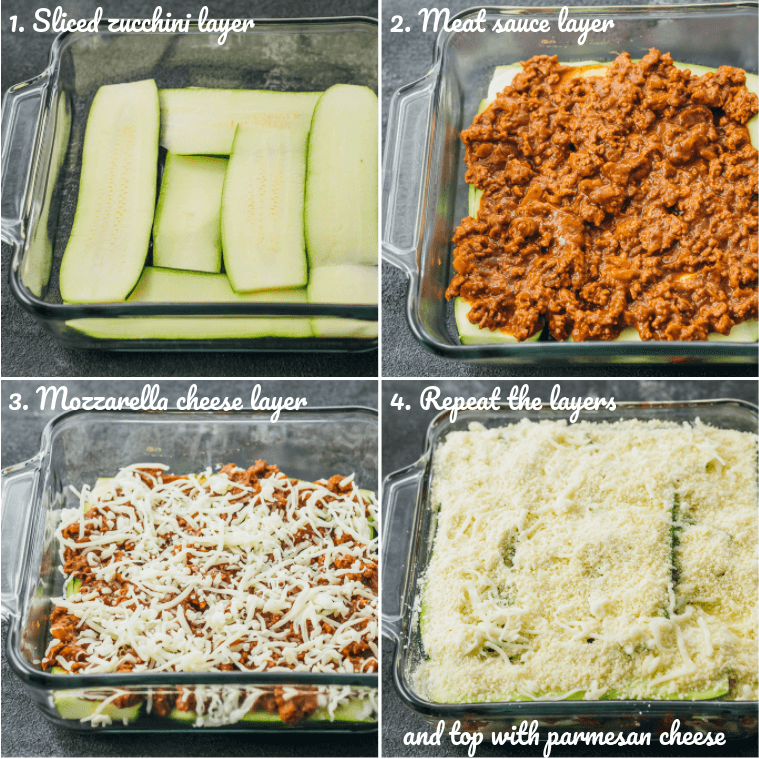 Liquid Control
Liquid control is key in any recipe that uses zucchini, which is a very wet vegetable that exudes a lot of liquid during cooking. To combat this so that you don't end up with a soggy lasagna, a common solution is to salt the zucchini prior to cooking to release some liquid, or grill the sliced zucchini. However, I wanted to keep this recipe as simple as possible. So instead of salting or pre-cooking the zucchini, I just make sure that my meat sauce is overly thick by simmering it long enough to evaporate much of its moisture. Then, as the zucchini bakes, its released liquid gets absorbed by the thick meat sauce, avoiding an overly watery lasagna.
To ensure that your meat sauce is thick, I recommend using tomato sauce. Avoid thinner tomato mixtures such as diced or crushed tomatoes. Some pasta sauces will work, but they vary quite a bit in consistency, so adjust the simmering time accordingly.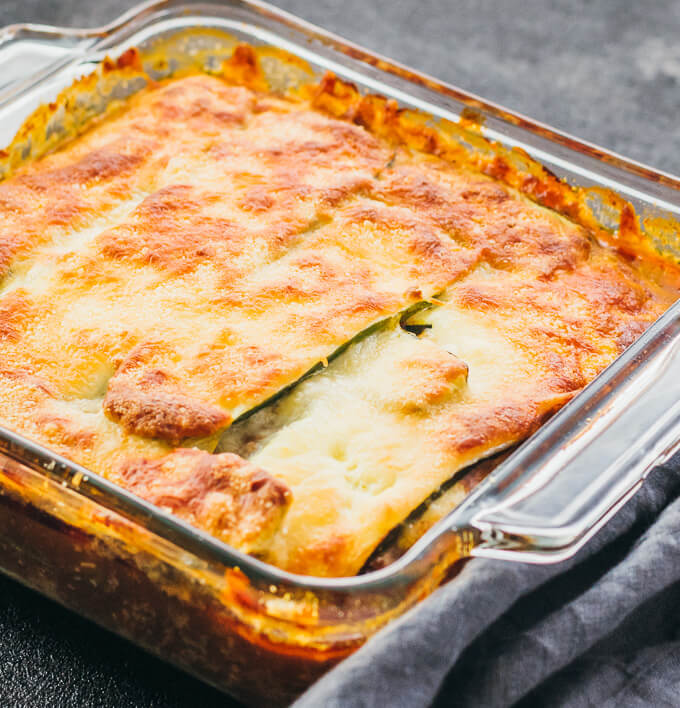 Serving & Leftovers
You can serve the zucchini lasagna with appetizers and side dishes like:
Casserole leftovers usually store and reheat well, and this zucchini lasagna is no exception. Cover and refrigerate leftover servings, and reheat in the microwave. I often find that flavors and textures improve after chilling overnight in the refrigerator.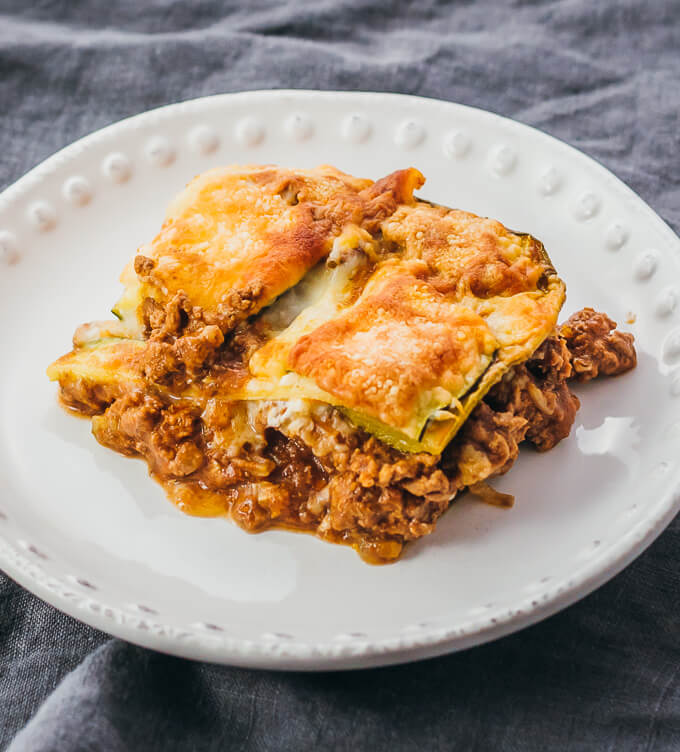 More Comforting Low Carb Casseroles