Summary:
An easy and delicious side dish recipe: roasted mushrooms with garlic, parmesan cheese, and balsamic vinegar. Low carb, keto, and gluten free.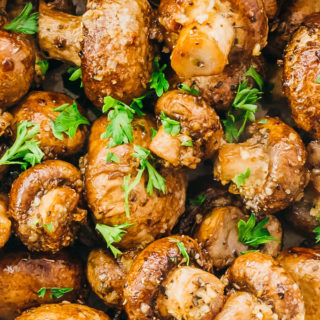 Awesome Garlic Roasted Mushrooms
INSTRUCTIONS
Preheat the oven to 400 F. Prepare a baking sheet lined with foil.

In a large mixing bowl, toss mushrooms, garlic, olive oil, oregano, salt, and pepper until well-mixed.

Spread them out in a single layer on the baking sheet.

Bake at 400 F for 15 minutes.

Drizzle balsamic vinegar on top of the mushrooms, and toss or flip the mushrooms. Evenly sprinkle parmesan cheese on top of them.

Bake for another 10 minutes, or until the mushrooms are tender and the balsamic vinegar looks "baked in." It's fine if some of the balsamic vinegar on the foil starts to blacken.

Top with chopped fresh parsley, and serve.
NUTRITION
Makes 3 Servings
Amount Per Serving:
| | |
| --- | --- |
| Calories 140 (67% from fat) | |
| Total Fat 10g | 15% |
| Saturated Fat 2g | 10% |
| Cholesterol 3mg | 1% |
| Sodium 810mg | 34% |
| Net Carb 8g | |
| Total Carb 8.5g | 3% |
| Dietary Fiber 0.5g | 1% |
| Sugars 1.5g | |
| Protein 1g | |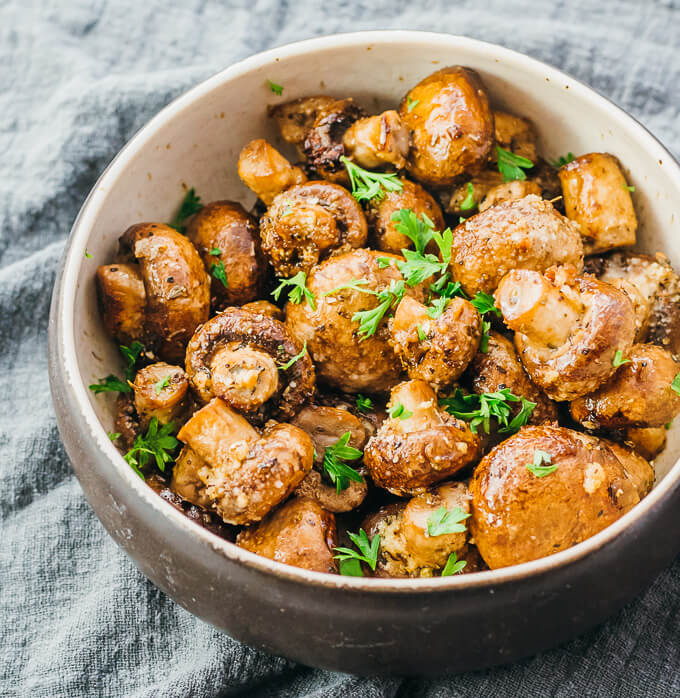 Recipe Overview
I'm a big fan of roasting vegetables, especially brussels sprouts, cauliflower, and mushrooms. Baking really brings out their fantastic flavors and textures.
These baked mushrooms have a rich savory taste, thanks to the oregano, parmesan cheese, and balsamic vinegar. The most prominent flavor, however, is the garlic. I use ten large cloves in this recipe, and sometimes more. Mr. Savory Tooth and I don't mess around when it comes to our garlic!
You can make this recipe as a sumptuous side dish for holidays like Thanksgiving and Christmas. If you're feeding a crowd and need to make this compliant with anyone who's vegan or paleo, just skip the parmesan cheese and you're good to go.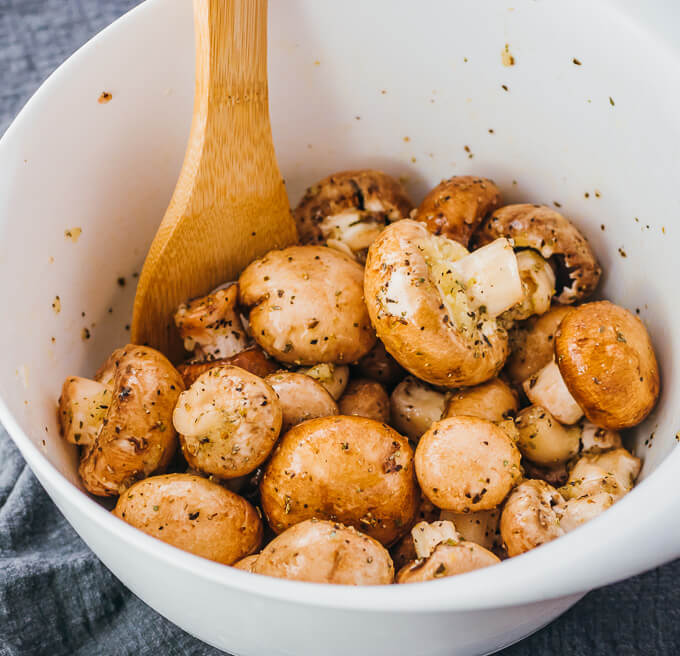 General Tips
If possible, select mushrooms that are evenly sized so they cook at the same rate. I tend to go for smaller mushrooms, so that there's more surface area for balsamic vinegar, parmesan cheese, garlic, and spices to adhere to.
Use a garlic mincer tool instead of manually mincing with a knife, since it'll be able to mince more finely than you can. This helps distribute the garlic flavor all over the mushrooms. I use a garlic press from Dreamfarm.
After drizzling the mushrooms with balsamic vinegar, monitor carefully as it bakes. The balsamic vinegar that touches the foil can quickly blacken, and you don't want it to start burning.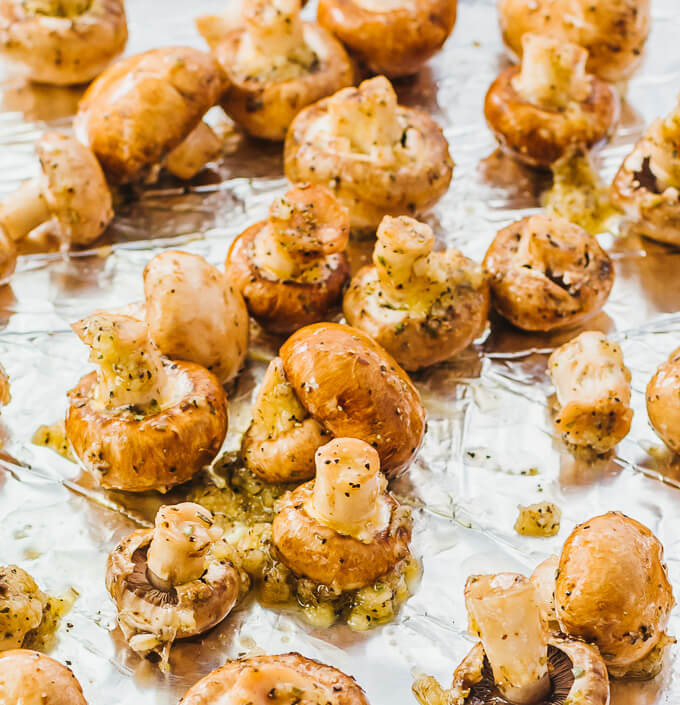 Flavor Tweaks
There are a lot of ways to customize these mushrooms to your taste buds.
For example, you can replace the oregano with other dried spices, like thyme, rosemary, or basil. If you want some spiciness, you can add a pinch of crushed red pepper.
For an added crunch, toss in some pine nuts or chopped almonds.
And it never hurts to add extra balsamic vinegar. The balsamic taste in these mushrooms isn't very strong, more on the milder side, so if you want a bolder flavor then add an extra tablespoon or two.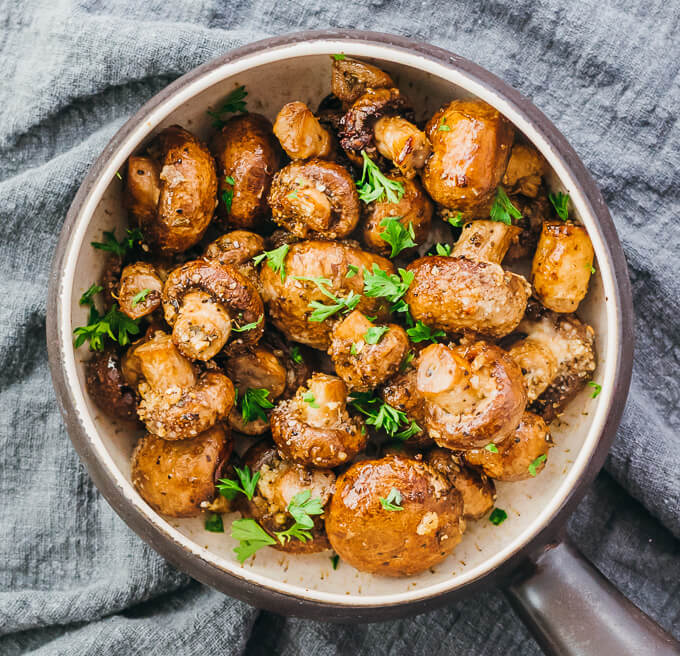 What To Serve With
Here are some meaty main dishes that would go well with these garlic mushrooms: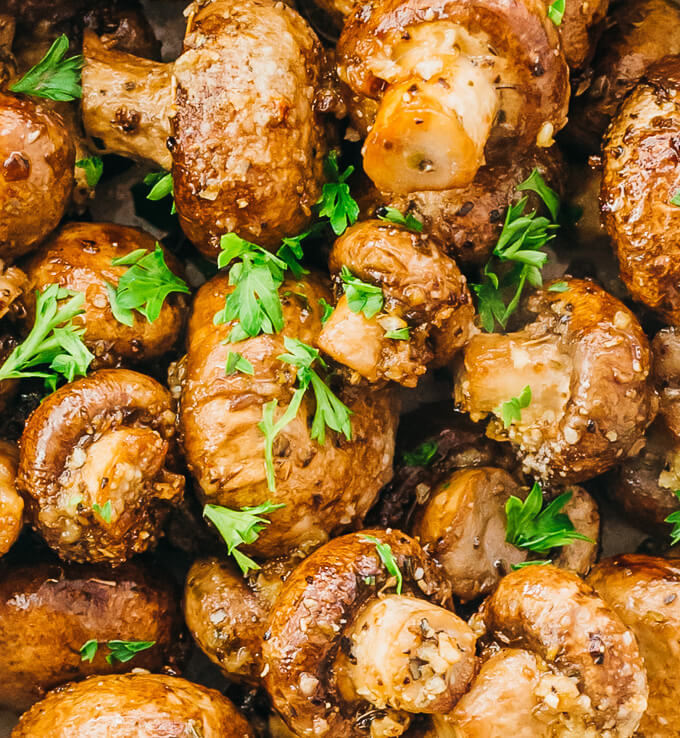 More Oven Baked Appetizers & Sides