Summary:
This keto-friendly cornbread with almond flour tastes just like the real thing, without carb-dense ingredients like wheat flour, sugar, and corn. Those of you who enjoy savory cornbread will love the fresh flavor imparted by the jalapeño, scallions, and cheddar cheese.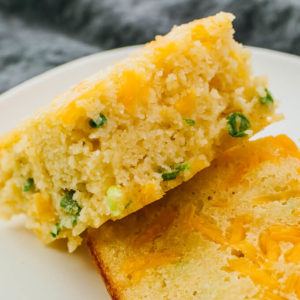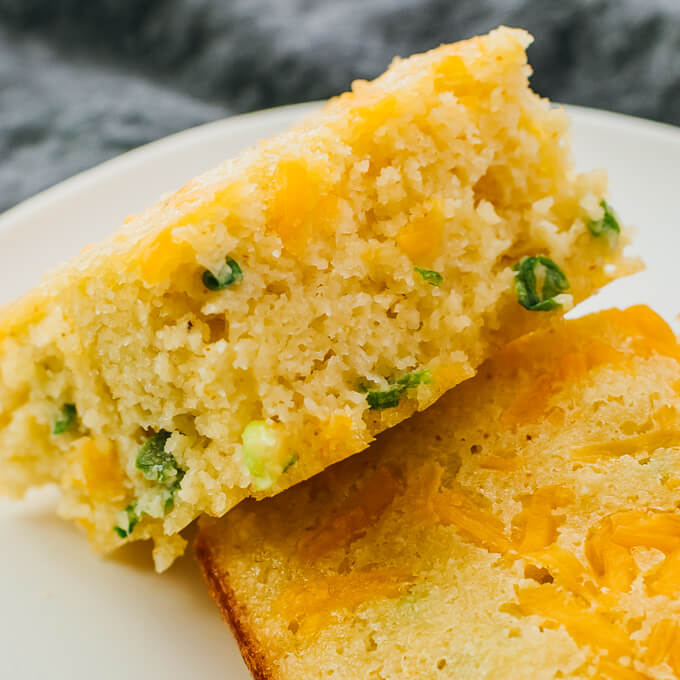 Savory Jalapeño Cornbread
INGREDIENTS
1 1/2

cups

almond flour (6 ounces weight)

1/3

cup

confectioners swerve sweetener (2 ounces weight) (for more sweetener info, see section below called "Recipe Tips")

5

tbsp

salted butter, melted, plus more for greasing the pan

4

large eggs

1/4

cup

cored, seeded, and diced jalapeño (about 1 jalapeño)

(since the membranes and seeds are removed, this does not add spiciness)

1/4

cup

thinly sliced scallions (about 2 scallions)

(also known as green onions)

1/4

cup

shredded cheddar cheese (1 ounce weight), divided

1

tsp

baking powder

1

tsp

vanilla extract

1/8

tsp

ground cayenne

(this amount subtly enhances other flavors without adding spiciness)
INSTRUCTIONS
Preheat the oven to 350 F. Prepare an 8×8 inch baking dish (I use a glass one), greasing its sides and lining its bottom with parchment paper (this helps the cornbread release easily, otherwise it will stick to the dish).

In a mixing bowl, add almond flour, sweetener, baking powder, and cayenne. Whisk until well-mixed.

In a separate mixing bowl, add melted butter, eggs, and vanilla extract. Use an electric mixer (I use a KitchenAid 5-speed hand mixer) to beat until well-mixed, about 30 seconds on low speed.

Add the dry flour mixture to the egg mixture. Beat until incorporated and smooth, about 30 seconds on low speed. The batter should be thick.

Use a rubber spatula to stir in jalapeños, scallions, and only half of the cheese until they're well-distributed in the batter.

Transfer the batter to the baking dish. Use the spatula to spread the batter to the edges and corners, and smooth the surface. Sprinkle remaining cheese over the batter.

Bake until an inserted toothpick comes out clean or with a few crumbs, about 25 minutes.

Let the cornbread cool in the baking dish for about 10 minutes, then slide a knife around the edges to release it. Cut into 9 squares and serve while warm. It goes great with chili, pulled pork, and ribs.

Leftovers/Make-Ahead Option: Store in a covered container in the refrigerator for up to a few days. Reheat uncovered in a 350 F oven for 10-15 minutes or until heated through.
NUTRITION
Makes 9 Servings
Amount Per Serving (2.7×2.7-inch):
| | |
| --- | --- |
| Calories 220 | |
| Total Fat 19g | 30% |
| Saturated Fat 6g | 29% |
| Cholesterol 103mg | 34% |
| Sodium 100mg | 4% |
| Net Carb 2g | |
| Total Carb 4g | 1% |
| Dietary Fiber 2g | 9% |
| Sugars 1g | |
| Protein 8g | |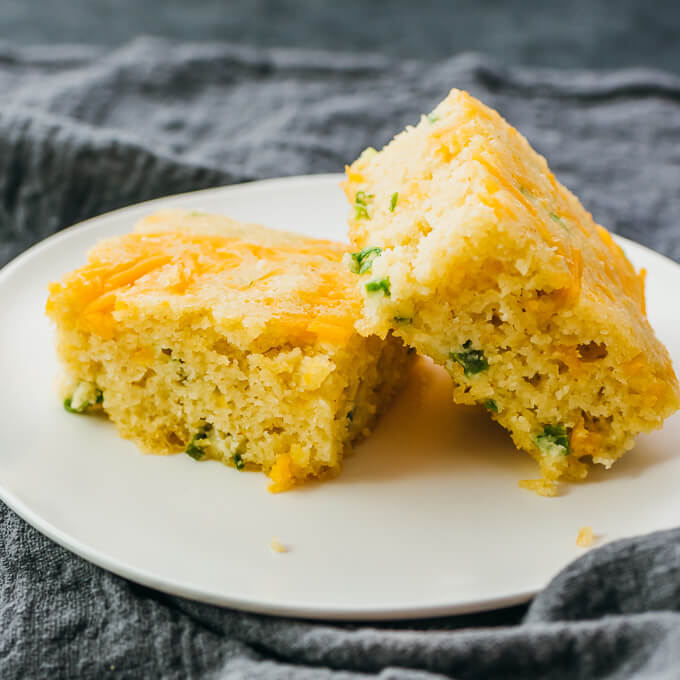 What Makes This Recipe Different
Low Carb & Gluten Free. This recipe was designed for keto diets, and has only 2g net carbs per serving. No wheat flour, corn meal, or corn extract is used, but the end result looks and tastes just like real cornbread. Still skeptical? Check out my original Keto Cornbread post to read reviews from other readers.
Fresh & Flavorful. In my tests, the fresh savoriness in this cornbread is easily overwhelmed by spicy and sweet flavors. So I add minimal amounts of both cayenne and sweetener, just enough to subtly enhance the existing flavors. You won't actually taste any obvious spicy or sweet flavors in this cornbread.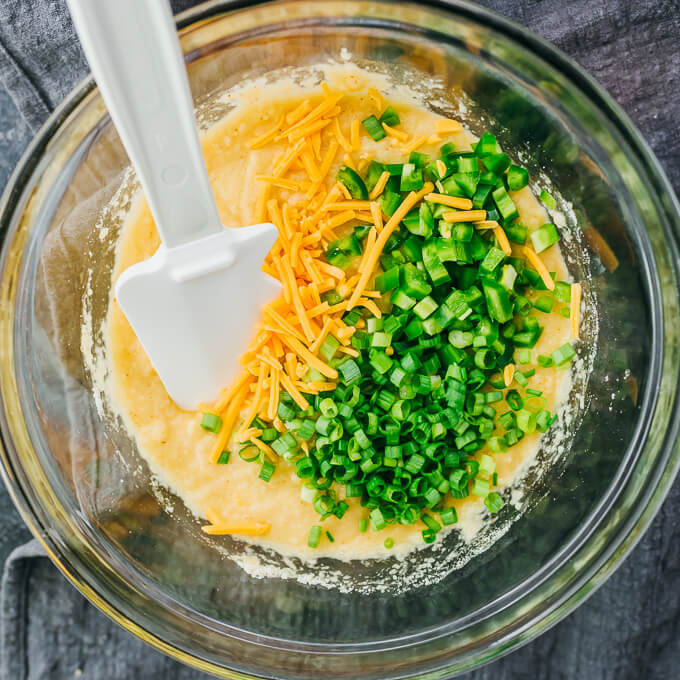 Recipe Tips
If this is your first time making this recipe, here are some things to be aware of:
For best results, use the weight values (not volume) when measuring out the almond flour and sweetener. These ingredients can vary a lot depending on how you pack it into a measuring cup, which can affect the batter's consistency. Weight is provided in oz in the recipe.
The batter should be quite thick after mixing the dry and wet ingredients together (see above photos). Don't add extra eggs or butter in an attempt to thin it out. During baking, the batter will spread out and rise.
I use confectioners (powdered) swerve, which measures the same as sugar. If you use a different type of sweetener, you can use the amount listed in the recipe if your sweetener also measures the same as powdered sugar. Otherwise, you'll have to calculate the converted amount. Your sweetener's packaging should indicate how its sweetness compares to sugar. Note that swerve does not measure the same as pure erythritol, which is only about 70% as sweet.
Erythritol-based sweeteners are non-impact; their carbs are sugar alcohols which are not digested by the body. In my nutrition estimate below, I've omitted these sugar alcohols from the total carbs listed.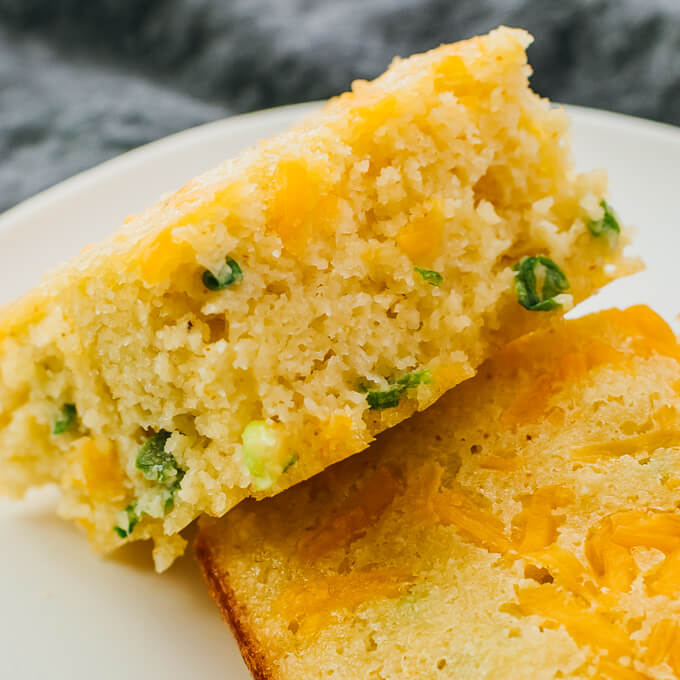 More Low Carb Almond Flour Recipes