Summary:
Whether you're looking to repurpose turkey leftovers or just want to enjoy turkey in casserole form, this cozy Turkey Mushroom Bake with creamy sauce is a fantastic keto-friendly and gluten-free dinner — no noodles needed.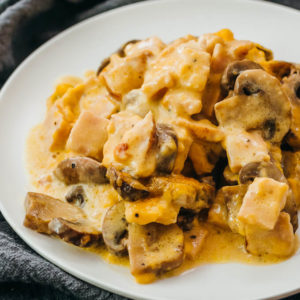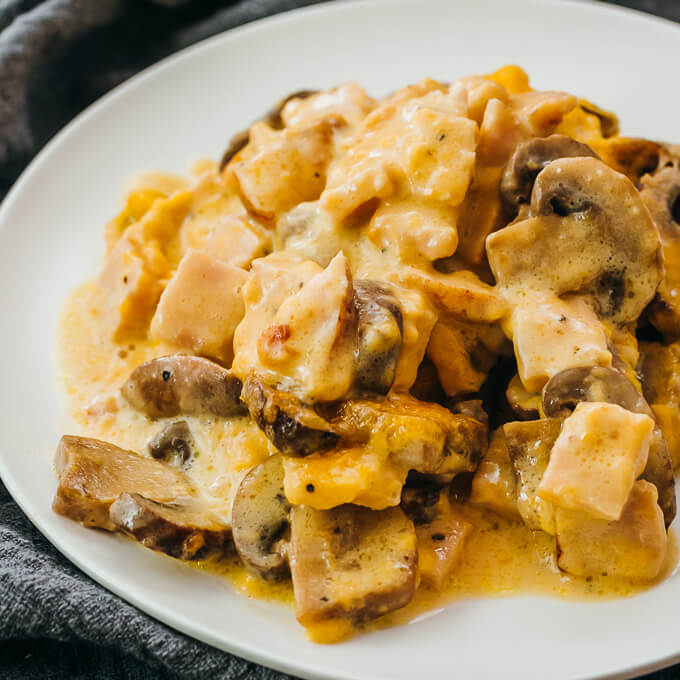 INGREDIENTS
Creamy Sauce:
1/2

cup

heavy whipping cream

1/4

cup

finely grated parmesan cheese

1

tablespoon

dijon mustard

1/2

teaspoon

ground black pepper

1/4

teaspoon

table salt
INSTRUCTIONS
Prepare: Preheat oven to 375 F. Set aside 8×8 inch baking dish or any high-sided 2-quart baking dish; no need to grease.

Cook Mushrooms: Add mushrooms to large microwave-safe bowl. Cover and microwave until tender and significantly shrunken in appearance, about 5 minutes. Their volume should be reduced to about 2 cups. Drain in colander and let stand to steam out while preparing sauce in next step.

Make Sauce: Add all sauce ingredients to small saucepan. Stir together over medium heat to combine. Bring to simmer, then turn off heat.

Assemble Casserole: Add turkey, mushrooms, and half of cheddar cheese to baking dish. Pour sauce on top, using rubber spatula to scrape down saucepan. Carefully stir everything directly in baking dish until well-mixed. Top with remaining cheddar cheese, and even out surface. Sprinkle parmesan cheese on top.

Bake Casserole: Bake at 375 F until heated through and starting to brown on top, about 30 minutes. Cool for about 10 minutes to set. Serve (Note 4), including any sauce collected along bottom of baking dish.
NUTRITION
Makes 4 Servings
Amount Per Serving:
| | |
| --- | --- |
| Calories 450 (56% from fat) |   |
| Total Fat 28g | 43% |
|    Saturated Fat 17g | 85% |
| Cholesterol 157mg | 52% |
| Sodium 660mg | 27% |
| Net Carb 4g |   |
| Total Carb 4g | 1% |
|    Dietary Fiber 0g | 0% |
|    Sugars 1g |   |
| Protein 41g |   |
PHOTOS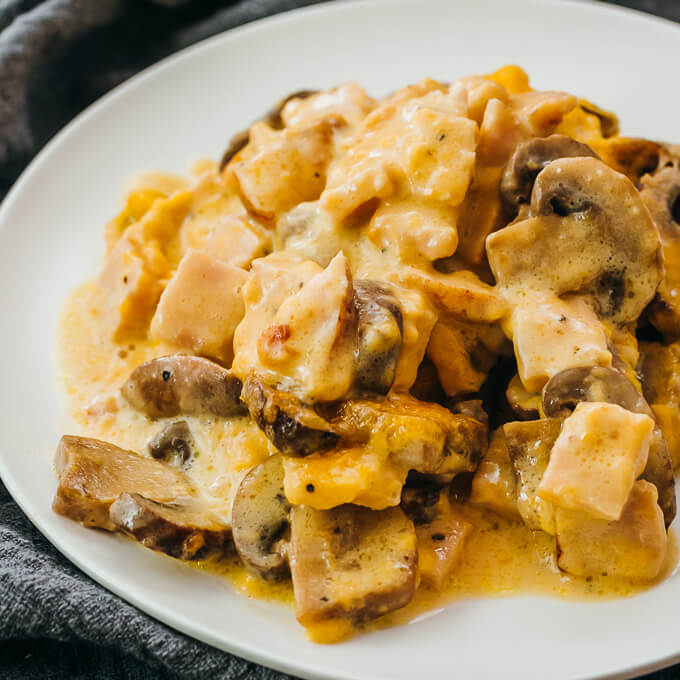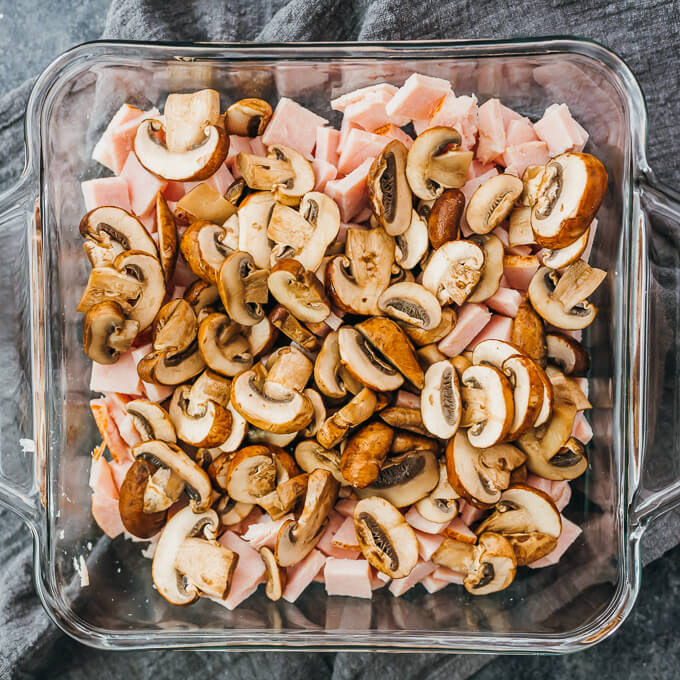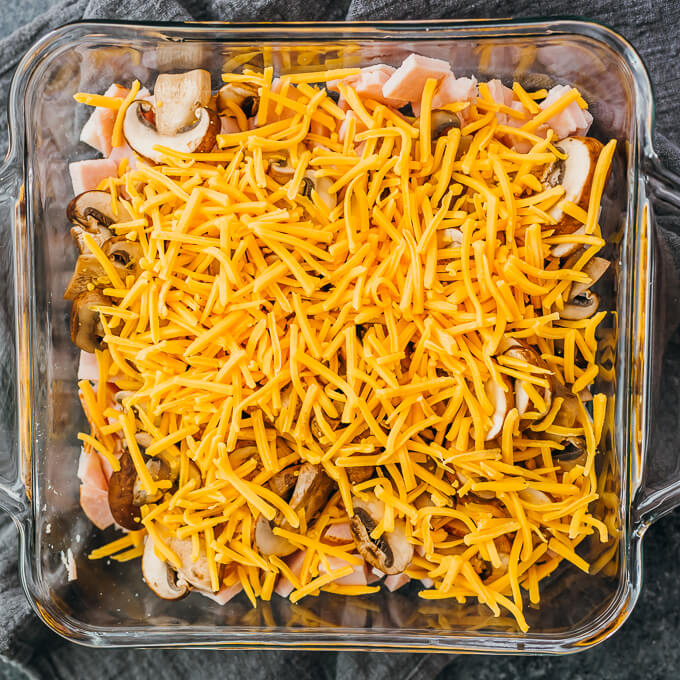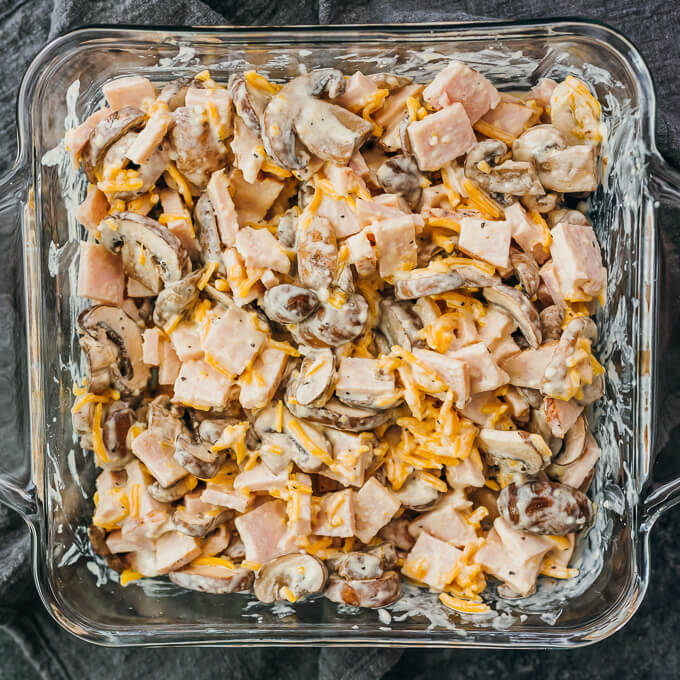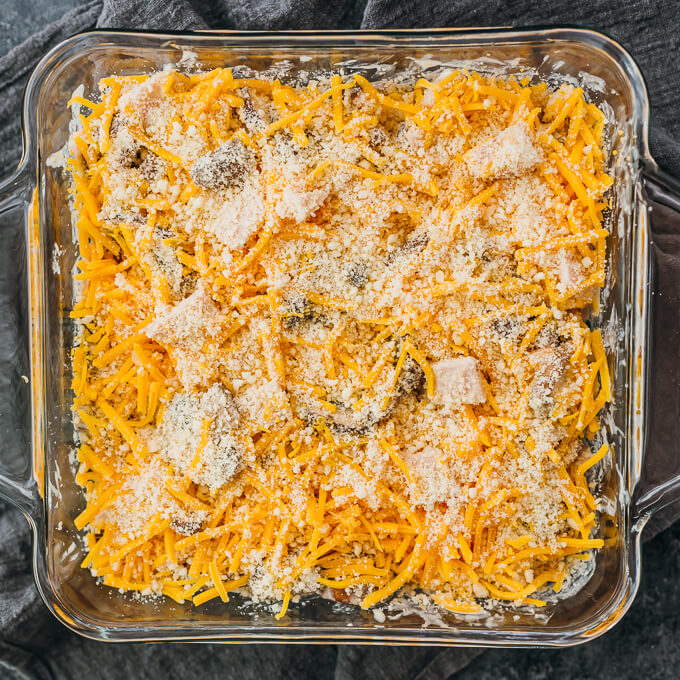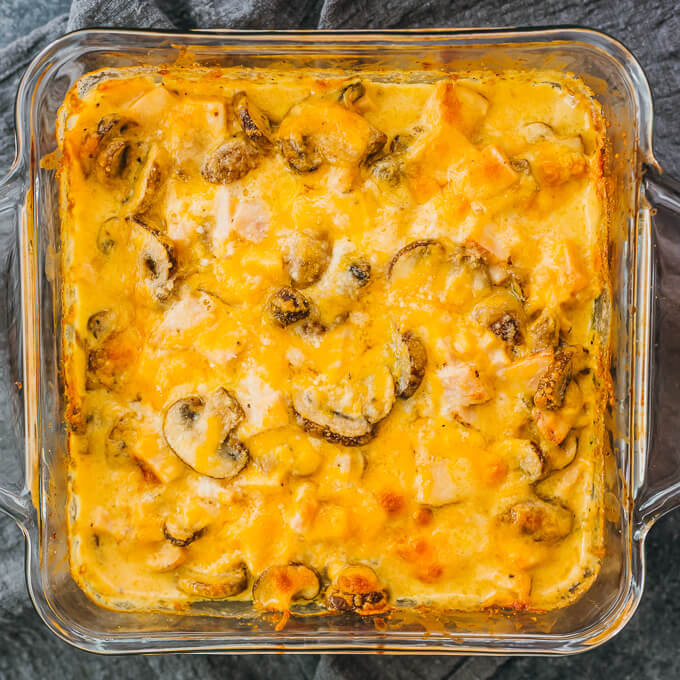 NOTES & TIPS
(1) Turkey. About 3/4 pound. If moist, pat dry with paper towels before adding to the casserole. This can be substituted with other cooked chopped meats.
(2) Mushrooms. 5 cups raw sliced mushrooms is about 3/4 pound, and equivalent to 2 cups of cooked sliced mushrooms. You can swap for another vegetable if desired (e.g., broccoli); cut into bite-sized pieces, and if uncooked, microwave until tender before adding to the casserole. This can be a great way to use up leftover vegetables in your refrigerator.
(3) Cheddar Cheese. About 6 ounces weight; I use a 6-ounce bag of pre-shredded cheese. I like the bright yellow color that cheddar brings to this casserole, but you can substitute with any kind of shredded soft cheese that melts easily, like shredded mozzarella, pepper jack, or provolone.
(4) Serving / Leftovers. Serve this creamy casserole for lunch or dinner, alongside a bright Mediterranean salad. Cover and store leftovers in the refrigerator for up to a few days. Reheat in a 350 F oven for 15 minutes or until warmed through.