Summary:
Crisp and flavorful, this breakfast hash featuring corned beef, diced vegetables, and fried eggs comes together quickly in a single skillet.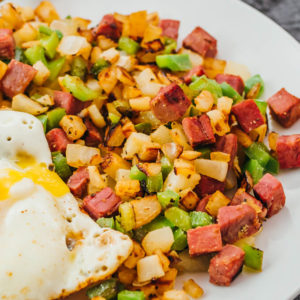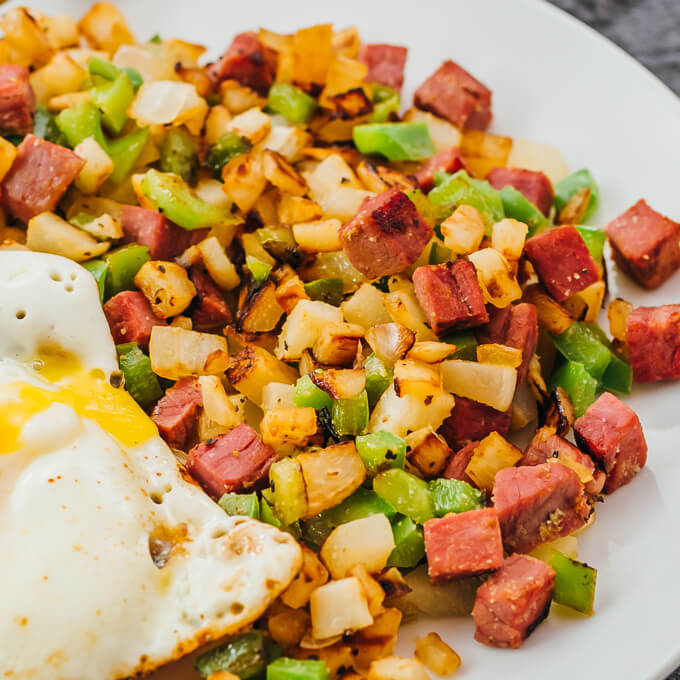 INGREDIENTS
1/2

pound

cooked corned beef, patted dry and chopped (Note 1)

2.5

cups

diced turnip (Note 2)

1

cup

diced green bell pepper (Note 3)

1/2

cup

diced onion (Note 4)

3

large eggs

2

tablespoons

+ 1 teaspoon olive oil

1

teaspoon

garlic powder

1/4

teaspoon

table salt

1/4

teaspoon

ground black pepper
INSTRUCTIONS
Cook Hash: Add 2 tablespoons olive oil and diced turnip to 12-inch skillet (Note 5) over medium-high heat. Stirring occasionally, cook until tender and golden-brown in some spots, 5 to 10 minutes. Stir in corned beef, bell pepper, onion, garlic powder, salt, and black pepper until well-mixed, 1 to 2 minutes.

Crisp It Up: Optionally, for crisper finish, spread hash over whole surface of skillet and use spatula to gently press down into even layer. Cook 2 to 5 minutes until bottom is crisp, depending on how browned you prefer. Turn off heat.

Serve Hash: Use large spatula to scrape up portion of hash and overturn onto serving plates, repeating until completely served.

Cook Eggs: Drizzle 1 teaspoon olive oil over now-empty skillet. Crack eggs over skillet, and cover with lid. Cook on medium heat until whites are cooked but yolks are still liquid (or to your preference), a few minutes. Top hash with fried eggs, and serve (Note 6).
NUTRITION
Makes 3 Servings
Amount Per Serving:
| | |
| --- | --- |
| Calories 350 (72% from fat) |   |
| Total Fat 28g | 43% |
|    Saturated Fat 7g | 33% |
| Cholesterol 227mg | 76% |
| Sodium 1210mg | 50% |
| Net Carb 6.5g |   |
| Total Carb 8.5g | 3% |
|    Dietary Fiber 2g | 8% |
|    Sugars 4g |   |
| Protein 19g |   |
PHOTOS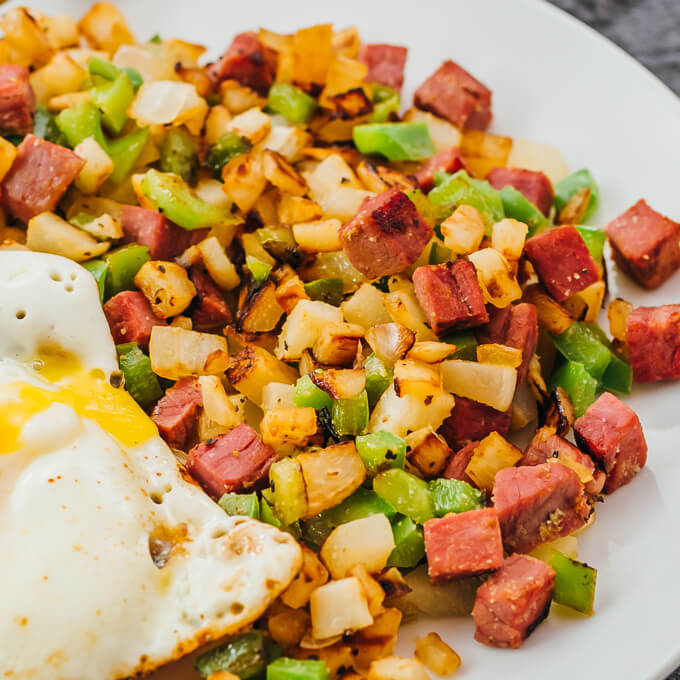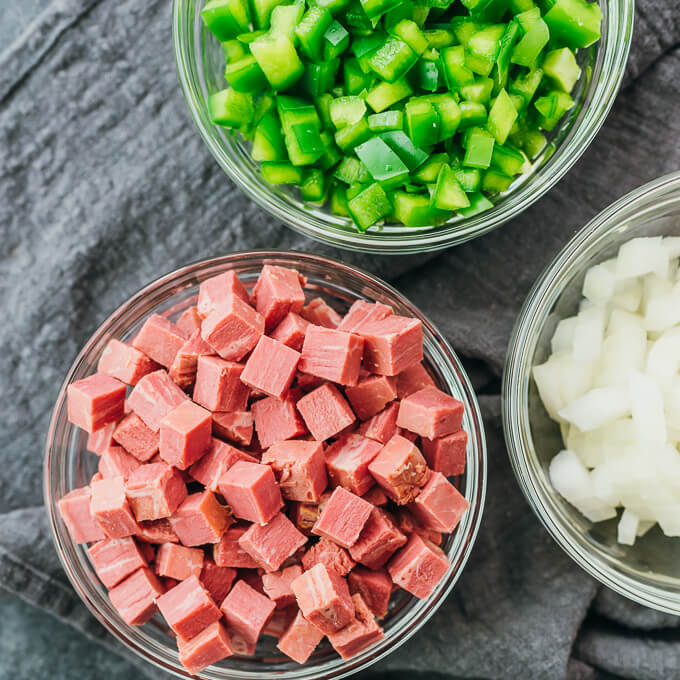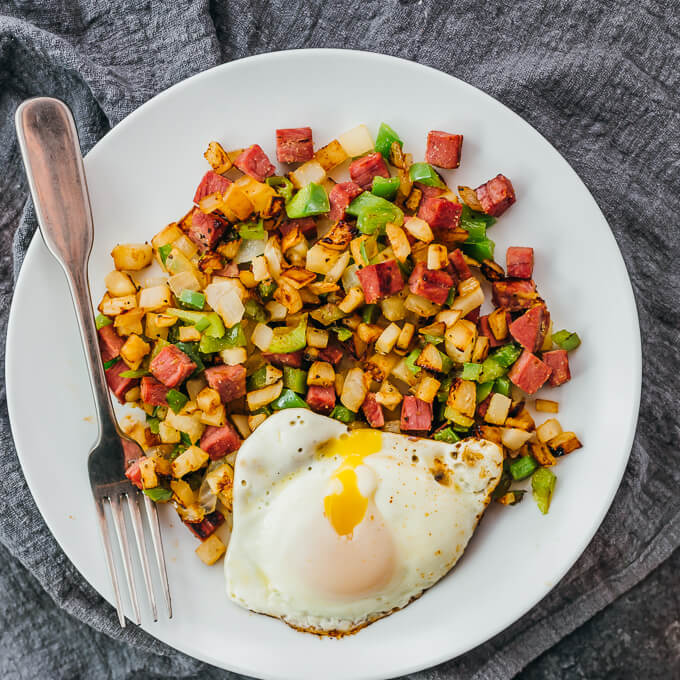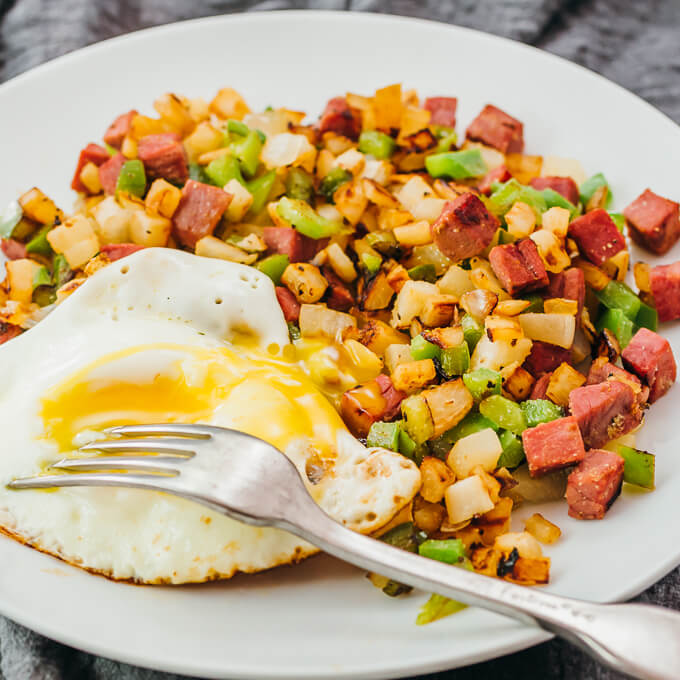 NOTES & TIPS
(1) Corned Beef. If you can't find cooked corned beef, you can cook from raw (see Instant Pot Corned Beef) or substitute with other cooked meats like ham, sausage, or roast beef. Whatever meat you use, pat dry using paper towels so that it browns easily on a skillet.
(2) Turnip. 2.5 cups diced is about 1 large purple-top turnip, peeled. A hash typically uses potatoes; in this recipe, turnips are used for their significantly lower carb count, since fried diced turnips have a similar texture to potatoes.
(3) Bell Pepper. 1 cup diced is about 1 large green pepper.
(4) Onion. 1/2 cup diced is about 1/4 medium yellow onion.
(5) Skillet. I use a 12-inch nonstick skillet, with fitting lid for cooking eggs in Step 4. Avoid smaller skillets because the ingredients may not all fit.
(6) Serving. Serve cooked hash while hot, with additional toppings as desired, like sliced avocado, shredded cheese, or salsa. While hash is commonly enjoyed as a breakfast or brunch dish, it may also be served for lunch or dinner.