Summary:
This straightforward recipe makes quick and easy blueberry muffins. All ingredients are mixed in a single bowl by hand, then the batter is transferred to greased muffin liners for baking. Whether you use almond flour or coconut flour, these muffins are great for low carb diets with only 3.5 grams of net carbs per muffin.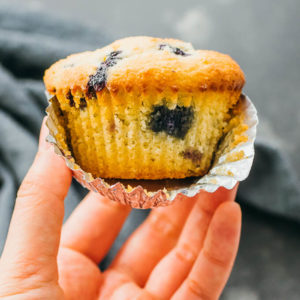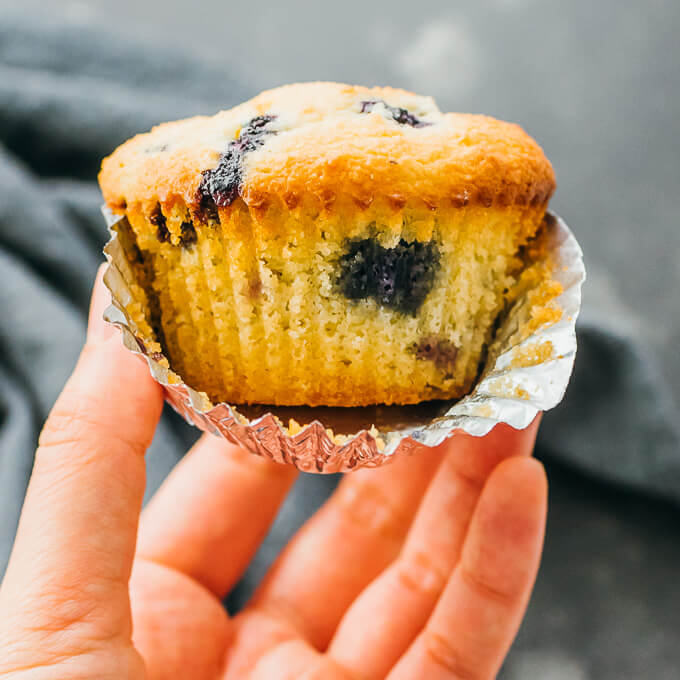 INGREDIENTS
INSTRUCTIONS
Prepare: Position oven rack in center of oven, and preheat to 350 F. Set aside muffin tin fitted with 4 greased liners (Note 4).

Make Batter: Whisk together dry ingredients (almond flour, sweetener, baking powder, and salt) in bowl until well-mixed. Stir in heavy whipping cream and beaten egg until well-mixed. Batter should be thick, but should fall off mixing spoon when lifted up (Note 5). If too thick, stir in another tablespoon of heavy whipping cream. Gently fold in blueberries until well-distributed in batter.

Bake Muffins: Divide batter among 4 greased muffin liners, filling each one to the top. Smooth surface with spatula. Bake at 350 F until tops are golden brown, 20 to 25 minutes. Toothpick inserted in center should come out clean or with few dry crumbs. Cool before serving (Note 6).
NUTRITION
Makes 4 Servings (Note 7)
Amount Per Serving (1 muffin):
| | |
| --- | --- |
| Calories 260 (80% from fat) |   |
| Total Fat 23g | 35% |
|    Saturated Fat 6g | 28% |
| Cholesterol 68mg | 23% |
| Sodium 370mg | 15% |
| Net Carb 3.5g |   |
| Total Carb 7g (Note 8) | 2% |
|    Dietary Fiber 3.5g | 13% |
|    Sugars 2.5g |   |
| Protein 8g |   |
PHOTOS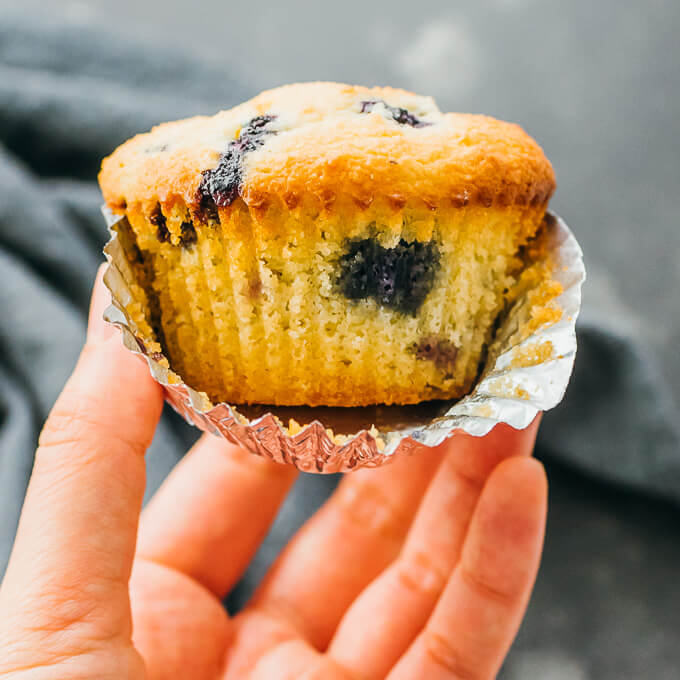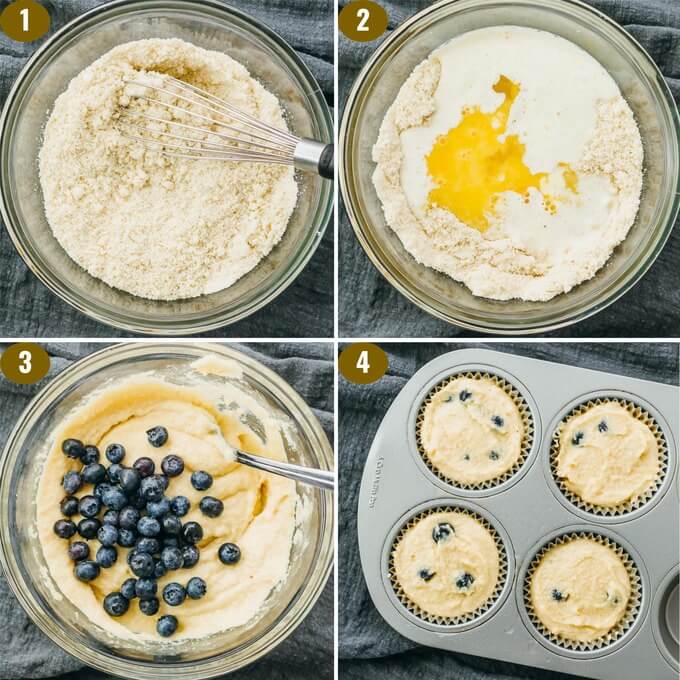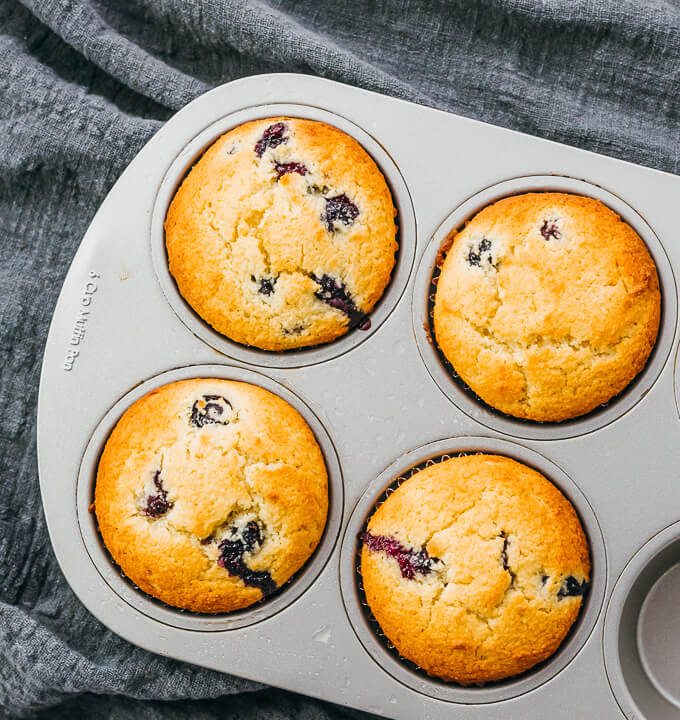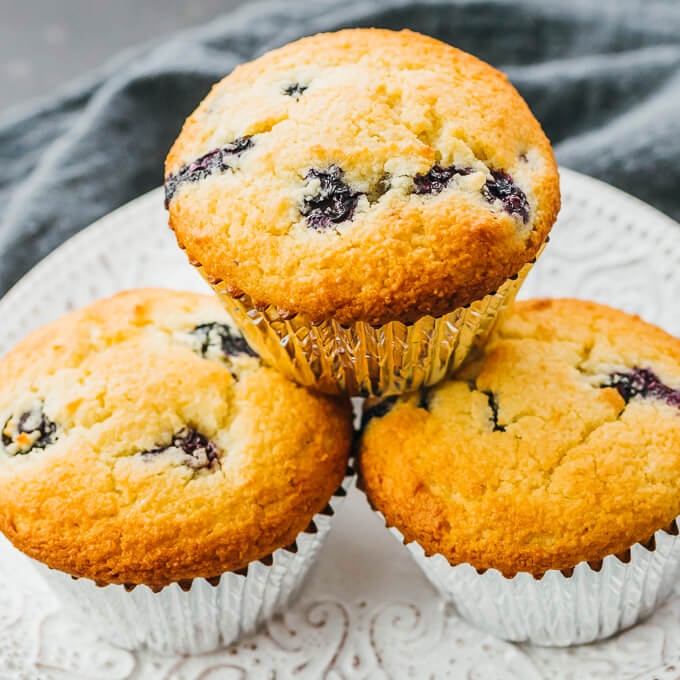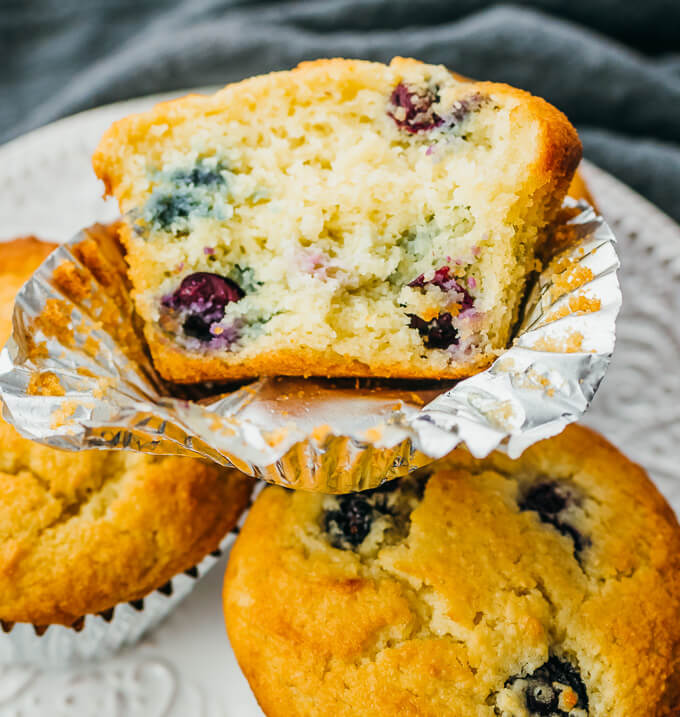 NOTES & TIPS
(1) Almond Flour. About 4 ounces weight. I use almond flour that is blanched, which means the skins are taken off of the almonds, so the resulting flour looks white. A decent substitute is coconut flour: use 1/4 cup coconut flour instead of almond flour, and add an extra egg. Personally, I much prefer the almond flour version — better taste and texture, without a coconut flavor.
(2) Blueberries. About 1.5 ounces weight. I use fresh berries, and some readers have also reported success with frozen berries. When selecting blueberries, pick smaller ones to use in these muffins so that they're more evenly distributed in the batter. That way, you'll get more frequent bites with blueberries in them. Save the larger ones for snacking or for making low carb blueberry jam.
(3) Sweetener. About 1 ounce weight. Swerve is a dry sweetener that measures the same as regular sugar; it's not the same as pure erythritol, which is about 70% as sweet. I've provided volume measurements for both granulated and confectioners (powdered) since they pack differently into a measuring cup. You can substitute with your favorite dry sweetener; I don't recommend liquid sweeteners since that alters the ratio of wet-to-dry ingredients. To calculate the amount to use, check your sweetener's packaging to determine how it compares to regular sugar.
(4) Muffin Tin & Liners. Use a standard muffin tin that can hold at least 4 muffins. Mine makes muffins that are 3 inches in diameter when measuring at the top. I use foil liners (by Reynolds) since they're easier to release from the muffins than paper ones. To grease the liners, you can use a nonstick cooking spray or grease with any kind of fat like oil or butter. To spread it across the bottom and sides of the liners, a pastry brush is useful.
(5) Batter. The batter should be thick enough so that the blueberries don't sink to the bottom of the muffins, but it shouldn't be too thick such that you have a hard time scooping it up and filling the muffin liners. When stirring and lifting up the batter using a mixing spoon or spatula, the batter should have no problem falling off. If it's too thick, add a tablespoon of heavy cream at a time. If too thin, add just enough almond flour until it has the right consistency.
(6) Serving. These muffins are best when served at room temperature or chilled. I don't recommend serving them hot or warm because they will be too soft and fluffy. Enjoy them as a snack, or as breakfast alongside almond flour pancakes and poppy seed scones. If you have leftovers, let the blueberry muffins cool completely before covering and storing in the refrigerator for up to 2 days.
(7) Increasing Yield. To increase the number of servings, you can double or triple the ingredients proportionally. You will need more muffin liners and possibly a larger muffin tin. Since the baking time may need to be adjusted, follow the visual and toothpick tests for doneness given in the instructions.
(8) Carbs. The nutrition calculation assumes you are using Swerve or a similar erythritol-based sweetener that uses sugar alcohols, whose carbs are non-impact and therefore not included in the nutrition estimate. Apps that count sugar alcohols will show a higher number of carbs.