Summary:
Enjoy these savory cheese biscuits for breakfast, lunch, or as a snack. Made with almond flour and only 2.5g net carbs, they're a great low carb and gluten free alternative to traditional biscuits.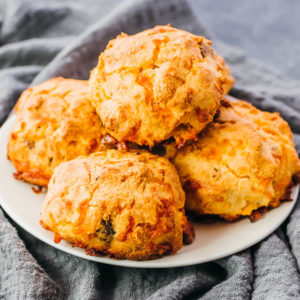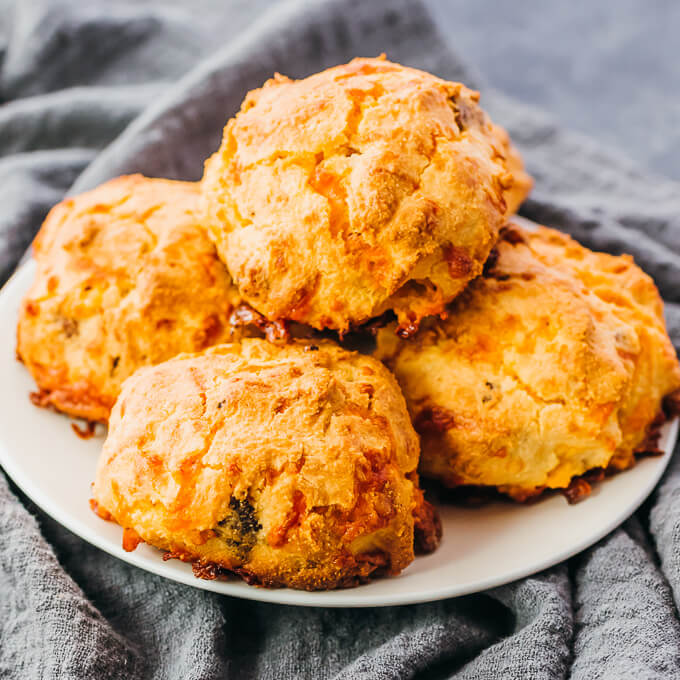 INGREDIENTS
2

cups

almond flour (Note 1)

1.5

cups

shredded cheddar cheese (Note 2)

5

slices

bacon, cooked and crumbled (Note 3)

2

large eggs

1/2

cup

heavy whipping cream

2

tablespoons

butter, diced

1

teaspoon

table salt
INSTRUCTIONS
Make Dough: Stir almond flour and salt in large mixing bowl until well-mixed. Add cheese, eggs, cream, and butter to bowl, stirring for a minute until well-mixed. Stir in crumbled bacon.
NUTRITION
Makes 8 Servings
Amount Per Serving (1 biscuit):
| | |
| --- | --- |
| Calories 350 (80% from fat) |   |
| Total Fat 31g | 48% |
|    Saturated Fat 10g | 51% |
| Cholesterol 93mg | 31% |
| Sodium 520mg | 22% |
| Net Carb 2.5g |   |
| Total Carb 5.5g | 2% |
|    Dietary Fiber 3g | 12% |
|    Sugars 1.5g |   |
| Protein 14g |   |
PHOTOS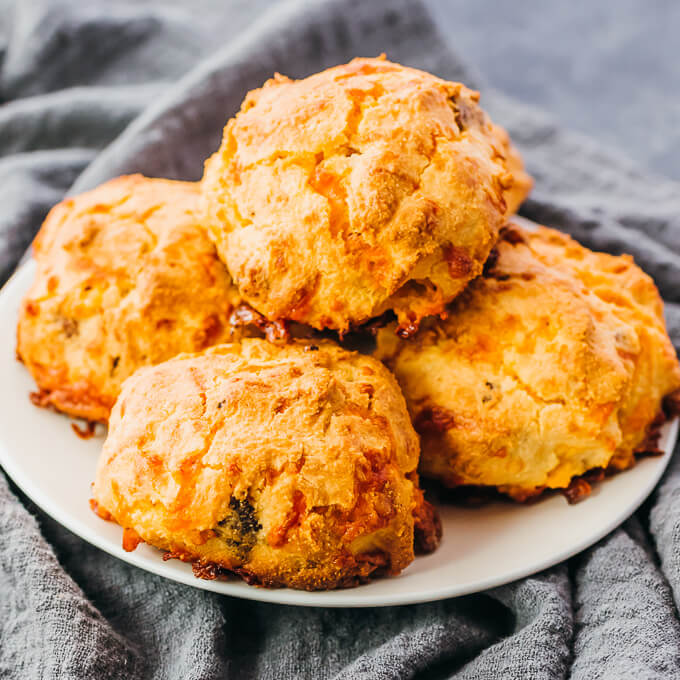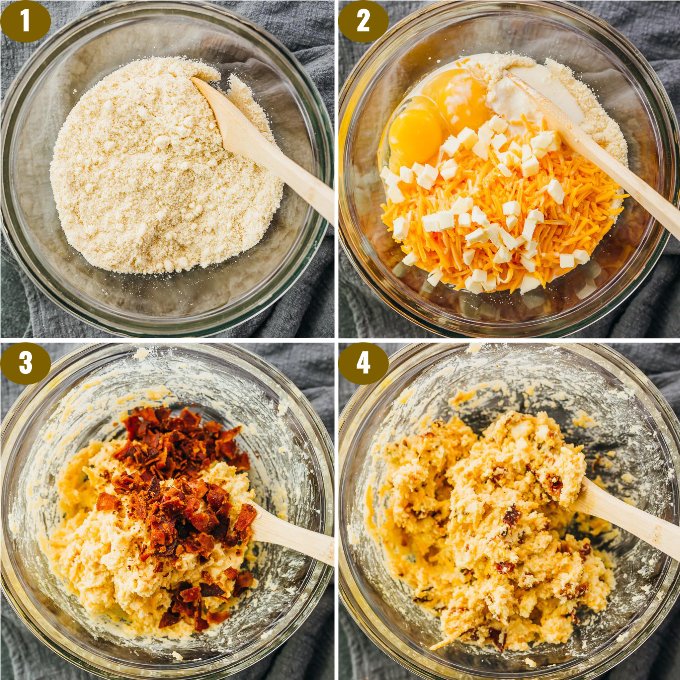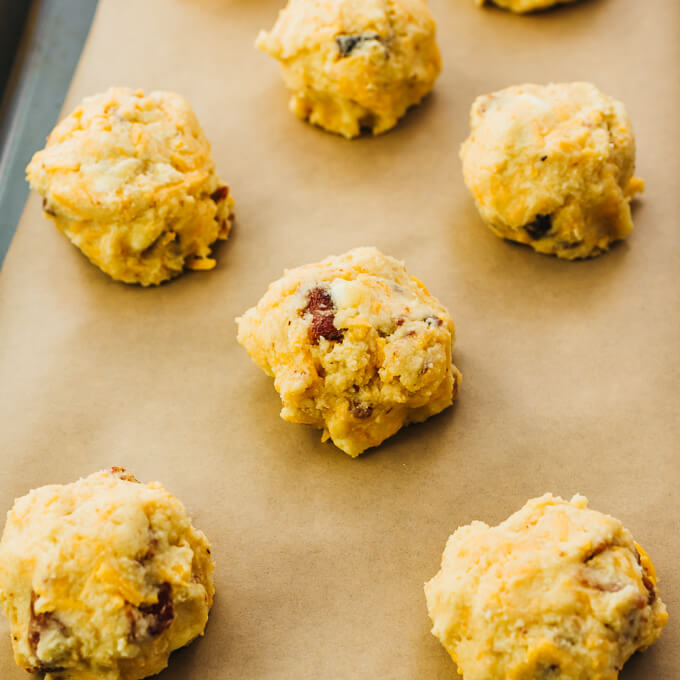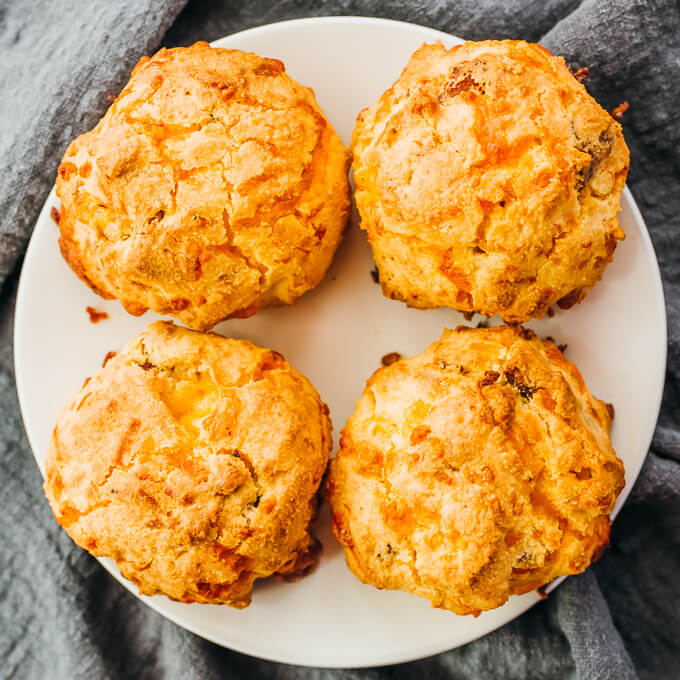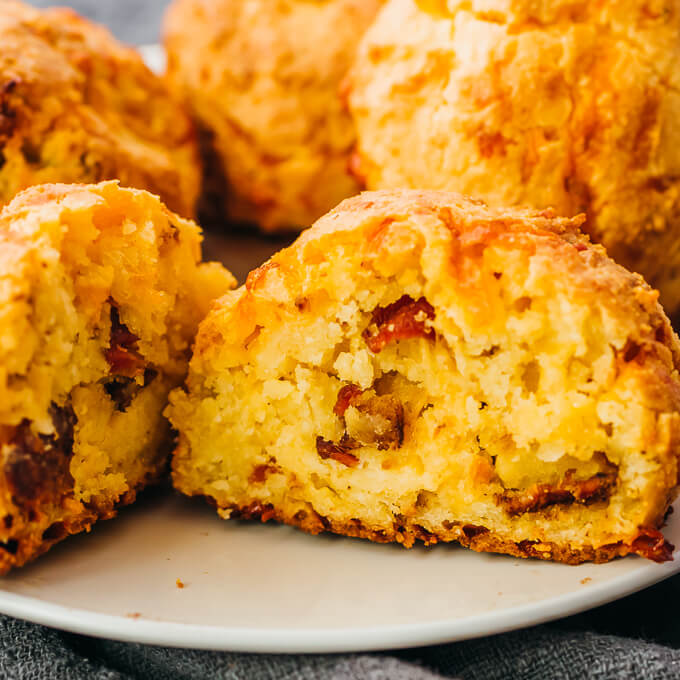 NOTES & TIPS
(1) Almond Flour. About 8 ounces weight. I use almond flour that is blanched, which means the skins are taken off of the almonds, so the resulting flour looks white. I typically use Costco's Kirkland brand, which has 2 grams of net carbs per 1/4 cup serving. Don't substitute with coconut flour or other flours.
(2) Cheddar Cheese. About 5 ounces weight. I use a bag of pre-shredded cheddar cheese, not freshly shredded.
(3) Bacon. You can cook bacon in the microwave, in the oven (see How To Bake Bacon), or on the stovetop by frying them on a pan until crispy, turning occasionally. After cooking, transfer bacon to paper towels to absorb the grease. Once the bacon is cool, crumble it into small pieces. Instead of cooking, one option is to substitute with 1/3 cup bacon bits.
(4) Baking Time. Since ovens vary, it's a good idea to start checking for doneness at the 20 minute mark.
(5) Serving / Leftovers. These biscuits can be served as a savory breakfast, a portable snack, or a cheesy appetizer. Store leftovers in a covered container in the refrigerator for up to 3 days. To reheat, place the biscuits on a nonstick pan over medium-low heat until warmed through, turning them occasionally to avoid over-browning. No oil necessary. Avoid the microwave because it makes the biscuits soggy.
(6) Flavor Mix-ins. Here are some ideas: add garlic powder or onion powder, skip the bacon or add in other types of meats like pepperoni, replace some or all of the cheddar cheese with parmesan, swiss, or asiago cheese, add jalapeño slices to make it spicy, or convert this to a breakfast bread by making it slightly sweet instead of savory (add sweetener, vanilla, and pecans). This is a relatively forgiving recipe as far as baked goods go, so try different things and let me know how it went in the comments section below.