Summary:
These low carb and keto friendly egg bites are soft and velvety, like mini crustless quiches made of eggs, cheese, and your choice of mix-ins. You can enjoy them as a quick breakfast or snack that's high in protein, portable, and can be made ahead.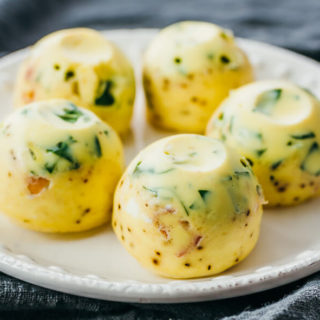 Instant Pot Egg Bites
Natural Release:
10

minutes
INGREDIENTS
INSTRUCTIONS
Prepare Egg Mixture: Evenly divide spinach and prosciutto among 7 mold compartments in silicone egg bites mold (Note 7). Whisk eggs, parmesan cheese, heavy whipping cream, black pepper, and salt in mixing bowl until well-beaten and smooth. Pour mixture into mold, 3-4 tablespoons per compartment, filling up about 80% to top. Cover tightly with foil.

Cook Egg Bites: Add 1.5 cups water to pressure cooker (Note 8). Place trivet inside, and carefully lower mold onto trivet. Secure and seal lid (pressure knob set to "sealing"). Use steam setting to cook for 10 minutes at high pressure, followed by 10 minutes of natural release. Manually release any remaining pressure. Uncover and remove egg bites mold from pressure cooker, discarding foil. Invert onto plate to release egg bites (Note 9). Serve and store leftovers (Note 10).
NUTRITION
Makes 2 Servings
Amount Per Serving (3 to 4 egg bites):
| | |
| --- | --- |
| Calories 400 (65% from fat) |   |
| Total Fat 29g | 44% |
|    Saturated Fat 17g | 85% |
| Cholesterol 443mg | 148% |
| Sodium 710mg | 30% |
| Net Carb 2g |   |
| Total Carb 2.5g | 1% |
|    Dietary Fiber 0.5g | 1% |
|    Sugars 2g |   |
| Protein 27g |   |
PHOTOS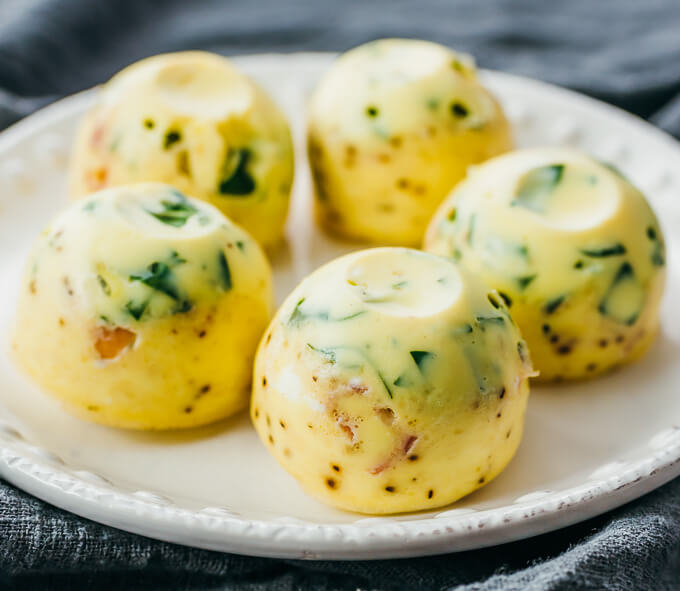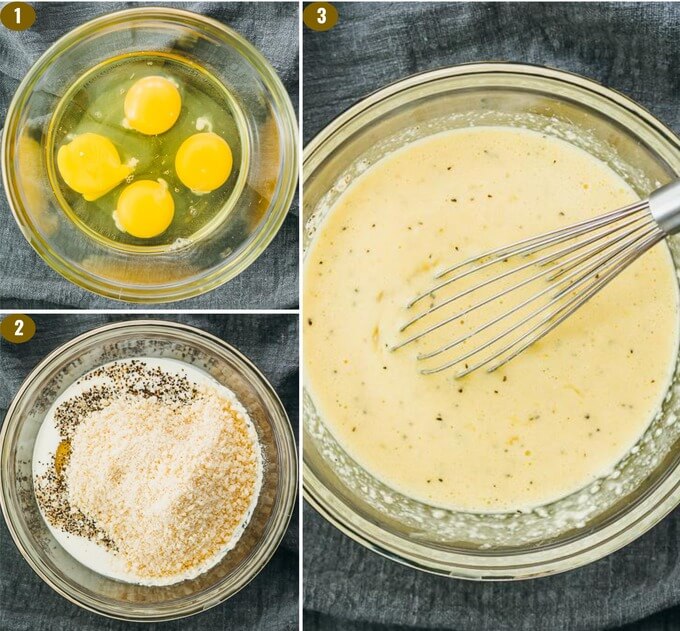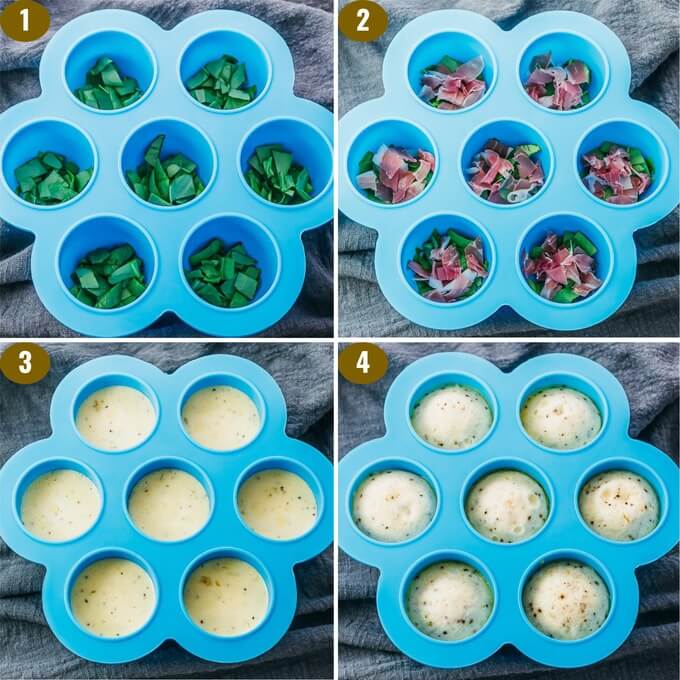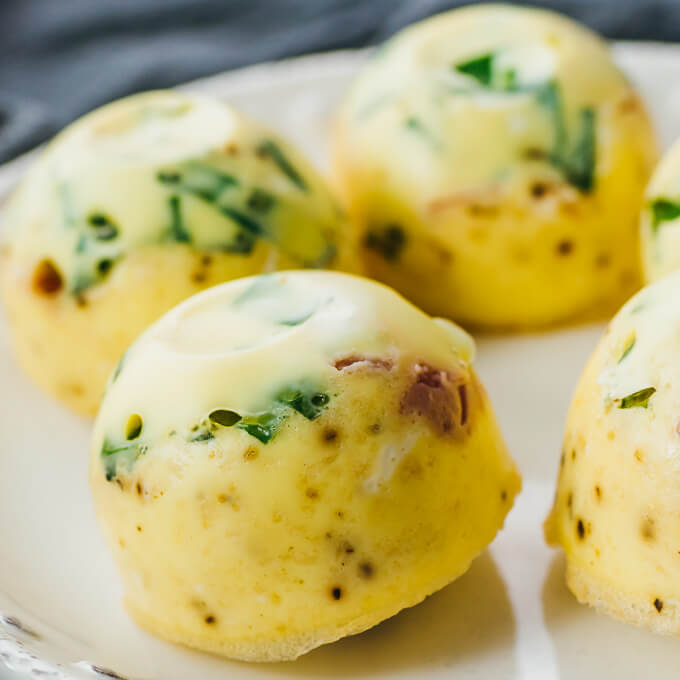 NOTES & TIPS
(1) Eggs. Instead of using only whole eggs, one option is to use a mix of eggs and egg whites. To ensure that the resulting egg bites can hold themselves together and aren't too crumbly, I recommend using at least 2 yolks as a binder.
(2) Parmesan Cheese. I use the kind of finely grated parmesan that has a sandy or almost powdery texture (not shredded), available in pre-grated bags in the refrigerated section of U.S. grocery stores. You can substitute with other types of cheese. Pecorino romano and asiago are similar to parmesan. Other cheeses like pepperjack, feta, gruyere, or cheddar would also be delicious. If you use shredded instead of finely grated (sandy consistency), you may want to blend the egg mixture to ensure a smooth consistency before filling the molds.
(3) Heavy Whipping Cream. This can be substituted with half-and-half or milk.
(4) Spinach. This is a small amount of spinach, but if you add any more than this, the resulting egg bites will be too fragile and won't easily release from the mold. You can substitute with other vegetables you have on hand; some good ideas include bell peppers, broccoli, mushrooms, artichoke hearts, asparagus, sun-dried tomatoes, basil, and scallions. For best results, the vegetables should be finely chopped and pre-cooked so that they don't release a bunch of liquid into the egg bites.
(5) Prosciutto. You can substitute with other proteins, such as bacon, sausage, or ham. Just make sure that they're pre-cooked and finely chopped. For vegetarian egg bites, replace the prosciutto with extra vegetables (see Note 4 for ideas).
(6) Salt. If you like your eggs or breakfasts to be a bit saltier in general, I recommend increasing the table salt from 1/8 to 1/4 teaspoon.
(7) Egg Bites Mold. I use an Aozita egg bites mold (no longer sold) that fits my 6-quart Instant Pot. It has 7 compartments, and each holds about 1/4 cup of liquid. It comes with a plastic lid that isn't intended to be used in the Instant Pot; the lid is only for cold storage. If you're interested in a set of 2, the Silikong egg bites mold has 2 trays with built-in handles and trivet, and their lid is silicone so it's safe to use in the Instant Pot. If you have another type of suitable mold, that's fine too. Just make sure it fits your Instant Pot and is safe for pressure cooking.
(8) Pressure Cooker. I use a 6-quart Instant Pot, and the trivet that came with it. Other sizes of electric pressure cookers should also work as long as your egg bites mold fits.
(9) Releasing Egg Bites. If you have trouble releasing the egg bites from the mold, run a butter knife along the edges of each compartment.
(10) Leftovers / Make Ahead. Cover (using the convenient lid that comes with your egg bites mold) and refrigerate leftovers for up to 3 days. They reheat well in a microwave or toaster oven. For longer storage, freeze them. Thaw overnight in the refrigerator, then reheat.
(11) Adjusting Yield. You can double the recipe's ingredients and stack two molds on top of each other (like Silikong egg bites mold set of 2). Place foil or parchment paper above each mold to prevent condensation from the pressure cooker lid from dripping down onto the egg bites. Even though you're doubling the ingredients, the pressure cooking and natural release times should be kept the same as directed in the recipe.