Summary:
These low carb and keto friendly Instant Pot Egg Bites are soft and velvety, reminding me of eggs prepared using the sous vide technique. Made with spinach and prosciutto, they're a delicious breakfast or snack that's both high in protein and portable.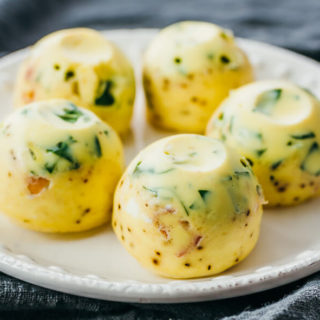 Instant Pot Egg Bites With Spinach & Prosciutto
(Ratings:
)
INGREDIENTS
4

large eggs

3/4

cup

finely grated parmesan cheese

1/4

cup

heavy whipping cream

1/4

cup

finely chopped fresh spinach

1/2

ounce

prosciutto, finely chopped

1/2

teaspoon

black pepper

1/8

teaspoon

table salt
INSTRUCTIONS
Using a silicone egg bites mold, evenly divide the spinach and prosciutto among the 7 mold compartments.

In a mixing bowl, combine eggs, parmesan cheese, heavy cream, salt, and pepper. Whisk until well-beaten and smooth.

Pour the mixture into the mold, about 3-4 tablespoons per compartment, filling up about 80% to the top. Cover tightly with foil.

Add 1 1/2 cups water to the pressure cooker pot. Place the trivet inside. Carefully lower the mold onto the trivet.

Secure and seal the lid. Steam for 10 minutes at high pressure, followed by 10 minutes of natural release. Manually release any remaining pressure.

Uncover and remove the egg bites mold from the pressure cooker. Discard the foil. Invert onto a plate to release the egg bites.
NUTRITION
Makes 2 Servings
Amount Per Serving (3-4 egg bites):
| | |
| --- | --- |
| Calories 400 (65% from fat) | |
| Total Fat 29g | 44% |
| Saturated Fat 17g | 85% |
| Cholesterol 443mg | 148% |
| Sodium 710mg | 30% |
| Net Carb 2g | |
| Total Carb 2.5g | 1% |
| Dietary Fiber 0.5g | 1% |
| Sugars 2g | |
| Protein 27g | |
Serve these egg bites with Low Carb Biscuits and London Fog for a fantastic keto brunch.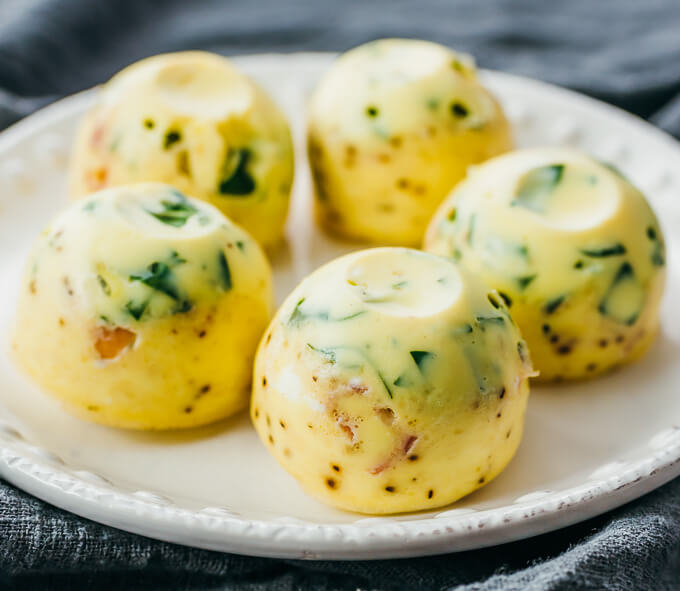 Selecting a Silicone Mold
I have a 6 quart Instant Pot and I use this egg bites mold, which perfectly fits my pressure cooker. It has 7 compartments, and each can easily fit about 1/4 cup of liquid.
If you have another type of suitable mold, that's fine too. Just make sure it fits your Instant Pot and is safe for pressure cooking.

Meat & Veggie Variations
These egg bites contain prosciutto and spinach, and are reminiscent of one of my favorite frittatas. Here are some other filling ideas:
bacon
sausage
ham
bell pepper
broccoli
mushroom
asparagus
sun-dried tomatoes
basil
scallions
If you substitute any of these ingredients, note that the nutrition information will be different than what is listed here. For best results, you might also need to pre-cook some of the veggies and/or meat.
Other Ingredient Tweaks
You can also switch up the cheese. Maybe swap out the parmesan cheese for pepperjack, feta, or cheddar. If you use shredded cheese instead of finely grated (sandy consistency) as directed in the recipe, you may want to use a blender to ensure a very smooth mixture before filling the molds.
If you like your eggs or breakfasts to be a bit saltier in general, I recommend increasing the salt from 1/8 to 1/4 teaspoon. That's what I usually do, but I tend to enjoy saltier foods more than most.
Another variation is to use only egg whites, although you'll be missing out on a lot of nutrients and fats in the yolks.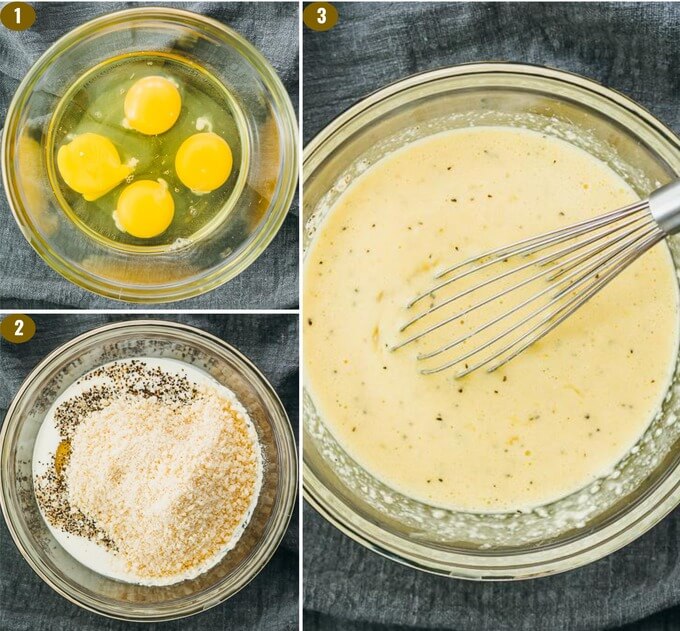 Cooking Tips
Measure out the prosciutto and spinach by weight. Even if you're tempted, don't add more than what's specified in the recipe. If you do, the egg bites will be fragile and won't easily release from the mold.
If you have trouble releasing the egg bites from the mold, run a butter knife along the edges of each compartment to release them.
To prevent the spinach and prosciutto from sinking to the bottom of each egg bite, you can add them after pouring the egg mixture into each mold compartment. Either way, they'll taste great!
If you have leftovers, cover and refrigerate. They reheat well in the microwave. If you use the same egg bites mold as I do, it comes with a handy lid for storage.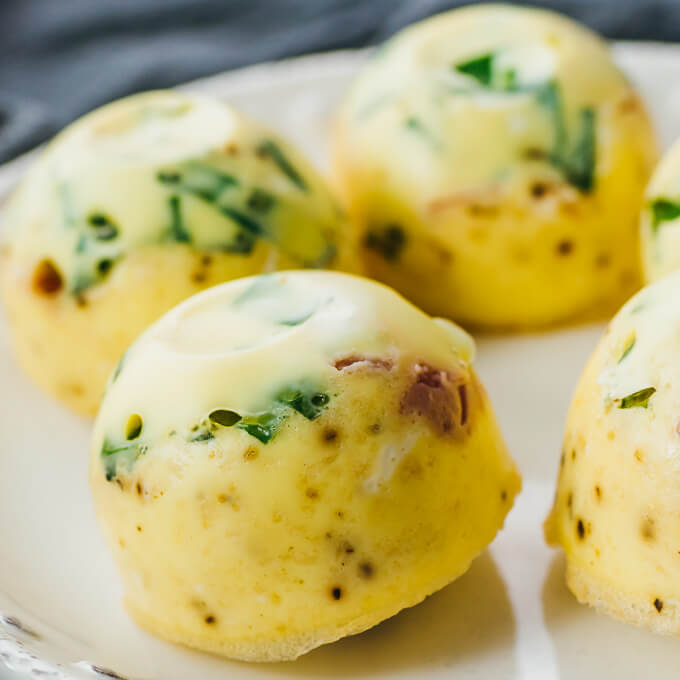 KETO FRIENDLY BREAKFAST IDEAS: