Summary:
One of the easiest low carb Instant Pot dishes, this pulled pork recipe has minimal prep and requires no browning or active cooking effort. After pressure cooking, the pork is so juicy and tender that it practically shreds on its own. It's flavorful enough to enjoy as-is, or you can toss with your favorite barbecue sauce.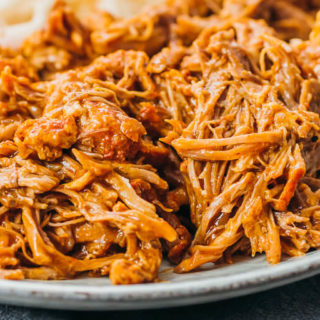 Instant Pot Pulled Pork
Natural Release:
10

minutes
INGREDIENTS
3-4

pounds

pork butt or pork shoulder (Note 1)

1

cup

water
INSTRUCTIONS
Prepare Pork: Stir all dry seasonings with spoon until well-mixed; set aside. Pat pork dry with paper towels, trim off excess fat, remove bone if present, and cut meat into roughly 8 even pieces. Toss pork pieces and seasonings in gallon-size resealable bag until well-coated.

Pressure Cook: Add water to pressure cooker pot (Note 2), then distribute pork pieces over the water. No trivet or rack needed. Secure and seal lid (Note 3). Cook at high pressure for 60 minutes (Note 4), followed by 10 minutes of natural release. Manually release remaining pressure by turning knob to venting position.
NUTRITION
Makes 6 Servings
Amount Per Serving (1 cup):
| | |
| --- | --- |
| Calories 290 (49% from fat) |   |
| Total Fat 16g | 24% |
|    Saturated Fat 5g | 27% |
| Cholesterol 102mg | 34% |
| Sodium 1220mg | 51% |
| Net Carb 4g |   |
| Total Carb 6g | 2% |
|    Dietary Fiber 2g | 7% |
|    Sugars 1.5g |   |
| Protein 30g |   |
PHOTOS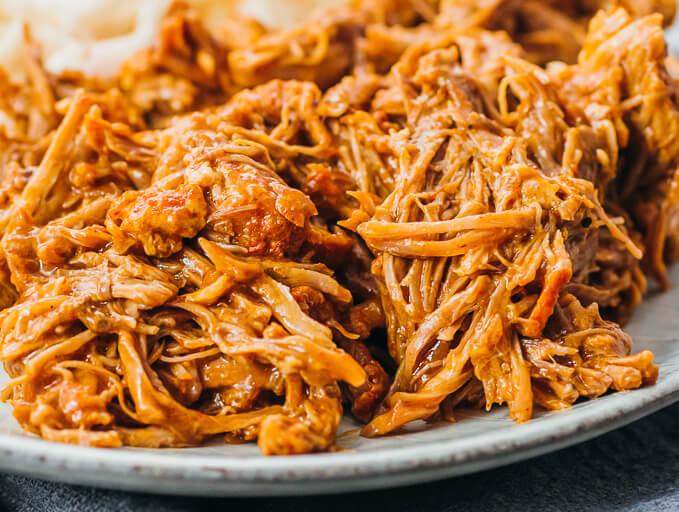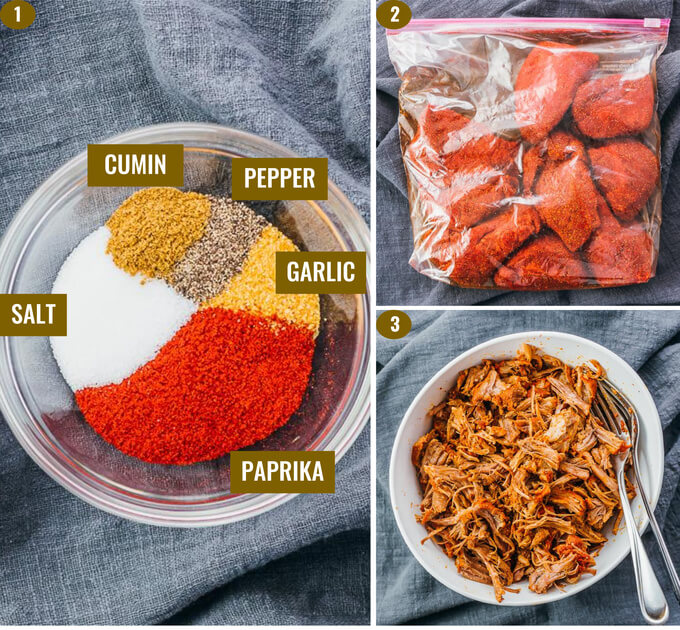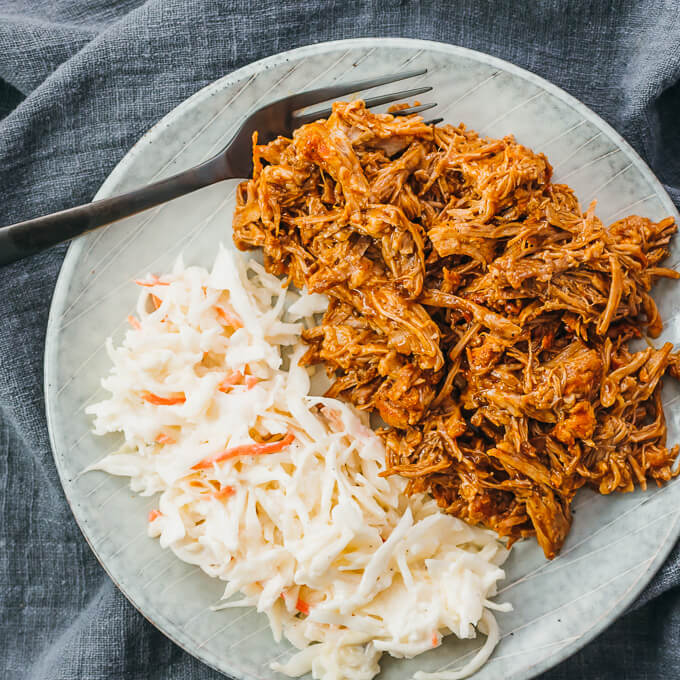 NOTES & TIPS
(1) Pork. In the U.S., "pork shoulder" usually refers to the pig's lower shoulder, and "pork butt" (also called "boston butt") refers to the pig's upper shoulder. Either cut is fine for this recipe. If yours contains bone, select pork that's at least 4 pounds so that you have enough meat to work with, and ask the butcher to remove the bone for convenience (or remove it yourself at home). If your pork is significantly smaller or larger than specified in this recipe, check your pressure cooker's max capacity (Note 2) and scale ingredients appropriately (Note 4). I haven't tested this recipe with pork loin or tenderloin, but they should also work well.
(2) Pressure Cooker Equipment. I use a 6-quart Instant Pot. Other sizes of electric pressure cookers should also work as long as all ingredients fit within the maximum capacity.
(3) Sealing Pressure Cooker. Before cooking, remember to seal the pressure cooker by turning the pressure knob from "venting" to "sealing," otherwise the pot will not pressurize.
(4) Pressure Cooking Time. If you scale the ingredients up or down to accommodate a different number of servings, the pressure cooking time remains the same as long as the pork pieces are roughly 2 inches each.
(5) Cooking Liquid. This excess liquid will not be used for this recipe. If desired, freeze the liquid in a container to save for later. Use it in place of broth in highly-seasoned chowders or soups, like Instant Pot split pea soup.
(6) Serving. I recommend serving with your favorite barbecue sauce. I use my homemade keto bbq sauce, which is sugar-free and low in carbs. If you're not up to making your own, you can buy sugar-free bbq sauces by brands like Walden Farms, G Hughes, and Guy's. To make this a low carb meal, serve with a side of coleslaw or savory jalapeño cornbread. Or save the pulled pork to make burritos using low carb wraps by Mission, alongside a simple salsa.
(7) Leftovers. Pulled pork leftovers keep well, and taste even better the next day. Cover and store leftovers in the refrigerator, and reheat using the microwave with a cover so that the meat remains moist and doesn't dry out.
(8) Nutrition. The calculation assumes each serving has 4 ounces weight of cooked pork. Much of the original raw weight is lost due to trimmed fat, bone, and liquid released during cooking.