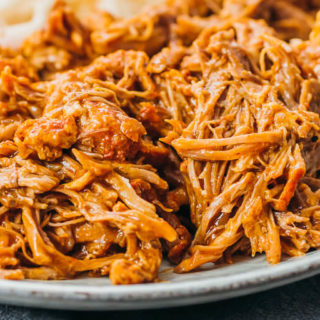 INGREDIENTS
3-4

pounds

boneless pork butt or shoulder

1

cup

water
INSTRUCTIONS
In a small bowl, combine all dry seasonings until well-mixed. Set aside.

Trim the pork of any visible fat. Cut into roughly 8 even pieces. Add the pork pieces and dry seasonings to a gallon-size resealable bag. Toss until the pork is well-coated.

Add water to the pressure cooker pot. Place the pork pieces inside. No trivet or rack needed.

Secure and seal the lid. Cook at high pressure for 60 minutes, followed by a 10 minute natural release. Manually release remaining pressure.

Uncover and transfer only the pork to a large bowl, leaving the liquid in the pot. Use 2 forks to shred the pork. Toss with your favorite bbq sauce. Optionally serve with coleslaw.
NUTRITION
Makes 6 Servings
Amount Per Serving:
| | |
| --- | --- |
| Calories 600 (57% from fat) | |
| Total Fat 38g | 58% |
| Saturated Fat 9g | 47% |
| Cholesterol 177mg | 59% |
| Sodium 1280mg | 53% |
| Net Carb 4g | |
| Total Carb 6g | 2% |
| Dietary Fiber 2g | 7% |
| Sugars 1.5g | |
| Protein 48g | |
Nutrition assumes homemade keto bbq sauce is used.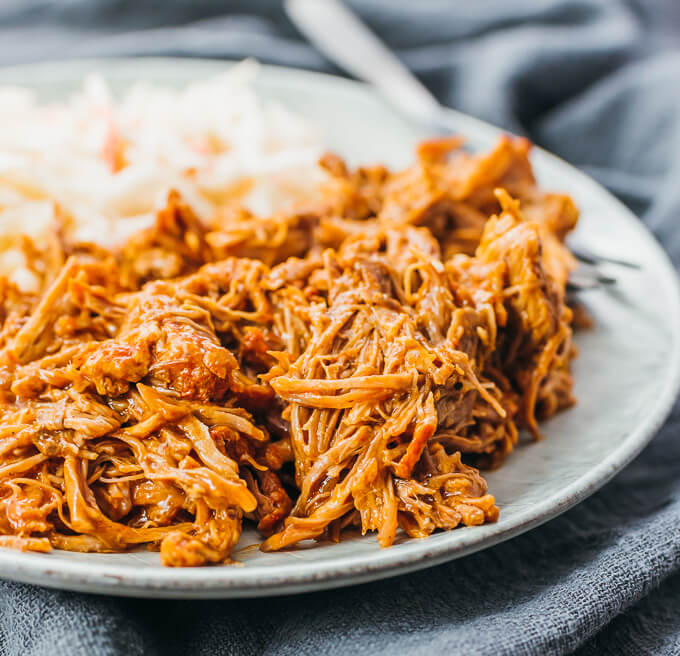 Making pulled pork in the pressure cooker is so fast. Before I got my Instant Pot, the slow cooker was my go-to method for making pulled meat of any kind, usually taking 3-4 hours on high power. With the pressure cooker, it takes 1 hour of cooking plus an additional 10 minutes for natural pressure release. Now I can actually get dinner on the table without starting in the early afternoon.
The pressure cooker makes shredded pork that's incredibly tender. It was practically falling apart as I took it out of the pot, and was effortless to shred. It's also so juicy and full of flavor that you could even enjoy it as-is.
I also like how this recipe is super simple. No browning or sauteing needed. Just toss the pork with dry seasonings and pressure cook until it's tender. Shred with forks, and serve with your favorite bbq sauce (or make your own keto bbq sauce).
Dry seasonings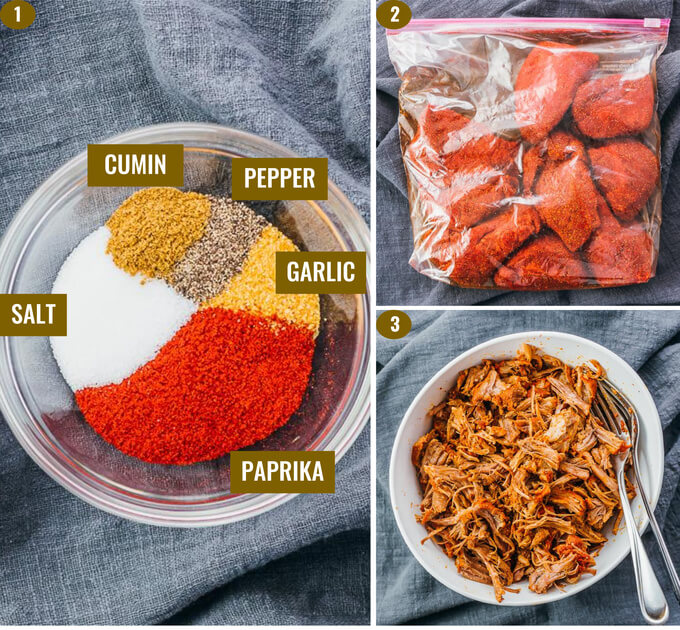 I love this dry rub of seasonings — it adds a lot of flavor and aromatics to the pork. I use a lot of paprika: 2 tablespoons, not teaspoons. You can follow my recipe and use this homemade seasoning mix, or you can use your favorite spices or even a storebought spice mix. Either way, it'll come out fantastic.
The easiest way to rub the seasonings onto the pork is by tossing them together in a resealable bag. See the photo above where I chopped the pork into roughly eight pieces and tossed them in a ziploc bag.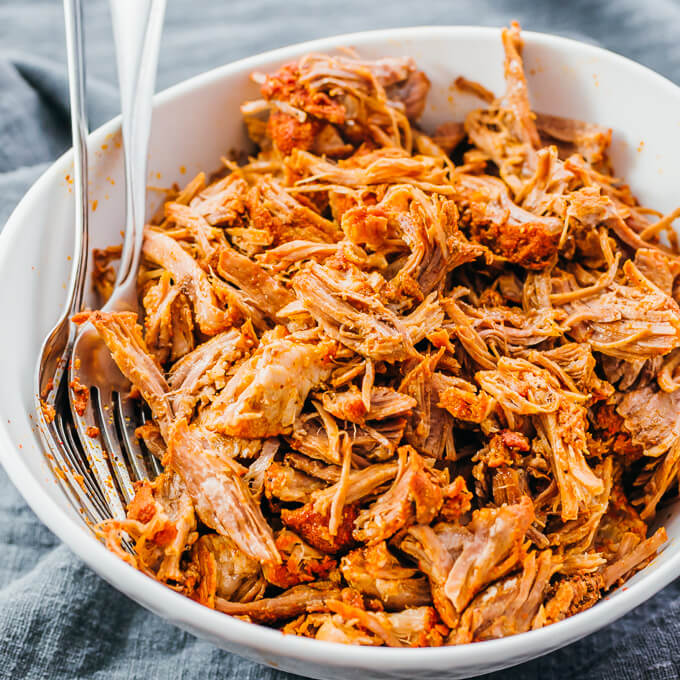 Pork shoulder vs butt
You can use either pork butt or pork shoulder for this recipe. Curious why? Well, they're actually more-or-less the same cut of meat! Pork butt, also known as Boston butt, doesn't come from anywhere near the pork's rear end. It actually comes from the upper part of the shoulder, called the blade shoulder. Pork shoulder usually refers to the lower part of the shoulder. Note that this is how Americans refer to pork cuts — I have no idea what other people do.
The terminology goes back to colonial New England. Butchers would take less desirable pork cuts like hams and shoulders and pack them into a transport barrel known as a butt (FYI this is also a unit of measurement sometimes still used at wineries). Shoulder cuts became a Boston specialty and were known as the Boston butt.
The pig's actual butt, referring to the muscle at the top of its leg, is where ham usually comes from.
So you can pick up anything labeled pork butt or pork shoulder for this recipe. Just make sure you get the boneless kind, anywhere in the 3 to 4 pound range. I usually pick a piece that looks leaner, since I trim off most of the visible fat.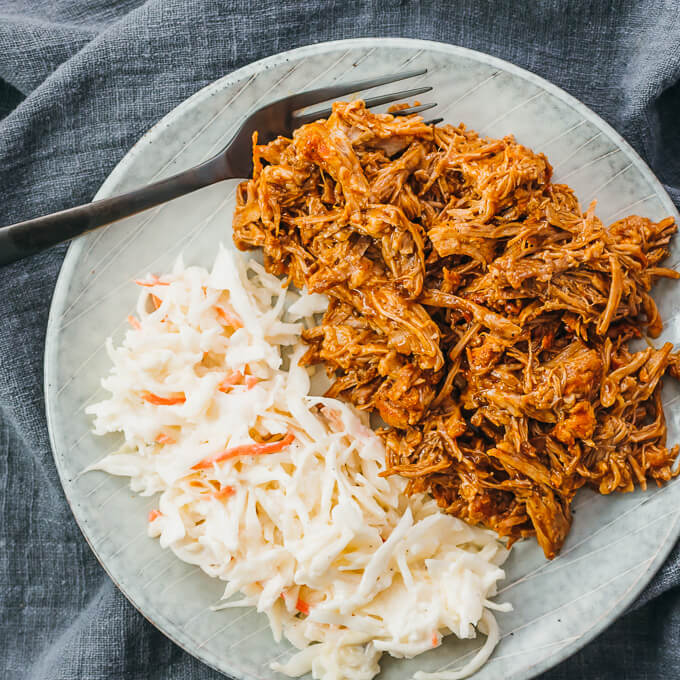 Serving and leftovers
I recommend serving the shredded pork with your favorite barbecue sauce. Since I follow a low carb diet, I use my homemade keto bbq sauce, which is sugar free and low in carbs. If you're not up to making your own, you can buy sugar free bbq sauces by brands like Walden Farms, G Hughes, and Guy's.
I like serving pulled pork with coleslaw for a low carb dinner, but you can also make pulled pork sandwiches or use it as a filling for Mexican dishes. Lots of possibilities here. Check out these low carb appetizers and sides for more ideas.
Leftovers can be covered and refrigerated, and they reheat well using the microwave. Enjoy!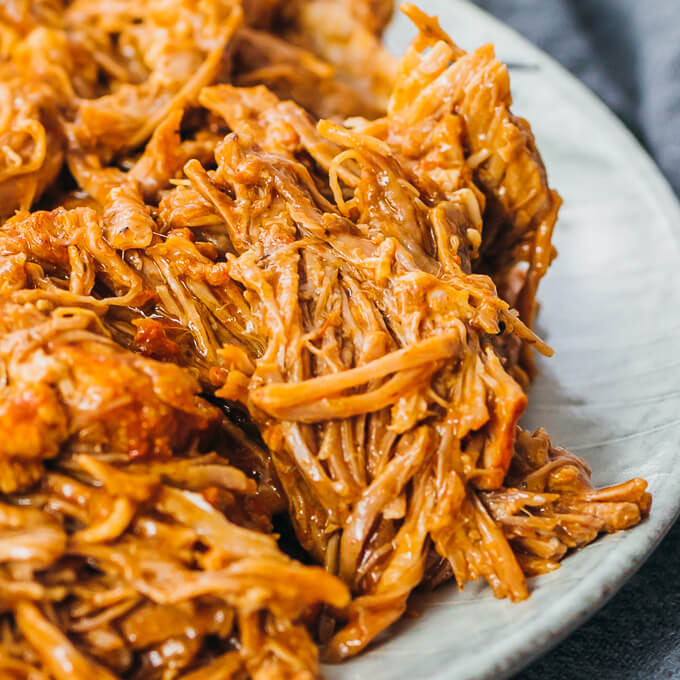 MORE AWESOME INSTANT POT RECIPES: