Summary:
This is a simple recipe for making low carb coleslaw with a flavorful dressing, taking only 5 minutes to prepare. Compared to store-bought coleslaw, this homemade version has no added sugar and you can control how creamy you'd like it.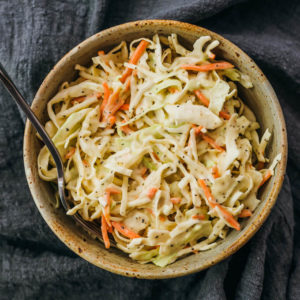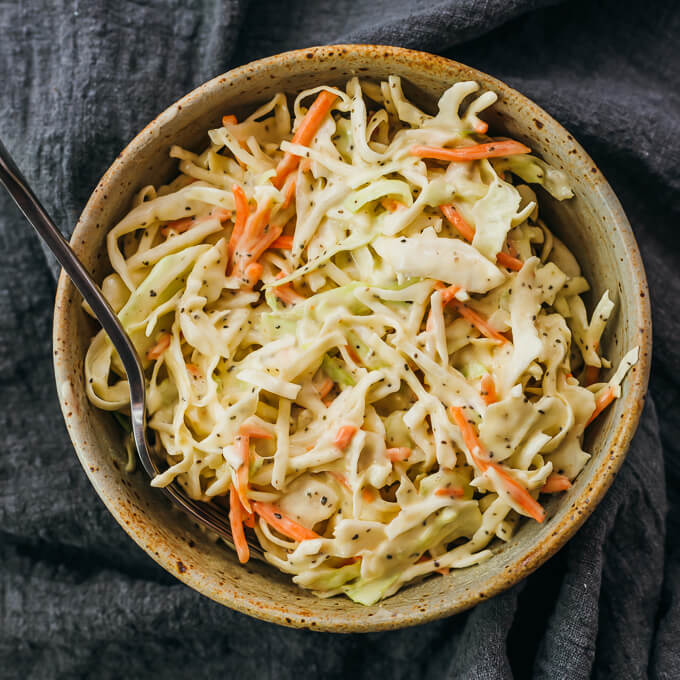 INGREDIENTS
4

cups

bagged coleslaw mix (Note 1)
INSTRUCTIONS
Mix Dressing: Combine ranch dressing, dijon mustard, sweetener, celery seeds, and pepper in measuring glass or small bowl. Taste, adjusting seasonings as desired. Listed ingredient amounts yield crunchy, lighter coleslaw; for creamier coleslaw, double the dressing ingredients.
NUTRITION
Makes 2 Servings (Note 7)
Amount Per Serving (1/2 cup):
| | |
| --- | --- |
| Calories 130 (71% from fat) |   |
| Total Fat 10g | 16% |
|    Saturated Fat 2g | 8% |
| Cholesterol 0mg | 0% |
| Sodium 430mg | 18% |
| Net Carb 3.5g |   |
| Total Carb 6.5g (Note 8) | 2% |
|    Dietary Fiber 3g | 13% |
|    Sugars 3g |   |
| Protein 0g |   |
PHOTOS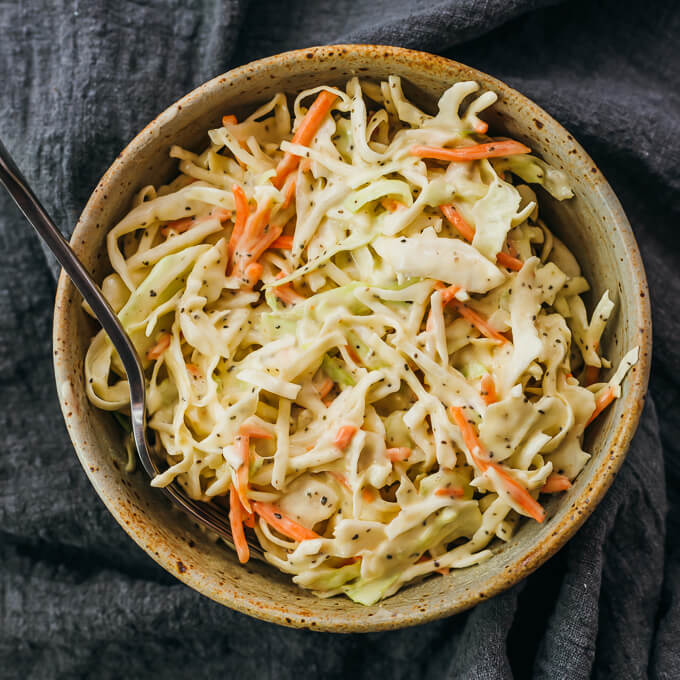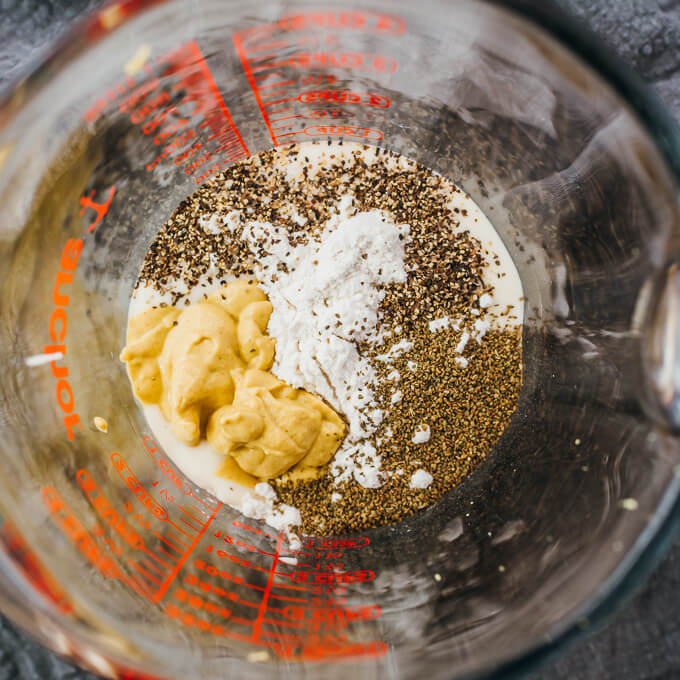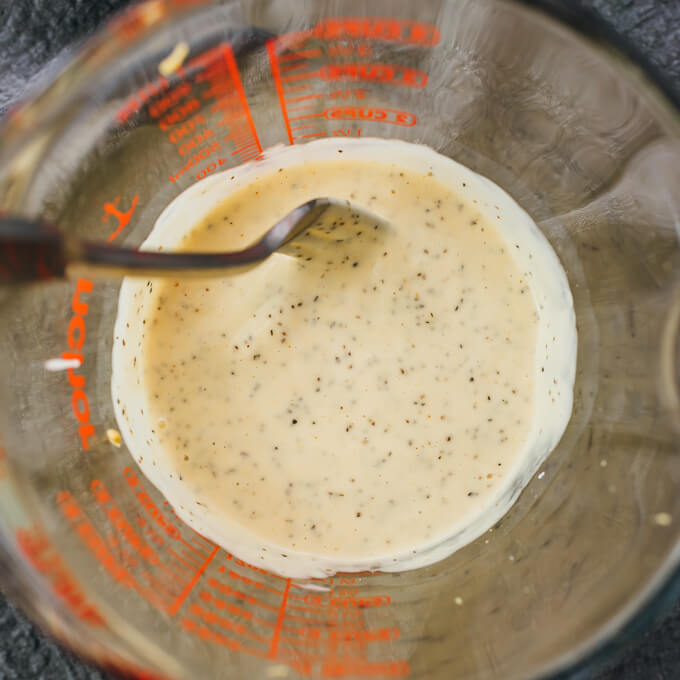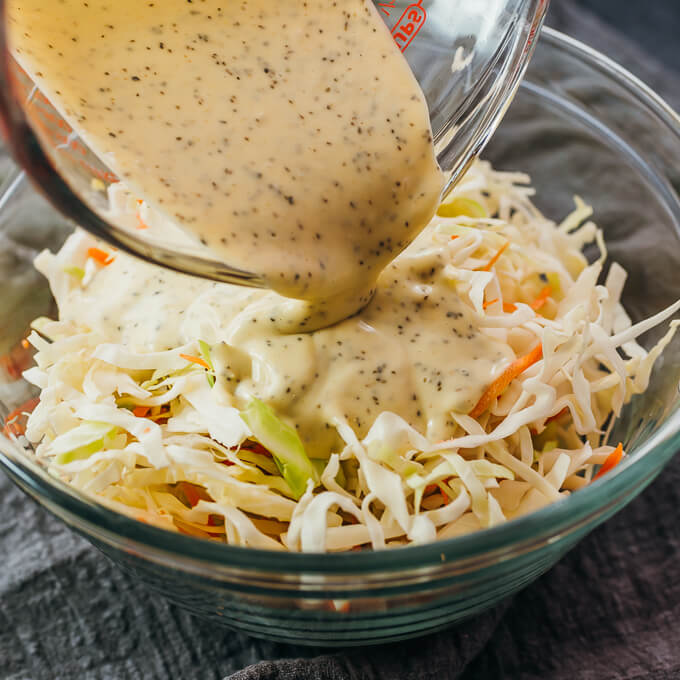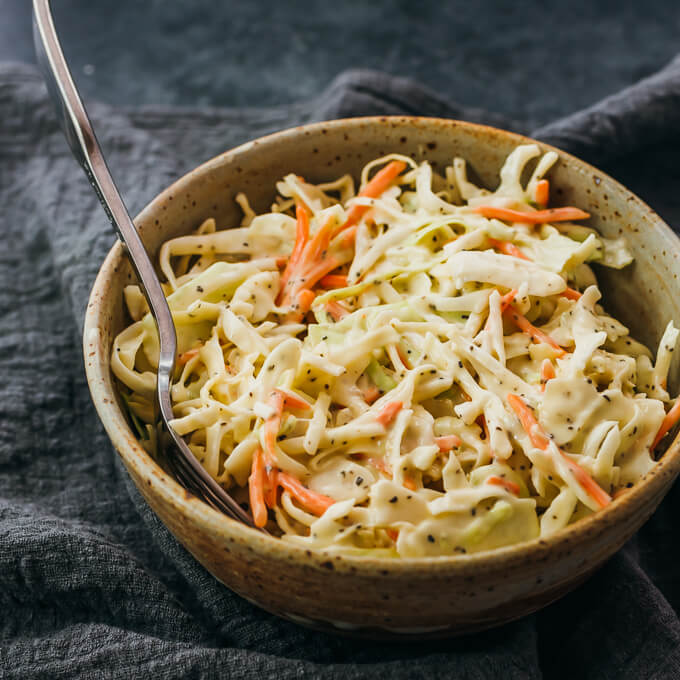 NOTES & TIPS
(1) Coleslaw Mix. About 6 ounces weight. Most U.S. supermarkets sell a pre-shredded bag of mixed cabbage and carrots, located in the refrigerated section with the salad kits. These bags can be found up to 16 ounces each, and you can easily double this recipe's ingredients if you wish to make a larger batch. If you can't locate pre-shredded bags, just substitute with 4 cups of mixed shredded cabbage and carrots. For a more attractive dish, use both green and purple cabbage. Cabbage can be finely shredded using a food processor. Use up any extra coleslaw or cabbage by making ground beef and cabbage stir fry.
(2) Ranch Dressing. This can be store-bought or homemade (see Keto Ranch Dressing Recipe). If using store-bought, avoid excess sugar by selecting a bottle whose nutrition label shows no more than 1-2 grams total carbs per standard 2 tablespoon serving.
(3) Sweetener. Confectioners Swerve is a dry erythritol blend that measures the same as regular powdered sugar; it's not the same as pure erythritol which is about 70% as sweet. Note that confectioners (powdered) sweeteners measure differently than granulated sweeteners since they pack differently into a measuring spoon. Substitute your preferred dry or liquid sweetener by adding it to the coleslaw dressing to taste.
(4) Celery Seeds. They are small, light brown seeds with a strong earthy flavor. You can substitute them with minced celery stalks and leaves, celery salt, or dill seeds.
(5) Serving. Serve coleslaw chilled. It's a great side dish alongside meat-heavy dinners like Mexican slow-roasted pork, pressure-cooked pulled pork, fried chicken, or grilled BBQ meats. It's also a great topping over sandwiches and lettuce wraps.
(6) Saving For Later. You can make coleslaw in advance, and store covered in the refrigerator for up to 3 days. Note that the longer the coleslaw sits in dressing, the softer and less crunchy it will be. Since the coleslaw wilts over time, the dressing will taste stronger by comparison so it's a good idea to start with a conservative amount of dressing.
(7) Increasing Yield. The recipe as listed makes a small batch of coleslaw, about 1 cup. To increase the number of servings, you can double or triple the ingredients proportionally.
(8) Carbs. The nutrition calculation assumes you are using Swerve or a similar erythritol-based sweetener that uses sugar alcohols, whose carbs are non-impact and therefore not included in the nutrition estimate. Apps that count sugar alcohols will show a higher number of carbs.
(9) Coleslaw Variations. You can change up this basic recipe. For some color, add diced red bell pepper and extra sliced carrots. For some crunch, add minced celery, slivered almonds, chopped cashews, or crumbled crispy bacon. For some protein, add hard-boiled eggs or crab meat.