Summary:
Pork shoulder, also known as pork butt or Boston butt, is cut into chunks and slow-roasted in the oven with onions and an array of warm spices. This Mexican-inspired dish has very tender meat that can be used as a filling for burritos and tacos. For more pork ideas, visit Pork Main Recipes.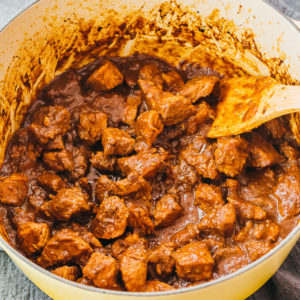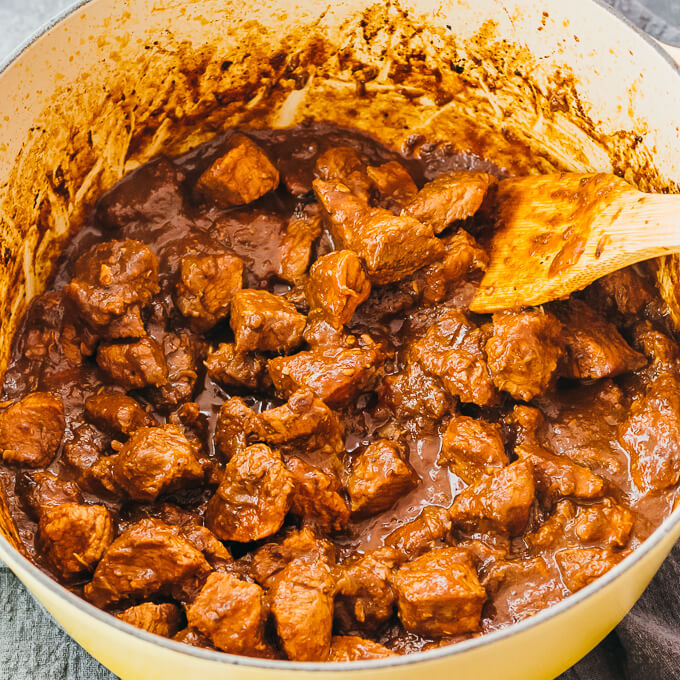 Slow-Roasted Pork Butt (Pork Shoulder)
INGREDIENTS
3

pounds

boneless pork butt roast

(also called boston butt or pork shoulder; for more info, see "Selecting The Pork Cut" section below)

1

medium onion, finely chopped

(I use a yellow onion)

1/3

cup

tomato paste

1/2

cup

apple cider vinegar

2

tablespoons

balsamic vinegar

2

tablespoons

olive oil

2

tablespoons

chopped fresh cilantro leaves
INSTRUCTIONS
Position an oven rack in the lower half of the oven, and preheat to 300 F.

Remove the blade bone from the pork, if present. Pat dry with paper towels. Cut the meat into roughly 1-inch chunks or smaller, trimming off excess fat. I typically remove about 1/2 pound of fat, with about 2 1/2 pounds of lean meat remaining. Neither the bone nor the trimmed fat will be used in this recipe.

In an oven-safe pot (I use a 6 quart dutch oven), add oil over medium heat. Once the oil is very hot, add onions and cook until they start to turn light brown, about 5 minutes, stirring occasionally.

Add all dried seasonings. Cook for another minute to release the aromatics, stirring occasionally.

Add tomato paste, constantly stirring it in for a minute until incorporated with the other ingredients. There should be browned bits forming on the bottom of the pot, which will add flavor to the dish.

Turn off the heat. Add apple cider vinegar and balsamic vinegar. Stir everything together, using a stiff wooden utensil to loosen brown bits stuck to the bottom of the pot. Add pork chunks to the pot, stirring them with the other ingredients until well-coated with sauce.

Transfer the pot to the oven uncovered. Let it cook for 1 hour, remove and stir, and then cook for another hour or until the pork is very tender. As the pork cooks, liquid will be released and any meat sitting above the liquid will get some nice browning action.

Transfer the pot to the stovetop. Turn on medium heat and boil for about 10 minutes to thicken from a watery liquid to a sauce-like consistency. While it's boiling, use a stiff wooden utensil to occasionally scrape along the bottom of the pot to prevent sticking.

Turn off the heat. Serve the pork with sauce, and top with cilantro. If the sauce looks greasy, which can happen if your pork has a high fat content, use a slotted spoon to avoid serving the oil with the pork.
NUTRITION
Makes 5 Servings
Amount Per Serving:
| | |
| --- | --- |
| Calories 570 | |
| Total Fat 38g | 58% |
| Saturated Fat 9g | 44% |
| Cholesterol 152mg | 51% |
| Sodium 1200mg | 50% |
| Net Carb 5.5g | |
| Total Carb 7g | 2% |
| Dietary Fiber 1.5g | 6% |
| Sugars 4g | |
| Protein 41g | |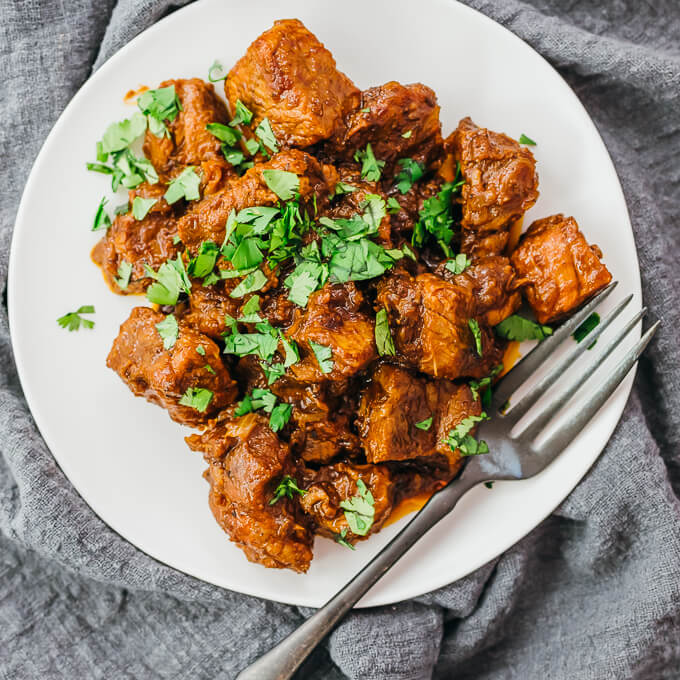 Recipe Development
This recipe is inspired by cochinita pibil, which is a Mexican slow-cooked pork dish from the Yucatán that uses an orange juice marinade to help tenderize the meat. In this recipe, the pork is slowly cooked in the oven, with a combination of concentrated tomato paste, apple cider vinegar, and balsamic vinegar making up the acidic content. That's probably as far as the similarities go. The pork goes well with warm and earthy tones, so dried spices like cinnamon, cumin, cloves, and cocoa powder are added to provide a rich and savory flavor. The ingredients and their quantities are carefully tuned to minimize carbs without sacrificing on taste.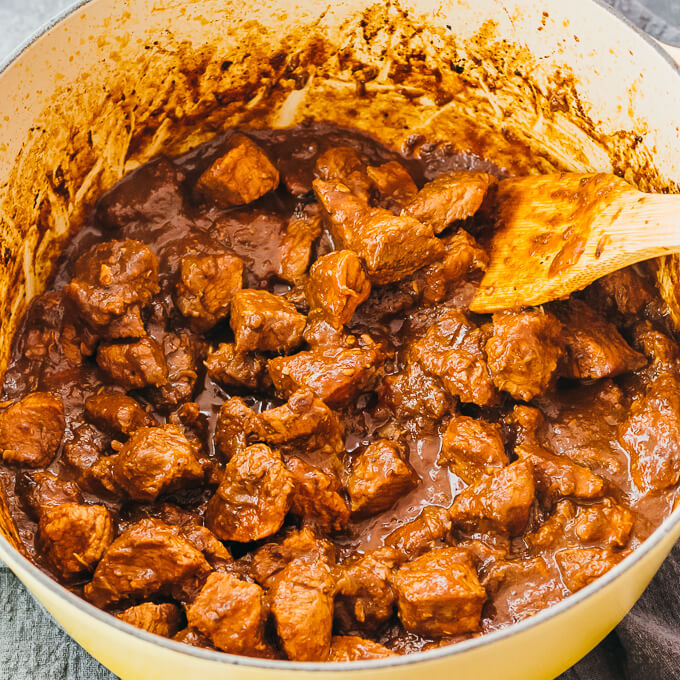 Selecting The Pork Cut
Pork butt, or Boston butt, is a cut that comes from the upper part of the pig's shoulder, and can be labeled by any of those terms. Sometimes it contains the blade bone, which you can remove at home, but it may be easier to ask the butcher to do it for you.
There can be a lot of variation in the fat content of the pork you choose. I prefer selecting a leaner piece with less fat, which significantly reduces the overall greasiness of the sauce. Since the percentage of fat can vary, the recipe lists the weight of the pork butt after removing the bone (3 lb), the amount of fat trimmed off (0.5 lb), and the resulting lean meat (2.5 lb) to help you gauge how much lean meat is actually used in the recipe.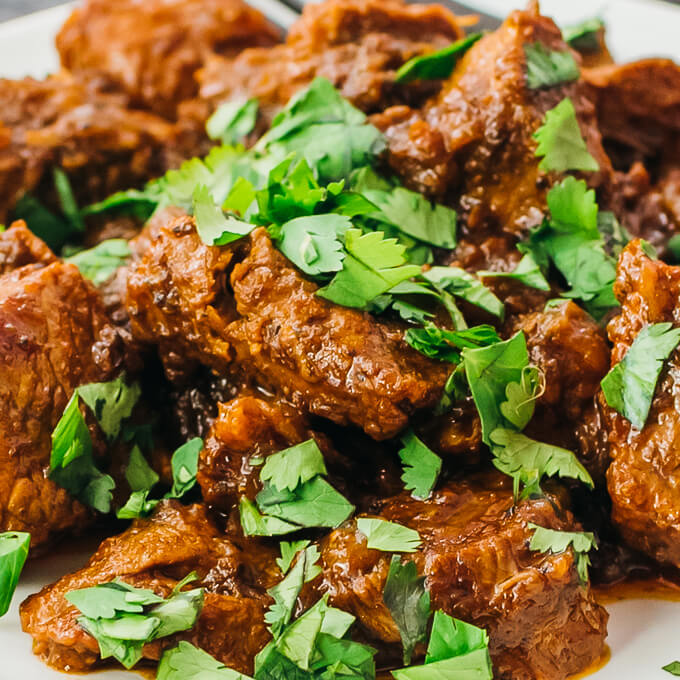 Serving Ideas
My favorite way of serving the pork is using it as a filling for burritos and tacos. Using low carb tortilla wraps by Mission, I divide out pork chunks with accompanying sauce, sometimes topping with a dollop of sour cream. Shredded cheddar cheese, pico de gallo, and avocado would also be delicious. Then I wrap up each tortilla and place it seam side down on a hot pan until the tortilla crisps up a bit. So good.
This pork is also excellent by itself. You can serve it as a meaty main dish, even as a stew. It would go well with low carb side dishes like roasted mushrooms and mashed cauliflower.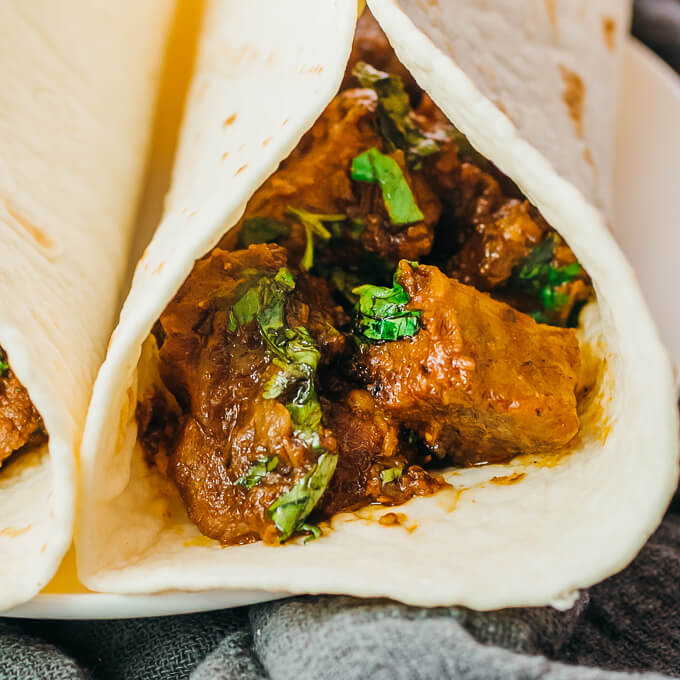 More Pork Recipes For Dinner