Summary:
Tender pork chops are smothered with a creamy mustard gravy and topped with crispy bacon. This flavor-packed dinner uses few ingredients and is perfect for anyone on a low carb diet, with just 3 grams of net carbs per serving.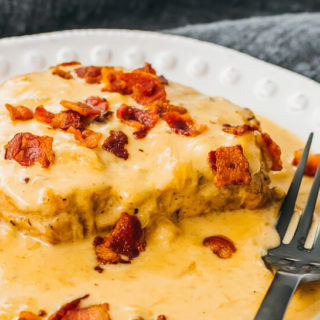 Instant Pot Pork Chops
Natural Release:
18

minutes
INGREDIENTS
Sauce:
1/2

cup

heavy whipping cream

1/4

cup

finely grated parmesan cheese (Note 3)

1

tablespoon

dijon mustard
INSTRUCTIONS
Prepare Pork: Pat pork chops dry with paper towels. Trim off excess fat. Generously season all sides with salt and pepper.

Sauté Bacon: Select sauté mode on pressure cooker (Note 4) for medium heat. Add diced bacon and stir frequently during cooking. As bacon turns crispy, use slotted spoon to transfer to paper towel lined plate to drain, leaving bacon grease in pot.

Sauté Pork & Onions: Add pork chops to pot in single layer and fry in bacon grease, a few minutes per side. Transfer to plate. Add onions and cook for a few minutes, stirring frequently. Turn off sauté mode. Add water, stirring and briefly scraping up flavorful brown bits stuck to bottom of pot. Return pork to pot, arranging chops side-by-side on top of onions.

Pressure Cook: Secure and seal lid. Cook at high pressure for 30 minutes, followed by natural pressure release (Note 5). Uncover and transfer only pork chops onto serving plates.

Make Sauce: Turn on sauté mode. Add heavy cream and dijon mustard to pot, stirring together. Boil for 5 to 10 minutes to thicken, stirring occasionally. Turn off sauté mode and stir for a minute until boiling subsides. Stir in parmesan cheese until melted.

Serve: Spoon sauce on top of pork chops, and top with crispy bacon. Serve (Note 6).
NUTRITION
Makes 3 Servings
Amount Per Serving:
| | |
| --- | --- |
| Calories 500 (52% from fat) |   |
| Total Fat 29g | 45% |
|    Saturated Fat 15g | 76% |
| Cholesterol 176mg | 59% |
| Sodium 820mg | 34% |
| Net Carb 3g |   |
| Total Carb 3.5g | 1% |
|    Dietary Fiber 0.5g | 2% |
|    Sugars 2g |   |
| Protein 50g |   |
PHOTOS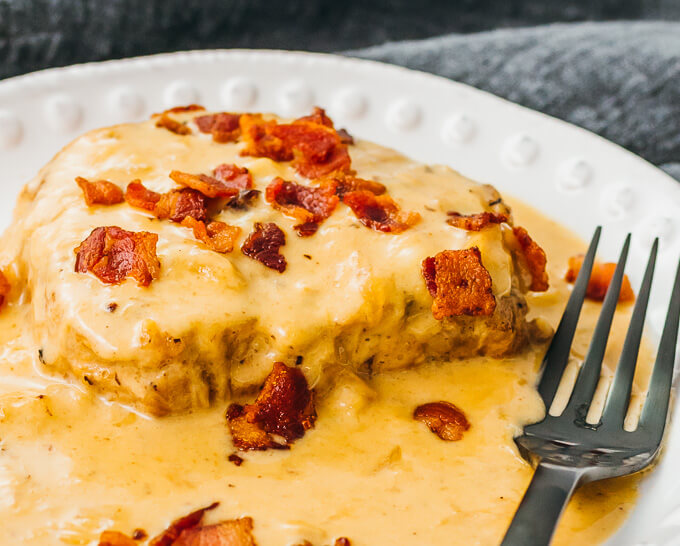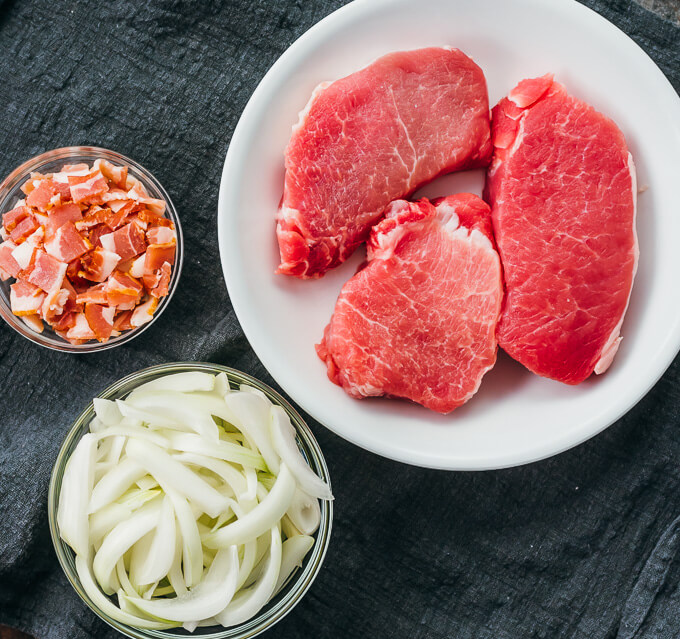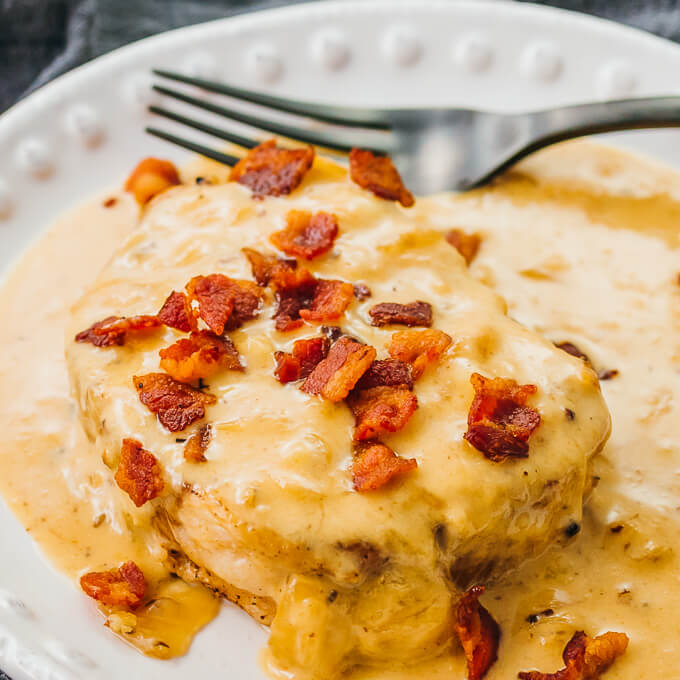 NOTES & TIPS
(1) Pork Chops. About 1 to 1.5 pounds total. I use a boneless center cut, 6 to 8 ounces per individual chop. Pay attention to their thickness when selecting them at the grocery store; ideally, each pork chop should be less than 1 inch thick. If you have thinner or thicker pieces, they will not cook at the same rate and you may need to pressure cook for shorter or longer periods of time to compensate.
(2) Bacon. Don't skip this ingredient. Bacon plays multiple roles in this dish, providing grease for frying pork chops as well as forming the base for a flavorful sauce. The crispy bacon bits add extra richness and crunch that complements the creaminess of the sauce.
(3) Parmesan Cheese. This is finely grated parmesan that has a sandy or almost powdery texture, not shredded, often available in pre-grated bags in the refrigerated section of U.S. grocery stores. This can be substituted with similar cheeses like pecorino romano or asiago.
(4) Pressure Cooker Equipment. I use a 6-quart Instant Pot. You can use a different size of electric pressure cooker as long as all ingredients fit within the maximum capacity line.
(5) Natural Release. Let the pressure cooker naturally release pressure, which takes about 18 minutes. During this time, you don't need to press any buttons. You'll know when it's done because the pin will drop when pressure has completely released. Avoid a quick pressure release because that cuts the cooking time short; during natural release, the pork chops are still cooking.
(6) Serving / Leftovers. Serve while hot, alongside mashed cauliflower, roasted mushrooms, or broccoli salad. Store any leftover pork chops with sauce in an airtight container in the refrigerator for up to 2 days. The bacon should be stored separately to preserve crispness. The pork chops reheat well in the microwave and maintain their tenderness, and should be microwaved with the sauce but not the bacon. After reheating, top with bacon and serve.